Secrets of a 7-Figure Entrepreneur
Secrets of a 7-Figure Entrepreneur
Your guide to building a wildly successful business!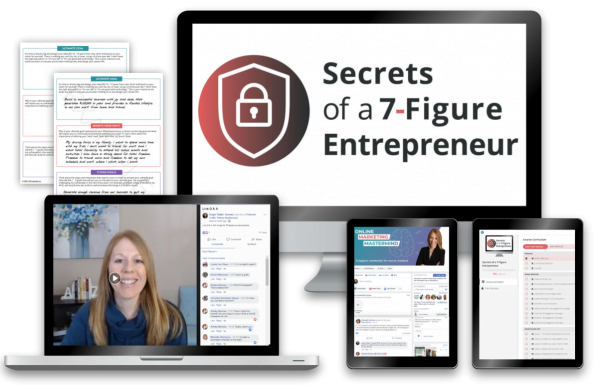 Ever wonder why some entrepreneurs "make it" and others don't?
Building a business from scratch is thrilling and terrifying all at the same time.
You have big ambitions for your business, but a million different things demand your attention.
You do the best you can with the limited time you have each day…
But you just can't seem to transform yourself from a struggling entrepreneur to a wildly successful entrepreneur.
So what gives?
"There is a powerful driving force inside every human being that, once unleashed, can make any vision, dream, or desire a reality."
– Anthony Robbins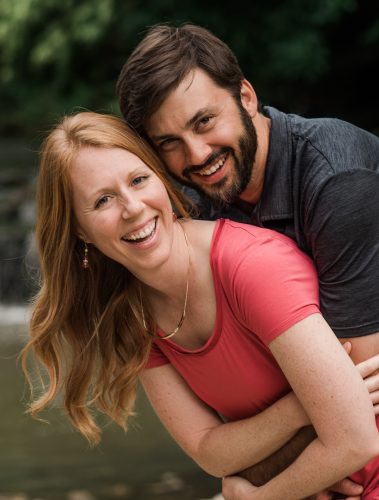 Hi, my name is Angie…
And this is my husband Trevor.
Together, we built a 7-figure business in less than 3 years!
We started AngieGensler.com in 2016 as a way out of my soul-sucking corporate job.
The business started as a digital marketing and social media blog supporting small business owners and marketers.
Our goal was to quit my 6-figure job in 3 – 5 years.
I'm happy to say that I quit my job after 16 months and we hit a 7-figure-sales year before we celebrated our third year in business!
Oh, and we did it all from the comfort of our home with zero full-time employees.
Discover the Secrets to our Success
Your business and your dreams deserve the same level of success we've experienced.
That's why I created Secrets of a 7-Figure Entrepreneur, an online course revealing the secrets to our success.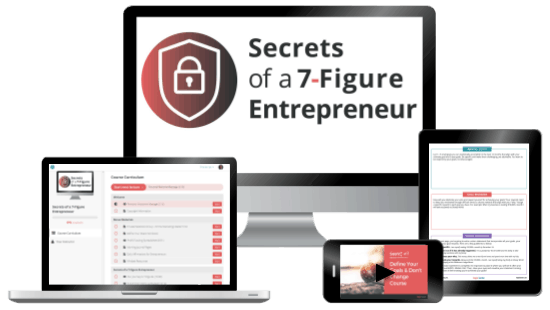 I packed tons of value into this course and, I promise you, it's not filled with a bunch of fluff tips.
It's an in-depth, actionable course with over 100 minutes of video instruction and over $600 worth of bonus materials and discounts.
Whether you want to earn some extra cash from your business or you want to build a 7-figure business, the principles you'll learn in this course will help you get there.
"Secrets of a 7-Figure Entrepreneur Online Course was the first Angie Gensler course I purchased. I had previously purchased her Social Content Calendar and found it extremely valuable at a great price. Secrets of a 7-Figure turned out to be just as informative, useful, and value-packed. I eagerly went through the course, taking lots of notes, and doing the actionable steps that Angie outlined. What I love most about Angie's courses is the way she presents valuable information precisely and clearly. Second, is how she doesn't just "lecture" or present, but gives clear instructions on how to take the information and apply it for your business."
"Thank you Angie for your incredibly helpful courses. I've almost finished the 7- Figure income course and have gained real encouragement and your bonus tools and gifts are extremely appreciated. You're the best."
"Secrets of a 7-figure Entrepreneur is a fantastic course full of actionable tips to improve how you run your business. My favorite part of the course was the bonus material which included resources to set successful goals, a list of affirmations to get your mindset in the right place, plus a super simple daily journaling worksheet. These have been so helpful in helping me and my business!"
Inside the Course You'll Discover…
10 secrets that attributed to our 7-figure success

and how to apply them to your own business

6 common myths

about building a successful business that might be holding you back

Why investing like a 7-figure business is a

recipe for disaster

The system we use to

maximize profits

How to

niche your business the right way

(and how to avoid the wrong way to niche)

A 6-step process to choosing the

best business model for you

The

3 methods (that actually work)

to getting more done in less time

How to overcome limiting beliefs and

develop a mindset of perseverance
PLUS, YOU'LL GET BONUSES!
Over $600 in bonuses as a matter of fact.

Take a look at what else you get when you enroll in Secrets of a 7-Figure Entrepreneur…
BONUS #1: PROFIT TRACKING SPREADSHEET ($37 VALUE)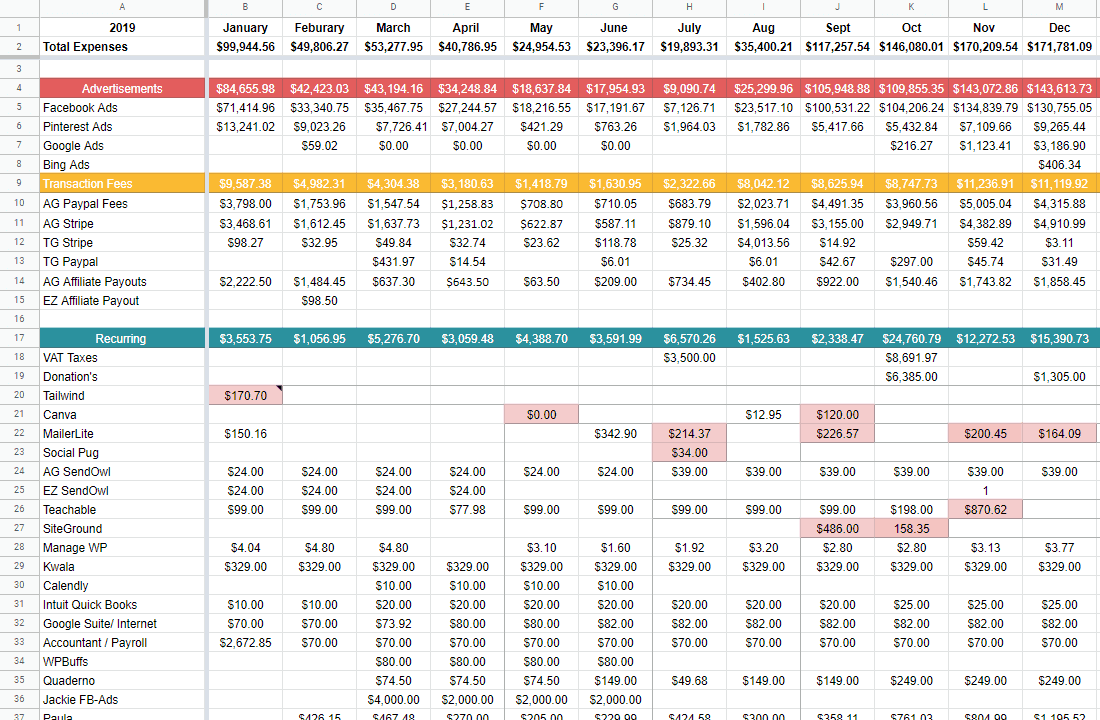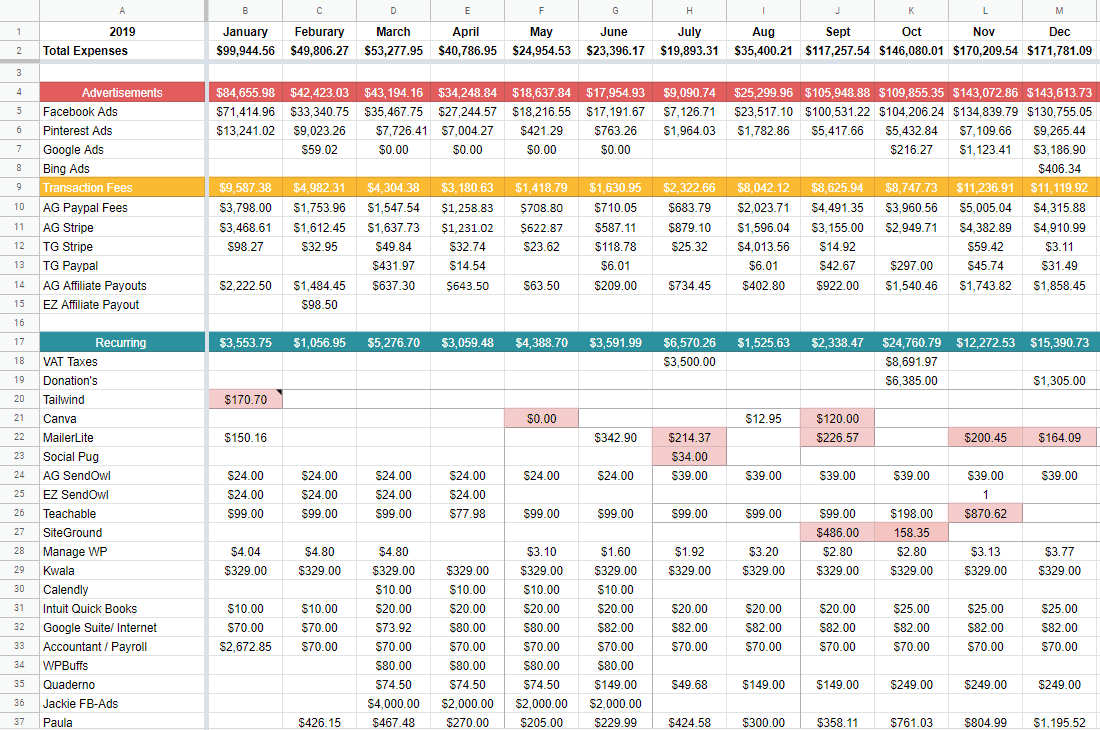 In order to keep expenses low and maximize profits, it's important to track what comes in and what goes out.
You'll get a copy of the exact spreadsheet we developed based on the Profit First system.
Plus, you'll get a detailed video tutorial so you can feel confident putting it to practice for your own business!
BONUS #2: DEFINE YOUR GOALS WORKBOOK ($27 Value)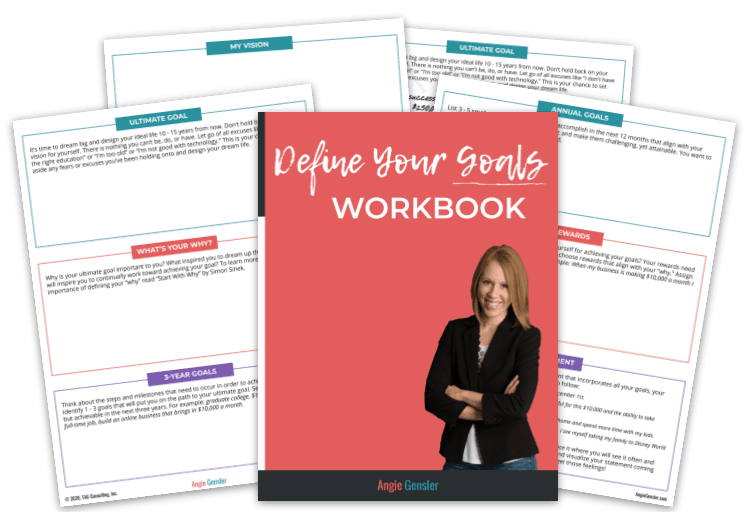 "If you set goals and go after them with all the determination you can muster, your gifts will take you places that will amaze you." – Les Brown

This workbook will help you define your goals, determine your driving force, and establish rewards so you can stay focused and persevere!
BONUS #4: DISCOUNTS ON RECOMMENDED TOOLS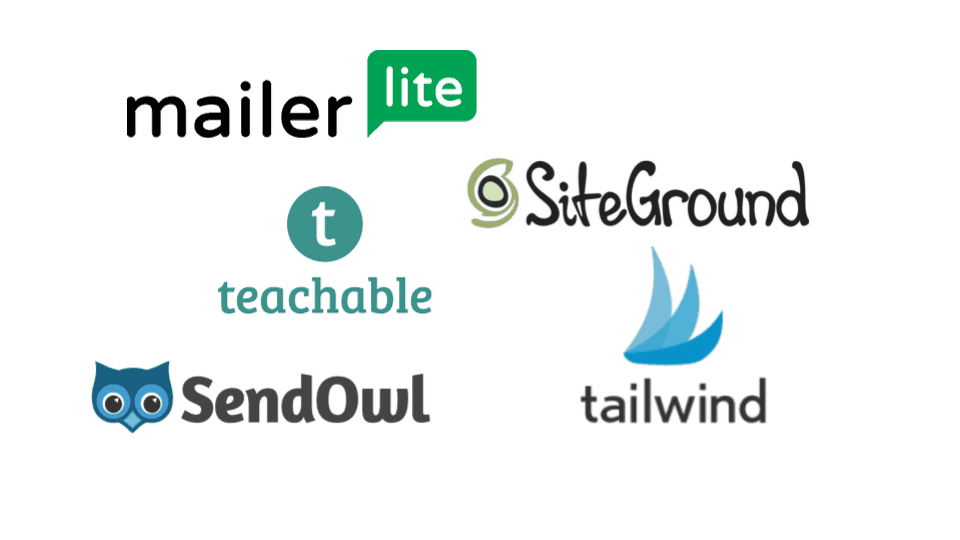 What's better than affordable, high-quality software to help you run your business smoothly? How about saving money on that software?
We've negotiated special deals and discounts with our favorite software tools. Now you can run your business without worrying about how much it's going to cost.
BONUS #3: PRIVATE FACEBOOK GROUP ($600 value)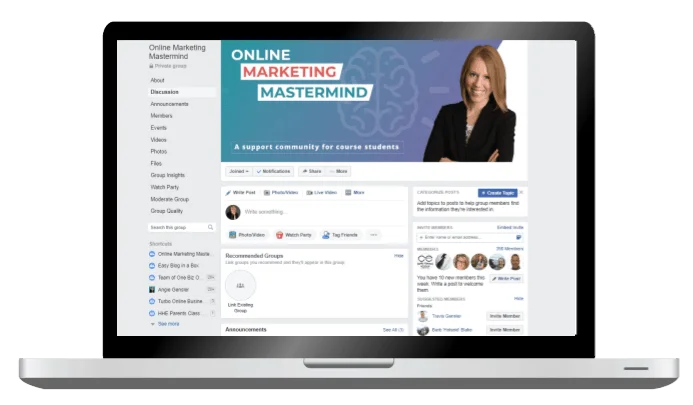 You'll gain access to the Online Marketing Mastermind private Facebook group. This group is a place for entrepreneurs just like you to share your wins, ask questions, and get feedback from people who have been right where you are.
BONUS #5: MORNING JOURNAL PAGES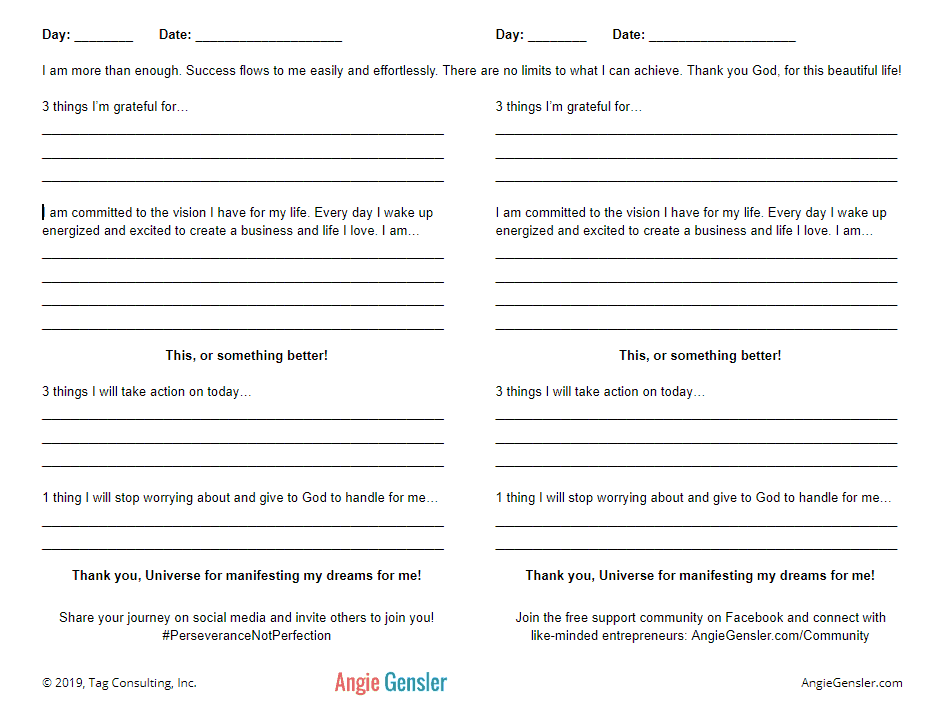 Love the idea of a morning routine like the Miracle Morning but don't have time for a 60-minute morning routine? You'll love my 5-minute morning journal pages!
You'll discover a simple process to start your day with gratitude, stay focused on your vision and goals, prioritize your tasks, and let go of anxiety and fear.
BONUS #6: DAILY AFFIRMATIONS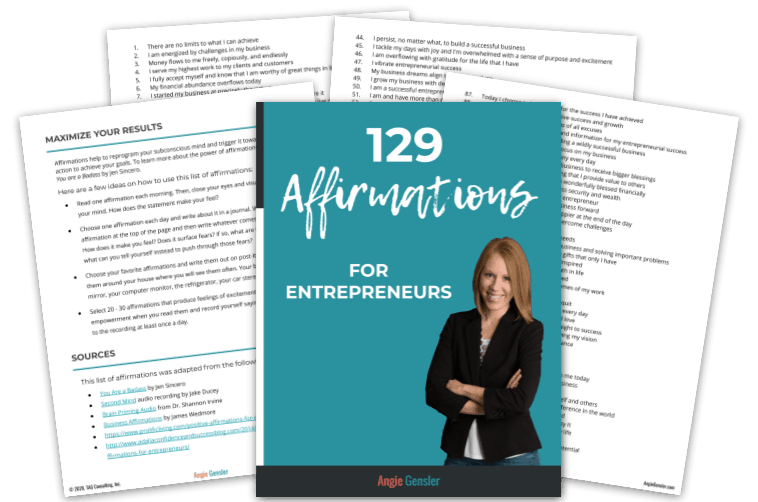 Affirmations help to reprogram your subconscious mind and trigger it toward action to achieve your goals.
You'll receive a list of my favorite affirmations for entrepreneurs. These are the exact same affirmations I use and they've played a huge role in my success.
BONUS #7: RECOMMENDED MINDSET RESOURCES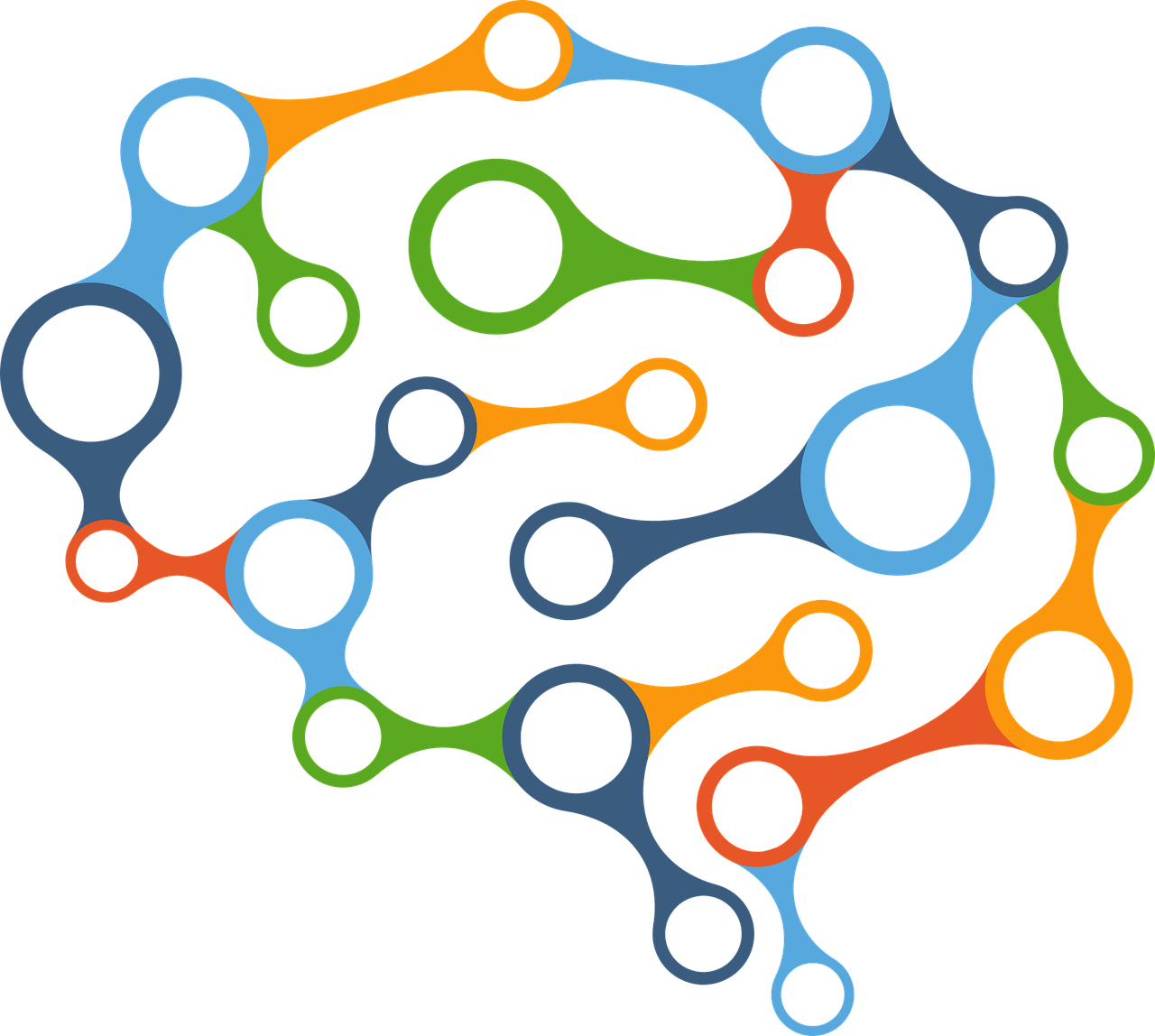 Mastering your mindset is vital to your success as an entrepreneur.
Get access to the audio recordings, books, podcasts, and videos I use to create a mindset of abundance and perseverance.
ALL THOSE BONUSES ARE WORTH OVER $1,600!
And they're all designed to help you take action and get results!
30-Day Money Back Guarantee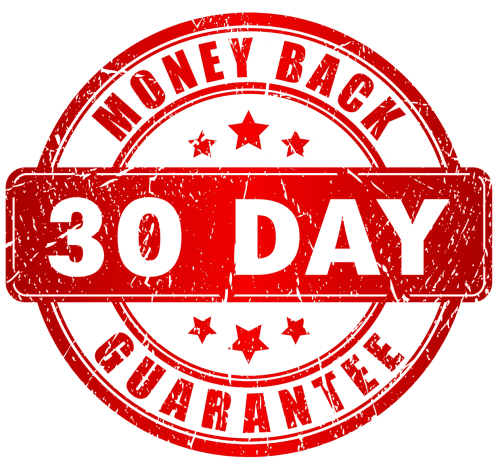 Here's how the guarantee works…

Enroll now and go through the course. If you feel like Secrets of a 7-Figure Entrepreneur didn't provide value, simply send an email within the first 30 days, show me you've done the work, and I'll issue a prompt and full refund.
I'm offering this money-back guarantee because I believe in the quality of this course and I want you to experience it, risk-free.
It's that simple.
HERE'S WHAT OTHERS HAVE SAID ABOUT MY COURSES:
"Their monthly Q&A video sessions answer specific questions in-depth in a way that engages the group. They also periodically revise their video material to keep it up to date and I haven't paid any extra for this. The value from this course is the best I have ever seen."
David Gilhousen
yourhallmarkmoment.com
"I just completed the course and am beyond thrilled and excited to get to work! Angie does an amazing job teaching the content in an easy to follow, step-by-step approach."
Stephanie Esser
balancingelephants.com
"I have purchased many courses in my career in online marketing. Some are good, others are so-so, and some you can't understand the speaker in the video training. However, Angie Gensler's course rates as one of the best not only because of the content organization but the way it is presented in a clear, understandable format."
Bob Storrs
thewoodworkersresource.co
"This course gave me what I needed to do paired with the screen share tutorials showing me how to do it. I also love the ongoing support and the ability to ask Angie questions after the course. Thank you so much Angie for creating this resource!"
Kara Williams
kinsleyskloset.com
Get to Know Your Instructor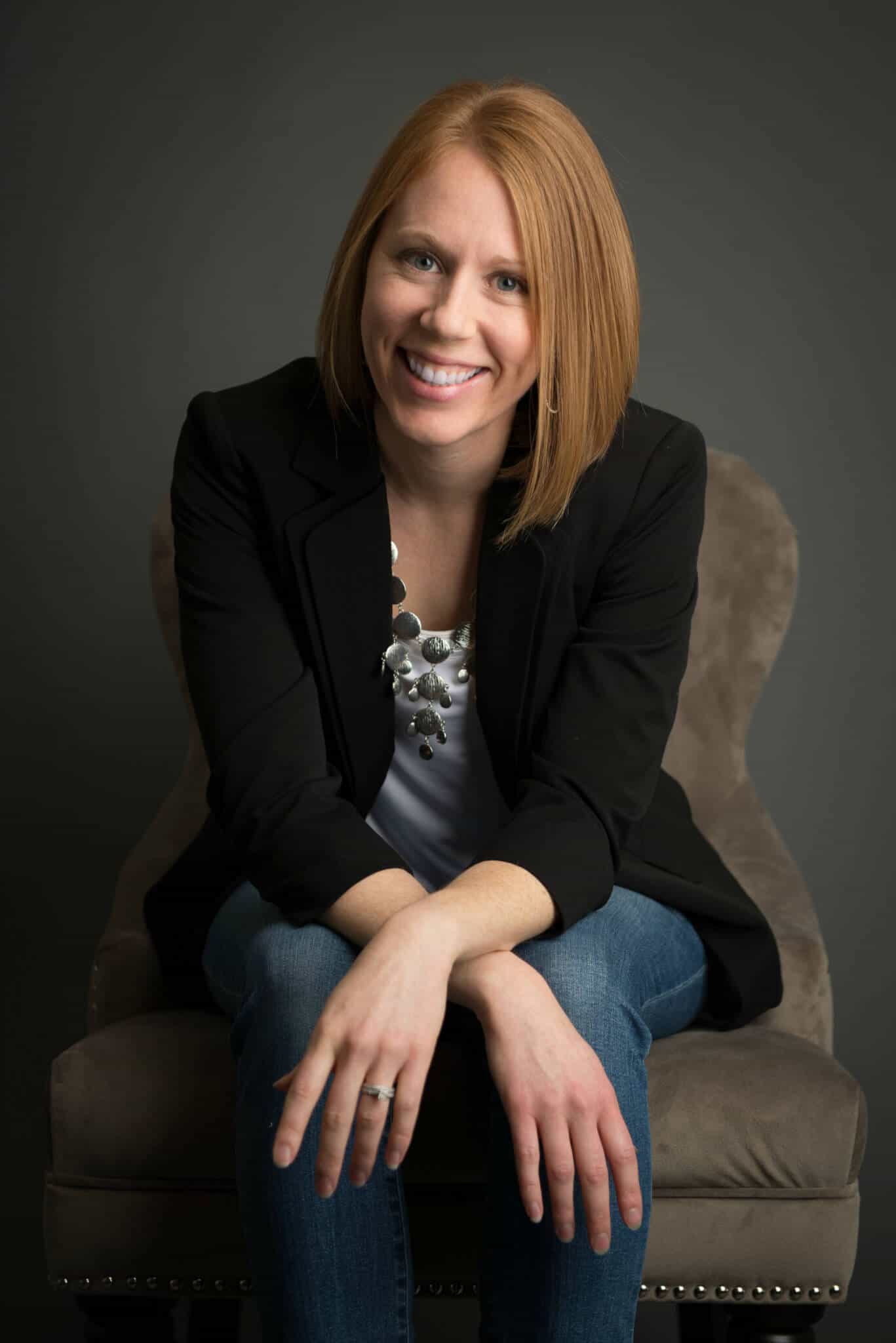 Angie Gensler is passionate about teaching busy entrepreneurs how to use social media and digital marketing to grow their business. She teaches entrepreneurs how to tackle online marketing without the headache or hustle.
Angie believes building a business should be fun – not an exhausting whirlwind of sleepless nights and unlimited cups of coffee.
Instead, Angie teaches entrepreneurs how to build a business and life they love at their speed, on their time, with their rules.
After receiving her MBA, she worked for nearly 10 years as a professional marketer for a billion-dollar corporation. Unfortunately, the corporate life took its toll and Angie realized she didn't belong anymore.
She started her marketing blog, AngieGensler.com, in 2016 as her way out of the corporate life. In April of 2018 she was finally able to quit her suffocating job and dedicate herself to teaching others how to start and grow a profitable business.
To your success,

Secrets of a 7-Figure Entrepreneur Course
Lifetime 24/7 Access to the Course
PLUS, OVER $600 IN BONUSES!
Monthly Live Q&A Calls
Profit Tracking Spreadsheet
Define Your Goals Workbook
Private Support Community
Discounts on Recommended Tools
Morning Journal Pages
Daily Affirmations for Entrepreneurs
Recommended Mindset Resources
"I personally was interested in the "Secrets to 7 Figure Entrepreneur Online Course" to learn to become financially free but was not sure how to go about it. Angie Gensler has laid it out perfectly with her own experience with 6 common myths and 10 secrets to 7 figures with her own testimony, shares how it worked for her and gives you many bonus tools to get you started on the right path. My big ahah moment was "niche your audience" vs "niche your product" as the latter is better with a simple step."
I purchased Secrets of a 7-Figure Entrepreneur Online Course and appreciated Angie's transparency in sharing her story. I purchased the product because I have a business but want to scale it. The course gives a practical overview of the necessary processes and then Angie provides bonuses to help get there. My two favorites are the Profit Tracking Spreadsheet (and the explanation behind why/how to use it) and the tip to write down 3 successes at the end of every day.
GOT QUESTIONS?
I've got answers!
Your Title Goes Here
Your content goes here. Edit or remove this text inline or in the module Content settings. You can also style every aspect of this content in the module Design settings and even apply custom CSS to this text in the module Advanced settings.
1. When does the course start and finish?
You will receive INSTANT, digital access to the course. This means that in just MINUTES from right now you could be well on your way to learning how to build a 7-figure business.
There's nothing to ship, and you'll have lifetime access to the entire training program. All the lessons are completely self-paced online lessons – you decide when you start and when you finish. Plus, you'll have lifetime access to the course so you can review the lessons as often as you like!
2. How long do I have access to the course?
How does lifetime access sound? After enrolling, you have unlimited access to this course for as long as you like – across any and all devices you own.
3. What if I am unhappy with the course?
We offer a 30-day money-back "do the work" guarantee. If you complete the course and you're not happy with what you learned, then contact me within 30 days of purchase for a full, prompt refund.
This is awesome news because when you enroll in the course, you have a full 30 days to complete the lessons, use the bonuses, and determine if it provided you with value.
4. What if I still have questions?
If you still have lingering questions or concerns, here's what I recommend…
Because this course is backed by a 30 day, 100% money-back guarantee it means you can try it out 100% risk-free.
So don't try to decide if it's right for you today. Instead, enroll in the course before the price goes up. Watch all the videos. Go through the training. Try out the techniques. If you like it? Then keep it.
If not, all you need to do is send me a one-line email and you'll receive a 100% refund for every penny that you've paid. No hoops to jump through or anything crazy like that.
You're also more than welcome to email me your questions at [email protected].