Create beautiful lead magnets.
No design experience or big budget required.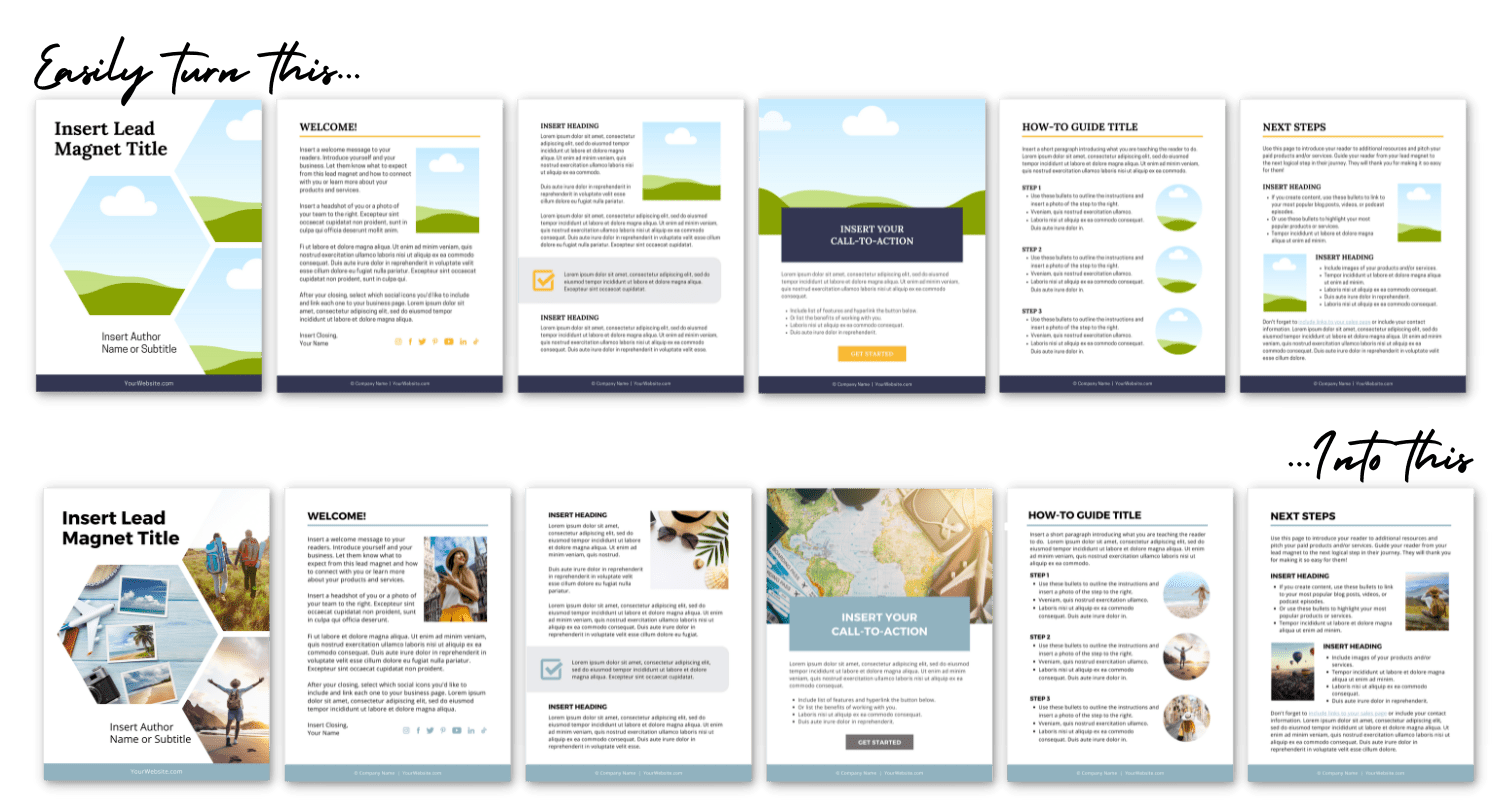 What's Included?
You'll get three different design styles for each page that can be mixed & matched and fully customized to fit your brand.
Customize with Ease
The templates are 100% customizable to fit your unique brand style.
No design experience is needed to easily change the fonts, text, colors, images, and layouts to create a 100% unique-to-you lead magnet or e-book.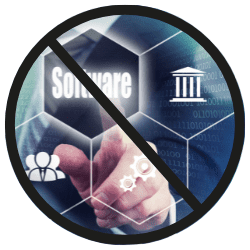 No Expensive Software
Access & edit with Canva.com, a free, easy-to-use design tool.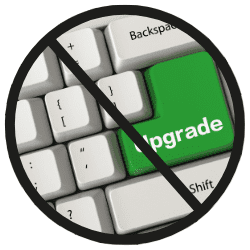 No hidden upgrades
All fonts and images are included with a free Canva account.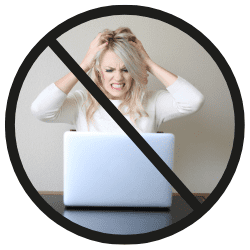 No hair-pulling
Includes a free video tutorial with easy editing tips.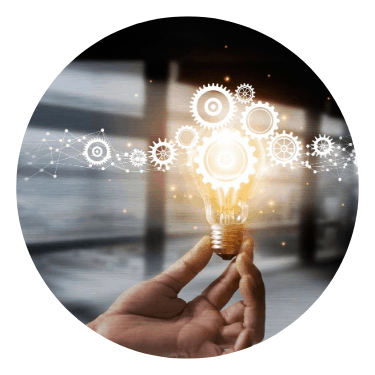 Fully Customizable
Easily edit every element to match your brand style.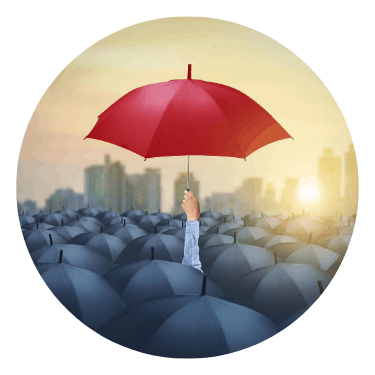 Unique Designs
All templates are original designs that can't be found in Canva or elsewhere.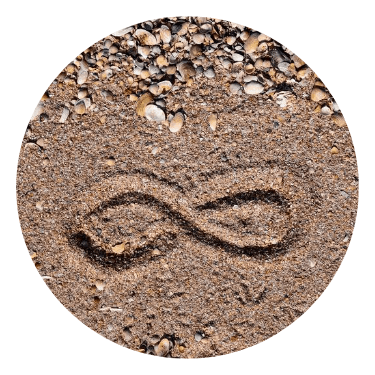 Lifetime Updates
Lifetime access to new designs and updates made to existing designs.
Once you've created your beautiful new lead magnet, use the Promotional Templates to promote it on your website and social media. You'll get the designs in three different sizes; perfect for embedding in blog posts and on the sidebar on your website, and sharing on your favorite social media platforms.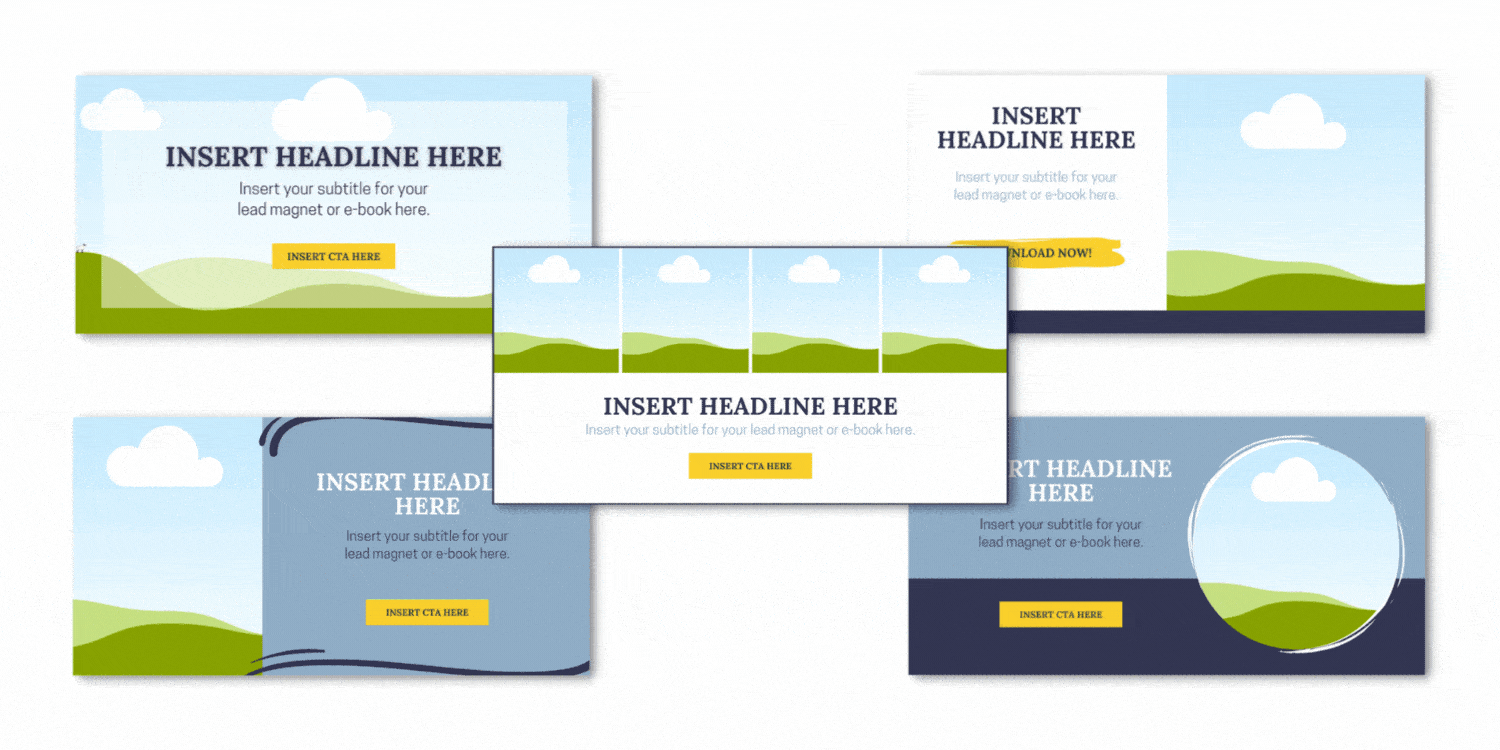 Sometimes, even when you're working with a template, you've got questions. That's why you'll also get access to a private Facebook community where you can get answers!
It's private, members-only, and provides the support you need to turn these templates into beautiful lead magnets and e-books for your business.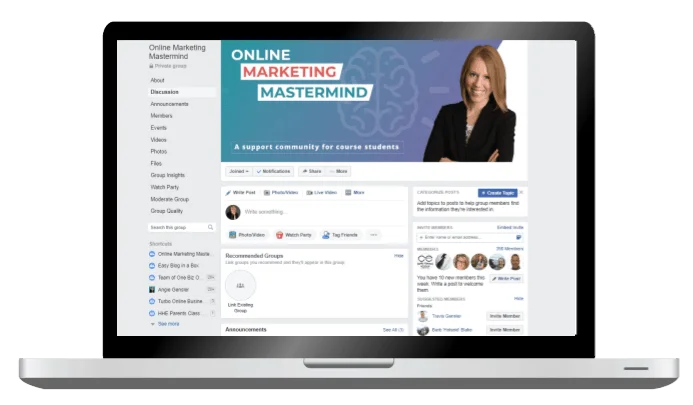 These design templates are the perfect solution for small business owners, solopreneurs, or team-of-one marketers.
Creating a gorgeous lead magnet or digital product is no longer a chore. You'll love the unlimited possibilities these templates provide!
What Customers Have Said…
"I highly recommend these products to anyone who just needs a boost to get going. The files are easy to access, her instructions are awesome, and everything is customizable. We've all stared at the blank page and gotten nowhere, and this was a game-changer for me."
"Before downloading these tools, I was spending HOURS trying to get my marketing efforts together but NOW, I spend MINUTES each day and my marketing is SPOT ON! Thank you for making my marketing life EASY!"
"I am thankful and amazed with Angie's customer service. She went above and beyond helping me with my requests, which were out of the scope of my purchase. I knew by watching her videos, that she was a person of integrity."
Who Created the Templates?
My name is Angie Gensler and I'm a professional marketer turned blogger. I worked as a corporate marketer for over 10 years. After receiving my MBA in 2010, I quickly worked up the ranks until I was head of marketing for a $150 million dollar business.
Despite my perceived success, I was miserable and felt called to do something greater. I started my blog in 2016 and 30 days later I had 534 email subscribers thanks to 2 killer lead magnets.

My tips on marketing have been featured on Social Media Examiner, Thrive Global, Social Media Today, the Art of Paid Traffic podcast, the Your Online Genius podcast, the Social Media Online Summit, and several other sites.
My experience and success with marketing my blog is the main reason why I was able to quit my high-paying corporate job and I'm now able to work where I want, and when I want.
I've researched, tested, and learned what works, and what doesn't work and I've learned a thing or two about image design. These lead magnet templates are designed specifically to save you time, grow your list, and get results.
To your success,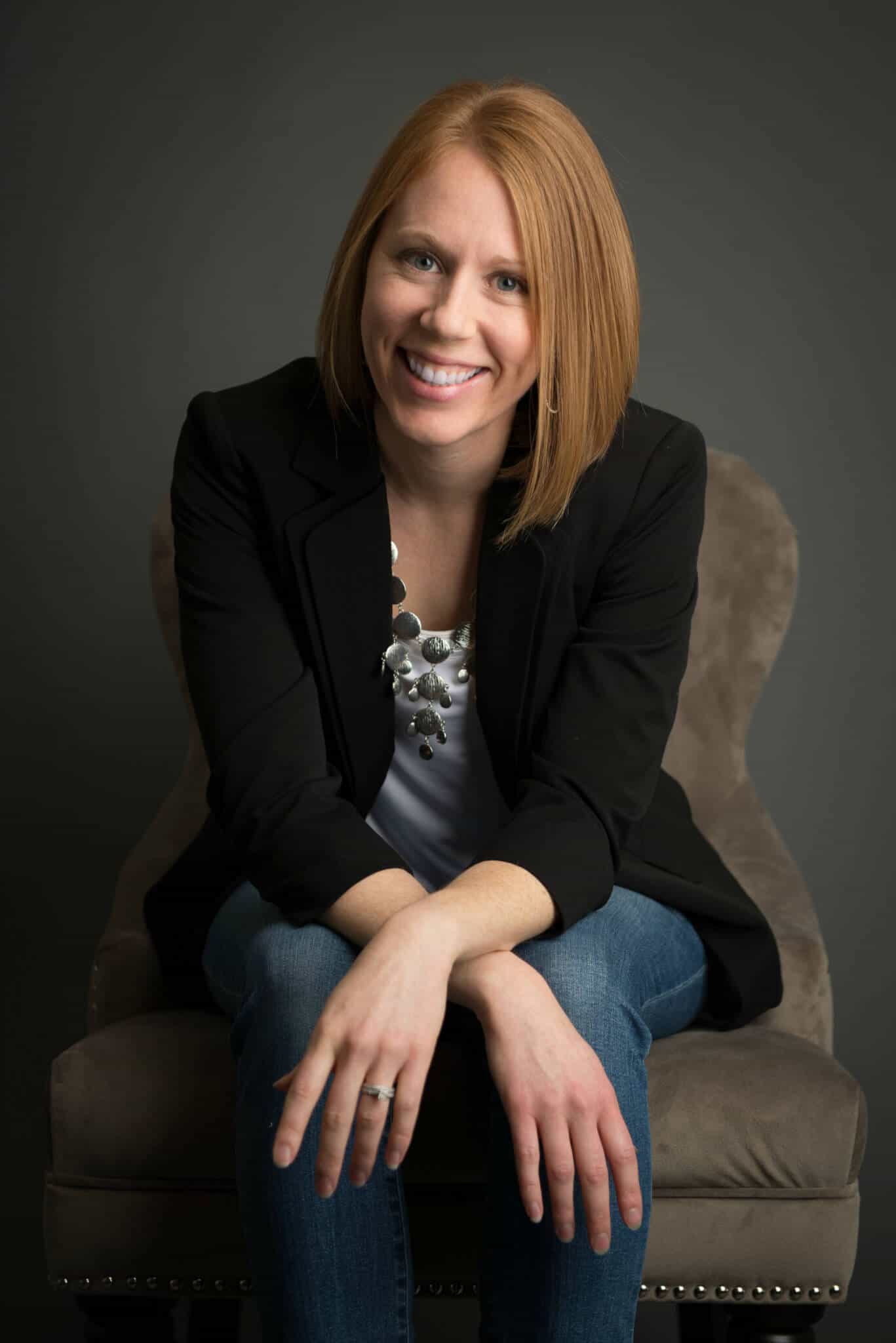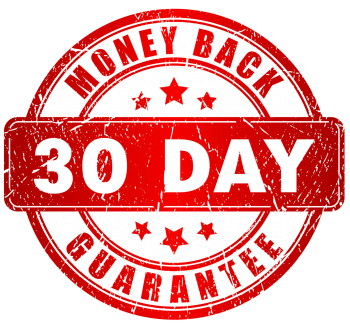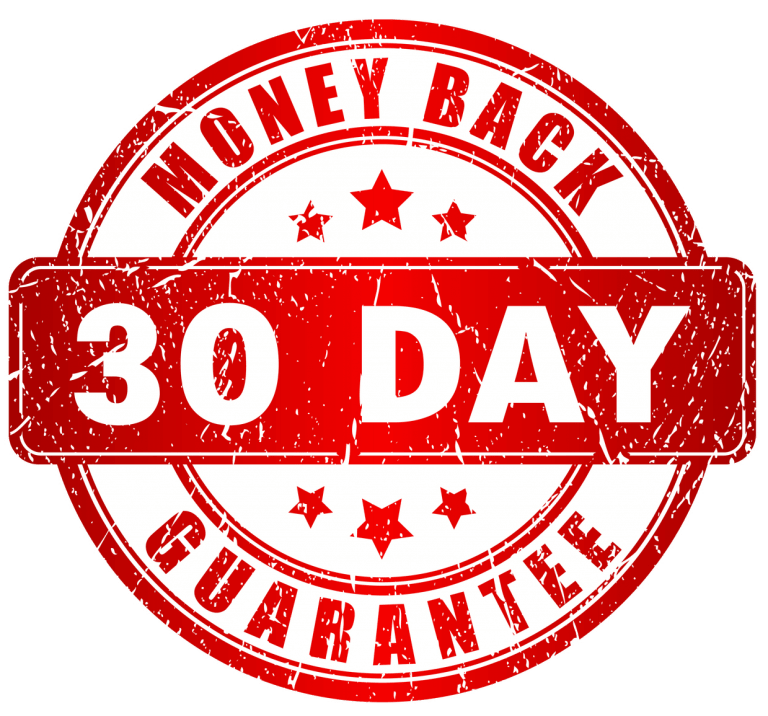 I'm a small business owner just like you. I understand the risk you feel when deciding to invest in a digital product. You work hard for your money and don't want to waste it on something that won't help you grow your business.
I'm extremely proud of these templates and I know anyone who buys them and uses them will be thrilled with their purchase and receive tons of value.
That's why I'm offering a 30-day money back guarantee. While I can't guarantee that these templates will generate hundreds of leads, I can guarantee your satisfaction with the quality of the templates and the time and stress they will save you.
If you're not happy with the lead magnet templates, I will refund your money within 30 days of your purchase.
Your Title Goes Here
Your content goes here. Edit or remove this text inline or in the module Content settings. You can also style every aspect of this content in the module Design settings and even apply custom CSS to this text in the module Advanced settings.
What software program do I need to access and edit the images?
The templates can be accessed and edited using Canva.com – a completely free online design tool. This allows anyone to access and edit the templates with free and easy-to-use software.
You'll also receive a video tutorial detailing how to download, edit, and save the templates.
What size are the templates?
The templates are designed in US letter size – 8.5 x 11 inches.
If you need the templates in another size, Canva.com has a wonderful resize feature that will convert the templates to your preferred size in seconds.
Will these templates work for my business niche?
The templates will work for any business niche or industry. They were designed with busy entrepreneurs and marketers in mind, regardless of the type of business.
Whether you're a network marketer, health and wellness professional, real estate agent, photographer, blogger, or dentist, the templates are adaptable to your business.
Also, keep in mind that I have a 30-day money-back guarantee so you can purchase the templates and try them out to see if they will work for your business. If you decide they won't work just send me an email and I'll refund your money.
Your Title Goes Here
Your content goes here. Edit or remove this text inline or in the module Content settings. You can also style every aspect of this content in the module Design settings and even apply custom CSS to this text in the module Advanced settings.
Are the images used in the templates safe to use?
Every image used as placeholders throughout the templates are stock images available with a free Canva.com account. That means all of the images are free to use and publish in the lead magnets you create.
Additionally, all fonts used in the templates are also available with a free Canva.com account. This means you will not need to pay anything extra to use the lead magnet templates.
Are the templates copyright protected?
The design of each template is copyright protected and may not be re-sold, redistributed, or claimed as your own – even if they are modified.
For example, altering the templates and selling them or sharing them with others as a template is copyright infringement.
Basically, don't try to steal these designs and resell them as your own work.
You may, however, use the templates to create, publish, and distribute free and paid materials with the purpose of promoting your business and growing your email list.
For example, using the templates to create an e-book unique to your business that you sell to others is perfectly okay and encouraged.
What if I'm not happy with the template designs?
Your purchase comes with a 30-day money-back guarantee. If you're not happy with the lead magnet templates, simply send me an email within the first 30 days of your purchase and I will refund your money.
Get It Now – $39
60 customizable lead magnet templates for Canva

Video tutorial with design tips

BONUS: Promotional Templates
BONUS: Unlimited Support in the private Facebook community

FREE lifetime updates