Bridge Day is typically held on the third Saturday of October each year. Entrepreneurs and marketing professionals aiming to commemorate Bridge Day can leverage this unique occasion as a platform to showcase their offerings and enhance brand visibility. Within this piece, you'll uncover creative concepts to observe the event, including collaborating with local outdoor enthusiasts or introducing exclusive deals and offers.
Additionally, you'll gain insights into effective social media strategies and hashtags to optimize your promotional endeavors for this day. Armed with these valuable suggestions, businesses can effectively capitalize on Bridge Day and expand their reach to a broader audience of adventure enthusiasts.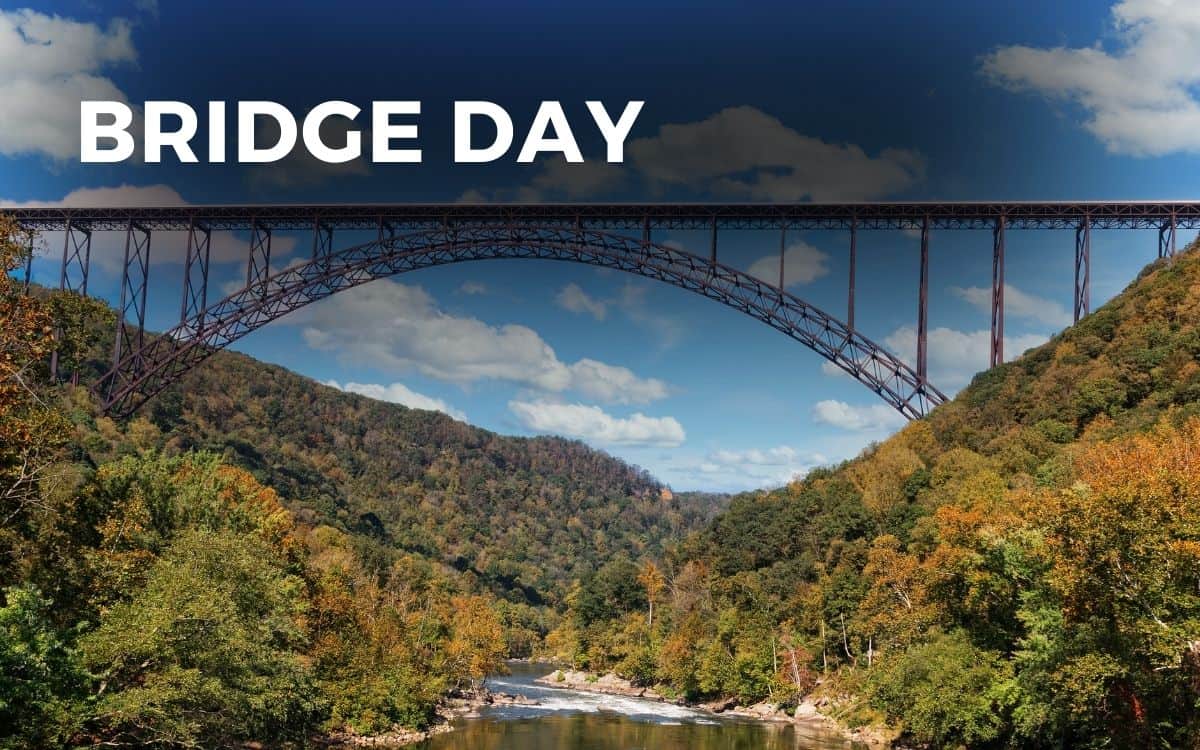 <strong>Table of Contents</strong>
*Disclosure: This post contains affiliate links. If you make a purchase using one of these links, I may receive a small commission. Please know that I only recommend products I have used and that I sincerely think will help your business.
When is Bridge Day?
Bridge Day is an annual event that typically takes place on the third Saturday of October. During this exciting occasion, participants gather to celebrate the thrill of BASE jumping and rappelling from the New River Gorge Bridge in West Virginia, USA.
This unique festivity not only showcases daring feats but also embraces the breathtaking natural beauty of the surroundings, making it a standout event for adrenaline seekers and spectators alike.
History of Bridge Day
The history of Bridge Day dates back to 1979 when the New River Gorge Bridge in West Virginia, USA, was completed. As the world's second-longest single-arch bridge and a marvel of engineering, it quickly captured the attention of adventurous spirits.
The inaugural Bridge Day was held on November 8, 1980, to commemorate the completion of the bridge and celebrate its significance to the local community.
The event's early years were relatively low-key, featuring a modest gathering of jumpers who leaped from the bridge to the river below. Over time, Bridge Day evolved into a much-anticipated annual festival, drawing participants and spectators from around the world.
In 1981, the first legal, organized jumps were allowed during the event, transforming Bridge Day into a focal point for BASE jumping and rappelling enthusiasts.
As the event gained popularity, the number of jumpers and attendees swelled, prompting the need for increased safety measures and logistical arrangements. Bridge Day also became a platform for philanthropic efforts, raising funds for local charities and community organizations.
The event's growth led to the establishment of regulations and safety protocols to ensure the well-being of participants.
Bridge Day not only offers daredevils a chance to experience the rush of jumping off the towering bridge but also provides an opportunity for the public to witness this extraordinary spectacle.
The event has become a symbol of adventure, camaraderie, and the appreciation of natural wonders, making it a highlight of the fall season and a significant part of West Virginia's cultural landscape.
How to Celebrate Bridge Day
As Bridge Day approaches, excitement fills the air for adventure enthusiasts and businesses alike. This annual event, celebrated on the third Saturday of October, offers a unique opportunity to commemorate the thrill of BASE jumping and rappelling from the New River Gorge Bridge in West Virginia.
Whether you're an individual seeking daring escapades or a business aiming to engage customers in creative ways, there are numerous ways to celebrate this exhilarating occasion. Below, we've compiled a diverse range of ideas to make the most of Bridge Day, ensuring an unforgettable experience for everyone involved.
Ideas for Individuals to Celebrate Bridge Day:
Spectator Experience: Join the crowd of onlookers to witness the breathtaking jumps and rappels from the bridge, soaking in the electrifying atmosphere.
Participate as a Jumper: For the adventurous at heart, consider registering as a jumper to take the leap from the bridge and experience the rush of BASE jumping.
Try Rappelling: If you're not ready for BASE jumping, experience the thrill of descending the bridge using rappelling techniques under professional guidance.
Capture the Moment: Bring your camera and capture stunning shots of jumpers, the bridge, and the surrounding natural beauty to commemorate the day.
Hiking and Exploration: Utilize the event as an opportunity to explore the scenic New River Gorge area through hiking trails and viewpoints.
Connect with Enthusiasts: Engage with fellow adventure lovers, exchange stories, and create lasting memories with like-minded individuals.
Ideas for Businesses to Celebrate Bridge Day:
Themed Promotions: Design special promotions, discounts, or packages that align with the adventurous spirit of Bridge Day, encouraging customers to engage with your products or services.
Collaborate with Local Artists: Partner with local artists to create limited-edition merchandise or artworks inspired by Bridge Day, giving customers unique collectibles.
Adventure Gear Showcases: If your business offers adventure gear, use the occasion to showcase and demonstrate your products, attracting enthusiasts seeking quality equipment.
Bridge Day Social Media Challenge: Launch a social media challenge related to Bridge Day, encouraging users to share their adventure stories or creative interpretations for a chance to win prizes.
Outdoor Workshops or Demos: Organize outdoor workshops or demonstrations related to your business, providing attendees with hands-on experiences and insights.
Support Charitable Causes: Contribute a portion of your Bridge Day sales to local charities or organizations that align with the event's spirit, fostering community engagement.
Concluding Paragraph:
Whether you're an individual craving an adrenaline rush or a business aiming to captivate customers, Bridge Day presents a canvas for creativity, camaraderie, and celebration. From participating as a jumper to curating special promotions, the possibilities are as vast as the New River Gorge itself. As Bridge Day continues to evolve, it remains a testament to human daring and a symbol of unity in the face of thrilling challenges.
Social Media Post Ideas for Bridge Day
In today's digital age, social media serves as a dynamic platform for businesses to connect with their audience and celebrate unique occasions.
As Bridge Day, the exhilarating event that embraces the spirit of adventure, approaches, businesses have a fantastic opportunity to engage their followers through creative and captivating social media content.
Whether you're aiming to showcase your brand's adventurous side, run exciting contests, or simply join the conversation, these social media post ideas will help your business make a splash on Bridge Day.
Social Media Post Ideas for Businesses on Bridge Day:
Behind-the-Scenes Glimpse: Share a sneak peek of your team preparing for Bridge Day, whether it's setting up a promotional event or showcasing the enthusiasm within your company.
Adventure Stories: Craft compelling stories that tie into the theme of daring exploration, featuring your products or services as essential tools for a successful adventure.
Throwback Moments: Post historical images or videos of past Bridge Day celebrations, highlighting your brand's participation or connection with the event over the years.
User-Generated Content: Encourage your followers to share their Bridge Day experiences using your products or services, and repost their content with credit, fostering a sense of community.
Bridge Day Countdown: Build anticipation by starting a countdown series, offering interesting facts about Bridge Day, adventure tips, or exclusive sneak peeks of what's to come.
Interactive Quizzes: Create fun quizzes related to Bridge Day, adventure facts, or outdoor trivia, offering participants a chance to win prizes from your brand.
Adventurous Hashtags: Develop unique and catchy hashtags for Bridge Day that encapsulate your brand's spirit and encourage users to join the conversation.
Adventure Gear Showcases: Showcase your adventure-related products in action through engaging photos and videos, demonstrating their reliability and functionality.
Bridge-Themed Challenges: Launch challenges that encourage users to share their own creative interpretations of Bridge Day, tying in your products or services.
Virtual Bridge Day Event: Host a live virtual event, webinar, or Q&A session with experts related to your industry, making the event accessible to a global audience.
As you gear up for Bridge Day, remember that social media offers an incredible opportunity to not only promote your brand but also engage with your audience on a personal level. By embracing these social media post ideas, you'll not only showcase your brand's alignment with the thrill of adventure but also foster meaningful connections with followers who share your enthusiasm for daring feats and exciting experiences. Seize the moment to make your business a part of the Bridge Day conversation and create lasting memories with your audience.
Want to create social media content 10X faster? Start your free 7-day trial of the Social Media Content Club and say goodbye to social media stress!
Hashtags to Use During Bridge Day
In the vast landscape of social media, hashtags have emerged as powerful tools for businesses and individuals alike. They serve as digital signposts, guiding content to the right audience and connecting people with shared interests.
As Bridge Day, an exhilarating celebration of adventure and daring leaps, approaches, using the right hashtags is paramount to ensuring your content reaches the intended adventure-loving community.
These carefully selected Bridge Day hashtags will help you effectively join the conversation, enhance your content's discoverability, and foster engagement during this thrilling event.
Hashtags to Use During Bridge Day:
#BridgeDay
#NewRiverGorge
#AdventureSeekers
#BASEJumping
#Rappelling
#ExtremeSports
#AdrenalineRush
#OutdoorAdventure
#DareToLeap
#BridgeDay2023
#ThrillSeekers
#ExploreWV
#NaturalBeauty
#WestVirginia
#BridgeJump
#AdventureAwaits
#BucketList
#SpectacularViews
#BridgeDayFestival
#DaringFeats
Harnessing the power of hashtags during Bridge Day can significantly amplify your social media presence and engagement. These carefully chosen tags not only connect you with fellow enthusiasts but also ensure your content stands out in the Bridge Day conversation. By incorporating these hashtags into your posts, you'll not only share in the excitement of this extraordinary event but also make a lasting impression on adventure seekers and thrill enthusiasts around the world. So, go ahead, embrace the adventure, and let these hashtags propel your Bridge Day journey to new heights.
For the complete list of holidays to celebrate on social media in october, visit AngieGensler.com/October-Holidays
Gift Ideas for Bridge Day
With Bridge Day on the horizon, the search for the perfect gifts to celebrate this daring and adventurous occasion begins.
Whether you're shopping for an adrenaline junkie, an outdoor enthusiast, or someone captivated by the thrill of exploration, the following gift ideas are sure to inspire excitement and joy.
From practical gear to keepsakes that commemorate the spirit of Bridge Day, these options offer a unique way to express your appreciation for the thrill-seeker in your life.
Gift Ideas for Bridge Day:
Gift-giving takes on a new level of excitement when it's tied to the spirit of Bridge Day. These gift ideas offer a range of options that not only acknowledge the thrill-seeker's love for adventure but also encapsulate the essence of this extraordinary event. Whether you're surprising them with adventure gear, preserving memories with memorabilia, or providing the gift of an exhilarating experience, your thoughtful gesture will undoubtedly resonate with their passion for daring exploration. Celebrate their adventurous spirit with a gift that adds a touch of excitement to their Bridge Day celebrations.
Other Holidays Related to Bridge Day
Bridge Day isn't the only celebration that brings people together to revel in adventure, exploration, and the joy of living life to the fullest.
Beyond Bridge Day itself, there are several other holidays that share a similar spirit of daring endeavors, outdoor experiences, and a love for embracing the unknown.
These occasions provide unique opportunities to connect with like-minded individuals, honor nature's wonders, and create unforgettable memories that echo the excitement of Bridge Day.
Other Holidays Related to Bridge Day:
National Parks Day: Celebrated on various dates, this day encourages people to explore and appreciate the beauty of national parks, fostering a connection to nature and adventure.
International Mountain Day: Observed on December 11th, this holiday raises awareness about the importance of mountains and encourages activities that promote sustainable mountain development.
World Oceans Day: Celebrated on June 8th, this global event highlights the significance of oceans and promotes conservation efforts, inspiring people to engage in water-related activities and exploration.
Global Climbing Day: Held annually in August by climbing gyms around the world, this event offers free climbing sessions, workshops, and community-building activities.
Outdoor Adventure Day: Various regions celebrate this day on different dates, focusing on encouraging people to engage in outdoor activities, connect with nature, and embark on new adventures.
While Bridge Day stands as a testament to the thrill of BASE jumping and rappelling, these related holidays expand the celebration of adventure to diverse realms of exploration and appreciation. Each occasion offers its own unique perspective on embracing the great outdoors, connecting with nature, and pushing the boundaries of personal limits. By recognizing and participating in these holidays, adventure enthusiasts and nature lovers can create a rich tapestry of experiences that echo the exhilaration and camaraderie of Bridge Day throughout the year.
For more holidays, download our free calendar with over 1,000 fun and unique holidays to celebrate this year. Head to angiegensler.com/holiday-calendar to grab your free copy!
Future Dates for Bridge Day
| Year | Date | Day |
| --- | --- | --- |
| 2023 | October 21 | Saturday |
| 2024 | October 19 | Saturday |
| 2025 | October 18 | Saturday |
| 2026 | October 17 | Saturday |
| 2027 | October 16 | Saturday |
| 2028 | October 21 | Saturday |
| 2029 | October 20 | Saturday |
List of ideas for Bridge Day:
Historical Evolution: Explore the evolution of Bridge Day over the years. Highlight significant milestones, growth in participation, changes in safety regulations, and any memorable moments that have contributed to shaping the event into what it is today.
Safety and Preparations: Provide valuable information about the safety measures, training, and preparations that participants undergo before taking part in Bridge Day activities. Discuss the role of professional instructors, equipment checks, and emergency protocols.
Local Community Involvement: Shed light on the impact of Bridge Day on the local community and economy. Interview local business owners, residents, and organizers to discuss how the event has become an integral part of the region's culture and economy.
Environmental Conservation: Discuss efforts taken to ensure that Bridge Day activities have minimal impact on the environment. Address initiatives related to waste management, protecting natural habitats, and promoting sustainable practices during the event.
Personal Stories: Share personal stories from participants, jumpers, and attendees who have experienced Bridge Day. Highlight their motivations, emotions, and the significance of the event in their lives. This human-centered approach adds depth to the article.
Conclusion
In the realm of business, celebrating Bridge Day extends far beyond the thrill-seekers' leaps and exhilarating moments. It represents an opportunity for businesses to connect with their audience on a level that resonates with the adventurous spirit. By embracing the creative ideas presented here, business owners can leverage Bridge Day as a unique platform to showcase their offerings, engage with their customers, and make a lasting impact. Whether it's through special promotions, collaboration with local ventures, or leveraging the power of social media, the celebration of Bridge Day can go beyond the New River Gorge and create ripples of excitement that resonate with customers around the world. As entrepreneurs raise a toast to daring endeavors, they simultaneously raise the bar for their own marketing strategies, reaching new heights of engagement and growth.
Celebrate this special day with us, and don't forget to download our free holiday calendar for more fun and unique holidays to celebrate this year!