International Literacy Day is celebrated annually on September 8. This special day is dedicated to the promotion of literacy and education across the world. It serves as an important reminder of the importance of reading, writing, and gaining knowledge for people all over the globe.
Business owners and marketers can use this holiday to boost their products and services by partnering with local libraries or launching special promotions and discounts. Social media posts featuring relevant hashtags can help businesses reach a larger global audience on International Literacy Day. With these tips, companies can make the most of this important day to support literacy worldwide.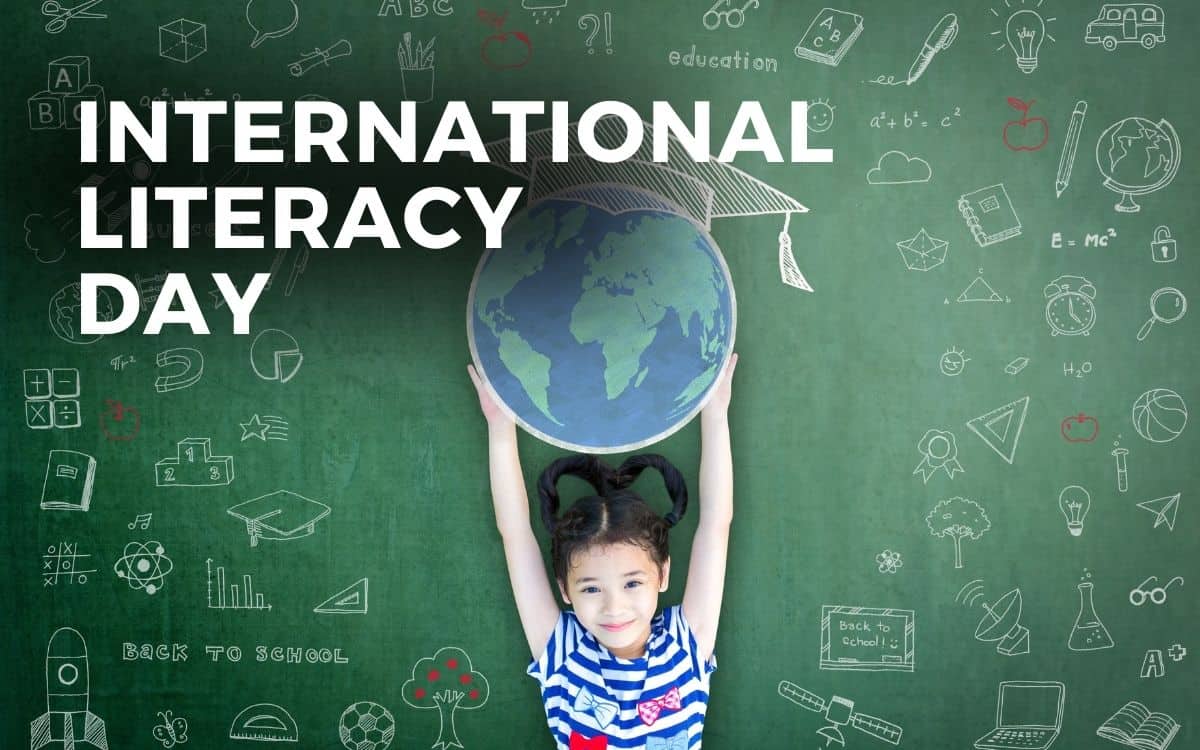 Table of Contents
*Disclosure: This post contains affiliate links. If you make a purchase using one of these links I may receive a small commission. Please know that I only recommend products I have used and that I sincerely think will help your business.
When Is International Literacy Day?
International Literacy Day is celebrated annually on September 8. This event was first established in 1965 by the United Nations Educational, Scientific and Cultural Organization (UNESCO).
Its goal is to raise awareness of literacy issues worldwide and motivate people to access education. The day also serves as a reminder for all countries to strive for full literacy among their citizens, which is one of the keys to a sustainable society.
Each year, activities are held worldwide in honor of International Literacy Day, with governments, international organizations, businesses, and individuals joining forces to promote the importance of reading and writing skills. Through events such as conferences or workshops to teach more about educational initiatives and improve access to educational resources, everyone can get involved to help literacy flourish worldwide.
History of International Literacy Day
The origins of this observance can be traced back to a conference in Tehran, Iran, in 1965, where ministers of education discussed ways to eradicate illiteracy. The conference aimed to discuss strategies to combat illiteracy and promote global education. In 1966, UNESCO declared September 8th as International Literacy Day, and since then, various events and initiatives have been organized to address the global literacy crisis.
According to UNESCO, approximately 775 million people lack minimum literacy skills, with one in five illiterate adults. Alarmingly, two-thirds of these individuals are women. In 2007-2008, the focus of International Literacy Day was on literacy and health, specifically addressing public health challenges like HIV, tuberculosis, and malaria.
In 2009-2010, the focus shifted to literacy and empowerment, emphasizing the role of literacy in promoting gender equality and empowering women.
Over the years, International Literacy Day has received growing recognition and support. The UNESCO Confucius Prize for Literacy and the UNESCO King Sejong Literacy Prize are relevant awards in the field, honoring innovative initiatives and outstanding contributions to literacy promotion. The UNESCO Institute for Statistics provides crucial data and information on literacy, contributing to the assessment of the global literacy landscape.
According to a report by UNESCO, more than half of children and adolescents worldwide are not receiving adequate education. This underlines the ongoing need to comprehensively address illiteracy and invest in education systems that prioritize inclusion and equity.
How To Celebrate International Literacy Day
Whether you are an individual or a business, there are numerous ways to join in the festivities and contribute to this global initiative, fostering a society where everyone has access to education and the ability to read and write. Whether you're a concerned individual or a socially responsible business, numerous creative and impactful ways exist to celebrate International Literacy Day.
Ideas For Individuals To Celebrate International Literacy Day
Host a Book Drive: Gather gently used books or purchase new ones to donate to local schools, libraries, or literacy-focused organizations.
Read Aloud Sessions: Organize reading sessions in public spaces, such as parks or community centers, to promote the joy of reading to people of all ages.
Support Adult Literacy Programs: Volunteer with adult literacy programs to assist individuals in improving their reading and writing skills.
Create a Mini Library: Set up a small lending library in your neighborhood or workplace, allowing people to access books easily.
Write and Share Stories: Encourage creativity by writing short stories or poems related to literacy and share them on social media platforms to inspire others.
Financial Contributions: Donate to literacy-focused non-profit organizations to support their initiatives in improving access to education and resources.
Host Book Discussions: Organize book clubs or discussion sessions centered around literacy-themed books to generate thoughtful conversations.
Educational Workshops: Offer free workshops to teach basic literacy skills to individuals in need, especially in underprivileged communities.
Advocate for Literacy: Raise awareness about literacy issues by engaging with local authorities and promoting policies that enhance access to education.
Ideas For Businesses To Celebrate International Literacy Day
Organize a Book Donation Drive: Engage employees and customers by launching a book donation drive within your workplace or store. Offer incentives for participation, such as discounts or rewards, and collaborate with local literacy organizations to distribute the collected books.
Sponsor Literacy Programs or Scholarships: Support literacy initiatives by sponsoring local literacy programs or funding scholarships for underprivileged students. This investment in education will have a long-lasting impact on individuals and the community.
Employee Reading Sessions: Encourage a reading culture by organizing work-hour reading sessions. Set aside dedicated time for employees to dive into a book of their choice, promoting personal growth and intellectual stimulation.
Collaborate with Local Schools or Libraries: Partner with nearby schools or libraries to conduct workshops or author visits. Offer resources, expertise, or funding to enhance their literacy programs and create a mutually beneficial relationship.
Advocate for Literacy: Use your business platform to advocate for literacy on International Literacy Day. Raise awareness by hosting webinars, posting informative content on your website or blog, or even sponsoring or participating in literacy-themed events and conferences.
Whether through personal actions or business initiatives, there are endless ways to celebrate and support literacy. By participating in these activities, you will contribute to a world where everyone has access to the joy and opportunities that literacy brings.
Social Media Post Ideas For International Literacy Day
Book Recommendations: Share a list of recommended books that have inspired and impacted your team members or customers. Encourage your audience to read these books and share their favorites with your community.
Support a Literacy Program: Partner with a local literacy organization or charity and pledge to donate a portion of your sales on International Literacy Day. Let your customers know that their purchase is contributing to a meaningful cause.
Literary Trivia: Host a fun quiz on your social media channels. Reward participants with exclusive discounts, free ebooks, or the chance to win a book bundle.
Spotlight on Literacy Heroes: Share stories of individuals or organizations making a significant impact on literacy in their communities. Highlight their achievements and encourage your followers to nominate their local literacy heroes.
Virtual Book Club: Organize a virtual book club discussion on a literacy-related book and invite your followers to participate. This fosters engagement and creates a sense of community around literacy.
Literacy Challenges: Launch short, daily literacy challenges leading to International Literacy Day. These could include writing a poem, summarizing a book in one sentence, or creating book-themed artwork.
Donation Drive: Launch a donation drive to collect books, stationery, or funds for educational initiatives. Encourage your followers to contribute and share their experiences with the power of education.
By utilizing these social media post ideas, your business can raise awareness about the significance of literacy and demonstrate your commitment to social responsibility. Remember to choose ideas that align with your brand values and voice and encourage active participation from your followers.
Want to create social media content 10X faster? Start your free 7-day trial of the Social Media Content Club and say goodbye to social media stress!
Hashtags To Use During International Literacy Day
Using hashtags on social media effectively promotes your posts, joins conversations, and engages with relevant audiences during International Literacy Day. Hashtags can generate visibility for your content, track campaigns, and create meaningful connections with followers. Here are some powerful hashtags that you can use to commemorate International Literacy Day:
#LiteracyDay2020
#InternationalLiteracyDay
#LearnToReadWrite
#EducationForAll
#SpreadTheWord
#EmpowermentThroughLiteracy
#InvestInEducation
Using these hashtags, you can spread awareness about the importance of literacy and
engage with a larger audience passionate about education. So remember to add relevant hashtags to your International Literacy Day posts and join the conversation!
For the complete list of holidays to celebrate on social media in September, visit AngieGensler.com/September-Holidays
Gift Ideas For International Literacy Day
Celebrate International Literacy Day by gifting your friends and family meaningful items promoting education. Not only will these gifts impact the lives of those receiving them, but they will also spread awareness about the importance of literacy. Here are some amazing gift ideas for International Literacy Day.
A Book Subscription: Gift a book subscription to encourage your loved ones to keep learning and exploring new topics. You can either opt for monthly or quarterly subscriptions depending on your preferences.
Educational Toys: Treat your little ones to educational toys, puzzles, board games, or books, which will help cultivate their minds while having fun!
Stationery Supplies: Gifting stationery supplies is easy to show your literacy support. It could include pens, pencils, notebooks, sketchbooks etc.
Learning Tools: Gift educational tools such as laptops, tablets, or e-readers to supplement their learning journey and help them stay connected with the world.
Charitable Donations: Donate in honor of International Literacy Day to organizations working to provide education opportunities to children in need.
Gifting ideas are endless when it comes to celebrating International Literacy Day! Show your support by gifting items that foster creativity and knowledge and bring joy to your loved ones on this special day!
Other Holidays Related To International Literacy Day
Many other holidays related to International Literacy Day promote the importance of education and create a world where everyone has access to quality learning opportunities. Here is a list of some important days dedicated to literacy and education:
World Book Day (April 23): Celebrated annually, this holiday encourages everyone to celebrate books and authors by engaging in literary activities.
International Mother Language Day (February 21): This day aims to spread awareness about the importance of preserving linguistic diversity and promoting mother languages worldwide.
Global Learn Day (October 15): Celebrated globally, this day promotes lifelong learning and emphasizes the power of knowledge-sharing among learners worldwide.
World Teachers' Day (October 5): Celebrated annually since 1994, this day honors the role of teachers in society and encourages them to continue their efforts toward creating a better future.
International Children's Book Day (April 2): This day celebrates children's literature and inspires a love for reading among young audiences. It aims to promote the power of stories in shaping young minds and nurturing creativity.
International Education Day (January 24): This day highlights the significance of education in achieving global peace, sustainable development, and human rights. It echoes the notion that literacy is a fundamental human right and an essential foundation for lifelong learning.
These holidays provide an opportunity to celebrate knowledge-building initiatives, recognize teachers' contributions, and encourage lifelong learning. By identifying these days and engaging in activities supporting literacy growth, we can work together to promote education opportunities for all! When we invest in education, we empower individuals and create a more equitable world for everyone.
For more holidays, download our free calendar with over 1,000 fun and unique holidays to celebrate this year. Head to angiegensler.com/holiday-calendar to grab your free copy!
Future Dates for International Literacy Day
Below is a calendar of upcoming dates that International Literacy Day will be celebrated:
Mark your calendars with these future dates for International Literacy Day and join millions of people worldwide in promoting education and literacy.
| Year | Date | Day |
| --- | --- | --- |
| 2023 | September 8 | Friday |
| 2024 | September 8 | Sunday |
| 2025 | September 8 | Monday |
| 2026 | September 8 | Tuesday |
| 2027 | September 8 | Wednesday |
| 2028 | September 8 | Friday |
| 2029 | September 8 | Saturday |
Examples Of Innovative Approaches To Tackling Illiteracy Across Countries And Cultures
There are many innovative approaches to tackling illiteracy across countries and cultures. Here are a few examples of those approaches:
Mobile Learning Apps: In today's digital age, mobile learning apps have become a powerful tool for tackling illiteracy. These apps provide interactive and engaging literacy lessons, making it easy for individuals to learn at their own pace. One example is the Duolingo app, which offers language learning courses that start from the basics and gradually advance as the user progresses. These apps are particularly effective because they can be accessed anytime and anywhere, making learning more accessible to those without formal education opportunities.
Community-based initiatives: Community-based initiatives are designed to mobilize community members and leverage local resources to promote literacy in the area. This includes utilizing local leaders or volunteers to provide literacy instruction, setting up libraries in rural communities, and building computer labs for online learning opportunities.
Collaborative learning: This approach involves bringing together students from different backgrounds to foster a culture of collaboration and mutual support among learners. Creating an environment that encourages active participation makes it easier for students to engage in the learning process and make meaningful connections with others.
Multilingual Education: In regions with diverse linguistic backgrounds, using multilingual approaches to education can be crucial. By incorporating local languages into the curriculum, learners can better grasp concepts, making learning more meaningful and effective.
Adult Literacy Programs: Targeted programs focusing on adult literacy are essential for combatting intergenerational illiteracy. Adult education initiatives can empower parents and caregivers to support their children's education and create a more literate community.
These are just a few innovative approaches used worldwide to tackle illiteracy and promote literacy growth. By investing resources into these initiatives and supporting those working towards making educational opportunities accessible to all, we can create a brighter future for generations.
Conclusion
Business owners can join the celebration of International Literacy Day by engaging with their customers and employees on this special occasion. From organizing reading activities to setting up donation drives, there are many ways in which businesses can show support for literacy initiatives locally and across the world.
By taking these actions, business owners can help create a more literate society that values knowledge-sharing and lifelong learning—a crucial step towards achieving global equity. Celebrating International Literacy Day is an important reminder of our collective responsibility to promote education opportunities for everyone everywhere! Let's come together to mark this special day and create a brighter future for future generations!
Celebrate this special day with us, and don't forget to download our free holiday calendar for more fun and unique holidays to celebrate this year!