National Cheese Curd Day is celebrated on October 15th. Business owners and marketers interested in commemorating National Cheese Curd Day can leverage this unique occasion to boost their products and services, and in this article, you'll find creative concepts for celebrating the event, such as collaborating with local cheese curd vendors or introducing special offers and discounts.
Furthermore, you'll gain insights into crafting engaging social media content and utilizing relevant hashtags to maximize your marketing strategies for this day. Armed with these valuable suggestions, businesses can effectively capitalize on National Cheese Curd Day and connect with a broader audience.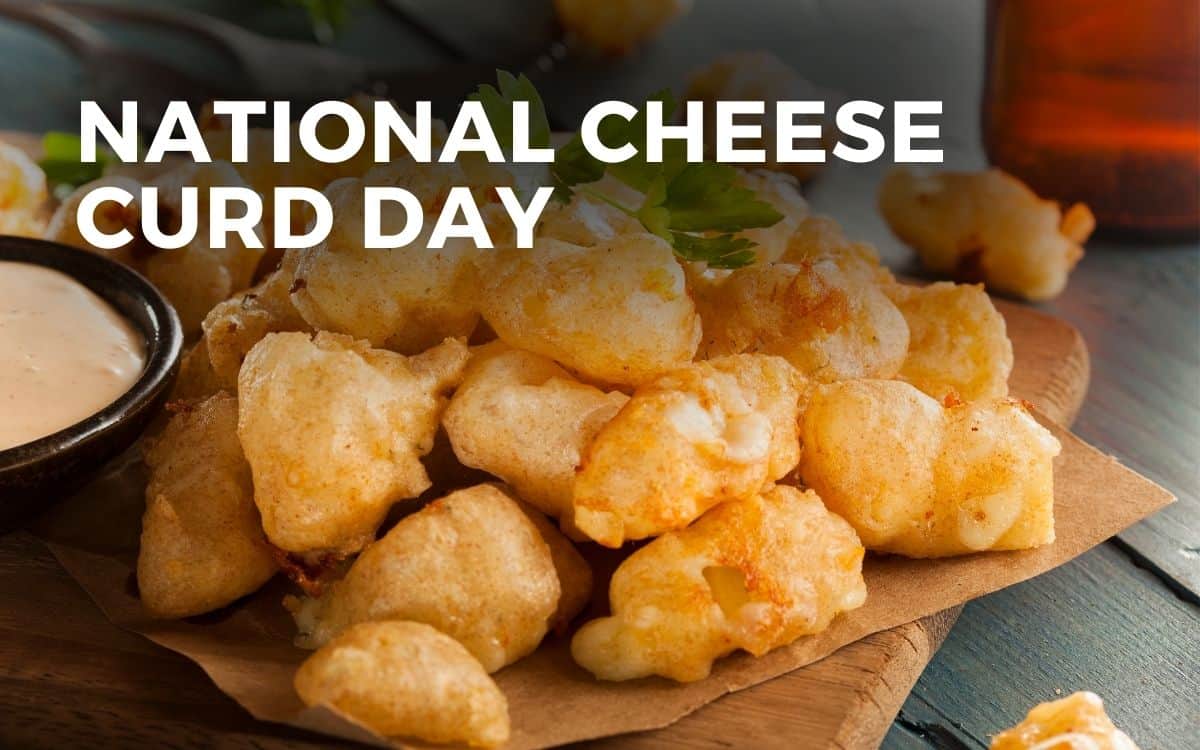 Table of Contents
*Disclosure: This post contains affiliate links. If you make a purchase using one of these links, I may receive a small commission. Please know that I only recommend products I have used and that I sincerely think will help your business.
When is National Cheese Curd Day?
National Cheese Curd Day is celebrated on October 15th each year. It's a delightful occasion for cheese enthusiasts to savor these delectable bite-sized treats and for businesses to promote their cheesy products and services.
Whether you prefer them plain or dipped in various sauces, National Cheese Curd Day offers a perfect excuse to indulge in this cheesy delight and explore the diverse culinary possibilities it presents.
History of National Cheese Curd Day
National Cheese Curd Day, celebrated on October 15th, is a relatively recent addition to the roster of food-related observance days.
Its history can be traced back to the growing popularity of cheese curds in the United States, particularly in the Midwest, where cheese production is a significant industry.
The exact origin and establishment of National Cheese Curd Day remain somewhat elusive, as it doesn't have centuries-old traditions like some other food-related holidays.
Instead, it appears to have emerged organically as a grassroots celebration among cheese curd enthusiasts and businesses in the Midwest.
Cheese curds, which are young, fresh cheese pieces before they undergo the aging process, have a long history in the dairy industry, especially in regions with strong dairy farming traditions.
However, it was in the 20th and 21st centuries that cheese curds gained wider recognition and appreciation, thanks in part to their association with popular snacks like poutine and deep-fried cheese curds.
As cheese curds became more popular and began appearing on menus across the country, enthusiasts and businesses recognized the need for a day to celebrate this beloved dairy delight.
This led to the establishment of National Cheese Curd Day as a way to pay homage to this iconic snack and promote the consumption of cheese curds.
Today, National Cheese Curd Day serves as an annual opportunity for cheese producers, restaurants, and food lovers to come together and enjoy this cheesy treat.
While it may not have centuries of history, it reflects the modern appreciation for regional and local food specialties, making it a delicious addition to the calendar of food-related holidays.
How to Celebrate National Cheese Curd Day
National Cheese Curd Day is a momentous occasion for cheese enthusiasts and businesses alike to revel in the creamy, melt-in-your-mouth goodness of cheese curds.
Whether you're an individual seeking to savor these delectable morsels or a business owner aiming to leverage this cheesy celebration for promotional opportunities, there are countless ways to make the most of this day.
In the following sections, we'll explore a range of ideas for both individuals and businesses to ensure that National Cheese Curd Day is a cheesy delight to remember.
Ideas for Individuals:
Homemade Cheese Curd Extravaganza: Spend the day in the kitchen experimenting with homemade cheese curds. Try different coatings and dipping sauces for a personalized cheesy experience.
Cheese Curd Picnic: Pack a picnic basket with your favorite cheese curds, crackers, and refreshing beverages, and head to a scenic park for a cheesy outdoor feast.
Cheese Curd Tasting: Visit a local cheese shop or dairy farm that produces cheese curds and embark on a tasting adventure, exploring various flavors and textures.
Cooking Class: Sign up for a cheese curd cooking class or workshop to learn the art of crafting these delectable treats from scratch.
Share the Love: Surprise friends and family with a cheese curd gift basket, showcasing different varieties and accompaniments.
Social Media Challenge: Start a cheese curd-themed challenge on your social media platforms, encouraging friends and followers to share their most creative cheese curd creations.
Movie Night: Host a cheese curd-themed movie night, featuring cheesy classics and, of course, plenty of cheese curds.
Ideas for Businesses:
Special Cheese Curd Menu: If you run a restaurant or eatery, create a special menu featuring innovative cheese curd dishes and pairings for the day.
Discounts and Promotions: Offer discounts or promotions on cheese curd items to attract more customers and boost sales.
Collaboration with Local Dairies: Partner with local dairy producers to source fresh cheese curds for your business, highlighting the importance of supporting regional agriculture.
Cheese Curd Sampling: Set up a cheese curd tasting station in your store or restaurant, allowing customers to sample different flavors before making a purchase.
Social Media Campaign: Launch a social media campaign with enticing visuals and the use of popular cheese curd-related hashtags to engage with your audience.
Cheese Curd Challenge: Create a fun cheese curd challenge for your customers, encouraging them to share their cheese curd experiences online and tag your business.
Cheese Curd Merchandise: Design special National Cheese Curd Day merchandise like t-shirts, mugs, or tote bags featuring your business logo and a cheesy slogan.
National Cheese Curd Day offers a mouthwatering opportunity for individuals and businesses to embrace their love for these creamy, cheesy delights. Whether you're indulging in homemade creations, exploring local cheese curd offerings, or leveraging promotional strategies, this day is a time to savor and celebrate the joy of cheese curds, connecting with others who share the same passion for all things cheesy. So, get ready to savor the cheese, share the love, and make National Cheese Curd Day an unforgettable cheesy celebration!
Social Media Post Ideas for National Cheese Curd Day
In this digital age, where cheese curd aficionados and businesses can instantly connect with a global audience, leveraging the power of social media is a fantastic way to celebrate National Cheese Curd Day.
As the cheesy festivities unfold, you'll want your social media presence to be as delectable as the cheese curds themselves.
To help your business stand out and engage with cheese enthusiasts, here's a curated list of enticing social media post ideas that will make your National Cheese Curd Day celebration truly cheesy, memorable, and shareable.
Social Media Post Ideas for Businesses:
Cheese Curd Showcase: Post high-resolution images or videos showcasing your mouthwatering cheese curd offerings, highlighting their golden, crispy texture and gooey centers.
Trivia Time: Share fun cheese curd trivia or facts with your followers, educating them about the history and variety of this beloved snack.
Customer Spotlights: Feature customer testimonials or photos enjoying your cheese curds, accompanied by their delightful comments.
Behind-the-Scenes: Take your audience behind the scenes to show how your cheese curds are made, from curd creation to frying or preparation.
Interactive Polls: Engage your audience with polls or surveys, asking them to vote on their favorite cheese curd dip or flavor.
Cheesy Quotes: Share witty cheese-related quotes or puns that will make your followers smile and associate your brand with humor.
Giveaways and Contests: Host a cheese curd-themed giveaway or contest, encouraging user-generated content like cheesy recipes or creative photos.
Employee Features: Introduce your team members who craft these cheesy delights, giving a personal touch to your brand.
Recipe Ideas: Share unique cheese curd recipes or creative ways to use cheese curds in dishes.
Limited-Time Offers: Announce special promotions or discounts exclusively for National Cheese Curd Day, creating a sense of urgency.
As you gear up to celebrate National Cheese Curd Day, remember that your social media presence can be a potent tool to connect with cheese lovers and boost your business's visibility. With these engaging social media post ideas, you can harness the cheesy enthusiasm of your followers, inviting them to partake in the celebration and spread the cheesy joy far and wide. So, get ready to ignite the screens with cheese curd cravings and watch your engagement soar on this delectably cheesy day!
Want to create social media content 10X faster? Start your free 7-day trial of the Social Media Content Club and say goodbye to social media stress!
Hashtags to Use During National Cheese Curd Day
In the fast-paced world of social media, hashtags play a crucial role in amplifying your message, connecting with like-minded individuals, and riding the wave of trending topics.
For National Cheese Curd Day, leveraging the right hashtags can make your posts easily discoverable by cheese enthusiasts and potential customers alike.
These hashtags can not only boost your content's visibility but also foster a sense of community around this cheesy celebration.
So, let's explore a collection of carefully curated hashtags that will help you elevate your social media presence during National Cheese Curd Day and join the global conversation about all things cheesy.
Hashtags to Use During National Cheese Curd Day:
#NationalCheeseCurdDay
#CheeseCurdLove
#SayCheeseCurd
#Curdtastic
#CheesyDelights
#CurdHeaven
#MeltInYourMouth
#CheeseCurdObsession
#CurdsAndCravings
#CheeseCurdFeast
#CheeseCurdAddict
#GooeyGoodness
#CurdCraze
#CheeseLoversUnite
#SavorTheFlavor
#CrispyAndCheesy
#CheeseCurdsEveryday
#DairyDelights
#CheeseCurdAdventures
#CheeseCurdsAroundTheWorld
Harnessing the power of hashtags on National Cheese Curd Day is akin to adding the perfect cheese topping to your favorite dish – it enhances the flavor and ensures your message is seen by the right audience. These cheese-inspired hashtags will not only connect you with fellow cheese curd enthusiasts but also help you stand out in the digital cheese curd celebration. So, don't forget to sprinkle these hashtags liberally throughout your social media posts, and let the cheesy festivities begin!
For the complete list of holidays to celebrate on social media in October, visit AngieGensler.com/October-Holidays
Gift Ideas for National Cheese Curd Day
Finding the perfect gift for a cheese lover on National Cheese Curd Day can be a delightful way to celebrate their passion for all things cheesy.
Whether it's for a friend, family member, or colleague, presenting them with a cheesy surprise can elevate their National Cheese Curd Day experience to a whole new level.
In this section, we've curated a selection of five amazing gift ideas that will leave cheese enthusiasts cheesin' from ear to ear on this special occasion.
5 Gift Ideas for National Cheese Curd Day:
These gift ideas for National Cheese Curd Day are sure to put a smile on the face of any cheese enthusiast. Whether you opt for a delectable cheese curd sampler or a creative DIY cheese-making kit, these thoughtful presents will not only celebrate their love for cheese curds but also make their National Cheese Curd Day an unforgettable and cheesy affair. So, go ahead and spread the cheesy love with these fantastic gift ideas!
Other Holidays Related to National Cheese Curd Day
National Cheese Curd Day is undoubtedly a day filled with cheesy delight, but it's just one of many delightful holidays celebrating various culinary pleasures. If you're a food enthusiast who revels in the joy of indulging in delicious treats, you'll be delighted to know that there are several other holidays related to National Cheese Curd Day that honor different flavors, cuisines, and culinary traditions. These holidays offer an opportunity to explore an array of culinary delights throughout the year.
Other Holidays Related to National Cheese Curd Day:
National Pizza Day: Celebrate one of the world's most beloved foods with a slice (or several) on National Pizza Day.
National Taco Day: Dive into the world of tacos and savor the diverse flavors and fillings this Mexican culinary classic has to offer.
National Ice Cream Day: Cool off and indulge in a sweet treat on National Ice Cream Day, a perfect companion to the cheesy goodness of cheese curds.
National French Fry Day: Pair your cheese curds with some crispy French fries on this delectable day dedicated to this beloved side dish.
National Hot Dog Day: Satisfy your savory cravings with a delicious hot dog, complete with your favorite toppings and condiments.
National Grilled Cheese Day: Celebrate the classic grilled cheese sandwich, a cheesy delight in its own right.
National S'mores Day: Cap off your cheesy celebrations with this sweet and gooey treat by the campfire.
While National Cheese Curd Day holds a special place in the hearts of cheese enthusiasts, these other related holidays provide a year-round opportunity to explore a diverse range of flavors and culinary traditions. From pizza and tacos to ice cream and grilled cheese, each holiday offers a chance to indulge in delicious, comforting, and sometimes indulgent treats. So, mark your calendar for these delectable celebrations and embark on a culinary journey that celebrates the richness and diversity of the food world.
For more holidays, download our free calendar with over 1,000 fun and unique holidays to celebrate this year. Head to angiegensler.com/holiday-calendar to grab your free copy!
Future Dates for National Cheese Curd Day
| Year | Date | Day |
| --- | --- | --- |
| 2023 | October 15 | Sunday |
| 2024 | October 15 | Tuesday |
| 2025 | October 15 | Wednesday |
| 2026 | October 15 | Thursday |
| 2027 | October 15 | Friday |
| 2028 | October 15 | Sunday |
| 2029 | October 15 | Monday |
List of ideas for National Cheese Curd Day:
Historical Origins: Dive into the historical origins of cheese curds and how they evolved into the beloved snack we enjoy today. Share anecdotes, stories, or fun facts about the early days of cheese curd production.
Regional Varieties: Explore the regional varieties of cheese curds across the United States and around the world. Highlight the unique flavors, textures, and traditions associated with cheese curds in different regions.
Cheese Curd Recipes: Provide a selection of mouthwatering cheese curd recipes, ranging from classic favorites like poutine to innovative dishes that incorporate cheese curds as a star ingredient.
Health and Nutrition: Offer insights into the nutritional aspects of cheese curds, discussing their protein content, calcium benefits, and any considerations for those with dietary restrictions.
Cheese Curd Festivals: Showcase notable cheese curd festivals and events held worldwide. Provide information on their history, activities, and what makes them a must-visit for cheese enthusiasts.
Conclusion
In conclusion, National Cheese Curd Day presents a golden opportunity for business owners to tap into the widespread love for cheese curds and elevate their brand presence. Whether you run a restaurant, a dairy farm, or a retail establishment, embracing this cheesy holiday can lead to increased customer engagement, enhanced brand loyalty, and a boost in sales.
By taking advantage of the creative ideas, social media strategies, and promotional tactics outlined in this article, you can turn National Cheese Curd Day into a cheesy success that not only delights your customers but also positions your business at the forefront of the cheesy celebrations. So, gear up, get cheesy, and let your business shine on this delectable day of National Cheese Curd Day!
Celebrate this special day with us, and don't forget to download our free holiday calendar for more fun and unique holidays to celebrate this year!