National Cheese Pizza Day is on September 5th. Business owners and marketers looking to celebrate National Cheese Pizza Day can leverage this special holiday as an opportunity to promote their products and services. In this article, you'll explore exciting ideas to commemorate the occasion, like collaborating with local pizzerias or introducing special promotions and discounts.
Additionally, you'll discover effective social media strategies, including posts and hashtags, to maximize your marketing endeavors on this day. Armed with these valuable tips, businesses can capitalize on National Cheese Pizza Day and expand their reach to a broader customer base nationwide.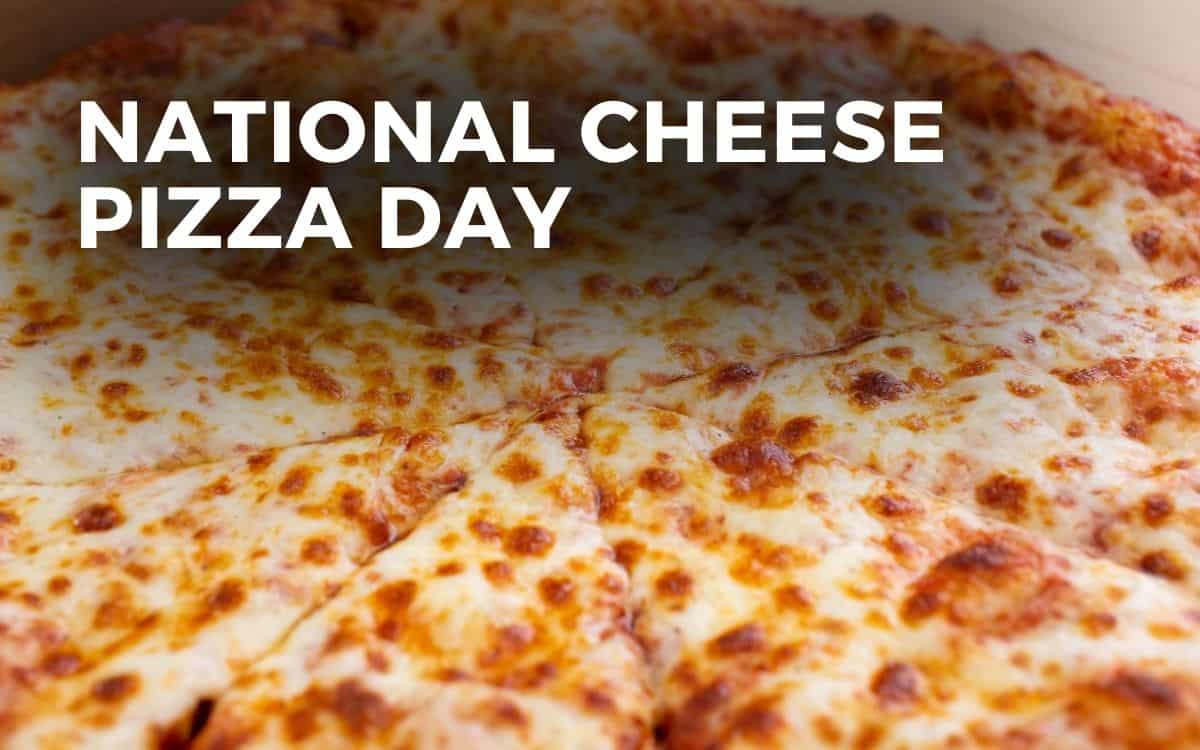 Table of Contents
*Disclosure: This post contains affiliate links. If you make a purchase using one of these links I may receive a small commission. Please know that I only recommend products I have used and that I sincerely think will help your business.
When is National Cheese Pizza Day?
National Cheese Pizza Day falls on September 5th. It is a delightful celebration dedicated to the beloved classic, cheese-topped pizza, which is enjoyed by pizza enthusiasts around the world. On this special day, people come together to savor the simple yet timeless combination of crust, tomato sauce, and melted cheese.
Whether you prefer thin crust or deep-dish, traditional mozzarella or a mix of cheese varieties, National Cheese Pizza Day is the perfect occasion to indulge in this universally adored dish and share the joy of pizza with family and friends.
History of National Cheese Pizza Day
Pizza made its way to the United States with the arrival of Italian immigrants in the late 19th and early 20th centuries. New York City, with its large Italian-American community, played a significant role in popularizing pizza in the US.
The specific date of September 5th for National Cheese Pizza Day likely arose as part of the broader trend of designating specific days to celebrate various foods and dishes.
The growth of social media and internet culture has further contributed to the proliferation of these food-themed "national days," and pizza, being one of the most beloved foods worldwide, quickly gained its special day of recognition.
On National Cheese Pizza Day, people celebrate by enjoying cheese pizzas from their favorite pizzerias or by making their own at home. It's a day for pizza lovers to come together, share their pizza creations, and appreciate the simplicity and deliciousness of cheese pizza.
How to Celebrate National Cheese Pizza Day
National Cheese Pizza Day is a mouthwatering occasion that celebrates one of the most beloved and timeless culinary delights – the classic cheese pizza. On this special day, individuals and businesses alike have the perfect opportunity to indulge in the gooey goodness of this Italian favorite.
Whether you're a pizza enthusiast looking for fun ways to celebrate or a business seeking to engage your customers, there are plenty of creative ideas to make this day a truly memorable and cheesy experience!
Ideas for Individuals:
Pizza Party at Home: Gather friends and family for a delightful pizza party at home. Make your own cheese pizzas with a variety of toppings to cater to everyone's taste buds.
Pizzeria Hop: Explore local pizzerias and try different cheese pizzas from various places. Rate and review each one, supporting local businesses along the way.
Pizza-Making Workshop: Enroll in a pizza-making class to learn the art of crafting the perfect cheese pizza from scratch.
Pizza Movie Night: Pair your cheesy delights with a classic pizza-themed movie marathon for a cozy and delicious movie night.
Pizza Recipe Challenge: Encourage your friends to a friendly pizza recipe challenge, where each participant creates a unique cheese pizza recipe and shares the joy of tasting them together.
Ideas for Businesses:
Cheese Pizza Specials: Offer exclusive discounts or limited-time promotions on cheese pizzas to attract new customers and reward loyal ones.
Pizza Tasting Event: Host a cheese pizza-tasting event at your establishment, allowing customers to sample different cheese pizza variations and vote for their favorite.
Create a Charity Event: Pledge to donate a portion of the day's sales to a local charity or community organization to give back to the community.
Social Media Contest: Launch a social media contest where customers share their best pizza moments with your pizza, using a dedicated hashtag, for a chance to win exciting prizes.
Collaborate with Influencers: Partner with food influencers or bloggers to create enticing content and reviews, generating buzz and increasing your brand's visibility.
As National Cheese Pizza Day approaches, the excitement for this delectable celebration rises, promising an unforgettable experience for both individuals and businesses.
From indulging in homemade cheesy creations to exploring new pizza flavors at local eateries, the day offers a chance to unite people through their love for this iconic dish.
For businesses, it's an opportunity to engage with customers, showcase their culinary prowess, and leave a lasting impression.
Whether you're savoring the day in the comfort of your home or participating in the festivities at your favorite pizzeria, National Cheese Pizza Day is a time to relish in the simple joy of good food and great company.
Social Media Post Ideas for National Cheese Pizza Day
Get ready to celebrate the cheesiest day of the year – National Cheese Pizza Day! This delectable occasion is just around the corner, and it's the perfect opportunity for businesses to engage their audience with some mouthwatering and creative social media content.
Whether you're a pizzeria, a restaurant, or a food-related brand, we've got a variety of enticing social media post ideas that will have your followers craving a slice of cheesy goodness. So, let's dive in and make this National Cheese Pizza Day one to remember!
Social Media Post Ideas for Businesses:
"Cheesiest Creation" Contest: Challenge your customers to come up with the cheesiest pizza topping combination for a chance to have their creations featured on your menu. Encourage them to post their entries with a unique hashtag and let the votes roll in!
"Pizza Lover's Trivia": Test your followers' pizza knowledge with fun and surprising trivia questions related to cheese pizza's history, regional variations, and quirky facts.
"Caption This Cheesy Moment": Share a delightful image of a sumptuous cheese pizza and ask your followers to come up with the most creative and cheesy captions.
"Behind the Scenes": Take your audience on a behind-the-scenes tour of your pizzeria's kitchen, showing the pizza-making process from dough to cheesy masterpiece, giving them a glimpse of the magic that goes into their favorite dish.
"Pizza Pairing Perfection": Suggest the perfect beverage pairings to complement the flavors of a cheese pizza, whether it's a refreshing craft beer, a classic soda, or a tangy fruit juice.
With these exciting social media post ideas, your business is all set to sizzle on National Cheese Pizza Day! Remember to use eye-catching visuals and engaging captions to entice your audience, and don't forget to interact with them through likes, comments, and shares.
National Cheese Pizza Day is a time to indulge in the cheesy love that unites pizza enthusiasts everywhere, and by crafting compelling content, your business can be at the heart of this delectable celebration. So, fire up those ovens, get your cameras ready, and let the cheese-filled festivities begin! Happy National Cheese Pizza Day!
Want to create social media content 10X faster? Start your free 7-day trial of the Social Media Content Club and say goodbye to social media stress!
Hashtags to Use During National Cheese Pizza Day
In today's digital age, the power of social media has become an integral part of any successful marketing strategy, and one of the most effective tools to enhance visibility and engagement is the use of hashtags.
Hashtags have revolutionized the way content is discovered and shared, allowing businesses and individuals alike to connect with their target audience and tap into trending topics.
As we gear up to celebrate National Cheese Pizza Day, leveraging the right hashtags can elevate your social media presence, helping you reach pizza enthusiasts, foodies, and potential customers far and wide. Let's delve into a curated list of hashtags that will make your National Cheese Pizza Day posts stand out and create a buzz around your delicious offerings!
List of Hashtags to Use on Social Media for National Cheese Pizza Day:
#NationalCheesePizzaDay
#PizzaDay
#CheesePizza
#PizzaLovers
#PizzaParty
#PizzaTime
#PizzaObsession
#CheesyGoodness
#PizzaPerfection
#PizzaHeaven
#PizzaCravings
#LoveAtFirstSlice
#CheesePlease
#PizzaAddict
#PizzaLife
#SliceOfHeaven
#FoodieFaves
#DeliciousDinner
#FoodPhotography
#Foodgasm
With the power of these carefully selected hashtags, you can make a real impact during the festivities of National Cheese Pizza Day! By incorporating these popular and relevant tags into your social media posts, your business can attract pizza enthusiasts, generate excitement, and extend your reach across platforms.
Remember to keep your content engaging and visually enticing, encouraging your audience to interact and share their love for cheesy pizza goodness.
Whether you're a pizzeria looking to showcase your mouthwatering creations or a food-related brand joining in on the fun, these hashtags will ensure your National Cheese Pizza Day celebration leaves a lasting impression.
For the complete list of holidays to celebrate on social media in September, visit AngieGensler.com/September-Holidays
Gift Ideas for National Cheese Pizza Day
National Cheese Pizza Day presents the perfect opportunity to show your love for the all-time favorite dish in a unique and delightful way – through thoughtful and tasty gifts! Whether you're looking to surprise a pizza-loving friend or treat yourself to something special, there are plenty of creative and delicious gift ideas that will make this cheesy celebration even more memorable.
From delectable pizza-inspired treats to pizza-themed accessories, these gift ideas are sure to bring a smile to any pizza enthusiast's face on this mouthwatering occasion!
5 Gift Ideas for National Cheese Pizza Day:
Pizza-Making Kit: Gift a pizza-making kit complete with all the essential ingredients to craft the perfect cheese pizza. Include pre-made dough, a variety of cheeses, savory sauce, and an assortment of tasty toppings for a fun and interactive pizza-making experience at home.
Pizza Apparel: Surprise your pizza-loving friend with trendy pizza-themed apparel, such as t-shirts, hoodies, socks, or even a pizza-printed apron for their next pizza-making adventure.
Pizza Subscription Box: Consider gifting a pizza subscription box that delivers a selection of gourmet pizza ingredients and toppings right to their doorstep each month, ensuring a fresh and delicious pizza-making experience.
Pizza Cooking Class: Treat someone special to a pizza cooking class where they can learn the art of making authentic cheese pizzas from expert chefs, honing their skills and knowledge about the culinary favorite.
Pizza-themed Goodies: Put together a delightful gift basket filled with an assortment of pizza-themed goodies, such as pizza-flavored snacks, pizza-scented candles, pizza-shaped keychains, and even pizza-themed stationery.
With these amazing gift ideas, you're well-equipped to make National Cheese Pizza Day a truly unforgettable experience for your loved ones. The joy of celebrating this cheesy delight extends beyond just a slice of pizza – it's about sharing the passion for pizza in all its forms.
Whether they're savoring homemade pizzas or enjoying pizza-inspired treats, these thoughtful gifts are sure to add a flavorful touch to their celebration. Embrace the cheesy spirit and surprise the pizza enthusiasts in your life with these delightful gifts that capture the essence of National Cheese Pizza Day.
Other Holidays Related to National Cheese Pizza Day
Beyond the delicious celebration of National Cheese Pizza Day, there are a variety of other fun and quirky holidays that revolve around the beloved dish.
These pizza-centric occasions provide fantastic opportunities for pizza enthusiasts and businesses alike to indulge in the cheesy goodness, try new flavors, and celebrate the culinary marvel that is pizza.
So, get ready to mark your calendars and join in on the festivities of these exciting holidays that pay homage to the timeless charm of cheese pizza!
List of Other Holidays Related to National Cheese Pizza Day:
National Pizza Day: A day dedicated to celebrating all types of pizza, including the classic cheese pizza, as well as the countless creative variations with various toppings and crust styles.
International Pizza Party Day: A global celebration that encourages people to come together and host pizza parties, sharing the joy of pizza with friends and family.
National Pepperoni Pizza Day: A day specifically dedicated to honoring the iconic pepperoni pizza, which often features a generous layer of cheese atop the spicy and savory pepperoni slices.
National Sausage Pizza Day: Celebrate the perfect pairing of sausage and cheese on this day, highlighting the delectable combination of flavors.
National Pizza Month: An entire month dedicated to the celebration of pizza in all its glory, providing ample opportunities to explore various pizza styles and flavors, including the classic cheese.
With these exciting holidays related to National Cheese Pizza Day, pizza lovers have numerous occasions throughout the year to revel in the cheesy deliciousness and express their passion for this beloved dish.
Whether you're enjoying a classic cheese pizza on National Pizza Day or exploring new toppings on International Pizza Party Day, each holiday offers a chance to savor and appreciate the art of pizza-making.
For more holidays, download our free calendar with over 1,000 fun and unique holidays to celebrate this year. Head to angiegensler.com/holiday-calendar to grab your free copy!
Future Dates for National Cheese Pizza Day
| Year | Date | day |
| --- | --- | --- |
| 2023 | September 5 | Tuesday |
| 2024 | September 5 | Thursday |
| 2025 | September 5 | Friday |
| 2026 | September 5 | Saturday |
| 2027 | September 5 | Sunday |
| 2028 | September 5 | Tuesday |
| 2029 | September 5 | Wednesday |
List of ideas to celebrate National Cheese Pizza Day.
Here's a list of creative ideas to celebrate National Cheese Pizza Day:
Host a Pizza Party: Invite friends and family over for a pizza party, where you can make and enjoy various cheese pizza creations together.
Pizza Taste Testing: Visit different pizzerias in your area and try out their cheese pizzas to find your favorite.
Make Your Own Pizza: Have a pizza-making contest at home with family or friends, and see who can come up with the most delicious and creative cheese pizza.
Try New Cheese Varieties: Experiment with different types of cheeses on your pizza, such as mozzarella, cheddar, gouda, or feta, to discover exciting flavor combinations.
Pizza Movie Marathon: Watch your favorite pizza-themed movies or TV shows while enjoying a cheesy pizza feast.
Pizza and Game Night: Combine pizza night with board games or video games for a fun and laid-back evening.
Pizza Picnic: Pack a pizza picnic and head to your favorite outdoor spot to enjoy your cheesy delight in the great outdoors.
Pizza Potluck: Organize a pizza potluck with friends or colleagues, where everyone brings a different type of cheese pizza to share.
Pizza Art Contest: Have a pizza art contest where participants create pizza-inspired artwork using various materials.
Pizza Charity Event: Partner with a local charity and host a pizza fundraiser, donating a portion of the sales to a good cause.
Remember to have fun and enjoy the cheesy goodness on National Cheese Pizza Day!
Conclusion
In conclusion, National Cheese Pizza Day presents a fantastic opportunity for business owners in the food industry to elevate their brand, engage with their audience, and boost sales. By tapping into the enthusiasm surrounding this cheesy holiday, businesses can craft enticing promotions, unique pizza offerings, and exciting social media campaigns that resonate with pizza lovers far and wide.
Hosting special events like pizza tastings, pizza-making classes, and collaboration with influencers can create buzz and draw in new customers. Additionally, offering exclusive discounts or partnering with local charities can demonstrate a commitment to the community, fostering a positive reputation for the brand.
Embracing the spirit of National Cheese Pizza Day can help businesses foster lasting connections with their audience while celebrating the universal love for this delectable dish.
So, let the ovens heat up, the creativity flow, and the cheese melt, as business owners join in the festive celebrations, taking their slice of the cheesy pie in the heartwarming joy that is National Cheese Pizza Day!
Celebrate this special day with us, and don't forget to download our free holiday calendar for more fun and unique holidays to celebrate this year!