Crafting is a great way to express your creativity, learn new skills, and create something unique. National Craft Month celebrates the creative potential of crafters around the world, giving everyone an opportunity to get crafty! Whether you're new to crafting or already experienced in it, there are plenty of ways for you to join in on this holiday.
In this blog post, we will discuss what exactly National Craft Month entails – from its history and benefits of taking part in it – as well as popular hashtags to use when celebrating National Craft Month on social media. We'll also look at other holidays related to craft-making so you can plan ahead for more crafting fun throughout the year! So let's get started with celebrating national craft month together.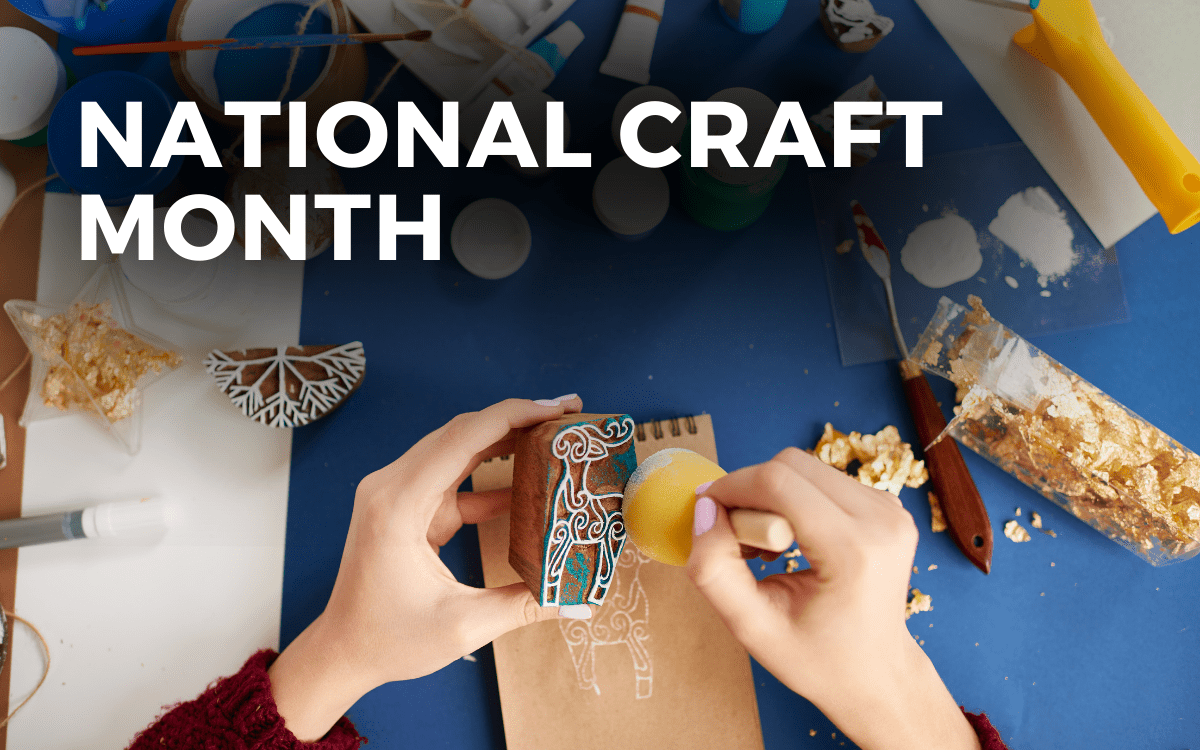 What is National Craft Month?
National Craft Month is an annual celebration of creativity and crafting that takes place every March. It was created to encourage people to explore their creative side, try something new, and share their crafty creations with others.
History of National Craft Month
National Craft Month was first established in 1994 as a way to promote the handmade crafts industry, which had been declining due to increased competition from mass-produced goods. The month has since become an important event for crafters around the world, who use it as an opportunity to share their work with others and learn new skills. In fact, it has grown into an international event with crafters from all over the world taking part in celebrating this special month dedicated to crafting.
How To Celebrate National Craft Month
There are many ways you can celebrate National Craft Month! You could start by trying out some new projects or techniques that you've been wanting to learn for a while now. If you're feeling extra adventurous, why not challenge yourself by creating something completely unique? Here are a few ideas:
Take part in a local craft fair or host your own
Join online crafting communities or create your own group where you can connect with other like-minded crafters who share your passion for making things by hand
Attend workshops or classes at your local library, community center, or store
Give handmade gifts on special occasions like birthdays and anniversaries
Donate crafted items to charity organizations such as hospitals and homeless shelters
Participate in virtual events like Instagram challenges that feature different themes each week
Share your creations on social media using craft-related hashtags
What are some Hashtags For National Craft Month
When posting about your projects during National Craft Month, make sure you use relevant hashtags so more people can see them. Popular hashtags include:
#nationalcraftmonth
#creativecrafter
#handmadeisbetter
#craftsforall
#craftersofinstagram
#makersgonnamake
#diyprojects
You can even use more specific hashtags, such as #crochetlove or #knittingaddict, depending on what type of project you are working on at the moment.
For the complete list of holidays to celebrate on social media in March, visit AngieGensler.com/March-Holidays
Other Holidays Related to National Craft Month
National Craft Month is celebrated in March and encourages people to get creative with crafting projects. While National Craft Month is a great time to start or finish a project, there are other holidays related to crafting that can be celebrated throughout the year.
National Children's Craft Day: Celebrated each year on March 14th, this holiday encourages children to unleash their creativity and have fun.
National Sewing Month (September): This holiday celebrates sewing as an art form and encourages everyone, from beginners to experts, to take part in it. It's also a great opportunity for experienced sewers to teach others how they do it. During this month, you can host workshops, post tutorials online, or even just share your own work on social media using #nationalsewingmonth.
International Scrapbook Day (May): Celebrated every May 3rd since 2002, International Scrapbook Day was created by scrapbookers around the world who wanted to show their appreciation for the craft of scrapbooking. On this day, crafters gather together either virtually or in person and spend time creating pages about their memories and experiences while sharing tips and techniques with each other through activities like challenges and contests. Hashtags such as #internationalscrapbookday can be used when posting photos of your creations online!
World Card Making Day is held annually on October 4th, giving card makers everywhere an opportunity to celebrate their favorite hobby. Handmade cards crafted from paper scraps or fabric pieces, as well as store-bought cards decorated with stickers or glitter glue, are all welcome! You can join fellow card makers online by participating in challenges posted on social media using hashtags like #worldcardmakingday, or simply share your own work with friends via email/text message/social media platforms such as Instagram and Twitter.
Types of Crafting Projects to Try During National Craft Month
Crafting is a great way to express yourself, relieve stress, and connect with others. National Craft Month in March is the perfect time to explore different types of crafting projects. Whether you're a beginner or an experienced crafter, there are plenty of fun and creative projects that you can try during this month-long celebration.
DIY Home Decor Projects: DIY home decor projects are a great way to spruce up your living space while also having fun crafting something unique. From painting wall art to making throw pillows out of fabric scraps, there are endless possibilities when it comes to creating beautiful home decor pieces from scratch. You can even make furniture like bookshelves or coffee tables if you have more advanced woodworking skills!
Knitting and Crochet Projects: Knitting and crochet projects are classic crafts that have been around for centuries. These activities require patience, but they're very rewarding once you finish your project! During National Craft Month, why not challenge yourself by learning how to knit or crochet? You could make scarves, hats, blankets – the possibilities are endless!
Paper Crafting Projects: Paper crafting is another popular craft activity that requires minimal supplies yet yields amazing results. There's scrapbooking, where you create albums filled with photos and memories; cardmaking, where you design greeting cards for special occasions; origami, which involves folding paper into various shapes; quilling which uses strips of paper rolled into intricate designs; decoupage, which involves gluing cutouts onto objects such as boxes or frames…the list goes on!
Jewelry Projects: Making jewelry is a fun and creative way to accessorize any outfit. With some basic tools such as pliers, wire cutters, beads in various sizes and colors, and findings like clasps or earring hooks, anyone can create their own jewelry pieces from start to finish without spending too much money on materials.
Benefits of Crafting During National Craft Month
Crafting during National Craft Month is a great way to relax, express yourself creatively, and connect with others. Crafting can be an incredibly rewarding experience that offers numerous benefits for both your mental and physical health.
Stress Relief Benefits of Crafting: The repetitive motions involved in crafting can help reduce stress levels by providing a sense of calmness and relaxation. Whether you're knitting or crocheting, scrapbooking, or jewelry making, the rhythmic movements associated with crafting projects have been known to decrease cortisol levels in the body while increasing serotonin production – resulting in feelings of contentment and satisfaction.
Creative Expression Benefits of Crafting: Working on craft projects gives you the opportunity to tap into your creative side while expressing yourself through art. Not only does this provide a much-needed outlet for self-expression, but it also allows you to explore different mediums such as painting, drawing, sculpting, sewing, etc., giving you an opportunity to discover new skills along the way!
Social Connection Benefits of Crafting: Sharing your love for crafting with others is another great benefit that comes from taking part in National Craft Month activities. Joining local craft groups or attending workshops are excellent ways to meet like-minded people who share similar interests, as well as gain access to valuable resources such as tutorials and tips from experienced crafters! Plus, it's always nice having someone else around when tackling complex projects – so don't forget about inviting friends over for some fun crafting sessions too!
Overall, there are many wonderful benefits associated with participating in National Craft Month activities. Why not give it a try? Who knows what amazing things you'll create!
Supplies Needed for Crafting During National Craft Month
When it comes to crafting, having the right supplies is essential. Whether you're a beginner or an experienced crafter, there are certain items that you need in order to make your projects successful. During National Craft Month, it's important to have all of the necessary materials on hand so that you can get creative and celebrate this special holiday.
Basic Supplies for All Types of Crafting Projects: There are some basic supplies that every crafter should have in their arsenal, regardless of what type of project they plan on tackling. These include scissors, glue sticks, tape (both double-sided and masking), craft knives and cutting mats, paintbrushes, rulers, and measuring tapes, as well as various types of paper such as cardstock and construction paper.
Other useful tools include pencils with erasers for sketching out ideas before committing them to paper or fabric; pins for holding pieces together while working; tweezers for picking up small objects; foam brushes for applying adhesive evenly; hole punches; awls; chalk markers or pens; stencils/templates if needed depending on the project being created.
Specialty Supplies for Specific Types of Crafting Projects: Depending on what type of crafting project you plan on doing during National Craft Month will determine which specialty supplies may be required in addition to the basics listed above. For example, if knitting or crocheting is your thing, then yarn needles would be a must, along with different weights/types of yarn plus crochet hooks and stitch markers if desired.
If jewelry making is more your style, then pliers (round nose & flat nose), wire cutters, jump rings, bead stringing material, crimp beads, clasps, etc., would be among some items needed from a supply standpoint.
Paper crafts require specialized tools like die-cutting machines, embossers, punches, corner rounders, stamp pads, ink pads, stamp dies, etc., whereas home decor projects might involve things like wood boards, saws, drills, sandpaper, nails, screws, drill bits, jigsaw blades, hammers screwdrivers, etc.
No matter what kind of crafting project one chooses to do during National Craft Month, having the proper supplies readily available will help ensure success when creating something unique.
National Craft Month Dates
| Year | Date | Day |
| --- | --- | --- |
| 2024 | March 1 | Friday |
| 2025 | March 1 | Saturday |
| 2026 | March 1 | Sunday |
| 2027 | March 1 | Monday |
FAQs in Relation to National Craft Month
When is National Craft Month?
National Craft Day is celebrated annually in March. It's a month to celebrate the art of crafting and recognize the creativity, skill, and dedication that goes into making handmade items. This holiday encourages people to explore their creative side by creating something unique with their own two hands. Whether it's knitting a scarf or building a model airplane, National Craft Month celebrates all forms of crafting and honors those who take pride in their work.
What crafts are trending for 2024?
Crafts that are trending for 2024 include macrame, embroidery, weaving, and paper crafting. Macrame is a form of textile-making using knotting techniques to create intricate patterns. Embroidery uses colorful thread to decorate fabric with designs and words. Weaving involves interlacing threads or yarns together in a variety of patterns to make fabrics or tapestries. Paper crafting includes making cards, scrapbooks, journals, and other decorative items from paper materials such as origami and quilling. These crafts offer creative ways to express yourself while also being enjoyable activities for the whole family!
Conclusion
National Craft Month gives us the opportunity to celebrate our creativity, learn new skills, and get creative with projects we may not have tried before. Whether you're a beginner or an experienced crafter, National Craft Month is the perfect time to explore your crafting side and create something unique! So don't forget to mark your calendar for National Craft Month each year so you can join in on all of the fun!