National Paralegal Day is celebrated on October 23rd each year. Business owners and marketers looking to celebrate National Paralegal Day can seize this special occasion as a strategic opportunity to showcase their offerings.
In this article, you'll uncover innovative concepts to commemorate the day, including collaborating with legal firms or introducing exclusive promotions and services.
Additionally, you'll gain insights into crafting impactful social media content and utilizing relevant hashtags to maximize your marketing endeavors on this significant day.
Equipped with these valuable insights, businesses can effectively leverage National Paralegal Day to engage a broader audience and reinforce their position within the legal industry.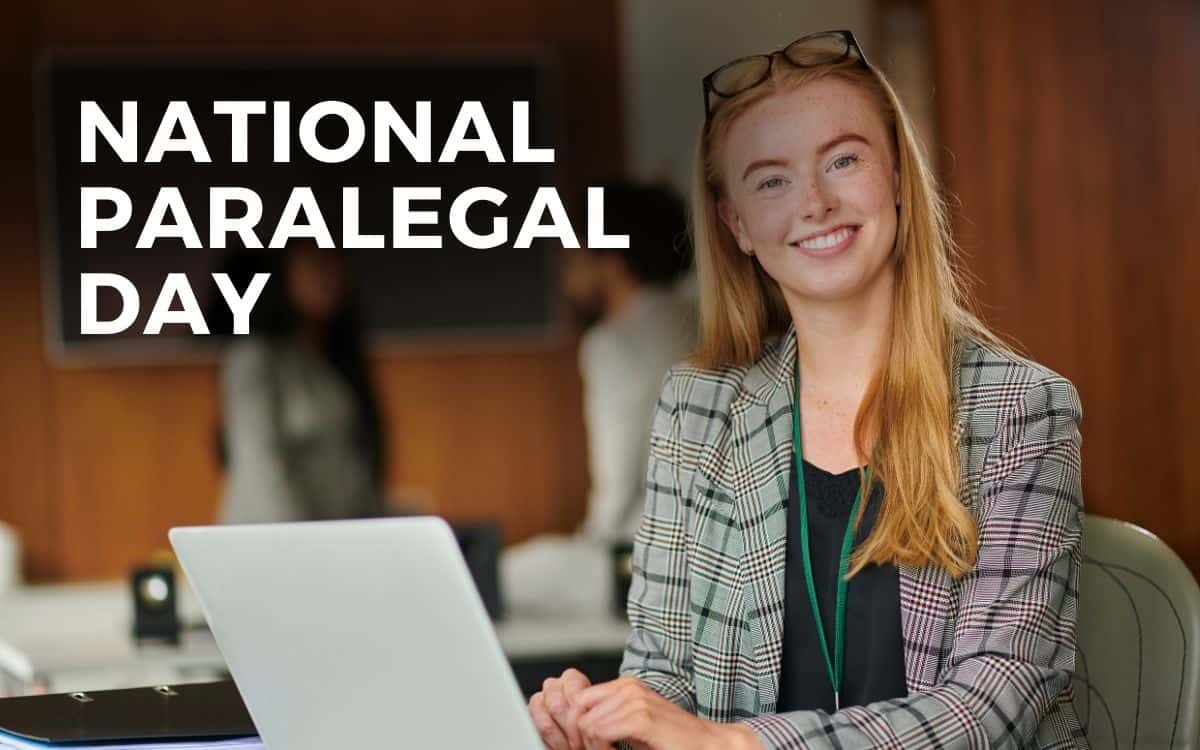 Table of Contents
*Disclosure: This post contains affiliate links. If you make a purchase using one of these links, I may receive a small commission. Please know that I only recommend products I have used and that I sincerely think will help your business.
When is National Paralegal Day?
National Paralegal Day is observed on October 23rd each year, providing a dedicated moment to acknowledge and appreciate the vital contributions that paralegals make to the legal profession.
This day serves as a platform to recognize their unwavering dedication, expertise, and essential support in ensuring the efficient functioning of legal processes and systems.
History of National Paralegal Day
National Paralegal Day's origins can be traced back to a growing recognition of the invaluable role that paralegals play within the legal community.
Established in 1991 by the National Federation of Paralegal Associations (NFPA), this annual observance emerged as a result of the NFPA's efforts to celebrate the contributions and achievements of paralegals.
The aim was to raise awareness about the essential support paralegals provide to attorneys, law firms, corporations, and the justice system as a whole. Over the years, National Paralegal Day has gained significance, serving as an opportunity for legal professionals, organizations, and institutions to honor the dedication, professionalism, and expertise exhibited by paralegals in their daily work.
This day also offers a platform to advocate for the recognition of paralegals' critical contributions to the legal field and to underscore the importance of ongoing professional development and education within the paralegal community.
How to Celebrate National Paralegal Day
National Paralegal Day stands as a momentous occasion to honor the diligence and expertise of paralegals, whose indispensable contributions fuel the legal profession's efficiency and effectiveness.
Whether you're an individual seeking to recognize the paralegals in your life or a business aiming to pay homage to your legal team, this section unveils an array of innovative ideas tailored for both individuals and enterprises to celebrate National Paralegal Day with sincerity and appreciation.
Ideas for Individuals to Celebrate National Paralegal Day:
Heartfelt Thank-You Notes: Express gratitude to paralegals by sending personalized thank-you notes highlighting their dedication and impact.
Virtual Appreciation Gathering: Organize a virtual meetup with colleagues to share stories and celebrate the achievements of paralegals.
Skill-Sharing Session: Host a knowledge-sharing session where paralegals can share insights and tips with aspiring legal professionals.
Professional Development Support: Sponsor a paralegal's participation in a relevant workshop, conference, or training session to enhance their skills.
Gifts of Appreciation: Present thoughtful gifts, such as books on legal topics, personalized stationery, or items that reflect their interests.
Ideas for Businesses to Celebrate National Paralegal Day:
Professional Development Initiatives: Offer special training programs, webinars, or workshops to enhance paralegals' knowledge and skills.
Recognition Awards: Bestow awards or certificates of appreciation to outstanding paralegals for their exceptional contributions.
Collaborative Luncheon: Host a celebratory luncheon or virtual gathering where paralegals can connect and share their experiences.
Legal Resources Showcase: Set up a display or online resource center featuring legal books, journals, and tools for paralegals.
Charitable Contributions: Pledge a donation to a legal aid organization in honor of National Paralegal Day, reflecting your commitment to justice.
National Paralegal Day serves as a poignant reminder of the remarkable impact paralegals have on the legal realm. By embracing these creative ideas tailored for both individuals and businesses, we collectively celebrate the dedication, professionalism, and expertise that define paralegals' roles. As individuals express gratitude and businesses showcase appreciation, National Paralegal Day transforms into a shared tribute that strengthens the bond between legal professionals, fostering a harmonious and empowered legal community.
Social Media Post Ideas for National Paralegal Day
In the realm of social media, National Paralegal Day offers a remarkable opportunity for businesses to shine a spotlight on their legal teams, showcasing the integral role paralegals play within their organizations.
This section is a treasure trove of imaginative social media post ideas crafted specifically for businesses, enabling them to amplify their appreciation and recognition of paralegals on this special day.
From heartfelt messages to captivating visuals, these ideas harness the power of digital platforms to extend gratitude and celebrate the dedication of paralegals.
Social Media Post Ideas for Businesses on National Paralegal Day:
Employee Spotlight: Feature individual paralegals through posts that highlight their contributions, expertise, and personal stories.
Team Gratitude Video: Create a video montage where team members express their gratitude for the paralegals' support and hard work.
Legal Tips and Insights: Share legal tips or insights provided by paralegals to showcase their expertise and offer valuable information to your audience.
Behind-the-Scenes Sneak Peek: Offer a glimpse into the daily work of paralegals and their role in supporting legal proceedings.
Q&A Session: Host a live Q&A session with paralegals, allowing followers to ask questions about their roles and responsibilities.
Client Testimonials: Share client testimonials that highlight how paralegals have contributed to successful legal outcomes.
Professional Development Highlights: Showcase any training or workshops that paralegals have participated in to enhance their skills.
Interactive Polls: Run polls asking followers to vote on their favorite paralegal-related topics, such as legal terminology or types of cases.
Legal Trivia Challenge: Engage your audience with legal trivia questions, showcasing the depth of knowledge possessed by paralegals.
Paralegal Quotes: Share inspiring quotes from paralegals about their passion for the legal field and the impact they make.
Social media serves as a digital canvas to paint tributes and accolades, and National Paralegal Day presents a golden opportunity to do just that. By embracing these engaging post ideas, businesses can connect with their audience on a deeper level, demonstrating their appreciation for the paralegals who contribute to their success. As digital platforms become avenues for celebration and gratitude, they reinforce the collective sense of community and acknowledgment that defines National Paralegal Day.
Want to create social media content 10X faster? Start your free 7-day trial of the Social Media Content Club and say goodbye to social media stress!
Hashtags to Use During National Paralegal Day
In the realm of social media, hashtags are the threads that weave together conversations, themes, and movements.
For National Paralegal Day, harnessing the power of hashtags becomes a pivotal strategy to amplify the recognition and appreciation of paralegals across digital platforms.
This section underscores the significance of incorporating hashtags into your social media posts and provides a carefully curated list of hashtags to maximize your reach, connect with a wider audience, and join the chorus of voices celebrating the remarkable contributions of paralegals.
Hashtags to Use on Social Media for National Paralegal Day:
#NationalParalegalDay
#LegalHeroes
#ParalegalAppreciation
#LegalSupport
#LegalCommunity
#BehindTheBriefs
#DedicatedParalegals
#LegalProfessionals
#EmpoweredByParalegals
#LegalLuminaries
#JusticeMakers
#LegalTeam
#CelebrateParalegals
#LegalExcellence
#LawOfficeHeroes
#InvaluableSupport
#LegalExpertise
#GratitudeForParalegals
#EmpoweringJustice
#TeamLegal
National Paralegal Day serves as a springboard for conversations that transcend boundaries and honor the dedication of paralegals. By integrating these hashtags into your social media posts, you align your digital presence with the collective appreciation and recognition of the paralegal community. As hashtags unite individual voices into a harmonious symphony of acknowledgment, they amplify the message of gratitude and amplify the visibility of paralegals' vital roles. With each hashtag, we contribute to a digital tapestry of recognition that resonates far beyond the screen, embodying the spirit of National Paralegal Day in every virtual conversation.
For the complete list of holidays to celebrate on social media in october, visit AngieGensler.com/October-Holidays
Gift Ideas for National Paralegal Day
National Paralegal Day presents a golden opportunity to express gratitude and appreciation for the dedicated paralegals who contribute tirelessly to the legal profession.
In this section, we delve into the realm of thoughtful gift ideas that capture the essence of their roles and convey the admiration felt by individuals and businesses alike.
From meaningful tokens to practical tools, these gift ideas provide avenues to celebrate National Paralegal Day in a memorable and heartfelt manner.
Gift Ideas for National Paralegal Day:
Gift-giving on National Paralegal Day becomes a conduit for expressing respect and admiration for the critical roles that paralegals play in the legal landscape. These carefully selected gift ideas transcend mere tokens, embodying the appreciation felt by individuals and businesses. As the legal community unites to celebrate this day, the exchange of thoughtful gifts becomes a testament to the bonds formed through dedication, professionalism, and shared passion within the legal field.
Other Holidays Related to National Paralegal Day
National Paralegal Day is a beacon that shines light on the pivotal role paralegals play in the legal world, fostering unity and recognition within the legal community.
Beyond this commemoration, there are related holidays that mirror the themes of legal advocacy, professional growth, and the pursuit of justice. In this section, we explore a constellation of holidays that echo the values upheld by paralegals, offering a broader tapestry of celebrations that align with the spirit of dedication and commitment to legal excellence.
Other Holidays Related to National Paralegal Day:
Law Day: An observance that celebrates the rule of law and promotes an understanding of the legal system's importance in society.
Legal Services Day: Celebrated on various dates worldwide, this day emphasizes the accessibility of legal services and justice for all.
Professional Development Week: A designated time to focus on career growth and skills enhancement, aligning with paralegals' commitment to continuous learning.
Customer Service Week: Recognizing the vital role paralegals play in providing exceptional client service, fostering trust and satisfaction.
Human Rights Day: Highlighting the significance of advocating for justice, equality, and human rights, ideals deeply intertwined with the legal profession.
As we celebrate National Paralegal Day, these related holidays contribute to a tapestry of celebrations that embody the essence of justice, advocacy, and professional growth. The recognition of paralegals' dedication extends beyond a single day, resonating with a larger narrative of unity and commitment within the legal community. Just as National Paralegal Day highlights the collective impact of paralegals, these related holidays underscore the universal values upheld by legal professionals worldwide, enriching the celebration and appreciation of their contributions.
For more holidays, download our free calendar with over 1,000 fun and unique holidays to celebrate this year. Head to angiegensler.com/holiday-calendar to grab your free copy!
Future Dates for National Paralegal Day
| Year | Date | Day |
| --- | --- | --- |
| 2023 | October 23 | Monday |
| 2024 | October 23 | Wednesday |
| 2025 | October 23 | Thursday |
| 2026 | October 23 | Friday |
| 2027 | October 23 | Saturday |
| 2028 | October 23 | Monday |
| 2029 | October 23 | Tuesday |
List of ideas for National Paralegal Day:
Interviews with Paralegals: Conduct interviews with experienced paralegals, discussing their career journeys, challenges, and advice for aspiring legal professionals.
Historical Overview of Paralegal Profession: Provide a historical perspective on the evolution of the paralegal profession, highlighting key milestones and changes over the years.
Spotlight on Legal Cases: Showcase significant legal cases in which paralegals played a crucial role, emphasizing their impact on the outcomes and justice system.
Legal Tech Tools Review: Create a review of various legal technology tools and software that paralegals can utilize to enhance their efficiency and effectiveness.
Paralegal Success Stories: Share inspiring stories of paralegals who have made remarkable contributions to their field, demonstrating the diverse paths and achievements within the profession.
Conclusion
In the realm of legal endeavors, National Paralegal Day stands as a beacon of recognition and appreciation, not only for the paralegals who form the backbone of the profession but also for the businesses that benefit from their invaluable contributions. By embracing the ideas, insights, and inspirations shared throughout this article, businesses have a unique opportunity to not only honor their paralegal teams but also to amplify their brand's dedication to excellence, justice, and the legal field's growth. As National Paralegal Day approaches, let businesses stand as champions of recognition, demonstrating their unwavering support for the legal community and their commitment to fostering a collaborative environment where paralegals thrive.
Celebrate this special day with us, and don't forget to download our free holiday calendar for more fun and unique holidays to celebrate this year!