National Teddy Bear Day Is celebrated on the 9th of September every year. Businesses and entrepreneurs utilize this unique holiday as an opportunity to advertise their goods and services. In this article, we will equip you with interesting ideas to celebrate National Teddy Bear Day. Whether you are an business owner or a young entrepreneur this interesting marketing opportunity would help you reach the maximum number of customers.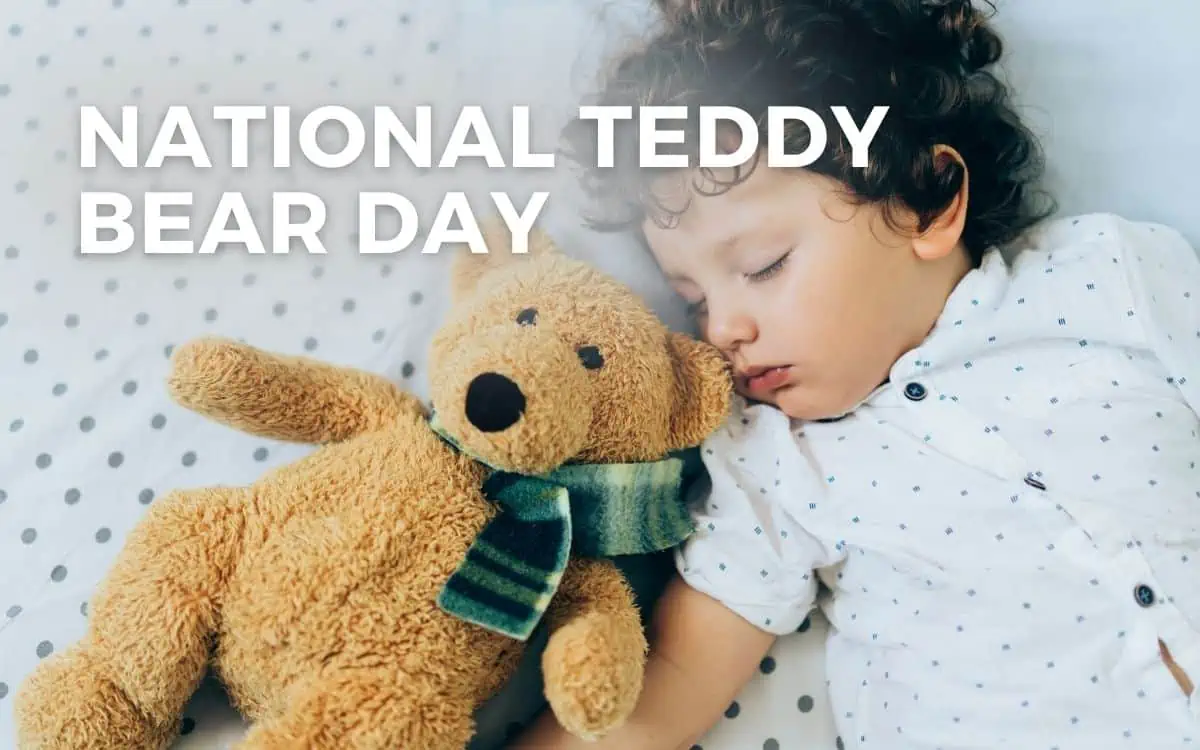 Table of Contents
*Disclosure: This post contains affiliate links. If you make a purchase using one of these links I may receive a small commission. Please know that I only recommend products I have used and that I sincerely think will help your business.
When is National Teddy Bear Day?
National Teddy Bear Day is observed on the 9th of September every year. This day is celebrated to honor the history of one of childhood's favorite toys. Businesses in the children's sector celebrate this special event with fun activities and exciting promotions. They consider this event as an opportunity to engage their customers and increase their sales.
History of National Teddy Bear Day
The teddy bear was created by Morris Michtom in the early 20th century. It was named after America's 26th president, Theodore 'Teddy' Roosevelt due to an interesting reason.
The story goes that he went on a hunting trip in Mississippi on Nov 2, 1902. Roosevelt refused to shoot a bear that was captured and tied up. This incident was widely publicized and caught the attention of Morris Michtom, who created a stuffed bear. He displayed it in his candy shop window and named it "Teddy Bear".
National Teddy Bear Day is celebrated on September 9th to honor the special stuffed animal that kids love. These bears represent innocence and friendship, and people all around the world adore them. So, on this day, we take the time to appreciate and celebrate these lovable teddy bears together!
How to Celebrate National Teddy Bear Day
There are lots of fun and creative ways to celebrate National Teddy Bear Day. Businesses, that are looking for business opportunities can create and post engaging social media posts for their marketing. Here are some effective and inspiring ideas.
Ideas for Individuals to Celebrate National Teddy Bear Day
Host a Teddy Bear Picnic: Gather your favorite teddy bears and have a picnic in your backyard or a local park. Invite friends and family to bring their beloved bears too!
Storytelling Session: Spend some time reading teddy bear-themed books. Classics like Winnie the Pooh or Corduroy are great options.
Teddy Bear Craft: Get creative by making your own teddy bear. You can sew, knit, or even construct one out of paper.
Donate a Teddy Bear: Celebrate by bringing joy to others. Donate a teddy bear to a local hospital or charity.
Teddy Bear Movie Night: Watch teddy bear-themed movies or shows. Paddington Bear and Winnie the Pooh are popular choices.
Photography Session: Have a fun photography session with your teddy bear in different settings.
Teddy Bear Display: Arrange your teddy bears in a special display at home, showcasing your collection to friends and family.
Visit a Toy Museum: Some cities have toy museums with teddy bear exhibits. Check them out to learn more about the history and evolution of this beloved toy.
Share on Social Media: Share your favorite teddy bear photos or memories on social media using the hashtag #NationalTeddyBearDay.
The main aim is to honor the love and comfort these cuddly companions have provided us throughout our lives. Happy National Teddy Bear Day!
Ideas for Businesses to Celebrate National Teddy Bear Day
Teddy Bear Collection Drive: Organize a teddy bear collection drive and donate the gathered teddy bears to a local charity or children's hospital.
Special Promotions/Discounts: Launch special promotions or discounts on teddy bears or other related products.
Teddy-Themed Products: Introduce limited-edition teddy-bear-themed products or services.
Social Media Contest: Start a social media contest involving teddy bears. Customers could post pictures with their favorite teddy bears and use a unique hashtag.
Partnerships: Collaborate with local toy shops or children's bookstores for joint promotions.
Storytelling Event: Host a live storytelling event in your store or online, featuring famous teddy bear stories.
Donation Matching: Encourage customers to buy and donate teddy bears, and match their donations.
Teddy Bear Workshop: Organize a teddy bear-making workshop, either in-person or as an online event.
Themed Display: Display a variety of teddy bears in your storefront, creating an immersive experience for customers.
Employee Celebration: Encourage employees to bring their teddy bears to work and share their stories, promoting a fun and engaging work environment.
These above-mentioned ideas would give you a chance to market your business and involve more customers with you.
Social Media Post Ideas for National Teddy Bear Day
Social media is a fantastic platform to celebrate National Teddy. You can craft a perfect social media post on the teddy bear to get more connected with your audience. Here are some examples:
Social Media Post Ideas for Businesses for National Teddy Bear Day
Giveaways/Contests: Organize a themed giveaway or contest. For instance, you might encourage customers to post their "cutest teddy bear photo" for a chance to win a prize.
Live Session: Host a live session featuring a teddy bear-making process or a storytelling session about famous teddy bear characters.
Donation Drive: Share updates from your teddy bear donation drive, including photos, videos, and stories of the beneficiaries to inspire others to join the cause.
Employee Involvement: Post photos or videos of your employees and their teddy bears, perhaps sharing their own teddy bear stories. This can humanize your brand and foster a sense of community.
Promotions: Announce special deals or discounts on teddy bear products, using eye-catching graphics to attract customers.
Teddy Bear Art: Share creative teddy bear drawings, paintings, or crafts, showcasing the versatile appeal of this beloved toy.
Want to create social media content 10X faster? Start your free 7-day trial of the Social Media Content Club and say goodbye to social media stress!
Hashtags to Use During National Teddy Bear Day
Hashtags serve as a powerful tool in the digital world. They help drive attention to your social media posts. During special events such as National Teddy Bear Day, they become particularly valuable. Their play a vital role in increasing content visibility and categorization and improving interaction with an audience.
By strategically using hashtags related to National Teddy Bear Day, you can enhance the reach of your posts and engage with teddy bear fans.
Let's explore some of the most effective hashtags to use during this special celebration.
#NationalTeddyBearDay
#TeddyBearDay
#TeddyBearLove
#CuddlyCompanion
#TeddyBearMemories
#BearHugs
#PlushiePals
#TeddyBearMagic
#TeddyBearCelebration
#TeddyBearDay2023
#MyTeddyBear
#ThrowbackTeddy
#TeddyBearFun
#TeddyBearLovers
#BearDayCelebration
The perfect and relevant hashtags can boost your social media presence and build a joyful online community. By combining creativity and strategy, you can expand the reach of your posts to engage meaningfully with your audience.
For the complete list of holidays to celebrate on social media in September, visit AngieGensler.com/September-Holidays
Gift Ideas for National Teddy Bear Day
With National Teddy Bear Day approaching, it's the perfect time to shower your loved ones with huggable and lovable teddy-bear-themed gifts. We have listed below some unique and creative gift ideas that you can gift your loved ones or friends on this joyful occasion.
Let's explore this delightful collection of gifts and make this National Teddy Bear Day experience more exciting.
Other Holidays Related to National Teddy Bear Day
Along with National Teddy Bear Day, there are other exciting occasions that you can celebrate.
Let's discover some of these holidays that share a special connection with National Teddy Bear Day.
International Teddy Bear Day: This global celebration honors the contribution of teddy bears to childhoods around the world, transcending national boundaries.
National Bring Your Teddy Bear to Work/School Day: An opportunity for adults and children alike to share their love for their teddy bears in a public setting.
Have a Party with Your Bear Day: A day to celebrate your favorite teddy bear with a special party.
National Teddy Bear Picnic Day: A delightful summer holiday where families and friends gather for picnics accompanied by their favorite teddy bears.
Plush Animal Lover's Day: This holiday expands the celebration beyond teddy bears to encompass all kinds of plush animal toys.
Stuffed Animal Sleepover Day: On this day, children are encouraged to leave their treasured stuffed animals at the library for a 'sleepover'.
Winnie the Pooh Day: Celebrating one of the most iconic teddy bears in literature and film, Winnie the Pooh.
Teddy Bear Toss Day: A charitable event typically held during a sports game where attendees throw new or gently used teddy bears onto the arena. These are then donated to children in need.
National Polar Bear Day: While not about teddy bears, this day promotes love and respect for the real-life counterparts of our beloved stuffed companions.
World Soft Toy Day: A day to appreciate all kinds of soft toys, including teddy bears.
For more holidays, download our free calendar with over 1,000 fun and unique holidays to celebrate this year. Head to angiegensler.com/holiday-calendar to grab your free copy!
Future Dates for National Teddy Bear Day
| Year | Date | Day |
| --- | --- | --- |
| 2023 | September 9 | Saturday |
| 2024 | September 9 | Monday |
| 2025 | September 9 | Tuesday |
| 2026 | September 9 | Wednesday |
| 2027 | September 9 | Thursday |
| 2028 | September 9 | Saturday |
| 2029 | September 9 | Sunday |
List of extra ideas for National Teddy Bear Day
Teddy Bear Trivia: Include some interesting facts and trivia about teddy bears, such as their history, the inspiration behind their creation, and different types of teddy bears around the world.
Teddy Bear DIY Projects: Provide some creative DIY (Do It Yourself) projects for teddy bear lovers, such as making a teddy bear at home, crafting teddy bear clothes, or creating teddy bear-themed decorations.
Teddy Bear Gallery: Add a section with images of various types of teddy bears, including antique, unique, and popular teddy bears.
Teddy Bear Stories: Share stories or anecdotes about teddy bears, which might include famous teddy bears in history, personal experiences, or heartwarming tales about teddy bears improving someone's life.
Teddy Bear Events: List some events related to teddy bears that are happening around National Teddy Bear Day, such as teddy bear exhibits, charity drives, or community picnics.
Teddy Bear Recipes: Incorporate a few teddy bear-themed recipes, like teddy bear-shaped cookies or cupcakes, for readers to make and enjoy on this special day.
Interviews: Consider including interviews with teddy bear collectors, manufacturers, or enthusiasts to provide more insights into the world of teddy bears.
Movie and Book Recommendations: Suggest movies, books, or shows that feature teddy bears, perfect for a cozy National Teddy Bear Day at home.
Conclusion
As business owners, it's crucial to seize opportunities like National Teddy Bear Day to build a sense of community and engagement with your customers. You can offer a special sale on teddy bear merchandise, organize a community event, or run a teddy bear donation drive to connect with your audience and expand the business reach. Teddy bears symbolize love, comfort, and nostalgia that can help you build strong relationships with your customers.
Celebrate this special day with us, and don't forget to download our free holiday calendar for more fun and unique holidays to celebrate this year!