April marks National Volunteer Month, a time to recognize and celebrate the incredible impact of volunteers in our communities. This is the perfect time to investigate how we can help out and discover what volunteering offers. From finding meaningful causes that align with your values, preparing for your volunteer experience, and showing appreciation for those who dedicate their time – let's dive into all things related to National Volunteer Month.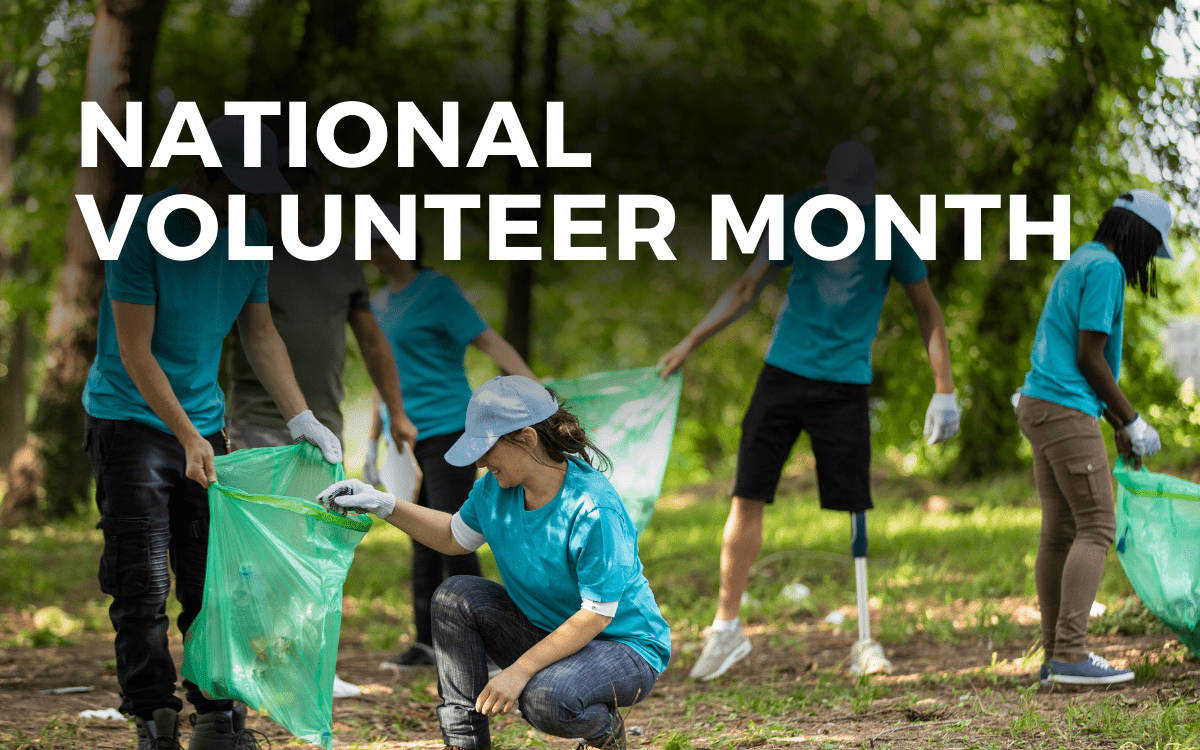 What is National Volunteer Month?
Each year in April, people come together to recognize and appreciate volunteers who selflessly give their time and effort towards aiding others through volunteering.
History of National Volunteer Month
The tradition began in 1974 when the United States government established National Volunteer Week and National Volunteer Month. The point of National Volunteer Month is to spotlight the effects that volunteers have on our society and how anyone can make a contribution through volunteering. Additionally, it serves as an opportunity for organizations to thank their current volunteers while also recruiting new ones for upcoming projects or initiatives.
How to Celebrate National Volunteer Month
National Volunteer Month is a significant occasion that urges individuals to contribute and help those in need in their locales.
Non-profit and charitable organizations can celebrate National Volunteer Month by organizing group volunteer projects that bring together their members, supporters, and volunteers. This is a great opportunity to promote the mission of the organization and get more people involved in the cause. Be sure to share stories from previous events, highlight upcoming projects, or even create awareness campaigns on social media.
National Volunteer Month is also a great time to express gratitude for volunteers' efforts and commitment, as well as promote your organization or cause. A simple "thank you" can go a long way in showing gratitude. Posting on social media, sending out emails, or even writing thank-you cards are all good ways to say thank you to your volunteers. For example, if you run a non-profit that relies heavily on volunteers, make sure they know how much their efforts mean by thanking them with posts like "We couldn't do it without our amazing volunteers. Thanks for everything you do to make a difference."
Recognizing achievements is another excellent way of showing appreciation for volunteers. Whether it be through awards ceremonies or certificates of recognition at the end of each project – acknowledging the contributions made by individuals will not only boost morale but also motivate them to keep up the good work in future projects too. You could also consider recognizing milestones such as years served and hours volunteered; this will demonstrate your commitment to valuing volunteer service and help retain valuable members within your team.
Non-profit organizations can also use National Volunteer Month as an opportunity to reach out to local businesses and corporations for support. This could include asking for donations of money, supplies, or other materials that could be used to help those in need. Additionally, businesses could even sponsor National Volunteer Month-themed events or join the organization's volunteer efforts – this would not only provide much-needed resources but would also show local businesses' commitment to giving back to the community.
Businesses and corporations can celebrate National Volunteer Month by engaging their employees in group volunteer projects. These projects can range from helping out at a local food bank or shelter to taking part in beach clean-ups or tree-planting initiatives. Showing your support for National Volunteer Month through these activities is an excellent way to demonstrate corporate social responsibility while also helping to build morale and strengthen teamwork.
Businesses can also encourage their employees to take part in National Volunteer Month by offering incentives, such as extra days off or gift cards for employees who sign up for a volunteer project. This is a great way to increase employee involvement and increase the impact on the local community.
Businesses and corporations can also celebrate National Volunteer Month by donating to charities, nonprofits, or other organizations in need. Donations don't have to be money either – consider donating excess materials or supplies to local schools or shelters.
Individuals can celebrate National Volunteer Month by getting involved with volunteering opportunities in their local community, such as helping at a food bank, participating in a beach clean-up event, or assisting an organization that provides aid to those in need. To help spread the word about National Volunteer Month, encourage friends and family members to join you. It's a great opportunity to build relationships and share your passion for making the world a better place.
Share stories of how volunteering has impacted lives or create online resources outlining the many ways individuals can get involved in their local community. You could even host a National Volunteer Month-themed social media challenge to encourage people to use their voices and volunteer.
Through volunteering, education, or even just spreading awareness – everyone can make a difference during National Volunteer Month.
Ten Ideas of How to Celebrate National Volunteer Month
Here are 10 ideas of how you can celebrate National Volunteer Month:
Put together a volunteer appreciation day to honor your volunteers and celebrate National Volunteer Month.
showcasing your volunteers' stories on social media platforms, such as Instagram and Twitter, to inspire others to give back.
Plan a virtual volunteering event for National Volunteer Month, such as online tutoring or helping out with an online fundraiser.
Connect with local nonprofits and organizations in need of help during National Volunteer Month and offer assistance for their projects.
Create an online resource page to share National Volunteer Month-related information to help educate people about volunteering and how they can get involved in their communities.
Encourage your friends and family members to volunteer during National Volunteer Month by organizing a group project or outing.
Host a National Volunteer Month-themed social media challenge to spread awareness and encourage people to volunteer in their communities.
Create a National Volunteer Month-themed scavenger hunt or other fun activities to engage the public and promote volunteerism throughout your community.
Invite a guest speaker to talk about their volunteering experiences during National Volunteer Month for an inspirational event at your organization or within your community.
Organizing a group volunteer project to give back to your local community.
Hashtags for National Volunteer Month
Using hashtags on social media is a great way to spread awareness about National Volunteer Month. When sharing posts on social media, use the following hashtags:
#nationalvolunteermonth
#volunteersmakeadifference
#volunteeringmatters
#giveback
#makingadifference
Using popular and relevant hashtags will allow you to reach more people and help raise awareness about National Volunteer Month and the importance of volunteering.
Other Holidays Related to National Volunteer Month
National Volunteer Week is usually held the third full week of April, and it's a time to recognize volunteers for their hard work and dedication. National Volunteer Week provides a platform for organizations, businesses, individuals, schools, and other groups to come together and share their stories of volunteerism and giving back. National Volunteer Week also provides an opportunity for organizations to recruit volunteers, share successes and stories about how volunteering has impacted their cause, thank current volunteers for their hard work, and encourage more people to become involved in volunteering.
National Philanthropy Day is observed each November 15th and is dedicated to celebrating philanthropic activities in the United States. National Philanthropy Day was created to recognize outstanding contributions from individuals, businesses, and organizations that make a positive impact on our society by giving their time, talents, and resources for the greater good. National Philanthropy Day also serves to raise awareness about the importance of philanthropy and its role in our society.
Global Youth Service Day is an annual event that takes place each April (usually around National Volunteer Week) and celebrates the power of young people to make a difference in their communities through service.
United Way Day of Action is an annual event that takes place on the summer solstice each June and celebrates the power of community service to make a positive impact. It is also a day for corporate partners, volunteers, and citizens to come together to work on community projects and address issues in their local communities. On this day, volunteers can participate in activities such as cleaning up parks, painting murals, and organizing food drives.
For more holidays, download our free calendar with over 1,000 fun and unique holidays to celebrate this year. Head to angiegensler.com/holiday-calendar to grab your free copy!
National Volunteer Month Dates
| Year | Date | Day |
| --- | --- | --- |
| 2024 | April 1 | Monday |
| 2025 | April 1 | Tuesday |
| 2026 | April 1 | Wednesday |
| 2027 | April 1 | Thursday |
| 2028 | April 1 | Saturday |
| 2029 | April 1 | Sunday |
Benefits of Volunteering
By engaging in volunteer work, individuals can have a meaningful impact on their community and beyond. Not only does volunteering have a positive impact on those served, but also on the volunteers themselves. Volunteering offers numerous advantages for everyone involved, from those in need of assistance to the individuals and entities providing it.
Benefits for the Community
Volunteering helps build strong communities by bringing people together to work toward common goals. It increases social capital – the networks of relationships among people that enable collaborative action – which can help create an environment where citizens feel connected and supported. Volunteer initiatives such as neighborhood watch groups or after-school activities can foster a sense of connectedness and support among community members, helping to create an environment where all residents feel safe and successful.
Participating in volunteer activities offers individuals the chance to cultivate new capabilities while exercising existing ones, gain a better understanding of themselves and their inclinations, examine possible career trajectories, acquire invaluable experience working on significant undertakings with practical outcomes, bolster assurance through successful completion of tasks, come into contact with intriguing people from disparate backgrounds whom they may not have encountered otherwise; plus much more.
Companies that offer employees paid time off to volunteer enjoy improved employee morale along with higher rates of retention since volunteers often become loyal ambassadors due to their positive experiences when engaging in service activities related to their employer's mission or values. In addition, corporations can also benefit from increased public recognition when employees participate in volunteering initiatives such as cleaning up local parks or helping out at homeless shelters; it is "good PR" that makes customers want them even more.
Volunteering presents a superb chance to contribute to the local area, and it can be advantageous for both individuals and companies. By researching different volunteering opportunities, you can discover one that fits your requirements or passions.
Types of Volunteering Opportunities
Giving back to the community and making a positive impact on the world are some of the rewards that come with volunteering. There are many different types of volunteering opportunities available, ranging from local initiatives to virtual volunteer roles and even international projects.
For those wishing to give back in their local area, there is an abundance of possibilities ranging from short-term projects to long-term commitments. There are a plethora of options for those looking for one-off engagements or more long-term commitments; these include assisting at food banks and homeless shelters, organizing beach cleanups and park beautification projects, working with animal rescue organizations, mentoring youth programs, and much more.
For those who are unable to dedicate their time physically but still want to contribute, virtual volunteering is an ideal alternative. It involves leveraging one's skillset online through tasks such as creating content for non-profits, aiding with marketing campaigns, coding websites, providing tech support, and writing grants. Additionally there are opportunities for data entry and research; designing logos or graphics; teaching classes via video conferencing platforms like Zoom; or even joining global networks that link NGOs around the world in need of expertise.
For those seeking an adventure abroad while giving back at the same time, there are countless volunteer opportunities across countries all over the globe. From building homes in developing nations and teaching English as a foreign language in remote villages to joining conservation efforts protecting endangered species – international volunteers get hands-on experience making real change while exploring new cultures firsthand.
By volunteering in your local area, you can engage with those around you while gaining experience that may prove beneficial for future career opportunities. Examples of local volunteer opportunities include offering aid at a soup kitchen, caring for animals in shelters, tutoring students, and aiding with charity fundraising. Volunteering in your local area offers a great opportunity to make new connections and gain experience that can be beneficial for potential job or internship prospects.
No matter the amount of time you can commit or where you choose to volunteer, your contribution will be a step towards creating a better world.
How to Find a Volunteering Opportunity That's Right For You
Finding the right volunteering opportunity can be a challenge. With so many organizations and causes out there, it's important to do your research before committing to any one organization. Here are some suggestions to help you locate a suitable volunteering chance that corresponds with your capabilities and preferences.
Research Different Organizations and Causes
The first step in finding the right volunteering opportunity is researching different organizations and causes that you may want to support. Start by looking into local organizations that align with your values or passions, such as environmental groups, animal shelters, or food banks. You can also look into larger national or international organizations if you're interested in helping on a global scale. Make sure to read up on their mission statements and goals before committing to anything—it's important that you feel passionate about what they stand for.
Reach Out To Organizations Directly
Once you've identified an organization or cause that resonates with you, reach out directly via email or phone call (or even social media) to inquire about volunteer opportunities available at the moment. Many times there will be specific roles listed online, but don't hesitate to ask if they need help with something else not listed—sometimes, small tasks can make a big difference. It never hurts to ask; just remember to remain polite and professional when making contact with potential employers/organizations.
In the end, it's essential to locate a company whose purpose is meaningful and will be enriched by your involvement. So take some time doing research until you find a great fit; you won't regret it once everything falls into place.
Discovering a volunteering activity that resonates with your passions and beliefs may be difficult, but it's rewarding when you eventually locate the perfect fit. Preparing for your experience is just as important as finding an organization to volunteer with – understanding the commitment involved and gathering necessary supplies are essential steps in getting ready to volunteer.
Preparing for Your Volunteering Experience
When it comes to preparing for your volunteering experience, understanding the commitment involved is essential. Depending on the organization and cause you're supporting, this could mean dedicating a few hours each week or even committing to an entire day of service. It's important to be realistic about how much time you can give and communicate that with the organization so they can plan accordingly.
Gathering necessary supplies and equipment is also key when it comes to making sure your volunteer experience goes smoothly. This could include anything from safety gear if you'll be working on a construction site to snacks if you'll be out all day, or even just pens and paper if you'll need them for administrative work. Having everything ready ahead of time will help ensure that everyone has what they need.
For a successful volunteer experience, it is essential to be adequately prepared before beginning. With that in mind, it's important to make the most of your time and effort by being open-minded and flexible, respectful and professional, positive, and having fun during your volunteer work.
Making the Most of Your Volunteering Experience
Giving your time is a great way to make an impact and benefit society. To ensure you have the best experience possible, it's important to be open-minded and flexible when approaching your volunteer opportunity. Be prepared for unexpected changes or challenges that may arise during your service, and don't be afraid to think outside of the box in order to solve any problems.
Being respectful and professional while volunteering is also key. Respect local customs, dress codes, language barriers, etc., as well as those around you—whether they are fellow volunteers or people who benefit from your service. Keep conversations polite but friendly; remember that even though this isn't work-related per se, it's still an important role you're taking on.
Finally, staying positive throughout your volunteer experience will help keep morale high among other volunteers and staff members alike. Having fun doesn't mean shirking responsibilities; in fact, it can help make them easier. Bring some lightheartedness into the situation by cracking jokes (when appropriate) or having sing-alongs during breaks if everyone seems game for it. A little amusement can be beneficial in guaranteeing that all have a great time together.
Volunteering is a fantastic way to have an effect in your locality, and being open-minded, polite, proficient, and upbeat will make sure it's an enjoyable experience for all involved. Showing appreciation for volunteers is another important part of making sure they feel valued; thank them publicly and recognize their achievements with resources or support.
Conclusion
National Volunteer Month is a prime occasion to contribute and have an effect on your local community. During National Volunteer Month, there are numerous ways to get involved, ranging from short-term commitments to long-term involvement. Take the time to research organizations that match your interests, prepare yourself mentally and physically for the experience, and show appreciation for all volunteers who have dedicated their time towards making a difference in our world.
Join us in celebrating National Volunteer Month by sharing stories of volunteerism on social media.