Occupational Therapy Month is an important time to recognize the work of occupational therapists and their dedication to helping people overcome challenges. It's a period for us all to become more informed on this profession and how it can assist those who require assistance in numerous facets of life. Occupational therapy assists individuals in cultivating the capabilities to attain their highest potential of self-sufficiency by focusing on overall health, including physical, mental, emotional, and social. In this article, we'll explore Occupational Therapy Month, how to celebrate it, the types of occupational therapy available, and who can benefit from these services and resources.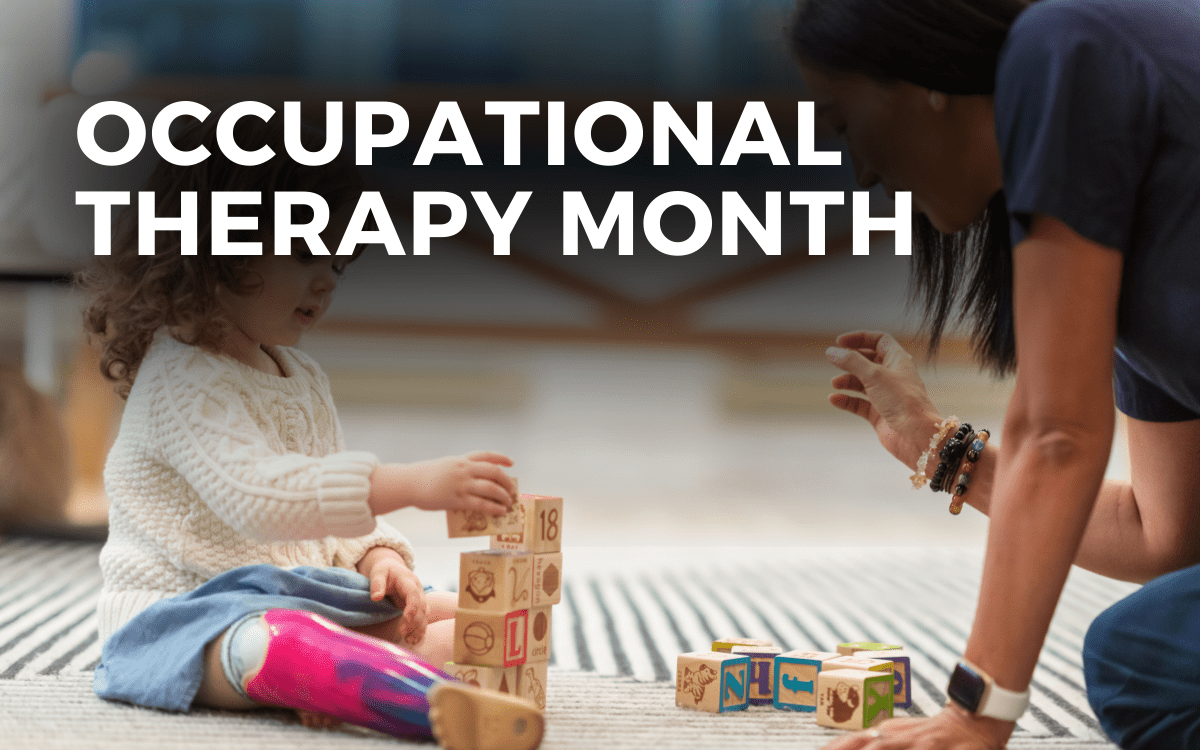 When is Occupational Therapy Month?
Occupational Therapy Month is recognized each April to commemorate the profession of occupational therapy and its effects on people, families, and societies. It has been celebrated since 1984 to recognize the contributions of occupational therapists and raise awareness about the profession.
How to Celebrate Occupational Therapy Month
In honor of Occupational Therapy Month, it's a great chance to celebrate the meaningful work done by OTs and raise understanding about their profession. A few ideas include:
Reach out to local Occupational Therapists and host virtual workshops, webinars, or seminars on health and wellness topics.
Post informative content about Occupational Therapy on social media platforms.
Support Occupational Therapy organizations through donations of time or money.
Share success stories from people who have benefited from Occupational Therapy.
Recognize Occupational Therapists in your life with shout-outs, cards, or gifts.
Invite Occupational Therapists to participate in community events like health fairs and Wellness Wednesdays.
Participate in virtual challenges that benefit Occupational Therapy organizations or research initiatives.
If you're a business, you can commemorate OT Month by crafting content that enlightens your followers about the role of an occupational therapist, recounts triumphs from customers who have profited from OT services, or furnishes information for those interested in how they could gain an advantage from Occupational Therapy. Businesses may also collaborate with local Occupational Therapists to organize webinars or workshops on health and wellbeing topics in celebration of OT Month.
Social Media Content Ideas and Hashtag for Occupational Therapy Month
Here are some ideas you can use when creating social media posts celebrating Occupational Therapy Month:
Share Occupational Therapy success stories from your patients, friends, family, or colleagues.
Share a photo of an Occupational Therapist in action.
Post facts about Occupational Therapy and the range of conditions Occupational Therapists help people with.
Highlight Occupational Therapy organizations and their initiatives or projects.
Showcase Occupational Therapy resources with your followers.
Ask Occupational Therapists what they love most about their profession.
Post an inspirational quote to recognize the Occupational Therapists in your life.
Invite Occupational Therapists to participate in virtual events or challenges.
Share Occupational Therapy research and how it's making positive changes for people around the world.
Create a poll asking Occupational Therapy experts questions about their profession.
When posting content about Occupational Therapy Month, make sure to use relevant and popular hashtags to increase the reach of your content. Hashtags such as:
#otmonth
#occupationaltherapy
#occupationaltheraphymonth
By using these hashtags in your posts, you'll increase the exposure and reach of your content.
For the complete list of holidays to celebrate on social media in April, visit angiegensler.com/april-holidays
Other Holidays Related to Occupational Therapy Month
Occupational Therapy Month isn't the only holiday related to OT. Mark your calendar for these other holidays celebrating Occupational Therapy.
World Occupational Therapy Day is celebrated annually on October 27th to recognize and honor occupational therapists around the world. It serves to recognize the impact of occupational therapy on global health, as well as promote best practices and awareness for those involved in the profession.
National Assistive Technology Awareness Day is celebrated annually on April 6th to raise awareness of the potential benefits of assistive technology for people with disabilities. This day raises awareness about the support that Occupational Therapists can provide to individuals with disabilities to help them live life to their fullest potential. Occupational therapists use assistive technologies to reduce barriers to meaningful activities, promote independence and increase self-determination, improve quality of life, and enhance health and well-being.
For more holidays, download our free calendar with over 1,000 fun and unique holidays to celebrate this year. Head to angiegensler.com/holiday-calendar to grab your free copy!
Occupational Therapy Month Dates
| Year | Date | Day |
| --- | --- | --- |
| 2024 | April 1 | Monday |
| 2025 | April 1 | Tuesday |
| 2026 | April 1 | Wednesday |
| 2027 | April 1 | Thursday |
| 2028 | April 1 | Saturday |
| 2029 | April 1 | Sunday |
Benefits of Occupational Therapy
Occupational therapy helps people improve their physical health by providing specialized interventions that focus on restoring function or developing new skills for daily living activities. Occupational therapy interventions may include anything from self-care tasks such as dressing or grooming to work-related activities like typing or filing to leisure pursuits like playing sports or reading, all with the aim of helping clients reach their maximum potential. OTs offer assistance and instruction to help clients comprehend their situation and form plans for controlling signs over the long haul.
To further highlight the importance of Occupational Therapy Month, let us examine some current occupational therapy practices.
Types of Occupational Therapy
Physical Therapies
Physical therapy is a type of occupational therapy that focuses on helping people improve their physical abilities. This can include improving balance, strength, coordination, and mobility. It can also involve activities such as walking, climbing stairs, or lifting objects to help build muscle strength and endurance. Physical therapists use different techniques to help patients reach their goals, including exercises and stretches, as well as therapeutic massage and ultrasound treatments.
Cognitive therapies are employed to assist individuals with cognitive struggles, such as loss of recollection or challenges comprehending data. These therapies focus on teaching strategies for problem-solving, decision-making, organizing tasks, and managing time effectively. They may also involve developing coping skills for dealing with stress or anxiety-related issues.
Sensory integration therapies are strategies to target sensory processing conditions that can alter an individual's perception of stimuli from their environment. Occupational therapists help clients develop strategies to effectively manage sensory input, thereby reducing the risk of becoming overwhelmed.
Adaptive equipment and assistive technology therapies are designed to provide support for individuals who have physical limitations due to injury or disability that make everyday tasks more difficult. Examples include wheelchairs, walkers, braces/splints/orthotics (for feet), prosthetics (artificial limbs), hearing aids/cochlear implants, computer software programs specifically designed for those with visual impairment, etc. By providing these tools, occupational therapists aim to increase independence in daily life activities like eating, dressing, and bathing.
Occupational therapy provides a broad array of interventions that can benefit those with various conditions and impairments. By understanding the different types of occupational therapies available, practitioners can better identify which type will be most beneficial for their clients. Let's explore who may reap the rewards of these therapies.
Who Can Benefit from Occupational Therapy?
Occupational therapy can be highly beneficial for children with special needs or disabilities, enabling them to acquire the skills necessary for independent functioning in daily activities such as dressing, feeding themselves, and participating in leisure pursuits. Occupational therapists assist children to build the abilities they need for increased autonomy in their daily routines, from dressing and eating independently to participating in recreational activities, as well as honing social skills and problem-solving strategies essential for academic success. This could include helping them learn how to dress, feed themselves, and participate in leisure activities. Occupational therapists also provide guidance to help children build the skills necessary for successful social interaction and problem-solving.
Adults with mental health conditions or injuries can also benefit from occupational therapy. Occupational therapists collaborate with adults to assist them in handling depression, anxiety, and other mental health issues, along with any physical impairments due to an illness or injury. Therapists will create individualized treatment plans tailored specifically for each patient's unique needs that may involve lifestyle changes such as stress management techniques and cognitive behavioral therapy (CBT).
Seniors who have age-related conditions or limitations can also benefit from occupational therapy services. As people age, their physical capabilities may diminish, leading to struggles with simple tasks like dressing or cooking independently. An occupational therapist will assess the senior's current level of functioning and then develop a plan of care that includes exercises designed to improve strength, balance, coordination, and flexibility so they can remain safe while performing daily activities on their own.
Occupational therapy can be a valuable tool for all ages, from children with special needs or disabilities to elderly individuals dealing with age-related issues. As a result, occupational therapists may specialize in various occupations to provide the most effective care for their patients and clients.
Occupations for Occupational Therapists
Occupational therapists strive to boost the quality of life for individuals with impairments or special requirements in a range of settings. Schools and educational settings are one of the most common places for occupational therapists to practice. In these settings, they can provide specialized instruction and support for students who need extra assistance in areas such as fine motor skills, handwriting, and sensory processing. Occupational therapists also often collaborate with teachers to create classroom modifications that make learning easier for children with disabilities or special needs.
Hospitals and medical centers employ occupational therapists to assess patients' abilities and develop individualized treatment plans that include physical therapy exercises, cognitive activities, adaptive equipment recommendations, home safety assessments, etc. They also may assist patients with daily living tasks such as dressing themselves or cooking meals after an injury or illness has impacted their mobility or independence levels.
Rehabilitation centers and nursing homes employ occupational therapists who specialize in geriatric care. These professionals focus on helping seniors maintain their autonomy through activities such as strength-building exercises, balance drills, fall risk management strategies, and safe driving evaluations/classes, so they can remain self-sufficient at home instead of having to relocate to a long-term care facility if possible.
No matter the environment, occupational therapists have a variety of roles to choose from that involves aiding individuals in achieving their highest potential through tailored plans for each individual. All these roles involve helping individuals reach their highest level of functioning by creating customized plans based on each patient's unique situation.
Occupational therapists are essential in numerous contexts, and the range of areas they practice is remarkable. With that said, it can be difficult to know where or how to find an occupational therapist near you.
How to Find an Occupational Therapist Near You
Locating an occupational therapist nearby can be intimidating, yet it doesn't have to be. With the right tools and guidance, you can quickly identify an occupational therapist that best meets your requirements.
For an occupational therapist, the internet is a great source to explore. Websites like WebPT or TherapyJobs are full of listings from all over the country that allow you to search by location and specialty. Using Yelp or Google, one can explore what other people have said regarding the various occupational therapists in their vicinity.
The American Occupational Therapy Association (AOTA) offers a comprehensive database of job postings and resources for its members, allowing them to quickly identify the ideal occupational therapist in their area. Additionally, many state associations offer lists of qualified practitioners in their areas so that potential clients can easily locate local providers.
Don't overlook the potential of word-of-mouth referrals; inquire with those in your network to see if they can provide any helpful recommendations. Ask friends or family members if they know anyone who specializes in occupational therapy; chances are they may have had experience working with someone before and could point you in the right direction. Plus, nothing beats getting first-hand feedback from someone who has already been through the process themselves.
Locating a competent occupational therapist in your area is the initial step to gaining the aid and guidance that you require. Locating a competent occupational therapist in your area is achievable with these helpful hints. Now let's look at some tips for working with an occupational therapist so that you get the most out of your therapy sessions.
Tips for Working with an Occupational Therapist
Collaborating with an occupational therapist may be a fantastic way to augment your total health. It's important, however, to understand what you should expect when working with one so that you get the most out of your sessions together. Here are some tips for making the most of your time with an occupational therapist.
Ask Questions
Don't be afraid to ask questions about anything related to your treatment plan or progress. Your occupational therapist is there to help and will likely appreciate hearing any concerns or queries you have regarding their services. They may even have advice on how best to approach certain situations in order for you to achieve maximum results from therapy.
Set Goals Together
Setting goals is essential when it comes to achieving success in any endeavor – and this includes working with an occupational therapist. Work closely with them by discussing realistic expectations and objectives that both parties agree upon before beginning treatment plans. This will ensure that everyone involved is clear on what needs doing, as well as providing motivation along the way towards reaching those goals.
Follow Through on Treatment Plans
Once a treatment plan has been established between yourself and your OT, make sure that you stick with it. Even if things become difficult at times, don't give up – keep going until all aspects of the plan have been completed properly in order for desired outcomes (or better) to be achieved successfully.
In conclusion, following these tips can help ensure that each session spent working alongside an occupational therapist goes smoothly and yields beneficial results over time. This allows you to take full advantage of their expertise while also helping maintain good mental health.
Exploring occupational therapy with a specialist can be a beneficial step to take for improving one's quality of life, so it is essential to establish the appropriate objectives and queries beforehand. Those curious about occupational therapy can find a wealth of information both on the web and in other forms.
Resources for Learning More About Occupational Therapy
Books & Journals
If you're looking for a comprehensive source of information about occupational therapy, then books and journals are the way to go. There are a variety of textbooks available that cover topics such as pediatric and geriatric OT, rehabilitation techniques, therapeutic activities, assistive technology, etc. Moreover, there exist numerous journals devoted to occupational therapy that present detailed analyses of clinical trials and professional practice standards.
Websites & Blogs
The internet is full of useful resources when it comes to learning more about occupational therapy. Websites like AOTA (American Occupational Therapy Association) offer up-to-date information on licensure requirements, continuing education opportunities, and job postings in the field. Additionally, there are numerous blogs written by experienced OT practitioners, which can be great sources for getting tips on how to use various therapies or finding out what other professionals think about certain topics related to the field.
Conclusion
Occupational Therapy Month is a great time to discover how occupational therapy can help you or someone close to you experience greater joy and improved quality of life. Let's spread awareness of Occupational Therapy Month and its importance in our daily lives! Share your stories, experiences, and advice with the world to help promote this special holiday.