Spirit Day is observed on the third Thursday in October. Business owners and marketers interested in participating in Spirit Day can utilize this significant occasion as a platform to enhance the visibility of their products and services by exploring concepts like collaborating with local community groups or introducing exclusive promotions; additionally, insights into crafting impactful social media posts and hashtags are provided to optimize marketing endeavors on this day, enabling businesses to effectively leverage Spirit Day to connect with a wider global audience.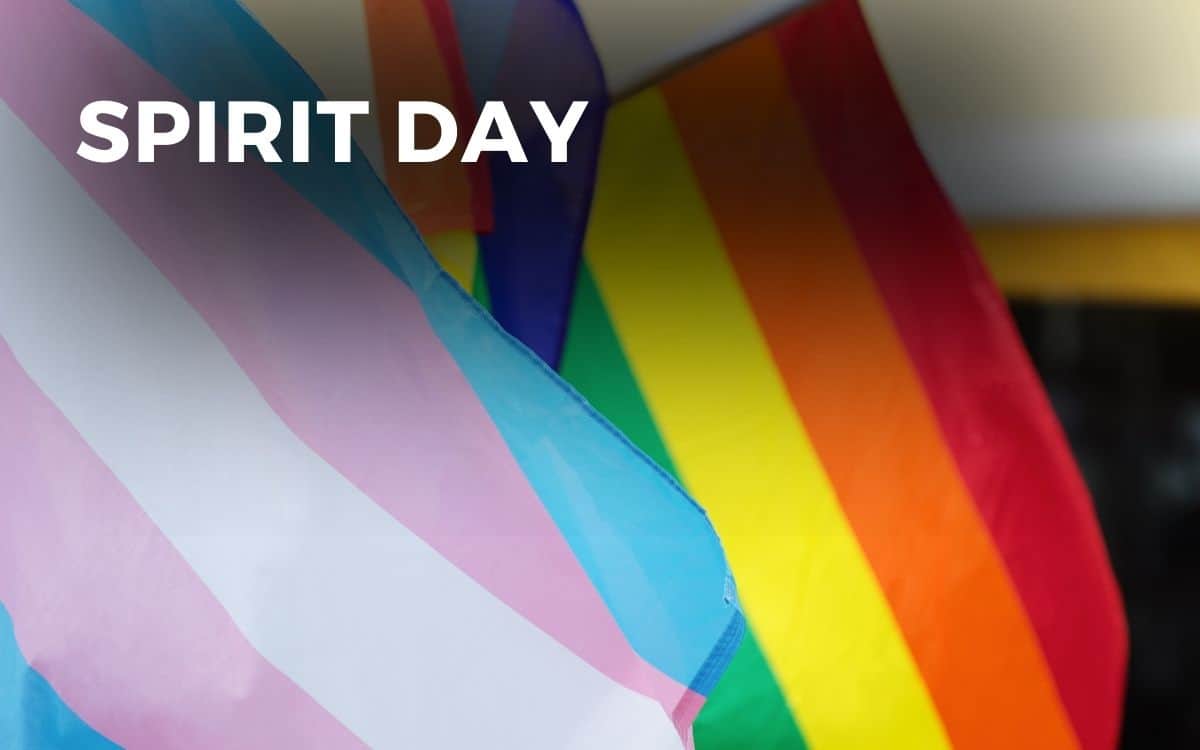 Table of Contents
*Disclosure: This post contains affiliate links. If you make a purchase using one of these links, I may receive a small commission. Please know that I only recommend products I have used and that I sincerely think will help your business.
When is Spirit Day?
Spirit Day is observed annually on the third Thursday of October. It serves as a day to show support for LGBTQ+ youth and take a stand against bullying and discrimination.
Participants typically wear purple to signify their solidarity, and various events and activities are organized to promote awareness and acceptance.
History of Spirit Day
Spirit Day originated in 2010 as a response to the alarming number of LGBTQ+ youth who had taken their own lives due to bullying and harassment.
Canadian teenager Brittany McMillan created the observance in honor of the memory of young LGBTQ+ individuals like Tyler Clementi, who died by suicide after being cyberbullied because of his sexual orientation.
On October 20, 2010, people were encouraged to wear purple as a way to raise awareness about the challenges faced by LGBTQ+ youth and to demonstrate solidarity in the fight against bullying.
Over the years, Spirit Day has gained significant traction and recognition, becoming a global phenomenon where individuals, celebrities, schools, organizations, and media outlets show their support by wearing purple and sharing messages of inclusivity on social platforms.
The day has grown into a poignant reminder of the importance of fostering safe and supportive environments for young LGBTQ+ individuals while working to eradicate bullying and discrimination.
How to Celebrate Spirit Day
As Spirit Day approaches, both individuals and businesses have the unique opportunity to join a global movement in support of LGBTQ+ youth, fostering an atmosphere of inclusivity and standing up against bullying and discrimination.
This section provides a range of creative ideas to ensure that your celebration of Spirit Day leaves a positive impact, whether you're an individual looking to make a personal statement or a business aiming to engage with a broader audience while promoting these important values.
Ideas for Individuals to Celebrate Spirit Day:
Wear Purple: The simplest yet most powerful gesture, wearing purple on Spirit Day shows your support and raises awareness.
Share on Social Media: Use your platforms to share educational content, personal stories, or messages of encouragement using Spirit Day hashtags.
Educational Workshops: Organize or attend workshops that address LGBTQ+ issues, bullying prevention, and creating safe spaces.
Virtual Events: Participate in online events like webinars, panel discussions, or virtual meetups centered around LGBTQ+ advocacy.
Write Letters: Pen letters of support to LGBTQ+ youth or send them to LGBTQ+ organizations working for equality.
Engage in Dialogue: Initiate conversations with friends, family, or colleagues about the importance of LGBTQ+ acceptance and standing against bullying.
Support LGBTQ+ Charities: Contribute to charities that focus on LGBTQ+ rights and well-being, either through donations or volunteer work.
Decorate Your Space: Use purple decorations to create a visually supportive atmosphere at home or work.
Ideas for Businesses to Celebrate Spirit Day:
Change Logo Colors: Temporarily modify your logo on social media and your website to incorporate purple hues.
Special Promotions: Offer discounts or donate a percentage of sales on Spirit Day to LGBTQ+ charities or organizations.
Collaborate with LGBTQ+ Groups: Partner with local LGBTQ+ organizations for events, fundraisers, or awareness campaigns.
Employee Engagement: Encourage employees to wear purple, share their stories, or participate in educational sessions about LGBTQ+ issues.
Social Media Campaigns: Create and share content that highlights your commitment to diversity, equality, and inclusion.
Host Virtual Events: Organize webinars, panels, or workshops that address LGBTQ+ topics, bullying prevention, and allyship.
Supportive Content: Publish blog posts, videos, or podcasts that share personal stories, provide resources, or promote understanding.
Educational Initiatives: Offer educational materials about LGBTQ+ history, rights, and terminology to promote awareness.
Purple Product Line: Introduce a limited-time purple product line, with a portion of proceeds donated to LGBTQ+ causes.
Participate in Community Events: Join local Spirit Day events or parades to demonstrate your commitment to LGBTQ+ support.
As Spirit Day draws near, the collective efforts of individuals and businesses serve as a reminder that even small actions can create profound change. By wearing purple, sharing stories, engaging in dialogue, and actively supporting LGBTQ+ youth, we contribute to a brighter, more inclusive future. For businesses, embracing the values of equality and acceptance not only strengthens brand identity but also helps create a more just and understanding society. This Spirit Day, let us unite in a powerful show of solidarity, working together to create safer spaces for LGBTQ+ youth and fostering a world free from bullying and discrimination.
Social Media Post Ideas for Spirit Day
In today's interconnected world, social media platforms offer a dynamic space to amplify your support for Spirit Day and the LGBTQ+ community.
Harness the power of these digital channels to spread awareness, share messages of acceptance, and engage with a global audience.
This section presents a variety of creative social media post ideas tailored for businesses, enabling you to make a meaningful impact on Spirit Day while strengthening your commitment to inclusivity and equality.
Social Media Post Ideas for Businesses on Spirit Day:
Colorful Imagery: Share visuals featuring your products or logo adorned with purple elements to symbolize your support.
Employee Stories: Spotlight stories from LGBTQ+ employees, highlighting their experiences and perspectives.
Educational Posts: Share informative posts about the significance of Spirit Day, the history of LGBTQ+ rights, or the importance of allyship.
Inclusive Quotes: Post inspiring quotes from LGBTQ+ advocates and allies, accompanied by engaging graphics.
Behind-the-Scenes: Offer a glimpse into your workplace's inclusive culture through photos or videos of employees preparing for Spirit Day.
Interactive Polls: Host polls asking your audience about their own efforts to combat bullying or support LGBTQ+ causes.
Charity Partnerships: Announce your partnerships with LGBTQ+ charities or foundations, encouraging your audience to get involved.
Video Testimonials: Share heartfelt video testimonials from customers, employees, or partners discussing their commitment to equality.
Virtual Events Promotion: Advertise any webinars, panel discussions, or events your business is hosting in honor of Spirit Day.
User-Generated Content: Encourage followers to share their own Spirit Day posts, stories, and experiences using your branded hashtag.
Educational Graphics: Design and share informative graphics debunking common myths about LGBTQ+ issues.
Supportive Playlists: Curate playlists of LGBTQ+ artists' music and share them as a way of celebrating diversity.
Call to Action: Prompt your audience to take action, like donating to LGBTQ+ charities or sharing their personal stories.
Harnessing the influential reach of social media, businesses can amplify their commitment to fostering a more inclusive world on Spirit Day. Through thoughtful and engaging posts that celebrate diversity, advocate for equality, and encourage dialogue, you have the power to create a positive impact that resonates far beyond a single day. As you embark on your Spirit Day social media journey, remember that these efforts contribute to a larger movement of acceptance, support, and understanding for the LGBTQ+ community.
Want to create social media content 10X faster? Start your free 7-day trial of the Social Media Content Club and say goodbye to social media stress!
Hashtags to Use During Spirit Day
In the age of social media, hashtags have become a powerful tool for connecting communities, spreading awareness, and amplifying messages.
For Spirit Day, harnessing the right hashtags is crucial to ensuring your posts reach a wider audience and engage with conversations surrounding LGBTQ+ support, anti-bullying efforts, and inclusivity.
This section delves into the significance of using hashtags effectively and provides a compilation of impactful hashtags to employ across your social media platforms, allowing your voice to join the chorus of those advocating for a more accepting world.
Hashtags to Use on Social Media for Spirit Day:
#SpiritDay
#LGBTQsupport
#StandAgainstBullying
#InclusivityMatters
#Allyship
#NoHate
#EqualityForAll
#Pride
#SpreadLove
#Acceptance
#BeKind
#YouthEmpowerment
#EndDiscrimination
#ChooseLove
#TogetherWeRise
#SafeSpaces
#DiversityMatters
#SpeakUp
#BreakTheCycle
#CreateChange
Harnessing the power of hashtags during Spirit Day not only connects your voice to a global movement but also contributes to the ongoing conversation about fostering a more compassionate and inclusive society. By strategically incorporating these hashtags into your social media posts, you're not just amplifying your message but also uniting with others who share the same values of acceptance, support, and the eradication of bullying and discrimination. Through this digital solidarity, you contribute to the broader mission of creating a safer, more understanding world for LGBTQ+ individuals and all who champion their rights.
For the complete list of holidays to celebrate on social media in October, visit AngieGensler.com/October-Holidays
Gift Ideas for Spirit Day
Gift-giving is a wonderful way to express support, care, and solidarity, and Spirit Day offers a perfect opportunity to show your commitment to LGBTQ+ youth and the fight against bullying.
Whether you're looking to surprise a friend, family member, coworker, or even yourself, this section presents a curated selection of thoughtful gift ideas that not only symbolize the spirit of inclusivity but also contribute to the ongoing conversation about acceptance and equality.
Gift Ideas for Spirit Day:
Customized Purple Accessories: From pins and wristbands to phone cases and tote bags, personalized accessories adorned with the color purple can be a stylish and meaningful gift choice.
LGBTQ+ Literature: Select books that celebrate diverse stories, experiences, and perspectives within the LGBTQ+ community, fostering understanding and empathy.
Rainbow-themed Merchandise: Explore items like rainbow-themed mugs, apparel, or artwork that not only brighten spaces but also signify your support for LGBTQ+ rights.
Donations to LGBTQ+ Charities: In the name of your gift recipient, make a donation to organizations working towards LGBTQ+ equality, education, and support.
Inspirational Artwork: Choose artwork that features empowering messages of love, acceptance, and allyship, creating a lasting reminder of the values celebrated on Spirit Day.
Gift-giving becomes a meaningful act when it aligns with important causes, and Spirit Day provides a unique chance to give thoughtfully. These gift ideas go beyond material tokens, representing a commitment to fostering a more accepting world for LGBTQ+ youth. By gifting personalized accessories, literature, rainbow-themed items, charitable donations, or inspirational artwork, you're not just offering presents; you're sending a powerful message of support, unity, and the shared endeavor to end bullying and discrimination.
Other Holidays Related to Spirit Day
Spirit Day stands as a significant observance focused on raising awareness about LGBTQ+ youth and combatting bullying.
Beyond this impactful day, there are several other holidays and awareness campaigns that share similar themes of acceptance, inclusivity, and the celebration of diversity.
This section explores a selection of these related holidays, each offering a unique opportunity to continue advocating for equality and fostering understanding.
Other Holidays Related to Spirit Day:
International Day Against Homophobia, Transphobia, and Biphobia (IDAHOTB): Observed on May 17th, this day highlights the global efforts to challenge discrimination and prejudice against LGBTQ+ individuals.
National Coming Out Day: Celebrated on October 11th, this day encourages LGBTQ+ individuals to share their stories and experiences, promoting greater visibility and acceptance.
Transgender Day of Remembrance: Recognized on November 20th, this day memorializes transgender individuals who have lost their lives due to transphobia and violence.
Harvey Milk Day: Commemorated on May 22nd, this day honors Harvey Milk, an LGBTQ+ rights activist, and encourages people to be open about their identities.
Pride Month (June): A month-long celebration of LGBTQ+ rights, history, and achievements, culminating in various pride parades and events worldwide.
International Day of Friendship: Celebrated on July 30th, this day promotes friendship, understanding, and solidarity, values that resonate with the Spirit Day message.
Day of Pink: Marked on the second Wednesday of April, this day aims to raise awareness about the effects of bullying and discrimination on LGBTQ+ youth.
While Spirit Day holds a distinct place in advocating for LGBTQ+ youth and combating bullying, it is part of a broader tapestry of related holidays and awareness campaigns. These occasions provide ample opportunities to continue the vital work of promoting acceptance, inclusivity, and understanding within our communities and society at large. By recognizing and engaging with these related holidays, we further amplify the shared mission of creating a world that celebrates diversity, stands against discrimination, and fosters a safe and nurturing environment for everyone.
For more holidays, download our free calendar with over 1,000 fun and unique holidays to celebrate this year. Head to angiegensler.com/holiday-calendar to grab your free copy!
Future Dates for Spirit Day
| Year | Date | Day |
| --- | --- | --- |
| 2023 | October 19 | Thursday |
| 2024 | October 17 | Thursday |
| 2025 | October 16 | Thursday |
| 2026 | October 15 | Thursday |
| 2027 | October 21 | Thursday |
| 2028 | October 19 | Thursday |
| 2029 | October 18 | Thursday |
List of ideas for Spirit Day:
Personal Stories of LGBTQ+ Youth: Share inspirational personal stories of LGBTQ+ youth who have overcome challenges, emphasizing their strength, resilience, and the importance of supportive environments.
Interviews with LGBTQ+ Advocates: Conduct interviews with well-known LGBTQ+ advocates, activists, or influencers who can provide insights, advice, and perspectives on the significance of Spirit Day and the ongoing fight against bullying.
Historical Context of LGBTQ+ Rights: Explore the historical context of LGBTQ+ rights, highlighting milestones and struggles that have shaped the present-day LGBTQ+ community and emphasizing the importance of continued activism.
Tips for Being an Ally: Offer practical tips for individuals and businesses to be effective allies for LGBTQ+ youth beyond Spirit Day, fostering a year-round commitment to inclusivity and support.
Global Perspectives on Bullying and Discrimination: Present a global perspective on bullying and discrimination faced by LGBTQ+ individuals in different parts of the world, showcasing the diverse challenges and efforts to overcome them.
Conclusion
In the world of business, embracing the principles of inclusivity and equality transcends mere marketing tactics—it becomes a pledge to foster a more compassionate and accepting society.
By actively participating in Spirit Day, business owners not only show their commitment to these values but also position themselves as allies to the LGBTQ+ community. Through strategic social media engagement, thoughtful gift ideas, and year-round efforts, businesses can weave the message of Spirit Day into the fabric of their brand identity.
As we look ahead, let us recognize that the impact of this one day resonates far beyond its passing, sparking ongoing conversations, forging connections, and ultimately contributing to a world where every individual, regardless of their identity, feels safe, valued, and empowered.
Celebrate this special day with us, and don't forget to download our free holiday calendar for more fun and unique holidays to celebrate this year!