World Pasta Day is celebrated on October 25th. For business owners and marketers aiming to commemorate World Pasta Day, there's a chance to leverage this unique occasion for promoting their offerings. This piece provides engaging concepts to mark the celebration, including collaborations with nearby pasta eateries or initiating exclusive deals and offers.
Additionally, you'll gain insights into crafting impactful social media content and hashtags to amplify your marketing endeavors during this event. Armed with these valuable suggestions, enterprises can effectively capitalize on World Pasta Day while expanding their reach to a broader international clientele.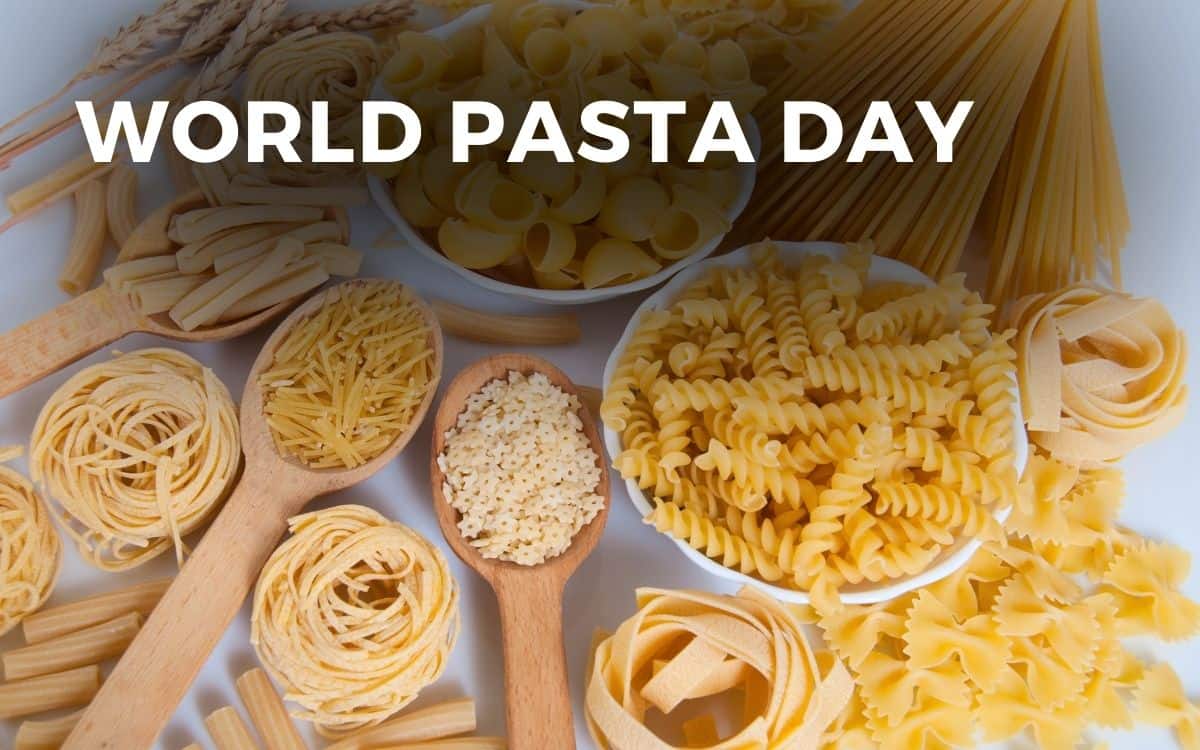 Table of Contents
*Disclosure: This post contains affiliate links. If you make a purchase using one of these links, I may receive a small commission. Please know that I only recommend products I have used and that I sincerely think will help your business.
When is World Pasta Day?
World Pasta Day is celebrated annually on October 25th. This global observance is dedicated to the beloved staple food that has transcended cultural boundaries and become a culinary icon worldwide.
It serves as a platform for pasta enthusiasts, chefs, and food lovers to come together and celebrate the diverse array of pasta dishes that grace tables around the globe.
On this day, various events, promotions, and activities take place to showcase the versatility and deliciousness of pasta, highlighting its significance in different cultures and cuisines.
History of World Pasta Day
World Pasta Day, established by the International Pasta Organization (IPO), traces its origins back to 1995. This culinary celebration was introduced as a means to highlight the cultural significance, nutritional benefits, and global popularity of pasta.
The IPO, founded in 1985 in Italy, recognized the need for a dedicated day to promote pasta consumption worldwide. October 25th was chosen to commemorate this beloved staple due to its universal appeal and historical relevance in various cultures.
Since its inception, World Pasta Day has evolved into a platform that not only celebrates pasta's versatility but also emphasizes its role in sustainable and nutritious diets.
It brings together pasta producers, chefs, food enthusiasts, and communities to share their passion for this timeless culinary delight while fostering a greater understanding of its contributions to gastronomy and nutrition.
How to Celebrate World Pasta Day
As World Pasta Day approaches, both individuals and businesses have a delightful opportunity to immerse themselves in the celebration of this universally cherished culinary delight.
This section presents an array of creative concepts tailored for both personal enjoyment and entrepreneurial innovation. From savoring unique pasta dishes to crafting engaging marketing campaigns, the following ideas will inspire memorable ways to honor the beloved pasta on its special day.
Ideas for Individuals to Celebrate World Pasta Day:
Pasta Potluck: Host a pasta-themed potluck gathering with friends and family, each bringing a distinct pasta dish from their favorite cuisine.
Pasta-Making Workshop: Join or organize a pasta-making class to learn the art of crafting fresh pasta from scratch.
Global Pasta Tasting: Explore different pasta varieties from around the world by trying dishes from various international cuisines.
Pasta Picnic: Enjoy a picnic in the park or at the beach, featuring a variety of cold pasta salads and sides.
Cook-Off Challenge: Compete with friends or family in a friendly pasta cook-off, where everyone prepares their signature pasta dish.
Pasta Art: Get creative by using different pasta shapes and sizes to craft unique pieces of art or jewelry.
Virtual Pasta Party: Organize a virtual pasta-themed party with friends or colleagues, where everyone can cook and enjoy pasta together over a video call.
Pasta Photography: Capture the beauty of your pasta creations through photography and share them on social media with the hashtag #WorldPastaDay.
Pasta and Movie Night: Pair your favorite pasta dish with a classic Italian film or a movie set in Italy for a cozy and thematic movie night.
Charity Pasta Dinner: Host a pasta dinner where the proceeds go towards a local food bank or charity organization, helping those in need.
Ideas for Businesses to Celebrate World Pasta Day:
Special Menu: Restaurants and cafes can create a limited-time special pasta menu featuring unique and innovative pasta dishes.
Collaborations: Partner with local pasta suppliers, cheese shops, and wine merchants for cross-promotions and collaborative events.
Online Contests: Organize online cooking contests or recipe challenges where participants can win prizes for their best pasta creations.
Discounts and Offers: Offer special discounts or "buy one, get one free" deals on pasta dishes for dine-in or takeout orders.
Pasta-Themed Decor: Decorate your establishment with pasta-themed decorations, such as hanging pasta strands or pasta-inspired artwork.
Cooking Demonstrations: Host live cooking demonstrations on social media platforms, showcasing your chefs preparing signature pasta dishes.
Pasta Giveaways: Give away branded pasta or pasta-related merchandise with orders or as part of a social media contest.
Pasta Loyalty Program: Introduce a loyalty program where customers earn rewards for every pasta dish they purchase.
Pasta and Wine Pairing Events: Organize special pasta and wine pairing events, collaborating with local wineries to enhance the dining experience.
Community Engagement: Support your local community by donating a portion of your World Pasta Day sales to a charity or food bank.
As World Pasta Day approaches, the possibilities for celebrating this beloved culinary treasure are abundant. Whether you're a pasta enthusiast seeking novel ways to indulge or a business owner aiming to infuse your brand with pasta-infused excitement, these diverse ideas offer a chance to honor the timeless allure of pasta while fostering connection and joy in every bite and interaction.
Social Media Post Ideas for World Pasta Day
In the digital age, the celebration of World Pasta Day extends beyond physical gatherings and reaches the screens of pasta enthusiasts around the world.
Social media platforms provide an excellent avenue to share the love for pasta, connect with a global audience, and showcase your brand's creativity.
This section unveils an array of captivating social media post ideas, tailored specifically for businesses, to engage their audience and make a flavorful impact on World Pasta Day.
Social Media Post Ideas for Businesses on World Pasta Day:
Pasta Parade: Create a carousel post showcasing a variety of your restaurant's pasta dishes, accompanied by mouthwatering descriptions.
Behind-the-Scenes: Share a video or series of photos capturing the process of preparing your signature pasta dish, offering a sneak peek into your kitchen.
Interactive Polls: Engage your audience by posting a poll asking them to vote for their favorite pasta shape or sauce.
Pasta Trivia: Educate and entertain your followers with interesting facts about different pasta types, their origins, and unique characteristics.
Customer Spotlights: Feature photos and testimonials from satisfied customers enjoying your pasta dishes, accompanied by their favorite pasta-related memories.
Recipe Reveal: Tease your followers with a short video or step-by-step photo series revealing the secret behind one of your popular pasta recipes.
Caption Contest: Post a funny or creative pasta-related photo and encourage your audience to come up with witty captions in the comments.
Interactive Stories: Use Instagram or Facebook Stories to poll your audience on their go-to pasta toppings or their dream pasta destination.
User-Generated Content: Encourage customers to share their own pasta creations, tagging your business and using a dedicated hashtag for a chance to be featured.
Pasta Puns: Inject humor into your posts by incorporating pasta puns and wordplay to engage your followers.
As businesses prepare to celebrate World Pasta Day, the virtual realm of social media presents a dynamic canvas for creative expression and brand engagement. By leveraging these engaging social media post ideas, enterprises can tantalize taste buds, spark conversations, and forge lasting connections with pasta aficionados far and wide. In this digitally interconnected landscape, pasta appreciation becomes a shared experience that transcends borders and spreads the joy of culinary delights.
Want to create social media content 10X faster? Start your free 7-day trial of the Social Media Content Club and say goodbye to social media stress!
Hashtags to Use During World Pasta Day
In the realm of social media, hashtags are the modern-day connectors that bridge conversations, communities, and trends.
When it comes to celebrating World Pasta Day, strategic use of hashtags can amplify your reach, enhance discoverability, and foster engagement.
This section delves into the significance of incorporating hashtags into your World Pasta Day posts and offers a compilation of hashtags that are sure to ignite the digital celebration of this delectable occasion.
Hashtags to Use on Social Media for World Pasta Day:
#WorldPastaDay
#PastaLovers
#PastaParty
#PastaObsession
#DeliciousPasta
#PastaPerfection
#PastaPassion
#PastaMagic
#PastaJoy
#PastaCelebration
#PastaArt
#PastaGoals
#PastaTime
#PastaFlavors
#PastaInspiration
#PastaAppreciation
#PastaDelights
#PastaGourmet
#PastaInnovation
#PastaExperience
Hashtags serve as digital signposts that guide like-minded pasta enthusiasts to join the celebration and discover the culinary wonders of World Pasta Day. By strategically integrating these carefully curated hashtags into your social media posts, you can tap into a global network of individuals who share your passion for pasta. These hashtags not only enhance the visibility of your content but also contribute to a dynamic online tapestry woven with a shared appreciation for the art of pasta-making and its vibrant cultural legacy.
For the complete list of holidays to celebrate on social media in October, visit AngieGensler.com/October-Holidays
Gift Ideas for World Pasta Day
Gift-giving is a cherished way to celebrate special occasions, and what better way to delight the pasta enthusiasts in your life than with thoughtful and delectable gifts on World Pasta Day? This section unveils a collection of captivating gift ideas that pay homage to the art of pasta-making and the joy it brings.
From gourmet experiences to culinary tools, these suggestions are bound to evoke smiles and elevate the pasta celebration to a whole new level.
Gift Ideas for World Pasta Day:
As World Pasta Day approaches, these gift ideas offer a delightful way to celebrate pasta's rich heritage and culinary charm. Whether you're surprising a close friend, family member, or a fellow food enthusiast, these thoughtful presents capture the essence of pasta's universal appeal and create lasting memories of shared meals and joyful moments. With these gifts in hand, you're sure to convey your appreciation for the artistry and flavors that pasta brings to our tables.
Other Holidays Related to World Pasta Day
World Pasta Day is a momentous celebration that unites pasta enthusiasts worldwide in their love for this timeless culinary delight. However, the world of holidays is rich and diverse, and there are other occasions that complement and resonate with the spirit of World Pasta Day.
In this section, we explore a handful of these related holidays that further embrace the joys of food, culture, and community, creating a tapestry of festive moments that enrich our culinary experiences.
Other Holidays Related to World Pasta Day:
International Italian Food Day: A day dedicated to celebrating the exquisite flavors and traditions of Italian cuisine, including pasta in all its splendid forms.
World Food Day: Focused on raising awareness about global hunger and the importance of sustainable and nutritious food, this day highlights pasta's role as a staple in many cultures.
National Noodle Day (October 6): While not exclusively about pasta, this day pays homage to the diverse world of noodles, including pasta varieties from around the globe.
National Spaghetti Day: A special day to indulge in the beloved classic, spaghetti, and revel in its delicious simplicity.
Italian Heritage Month: While not a single day, this month-long celebration in the United States honors the rich heritage of Italians and their contributions, including their iconic cuisine.
As we savor the delectable festivities of World Pasta Day, it's delightful to explore the tapestry of related holidays that celebrate the art of cooking, the richness of culture, and the bonds of community. These occasions provide us with opportunities to connect, appreciate global flavors, and share in the joys of gastronomy that transcend borders and unite us in our collective love for food.
For more holidays, download our free calendar with over 1,000 fun and unique holidays to celebrate this year. Head to angiegensler.com/holiday-calendar to grab your free copy!
Future Dates for World Pasta Day
| Year | Date | Day |
| --- | --- | --- |
| 2023 | October 25 | Wednesday |
| 2024 | October 25 | Friday |
| 2025 | October 25 | Saturday |
| 2026 | October 25 | Sunday |
| 2027 | October 25 | Monday |
| 2028 | October 25 | Wednesday |
| 2029 | October 25 | Thursday |
Ideas For Pasta Day:
Pasta Trivia: Share interesting and lesser-known facts about pasta's history, origins, and cultural significance in different regions.
Health Benefits of Pasta: Discuss the nutritional benefits of pasta, including its role in providing energy, fiber, and essential nutrients.
Pasta Pairings: Provide insights into the best wine, sauce, and cheese pairings for different pasta dishes, enhancing the dining experience.
Global Pasta Traditions: Explore how pasta is enjoyed in various countries and cultures, showcasing the diversity of pasta dishes worldwide.
Pasta Etiquette: Offer tips on proper pasta-eating etiquette, from twirling spaghetti to cutting various pasta shapes.
Conclusion
In the realm of business, World Pasta Day is more than just a celebration of flavors; it's a golden opportunity to infuse creativity and innovation into your brand. By embracing the various content ideas, social media strategies, and gift suggestions presented here, entrepreneurs can foster a deeper connection with their audience, all while capitalizing on the global enthusiasm for pasta. As the world unites to commemorate this beloved culinary treasure, businesses have the chance to stand out, make an impact, and solidify their presence in the hearts and plates of pasta enthusiasts worldwide. So seize this occasion with enthusiasm, and let the celebration of World Pasta Day become a catalyst for your business's success and memorable customer interactions.
Celebrate this special day with us, and don't forget to download our free holiday calendar for more fun and unique holidays to celebrate this year!