Batman Day is celebrated on September 16th, the third Saturday in September. Business owners and marketers interested in commemorating Batman Day can leverage this unique occasion as a means to promote their offerings and services, finding inspiration in this article which presents exciting concepts to celebrate the holiday, such as collaborating with local comic book stores, organizing themed events, and running exclusive promotions or discounts, along with valuable insights on crafting engaging social media content and hashtags to maximize their marketing endeavors and reach a wider audience of Batman enthusiasts worldwide.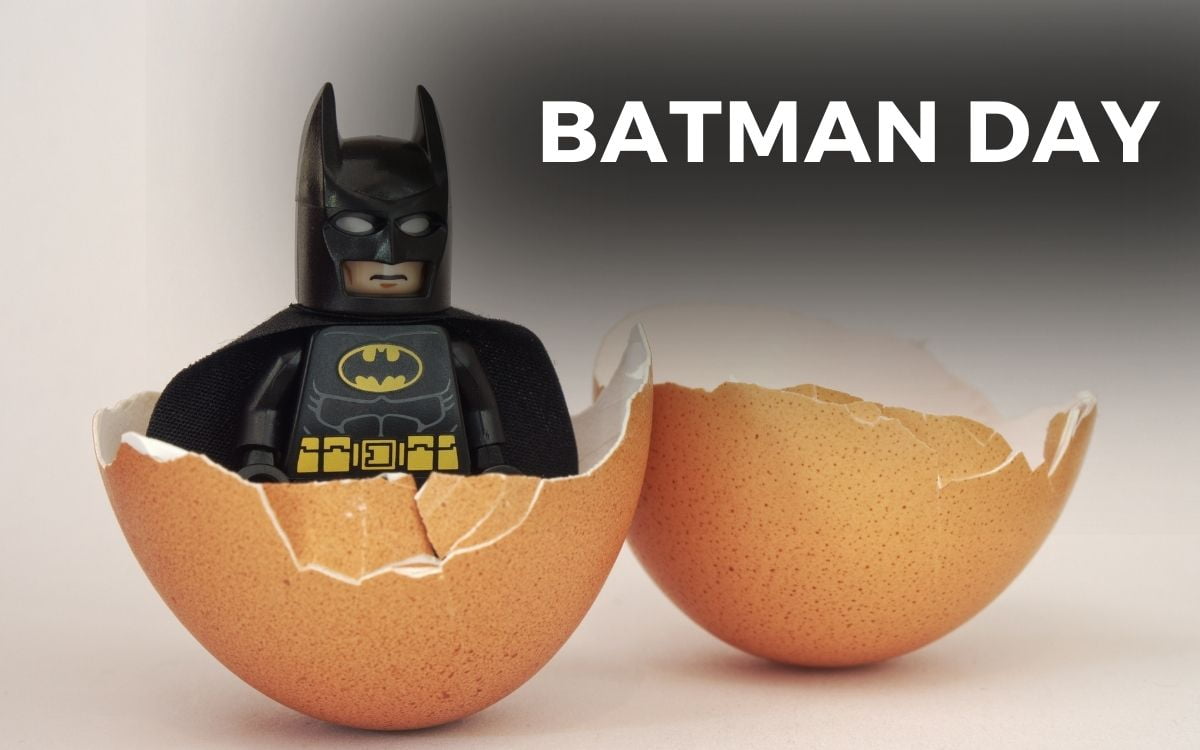 Table of Contents
*Disclosure: This post contains affiliate links. If you make a purchase using one of these links I may receive a small commission. Please know that I only recommend products I have used and that I sincerely think will help your business.
When is Batman Day?
Batman Day is celebrated on September 16th, the third Saturday in September. This annual event honors the iconic comic book character, Batman, created by Bob Kane and Bill Finger. On this day, fans around the world come together to commemorate the Dark Knight's legacy and contributions to popular culture. Various activities, promotions, and events take place, both online and offline, as fans immerse themselves in the world of Gotham City and the caped crusader.
Whether it's through comic book readings, movie marathons, cosplay gatherings, or engaging in discussions about Batman's rich history, September 15th marks a day of celebration for all Batman enthusiasts.
History of Batman Day
The history of Batman Day can be traced back to the celebration of Batman's 75th anniversary in 2014. DC Comics, the publisher of Batman, decided to commemorate the milestone by declaring July 23rd as the official Batman Day. The event was a massive success, with fans, comic book stores, and various organizations coming together to celebrate the beloved superhero.
Due to the overwhelming response and the immense popularity of Batman, DC Comics decided to make Batman Day an annual event. However, they moved the date to September, closer to the release date of the character's first comic book appearance.
Since then, Batman Day has been observed on the third Saturday of September each year. The day aims to celebrate Batman's enduring legacy and impact on popular culture. It serves as an opportunity for fans to express their love for the caped crusader and for DC Comics to engage with their audience, promoting new comic book releases, merchandise, and upcoming Batman-related projects.
Throughout the years, Batman Day has grown into a global celebration. It involves various activities, events, and promotions across comic book stores, libraries, museums, and online platforms. Fans participate in cosplay contests, art exhibitions, scavenger hunts, and discussions about the character's evolution and significance.
Moreover, Batman Day has become a way to introduce new fans, especially younger generations, to the world of Batman and his supporting characters. DC Comics often publishes free special edition comics specifically for the occasion, making it a fantastic opportunity for newcomers to dive into the vast Batman universe.
Overall, Batman Day stands as a testament to the enduring popularity of the Dark Knight and the profound impact he has had on the world of comics and beyond. It is a joyous celebration cherished by fans of all ages, cementing Batman's position as one of the most iconic and enduring superheroes of all time.
How to Celebrate Batman Day
Welcome to our ultimate guide on how to celebrate Batman Day! Whether you're an enthusiastic individual eager to immerse yourself in the world of Gotham City or a creative business owner seeking innovative ways to engage with your customers, this section is packed with exciting ideas and strategies to make Batman Day a memorable and thrilling experience.
From thrilling movie marathons and creative cosplay adventures to unique marketing tactics and exclusive promotions, we've got you covered with a diverse array of ideas that will ignite your passion for the Dark Knight and bring the superhero spirit to life on this special day.
List of Ideas: How Individuals Can Celebrate Batman Day
Movie Marathon
Cosplay Fun
Comic Book Reading
Themed Party
Visit a Comic Book Store
Create Fan Art
Trivia Night
Watch Batman Animated Series
Gotham City Food
Support a Bat-related Cause
Read Batman Novels
Batman Gaming Session
Bat-Signal Photo Challenge
Virtual Watch Party
Learn Batman's Martial Arts
List of Ideas: How Businesses Can Celebrate Batman Day:
Themed Store Decorations
Exclusive Batman Merchandise
Cosplay Contest
Social Media Campaign
Batman-Themed Discounts
Collaborate with Artists
Batman Trivia and Quizzes
Batman Movie Screening
Charity Event
Free Comic Book Giveaway
Batman Photo Booth
Virtual Batman Escape Room
Gotham City Scavenger Hunt
Collaborate with Local Businesses
As Batman Day approaches, the anticipation for this iconic celebration continues to grow. Whether you're a devoted fan or a business looking to engage with your audience, the ideas presented in this guide offer endless possibilities to honor the timeless hero and the vast universe of Gotham City. From fun-filled activities that let you embody your favorite characters to clever marketing strategies that capture the attention of fans, each idea holds the potential to make Batman Day an extraordinary and unforgettable experience. So, mark your calendars and let the hero within you shine as you embrace the spirit of Batman, celebrating his legacy and inspiring others to join the festivities. Happy Batman Day!
Social Media Post Ideas for Batman Day
Gear up your social media game for Batman Day with our fantastic section filled with creative and engaging post ideas! As the Dark Knight's annual celebration approaches, this section is designed to help businesses maximize their online presence, connect with fans, and spread the excitement of Batman Day far and wide. From interactive quizzes and captivating graphics to heartwarming fan stories and behind-the-scenes sneak peeks, these social media post ideas will empower businesses to showcase their love for the Caped Crusader and forge meaningful connections with their audience on this special occasion.
List of Social Media Post Ideas for Businesses:
Caption This: Share a Batman-related image and invite followers to create fun captions, encouraging engagement and humor.
Origin Story: Craft a visually appealing post narrating Batman's origin story, taking followers on an emotional journey.
Hero Appreciation: Post a heartfelt message thanking the real-life heroes in the community, inspired by Batman's dedication to helping others.
Gotham City Spotlight: Showcase your business's hometown or city as the "Gotham City" for a day, highlighting iconic landmarks and local trivia.
Fan Art Showcase: Feature fan-made Batman artwork, crediting the creators and celebrating their talent.
Batman Quotes: Share inspiring or iconic Batman quotes, accompanied by captivating graphics.
Trivia Challenge: Pose challenging Batman trivia questions and reward followers who answer correctly.
Behind-the-Scenes: Offer a sneak peek into your business's Batman Day preparations or showcase employees dressed up as Batman characters.
Batman Day Polls: Conduct polls asking followers to choose their favorite Batman movie, villain, or comic storyline.
Superhero Selfies: Encourage followers to post selfies dressed as Batman or their favorite character, using a branded hashtag.
Batman vs. Superman: Start a playful debate between Batman and Superman fans, asking them to defend their favorite hero.
Virtual Batman Tours: Create a virtual tour of your business, presenting it as a Batman-themed location for the day.
Meme Magic: Generate humorous Batman memes that resonate with fans and followers.
Bat-Signal Request: Ask followers to share their wishes as if they could summon the Bat-Signal for assistance.
Batman Story Share: Invite followers to share their favorite Batman memories, comics, or movies, fostering a sense of community and nostalgia.
With these captivating social media post ideas, businesses can unleash their creativity and captivate their online audience, celebrating Batman Day in the digital realm with fervor and enthusiasm. By sharing engaging content, fostering interactions, and incorporating the iconic elements of the Dark Knight, businesses have the power to make Batman Day a memorable and joyous occasion for all their followers. Embrace the hero within you, and let the world know that your business stands united with Batman and the countless fans who cherish his legacy. So, don your capes, fire up your keyboards, and get ready to shine in the spotlight of Batman Day on social media!
Want to create social media content 10X faster? Start your free 7-day trial of the Social Media Content Club and say goodbye to social media stress!
Hashtags to Use During Batman Day
Hashtags have become a vital tool in the world of social media, acting as powerful catalysts for engagement, visibility, and online conversations. As we gear up to celebrate Batman Day, harnessing the power of hashtags becomes crucial in uniting fans, businesses, and content creators under a common theme. Whether you're an individual looking to join the global Batman Day chatter or a business seeking to enhance your online reach, incorporating the right hashtags can elevate your presence, amplify your message, and connect you with the vast community of Dark Knight enthusiasts. In this section, we present a meticulously curated list of hashtags specifically designed to ignite the Batman Day spirit across various platforms, helping you unlock the true potential of this dynamic online celebration.
List of Hashtags to Use on Social Media for Batman Day:
#BatmanDay
#DarkKnight
#GothamCity
#CapetoFame
#BatFamily
#TheJoker
#BatSignal
#CapedCrusader
#DCComics
#ComicBookHeroes
#BruceWayne
#HeroInBlack
#Batsuit
#Batmobile
#Batarang
#VillainsOfGotham
#GothamKnights
#BatFansUnite
#BatWeekend
#BatLove
Incorporating these carefully selected hashtags into your Batman Day social media posts will undoubtedly amplify your online presence and foster meaningful interactions within the global Batman community. By utilizing these hashtags, individuals can join the chorus of passionate fans celebrating the iconic superhero, while businesses can effectively engage with their audience and showcase their unique offerings on this special occasion. As you embark on your Batman Day journey, remember that these hashtags serve as the digital Bat-Signal, summoning like-minded individuals and businesses to unite in a grand celebration of the Dark Knight's legacy. So, let your posts shine brightly with the power of the right hashtags, and immerse yourself in the thrilling world of Batman on social media. Happy hashtagging!
For the complete list of holidays to celebrate on social media in September, visit AngieGensler.com/September-Holidays
Gift Ideas for Batman Day
As Batman Day approaches, what better way to honor the Dark Knight and delight the Batman enthusiasts in your life than with amazing gift ideas inspired by the Caped Crusader? Whether you're searching for a special present for a friend, family member, or even yourself, this section is here to help you discover a collection of thoughtful and exciting gift suggestions that will make Batman Day truly memorable. From classic comic books and stylish merchandise to unique collectibles and immersive experiences, these gift ideas are sure to bring a smile to any Batman fan's face, celebrating their love for the legendary hero in the most extraordinary way.
List of 5 Gift Ideas for Batman Day:
Limited-Edition Batman Comics: Surprise the recipient with a rare or first-edition Batman comic book to add to their collection and relive the character's earliest adventures.
Batman Merchandise: Gift them a wide array of Batman-themed merchandise, such as t-shirts, hoodies, mugs, or phone cases, showcasing their love for the Dark Knight in their everyday life.
Batman Funko Pop Figures: Delight any collector with a Funko Pop figure of their favorite Batman character, from Batman himself to iconic villains like The Joker or Catwoman.
Bat-Signal Projector: Illuminate their room or space with a Bat-Signal projector, letting them call upon the Dark Knight whenever they please.
Batman Experience or Event Tickets: Treat them to an immersive Batman-themed experience, such as a visit to a Batman exhibit, a superhero-themed escape room, or tickets to a Batman movie marathon at a local theater.
With these fantastic gift ideas for Batman Day, you have the perfect opportunity to show your appreciation for the Dark Knight and make the celebration truly special for your loved ones. Each gift suggestion serves as a tribute to Batman's enduring legacy and offers a unique way to immerse fans in the world of Gotham City and its iconic hero. Whether you opt for rare comics, stylish merchandise, or unforgettable experiences, these gifts are sure to ignite the passion of any Batman enthusiast and create lasting memories on this extraordinary day. So, go ahead and spread the joy of Batman Day with these amazing gifts that truly embody the spirit of the Caped Crusader. Happy gifting!
Other Holidays Related to Batman Day
While Batman Day stands as the primary celebration dedicated to the iconic superhero, the Dark Knight's influence extends beyond this single occasion. Throughout the year, various holidays and observances pay homage to Batman and the vast world of DC Comics. In this section, we explore other holidays and related events that provide additional opportunities for fans and businesses alike to embrace their love for Batman, his allies, and adversaries. From global events to fan-driven celebrations, these other holidays offer exciting avenues to immerse oneself in the rich tapestry of the Batman universe and celebrate the enduring legacy of the Caped Crusader.
List of Other Holidays Related to Batman Day:
Batman's First Appearance Day (Detective Comics #27 Anniversary): Celebrated on May 27th, this holiday honors the first appearance of Batman in Detective Comics #27, marking the character's debut in 1939.
Batman Week: Observed during the third week of July, Batman Week celebrates the enduring popularity of the Dark Knight and his impact on popular culture.
Joker Day: Recognized on April 25th, Joker Day pays homage to Batman's most infamous nemesis, The Joker, and his captivating portrayal throughout various media.
Gotham City Appreciation Day: Held on October 11th, this holiday celebrates the fictional city of Gotham and its importance as the backdrop for Batman's adventures.
Batman Family Day: Celebrated on September 26th, this holiday focuses on the extended Batman family of allies and sidekicks, highlighting their contributions to the superhero's mission.
As we explore these other holidays related to Batman Day, we discover a tapestry of celebrations that collectively illustrate the far-reaching impact of the Dark Knight on popular culture. From commemorating Batman's first appearance to appreciating his allies and adversaries, these occasions provide fans with a year-round opportunity to express their love for the Caped Crusader and immerse themselves in the thrilling world of Gotham City.
Whether it's through fan gatherings, special events, or social media tributes, these holidays unite the global community of Batman enthusiasts, reinforcing the enduring legacy of the iconic superhero and his vast universe of adventures. As we embrace these additional celebrations, we celebrate not only Batman but also the incredible creativity, passion, and imagination that the character inspires in fans across the world.
For more holidays, download our free calendar with over 1,000 fun and unique holidays to celebrate this year. Head to angiegensler.com/holiday-calendar to grab your free copy!
Future Dates for Batman Day
| Year | Date | Day |
| --- | --- | --- |
| 2023 | September 16 | Saturday |
| 2024 | September 21 | Saturday |
| 2025 | September 20 | Saturday |
| 2026 | September 19 | Saturday |
| 2027 | September 18 | Saturday |
| 2028 | September 16 | Saturday |
| 2029 | September 15 | Saturday |
List of ideas to celebrate Batman day
Batman Movie Marathon: Gather your friends or family for a Batman movie marathon, watching classic films like "Batman Begins," "The Dark Knight," and "The Dark Knight Rises" or any other favorite adaptations.
Cosplay as Batman: Embrace your inner Caped Crusader by dressing up as Batman or your favorite Batman character, and share your awesome costume on social media using the #BatmanDay hashtag.
Host a Batman Trivia Night: Organize a virtual or in-person Batman trivia night with friends or fellow fans, testing your knowledge of the Dark Knight's rich history and lore.
Support Local Comic Book Stores: Visit your local comic book store and purchase some Batman comics or merchandise to show your love for the character while supporting small businesses.
Create Batman-Themed Art: Unleash your creativity and draw, paint, or craft Batman-themed artwork or fan art, sharing it online to showcase your talent and passion for the Dark Knight.
Remember, Batman Day is a celebration of the beloved superhero and his impact on popular culture. These ideas offer a fun and engaging way to honor the Caped Crusader and connect with the global community of Batman fans. Enjoy the festivities and embrace the hero within you!
Conclusion
As Batman Day approaches, business owners have a unique opportunity to harness the popularity and excitement surrounding the Dark Knight to connect with their audience and foster brand engagement. By embracing the creative ideas for celebrations and marketing strategies presented in this article, businesses can immerse themselves in the world of Gotham City, tapping into the passion of Batman enthusiasts worldwide.
Whether through exclusive merchandise, themed events, social media campaigns, or collaborations with local businesses, these initiatives not only celebrate the iconic superhero but also strengthen the bond between businesses and their customers.
As the annual Batman Day festivities unfold, let businesses stand united with the global community of fans, paying tribute to the Caped Crusader and elevating their brand presence with the hero's spirit. So, don your capes, ignite the Bat-Signal of innovation, and let Batman Day become a remarkable success that resonates with audiences, leaving a lasting impact on businesses and fans alike.
Celebrate this special day with us, and don't forget to download our free holiday calendar for more fun and unique holidays to celebrate this year!