National Gymnastics Day is recognized annually on the third Saturday in September. Entrepreneurs and marketers can leverage this remarkable event to promote their goods and services. In this article, we'll unveil creative strategies to honor this day, such as collaborating with local gymnastics clubs or initiating special offers and discounts. You'll also gain insights into social media posts and hashtags to optimize your marketing endeavors on this day. By employing these valuable suggestions, businesses can fully embrace National Gymnastics Day and extend their reach to a broader global clientele.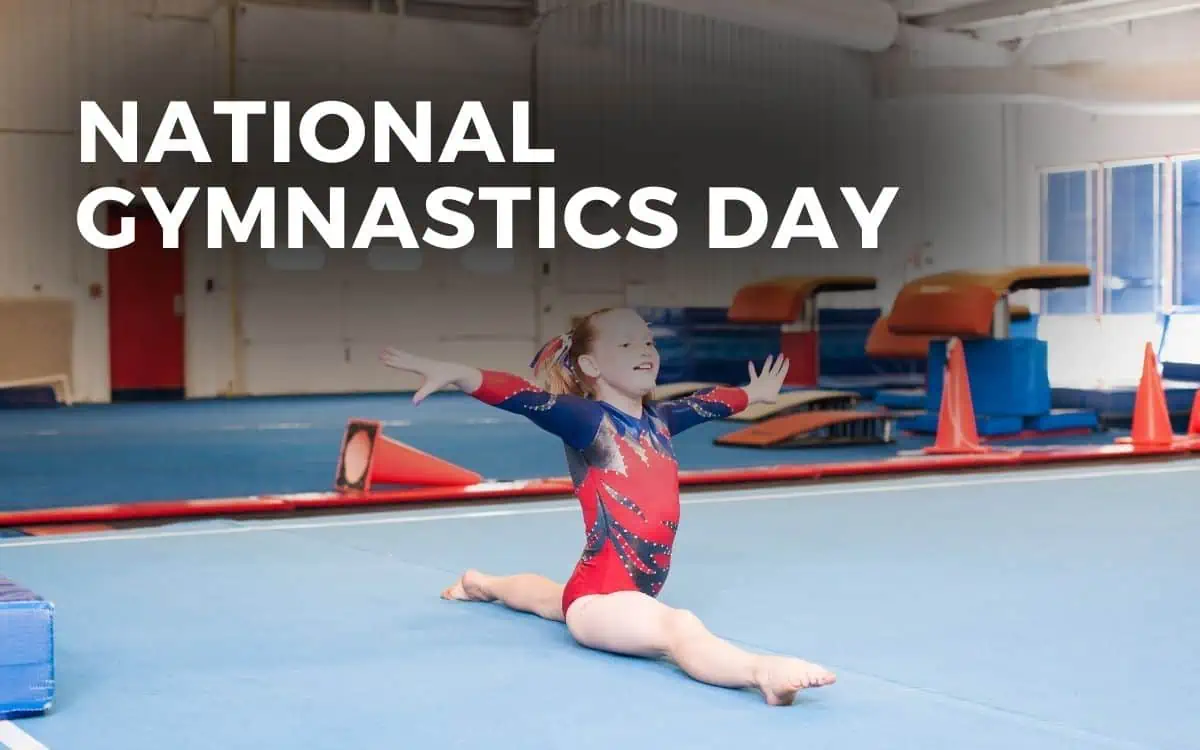 <br>Table of Contents
*Disclosure: This post contains affiliate links. If you make a purchase using one of these links, I may receive a small commission. Please know that I only recommend products I have used and that I sincerely think will help your business.
When is National Gymnastics Day?
National Gymnastics Day is recognized annually on the third Saturday in September. In 2023, this special day falls on September 16th. This day also serves as a prime opportunity for businesses, especially those in the sports and fitness realms, to connect with gymnastic enthusiasts and athletes and promote their products or services in alignment with the spirit of this day.
History of National Gymnastics Day
National Gymnastics Day was first celebrated in 1998. The event was initiated by USA Gymnastics, the national governing body for gymnastics in the United States, to promote the sport and encourage physical fitness among the youth. Over the years, the event has evolved from a grassroots effort to a nationwide celebration, with participating clubs across the country organizing different activities such as demonstrations, open houses, and fundraisers. This event continues to grow yearly, with increased participation and outreach, making gymnastics more accessible to all.
How to Celebrate National Gymnastics Day
This section will provide an array of innovative ideas for both individuals and businesses to partake in and capitalize on the celebrations.
Ideas for Individuals to Celebrate National Gymnastics Day
Attend a Gymnastics Event: Seek out local gymnastics clubs hosting events or demonstrations on this day. This is a great opportunity to witness the sport up close and maybe even meet some gymnasts.
Try a Gymnastics Class: Many gyms offer trial classes, especially on National Gymnastics Day. This is a perfect chance to experience the sport firsthand.
Gymnastic Moves at Home: If you have the equipment and space, try practicing some basic gymnastic moves at home. Remember, safety first!
Watch a Gymnastics Competition: Celebrate the day by watching a gymnastics competition, either live or online. It's a fun and inspiring way to appreciate the sport.
Connect with other gymnastic enthusiasts: Use social media to share your love for the sport. Use hashtags like #NationalGymnasticsDay to connect with fellow fans around the world.
Donation: Consider making a donation to organizations that provide gymnastics programs for underprivileged kids. This is a wonderful way to give back to the community on this special day.
Read a Book or Watch a Movie about Gymnastics: Delve deeper into the world of gymnastics by reading a book or watching a film on the sport.
Appreciate Gymnasts: Use this day to express your admiration for gymnasts. Send a thank you note to your favorite gymnast or gymnastics coach.
Ideas for Businesses to Celebrate National Gymnastics Day
Collaborate with Local Gyms: Partner with local gymnastics clubs to sponsor events or demonstrations. This can raise your company's profile while supporting the local community.
Special Discounts: Offer special National Gymnastics Day discounts or promotions on your products or services to attract gymnastics enthusiasts.
Gymnastics-Themed Products: If applicable, introduce gymnastics-inspired products to celebrate the day.
Support Gymnastic Programs: Donate a portion of your profits for the day to organizations that provide gymnastics programs for underprivileged children.
Social Media Campaigns: Launch a social media campaign using the hashtag #NationalGymnasticsDay to engage with customers and promote your brand.
Host a Gymnastics Event: If space allows, host a gymnastics-themed event at your business location. This could be a demonstration, a meet-and-greet with a local gymnast, or a family-friendly mini-competition.
Employee Participation: Encourage employees to participate in a gymnastics class or event, fostering team bonding and a healthy lifestyle.
Sponsor a Gymnast or Team: Consider sponsoring a local gymnast or gymnastics team. This not only supports athletes but also associates your brand with the popular and respected sport.
Gymnastics Trivia Contest: Host a gymnastics trivia contest on your social media platforms. Offer prizes related to your business to draw participation and attention.
Share Gymnastics Stories: Use your business platform to share inspiring stories of gymnasts or the history of gymnastics, connecting your brand with the spirit of perseverance and dedication inherent in the sport.
National Gymnastics Day serves as a beacon, not just for celebrating the sport but also for promoting physical fitness, unity, and the spirit of overcoming challenges.
Social Media Post Ideas for National Gymnastics Day
In the digital age, the power of social media is undeniable. It serves as a dynamic platform to connect, share, and engage with a diverse audience. This section offers creative and interactive social media post ideas to celebrate National Gymnastics Day.
Social Media Post Ideas for Businesses on National Gymnastics Day
Highlight the Day: Start the day with a post acknowledging National Gymnastics Day. Use a vibrant image or video clip related to gymnastics, and use the hashtag #NationalGymnasticsDay.
Share Employee Stories: If any of your employees have a background in gymnastics, share their stories or pictures with their consent. This humanizes your brand and shows support to the sport.
Hold a Giveaway: Host a giveaway contest related to gymnastics. You could offer free products, services, or promotional items to the winner.
Feature a Product or Service: If you offer a product or service related to gymnastics, feature it in a post. Use a high-quality image and offer a special National Gymnastics Day discount.
Show Support: Share a post about how you're supporting local gymnastics clubs or athletes. This could be through sponsoring an event, donating to a gymnastics program, or offering your product or service to the gymnastics community.
Gymnastics Facts: Share interesting facts about gymnastics. This educates your followers about the sport and demonstrates your engagement with the day.
Interactive Polls or Quizzes: Use Instagram or Facebook's interactive features to engage your followers. You could create a poll asking your audience about their favorite gymnastics move or a quiz about famous gymnasts.
Behind-the-Scenes: If you're hosting a gymnastics event, share behind-the-scenes footage. This could include setting up for the event, interviews with participants, or highlights from the day.
Customer Stories: If your customers are involved in gymnastics, share their stories with their permission. This could include a picture of them using your product while practicing gymnastics or a review of your services from a gymnastics viewpoint.
End of Day Reflection: Cap off National Gymnastics Day with a reflective post. Thank your followers for their engagement, share the highlights of your day, and express your support for the gymnastics community.
Harnessing the power of social media for National Gymnastics Day creates a unique opportunity to engage and interact with followers, promote the sport, and showcase your support. It can help humanize your brand, tell compelling stories, foster a sense of community, and illustrate your alignment with the values of gymnastics — discipline, determination, and a pursuit of excellence. Want to create social media content 10X faster? Start your Free 7-day trial of the Social Media Content Club and say goodbye to social media stress!
Hashtags to Use During National Gymnastics Day
Hashtags are a powerful tool in the realm of social media, acting as a catalyst to elevate the visibility and reach of your posts. They are an essential element of social media strategy, especially when it comes to commemorating special occasions like National Gymnastics Day. The following section provides a list of suggested hashtags to use during National Gymnastics Day to give your posts a boost and maximize your social media impact.
#NationalGymnasticsDay
#GymnasticsLove
#GymnasticsLife
#GymnastStrong
#GymnasticsCommunity
#SupportGymnastics
#GymnastPride
#GymnasticsDay2022
#CelebrateGymnastics
#GymnastWorld
Using the right hashtags is a fundamental part of your social media strategy for National Gymnastics Day. These hashtags not only increase the visibility of your posts but also connect you with a broader community of gymnastics enthusiasts and advocates. So, let's incorporate these hashtags, extend our reach, and make National Gymnastics Day 2022 a social media success! For the complete list of holidays to celebrate on social media in September, visit AngieGensler.com/September-Holidays
Gift Ideas for National Gymnastics Day
National Gymnastics Day presents a perfect opportunity to show your support and appreciation for the gymnasts in your life. Whether it's a family member, friend, or athlete, a thoughtful gift can go a long way in expressing your admiration for their dedication and discipline. This section is dedicated to providing you with a list of amazing gift ideas tailored to suit the needs and preferences of gymnastics enthusiasts.
Whether you're celebrating a loved one's gymnastics achievements or simply showing your support for their passion, these gift ideas are sure to please. Remember, the best gifts are those that reflect genuine thought and appreciation for the recipient's interests. On National Gymnastics Day, let these gifts serve as a token of your admiration, cheering on the gymnasts in your life as they flip, vault, and tumble toward their dreams. So, embrace the spirit of this special day, and let's celebrate gymnastics together!
Other Holidays Related to National Gymnastics Day
In addition to National Gymnastics Day, there are several other holidays and observances connected to the world of gymnastics that are worth marking on your calendar. These special days offer additional opportunities to express your love for the sport, support the gymnastics community, and engage in activities that celebrate the discipline, determination, and grace of gymnastics.
International Gymnastics Day: This day is celebrated globally to honor the sport of gymnastics and its contribution to fitness and physical well-being.
World Artistic Gymnastics Championships: An annual event that showcases the strength, agility, and artistry of gymnasts around the world.
National Athletic Training Month: This month-long observation stresses the importance of athletic training, including that required by gymnasts.
Olympic Day: Commemorates the birth of the modern Olympic Games, where gymnastics has been a cornerstone sport since the beginning.
International Day of the Girl Child: While not directly connected to gymnastics, this day often highlights the sport as a powerful avenue for empowering girls and young women.
World Health Day: A day to promote global health, often involving fitness routines such as gymnastics.
International Day of Sport for Development and Peace: Celebrates the role of sports, including gymnastics, in promoting peace and social development.
It's worth noting these dates as they not only celebrate and honor the sport of gymnastics but also encourage participation, promoting physical fitness and holistic well-being.
As gymnastics enthusiasts, these additional holidays give us more reasons to celebrate the sport that we deeply cherish. Every flip, twist, and vault is a testament to the human spirit's capacity for strength and grace, and these holidays provide the perfect platform to honor that.

For more holidays, download our free calendar with over 1,000 fun and unique holidays to celebrate this year. Head to angiegensler.com/holiday-calendar to grab your free copy!
Future Dates for National Gymnastics Day
| Year | Date | Day |
| --- | --- | --- |
| 2023 | September 16 | Saturday |
| 2024 | September 21 | Saturday |
| 2025 | September 20 | Saturday |
| 2026 | September 19 | Saturday |
| 2027 | September 18 | Saturday |
| 2028 | September 16 | Saturday |
| 2029 | September 15 | Saturday |
Extra Ideas for National Gymnastics Day
Gymnastics Day Events: A list of local and national events celebrating National Gymnastics Day, including competitions, exhibitions, and parties.
Famous Gymnasts: Profile pieces on renowned gymnasts, detailing their journey, achievements, and how they have influenced the sport.
Gymnastics History: A brief history of gymnastics, tracing its evolution from ancient times to the modern Olympic sport we know today.
Gymnastics Tips and Tricks: Provide a section with training tips, exercises, and safety advice for gymnasts at various levels.
Gymnastics Trivia: A fun trivia section with interesting facts and figures about gymnastics. It could include famous records, surprising statistics, or little-known facts about the sport.
Interviews: Conduct interviews with local gymnasts, coaches, or parents to get their personal insights about the sport and its impact.
Gymnastics for Beginners: A guide for beginners interested in starting gymnastics, covering basics like equipment, essential moves, and finding a good gym or coach.
Health Benefits of Gymnastics: A comprehensive write-up on the physical, mental, and emotional benefits of participating in gymnastics.
Gymnastics and Education: Explore the connection between gymnastics and academic performance, including skills like discipline, focus, and time management.
These sections would provide readers with a well-rounded view of gymnastics, offering practical advice, interesting facts, and personal insights. They would help to celebrate National Gymnastics Day by highlighting the many facets of the sport and its community.
Conclusion
As business owners, recognizing National Gymnastics Day and other related holidays presents a unique opportunity to connect with your customers, particularly those within the gymnastics community. Celebrating these special days can demonstrate your commitment to supporting healthy living and the development of discipline and resilience. Remember, every backflip symbolizes an opportunity to leap forward in your business journey. So, let's embrace these special days and celebrate the spirit of gymnastics together!
Celebrate this special day with us, and don't forget to download our free holiday calendar for more fun and unique holidays to celebrate this year!