National Dance Day is an annual celebration that takes place on the third Saturday in September. Entrepreneurs and marketers looking to commemorate National Dance Day can leverage this festive day as a golden chance to boost their offerings. This guide will provide you with exciting ideas to celebrate the day, like collaborating with local dance studios or initiating special deals and offers. Moreover, you will learn how to create compelling social media posts and the most effective hashtags to maximize your promotional efforts on this day. With these beneficial suggestions, businesses can fully capitalize on National Dance Day, reaching a wider global audience.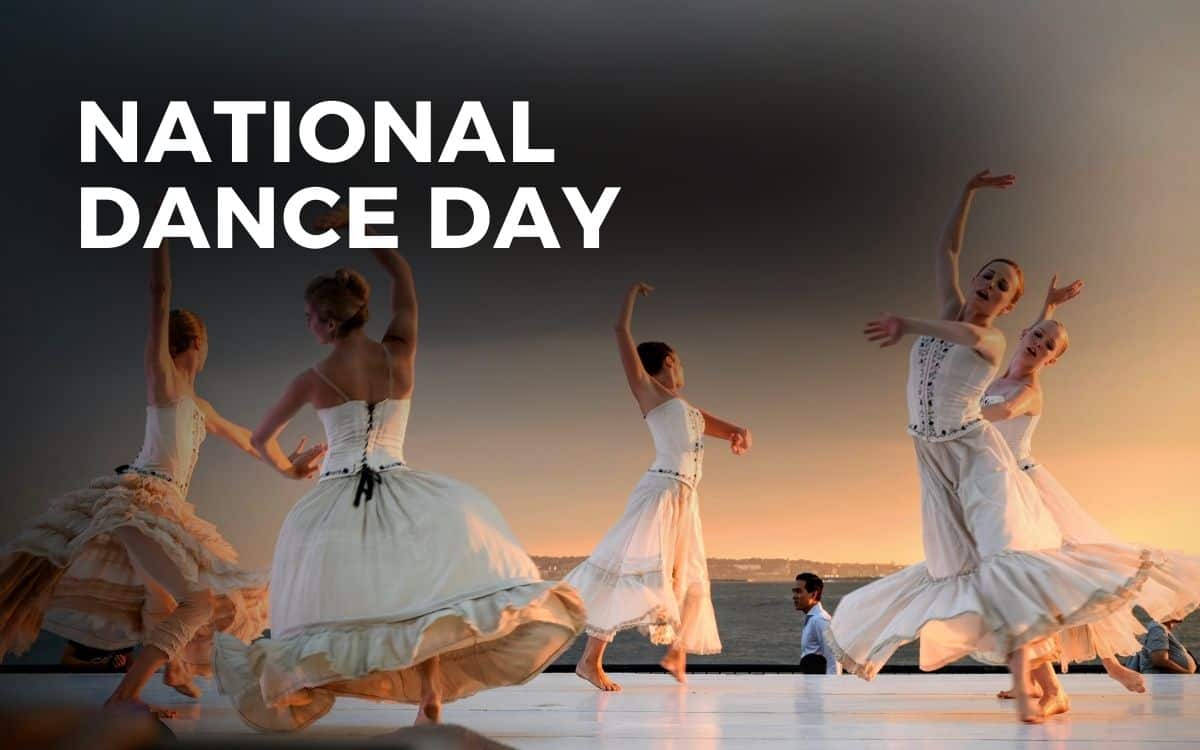 Table of Contents
*Disclosure: This post contains affiliate links. If you make a purchase using one of these links I may receive a small commission. Please know that I only recommend products I have used and that I sincerely think will help your business.
When is National Dance Day?
National Dance Day is an annual celebration that takes place on the third Saturday in September. This means the date can vary each year. In 2023, National Dance Day falls on September 16. The day celebrates the joy and diversity of dance, inviting everyone, regardless of skill level or age, to participate in dance-related activities.
History of National Dance Day
Established by Nigel Lythgoe, co-creator of "So You Think You Can Dance" and co-president of the DanceStar Party Time, National Dance Day was first celebrated in 2010 in the United States. The day was created with the ambition of encouraging Americans to embrace dance as a fun and positive way to maintain good health and fight obesity. In 2019, the date for National Dance Day was officially changed from the last Saturday in July to the third Saturday in September. The day has now gained significant recognition, not just in the US but globally, as a celebration of dance as an art form and its ability to foster the spirit of unity.
How to Celebrate National Dance Day
For individuals, it's an excellent opportunity to immerse themselves in the world of dance and learn about various styles, while businesses can leverage this day to engage their patrons and draw in new customers. Let's explore some brilliant ideas that can help you make the most of National Dance Day.
Attend a Dance Class: National Dance Day is the perfect opportunity to try out a dance class. Whether it's ballet, hip-hop, salsa, or contemporary dance, there's something for everyone.
Organize a Dance Flash Mob: Gather your friends and family for a surprise dance flash mob in your local community. It's a fun and exciting way to spread the joy of dancing.
Watch Dance Performances: Many dance companies and theaters have special performances for National Dance Day. Take time to watch and appreciate the artistry and skill of professional dancers.
Participate in Online Dance Challenges: With the rise of social media, online dance challenges have become popular. Join in on the fun and try out some of the trending dance challenges.
Dance for Charity: Use your love for dance to support a cause you're passionate about. You can organize a dance-a-thon and donate the proceeds to a charity of your choice.
Explore Different Dance Cultures: Use this day as an opportunity to learn about different dance styles from various cultures. It's a great way to appreciate the diversity and richness of the world of dance.
Create Your Own Dance Routine: Express yourself by creating your own dance routine. You can even record it and share it on your social media platforms. Celebrate your love for dance and inspire others to do the same.
Ideas for Businesses to Celebrate National Dance Day
Dance Workshop or Class: Host a free dance workshop or class at your location or online. Invite professional dancers to teach and inspire your customers.
Special Discounts: Offer special discounts or deals on products or services related to dance. This could include dancewear, dance lessons, or any other dance-related products.
Collaboration with Dance Studios: Partner with local dance studios to host events or offer exclusive deals. This can increase your visibility and attract new customers.
Dance Competition: Organize a dance competition for your customers. The winners could receive gift vouchers or other prizes related to your business.
Promotion of Dance-Themed Products: If applicable, promote dance-themed products or services. For retail businesses, this could range from dance shoes, apparel, or accessories.
Social Media Campaign: Launch a social media campaign with a special hashtag related to National Dance Day. Encourage customers to share photos or videos of themselves dancing.
Charitable Dance Event: Organize a dance event where proceeds go to a charity. This not only celebrates National Dance Day but also helps a good cause.
Themed Decorations: Decorate your business with dance-themed decor to create a festive atmosphere.
Dance Performances: Invite dance troupes to perform at your business premises, creating an exciting experience for your customers.
Sponsor a Local Dance Event: Sponsoring a local dance event can enhance your business's local reputation and visibility.
As we celebrate National Dance Day, it's important to remember what lies at the heart of this vibrant event: the joy of dance. Dance is a universal language that transcends barriers and brings people together.
Social Media Post Ideas for National Dance Day
As National Dance Day approaches, it's time to light up your social media platforms with the vibrant spirit of dance. In this section, we'll provide ideas for social media posts that can make your National Dance Day celebrations truly memorable.
Countdown to National Dance Day: Start a countdown a week before National Dance Day, posting daily updates that showcase different dance styles or historical dance facts to build anticipation.
Dance Challenge: Create a dance challenge related to your business and encourage your followers to participate. Share the best submissions on your social media pages.
Behind the Scenes: Share behind-the-scenes footage of your team preparing for National Dance Day. This could include setting up decorations, practicing dance routines, or designing new dance-themed products.
Employee Dance-Off: Host a friendly dance competition among your employees and share the videos online. Let your followers vote for their favorite performance.
Flashback to Previous Years: Share throwback posts from previous National Dance Day celebrations to reminisce and get your followers excited about this year's festivities.
Promo Codes and Discounts: Announce special discounts or promo codes related to National Dance Day. This could include discounts on dance classes, dancewear, or other dance-related items.
Local Dance Studio Spotlight: Collaborate with a local dance studio and feature them in a post. Highlight the classes they offer and how they contribute to the local dance community.
Customer Shoutouts: Encourage your customers to share their dance videos or photos while using your products or services, then repost these shoutouts on your own social media accounts.
Dance Tips and Tricks: Share posts with dance tips and tricks leading up to National Dance Day. This could be advice on dance moves, choosing dancewear, or preparing for a dance performance.
Live Dance Performance: If possible, live stream a dance performance from your store or office on National Dance Day. This could be a dance flash mob involving employees or a performance by a local dance troupe.
Remember, the key to a successful social media campaign for National Dance Day is to keep the content light-hearted, engaging, and centered around the thrilling world of dance! Use these ideas as a springboard to create posts that resonate with your audience, inspire participation, and showcase the universal language of dance in all its exciting forms.
Want to create social media content 10X faster? Start your free 7-day trial of the Social Media Content Club and say goodbye to social media stress!
Hashtags to Use During National Dance Day
In the realm of social media, hashtags are critical in enhancing the visibility of your posts. A well-chosen hashtag can significantly increase the reach of your social media posts, creating a larger conversation around National Dance Day and fostering community spirit.
#NationalDanceDay
#DanceLife
#DanceLove
#DanceIsLife
#LetsDance
#DanceChallenge
#DanceDay2022
#DanceCommunity
#DancePassion
#OneDayOneDance
#DanceEveryday
#DanceForJoy
#DanceMoves
#DanceWithUs
#DanceCelebration
Remember, using hashtags effectively can connect your brand with larger social media trends and conversations, giving your content added visibility and relevance. As you join in the National Dance Day celebrations, let these hashtags help you dance your way into the hearts of your social media followers!
For the complete list of holidays to celebrate on social media in September, visit AngieGensler.com/September-Holidays
Gift Ideas for National Dance Day
National Dance Day is an excellent opportunity to appreciate the dancers in your life or those who simply love the art of dance. In this section, we'll delve into a selection of unique and thoughtful gift ideas that are sure to captivate and delight the dance enthusiasts in your life on National Dance Day.
Dance Attire: High-quality dance attire makes for a practical and appreciated gift. Consider purchasing ballet slippers, jazz shoes, or sneakers designed specifically for hip-hop dancers. Specialized dancewear like leotards, tutus, or dance skirts is also a thoughtful choice.
Dance Classes or Workshops: Gifting a series of dance classes or a workshop at a local dance studio can be a fantastic opportunity for them to learn a new dance style or refine their existing skills.
Personalized Dance Jewelry: Custom-made dance-themed jewelry pieces, like a pendant with a ballet shoe, a necklace with a silhouette of a dancer, or a bracelet engraved with a favorite dance quote, make for an emotional and personal gift.
Dance Biography or History Book: A book that delves into the lives of famous dancers or details the history of a particular dance style can be an inspirational gift for dance lovers.
Massage or Spa Voucher: Dancing is physically demanding. A voucher for a massage or a day at the spa can be a welcome gift, providing an opportunity for your dance-lover to relax, rejuvenate, and take care of their body.
As we wrap up our curated list of gift ideas for National Dance Day, it's vital to remember that the essence of gifting lies not in the price tag, but in the sentiment behind the gesture.
Other Holidays Related to National Dance Day
Other holidays throughout the year also shine a spotlight on different dance genres, influential dancers, and the art of dance itself. In this section, we'll delve into a few of these special occasions that dance enthusiasts might want to mark on their calendars.
International Dance Day: Established by the Dance Committee of the UNESCO International Theatre Institute, International Dance Day celebrates dance as a universal language that transcends political, cultural, and ethnic barriers.
National Tap Dance Day: This day pays homage to the art of tap dancing and honors Bill "Bojangles" Robinson, a pioneer and one of the most well-known tap dancers of all time.
World Ballet Day: A global celebration that gives audiences around the world a behind-the-scenes look at the world of ballet, including rehearsals, training, and performances from the world's top ballet companies.
National Ballroom Dance Week: A 10-day event that promotes the beauty and elegance of ballroom dancing through public demonstrations and education.
Swing Dance Day: A day dedicated to appreciating and partaking in the lively and energetic style of swing dancing, often marked by dance parties and lessons.
World Lindy Hop Day: Celebrating the Lindy Hop, a style of dance that originated in Harlem, New York City, in the 1920s and 1930s, with Swing Jazz music.
National Salsa Month: An entire month dedicated to celebrating and appreciating the lively and rhythmic Latin dance style known as salsa.
Belly Dance Day: A day to celebrate the ancient art form known as belly dance, known for its expressive and intricate movements.
These holidays, much like National Dance Day, honor the art of dance and remind us of its powerful ability to inspire, uplift, and connect people across the globe. So, mark these dates on your calendar, and get ready to immerse yourself in the world of dance. Remember, every day can be a dance day if you let the rhythm move you!
For more holidays, download our free calendar with over 1,000 fun and unique holidays to celebrate this year. Head to angiegensler.com/holiday-calendar to grab your free copy!
Future Dates for National Dance Day
| Year | Date | Day |
| --- | --- | --- |
| 2023 | September 16 | Saturday |
| 2024 | September 21 | Saturday |
| 2025 | September 20 | Saturday |
| 2026 | September 19 | Saturday |
| 2027 | September 18 | Saturday |
| 2028 | September 16 | Saturday |
| 2029 | September 15 | Saturday |
Extra Ideas for National Dance Day
Spotlight on Influential Dancers: This section can feature profiles of influential dancers who have made significant contributions to the field of dance, including their journey, style, and the impact they've had on dance as an art form.
Dance DIY Projects: Offer readers creative ideas for dance-related DIY projects, such as decorating dance shoes or creating a dance journal to record progress and inspiration.
Health Benefits of Dancing: Discuss the physical, mental, and emotional benefits of dancing, emphasizing how it serves as a holistic approach to wellness.
Interviews with Professional Dancers: Provide insights from professionals in the field, sharing their tips, experiences, and advice to aspiring dancers.
How to Celebrate National Dance Day: Provide a list of suggestions on how individuals can celebrate National Dance Day in their way, from attending a dance workshop, or organizing a dance party, to learning a new dance routine at home.
The Evolution of Dance: A brief overview of the history of dance and how it has evolved over the years.
Spotlight on Different Dance Genres: A section dedicated to outlining the unique characteristics, history, and cultural significance of different dance genres.
Community Dance Initiatives: Highlight community dance initiatives and programs that aim to make dance accessible to all, fostering inclusivity in the dance community.
Conclusion
In the realm of business, celebrating National Dance Day and similar holidays can serve as a valuable opportunity to foster a vibrant, inclusive culture within your company. Whether you choose to host a dance workshop, encourage your team to share their favorite dance genres, or even sponsor community dance initiatives, your involvement in such celebrations can significantly enhance employee engagement and overall morale.
Celebrate this special day with us, and don't forget to download our free holiday calendar for more fun and unique holidays to celebrate this year!
{"@context":"https://schema.org","@type":"FAQPage","mainEntity":[{"@type":"Question","name":"When is National Dance Day?","acceptedAnswer":{"@type":"Answer","text":"National Dance Day is an annual celebration that takes place on the third Saturday in September. This means the date can vary each year. In 2023, National Dance Day falls on September 16. "}},{"@type":"Question","name":"How to Celebrate National Dance Day?","acceptedAnswer":{"@type":"Answer","text":"
Attend a Dance Class: National Dance Day is the perfect opportunity to try out a dance class. Whether it's ballet, hip-hop, salsa, or contemporary dance, there's something for everyone.
\nOrganize a Dance Flash Mob: Gather your friends and family for a surprise dance flash mob in your local community. It's a fun and exciting way to spread the joy of dancing.
\nWatch Dance Performances: Many dance companies and theaters have special performances for National Dance Day. Take time to watch and appreciate the artistry and skill of professional dancers.
\nParticipate in Online Dance Challenges: With the rise of social media, online dance challenges have become popular. Join in on the fun and try out some of the trending dance challenges.

"}},{"@type":"Question","name":"What are Social Media Post Ideas for National Dance Day","acceptedAnswer":{"@type":"Answer","text":"

Countdown to National Dance Day: Start a countdown a week before National Dance Day, posting daily updates that showcase different dance styles or historical dance facts to build anticipation.
\nDance Challenge: Create a dance challenge related to your business and encourage your followers to participate. Share the best submissions on your social media pages.
\nBehind the Scenes: Share behind-the-scenes footage of your team preparing for National Dance Day. This could include setting up decorations, practicing dance routines, or designing new dance-themed products.
\nEmployee Dance-Off: Host a friendly dance competition among your employees and share the videos online. Let your followers vote for their favorite performance.

"}},{"@type":"Question","name":"What are Hashtags to Use During National Dance Day","acceptedAnswer":{"@type":"Answer","text":"

#NationalDanceDay\n#DanceLife
\n#DanceLove
\n#DanceIsLife
\n#LetsDance
\n#DanceChallenge
\n#DanceDay2022
\n#DanceCommunity
\n#DancePassion
\n#OneDayOneDance
\n#DanceEveryday
\n#DanceForJoy
\n#DanceMoves
\n#DanceWithUs
\n#DanceCelebration