National Guacamole Day is celebrated annually on September 16th. Business owners and marketers can use National Guacamole Day as a unique promotional opportunity. This article will present a collection of creative ways to commemorate the day, including forming alliances with local Mexican restaurants or offering exclusive deals and discounts. Additionally, it will provide advice on crafting compelling social media content and utilizing relevant hashtags to maximize your marketing impact on this day. With these valuable strategies, businesses can fully exploit National Guacamole Day to broaden their customer reach globally.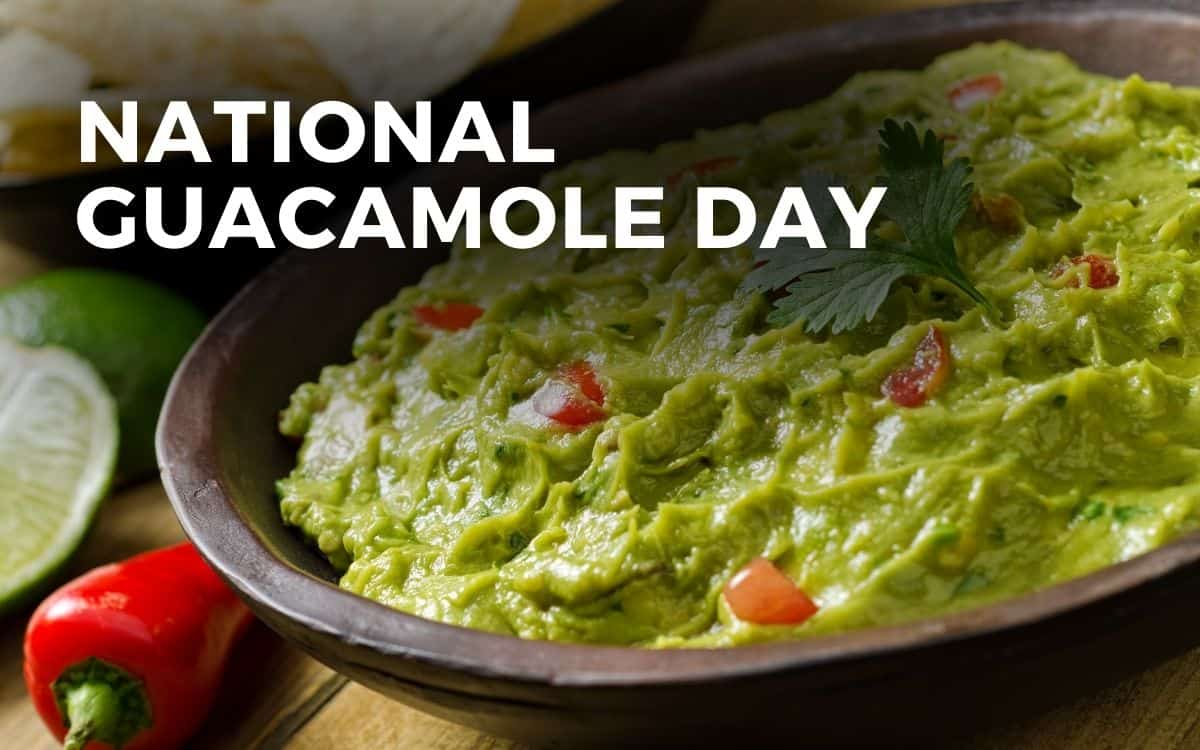 *Disclosure: This post contains affiliate links. If you make a purchase using one of these links, I may receive a small commission. Please know that I only recommend products I have used and that I sincerely think will help your business.
When is National Guacamole Day?
National Guacamole Day is observed every year on the 16th of September. This day is dedicated to the appreciation of guacamole, a popular Mexican dip made primarily from ripe avocados and other fresh ingredients. Whether you're a fan of its creamy texture, its vibrant green color, or its unique flavor, this day is the perfect opportunity to celebrate and indulge in your favorite guacamole recipes.
History of National Guacamole Day
The custom of dedicating a specific day to honor guacamole is relatively recent, with its origins traced back to the early 21st century. Much like the dip itself, National Guacamole Day is a celebration of a cultural blend, symbolizing the fusion of Mexican culinary tradition with the global appreciation for this distinctive dish. Although the exact originator of this special day remains unknown, it is evident that the intention was to pay tribute to the rich heritage of guacamole, which dates back to the time of the Aztecs. Over time, National Guacamole Day has evolved into a global phenomenon.
How to Celebrate National Guacamole Day
There are unlimited ways to join in on the National Guacamole Day festivities, regardless of whether you're an individual wanting to express your love for this classic dip or a business aiming to leverage the occasion for promotional purposes. This section offers a range of innovative ideas that allow both individuals and corporations to partake in and benefit from the celebrations.
Host a Guacamole Party: Invite your friends and family over for a guacamole-themed gathering. Everyone can bring their own unique guacamole recipe to share, turning the event into a fun and tasty guacamole competition.
Try a New Recipe: National Guacamole Day is the perfect occasion to get adventurous in the kitchen. Try out a new guacamole recipe or experiment with unusual ingredients to give your guacamole a fresh twist.
Guacamole and Movie Night: Pair your favorite films with different types of guacamole dips. This can be a fun way to explore the versatility of guacamole while enjoying a relaxing night in.
Visit a Mexican Restaurant: Celebrate the day by visiting a local Mexican restaurant and ordering a dish featuring guacamole. This can be a great way to support local businesses while indulging in your love for guacamole.
Share on Social Media: Post your favorite guacamole recipes or photos of your guacamole creations on social media. Use the hashtag #NationalGuacamoleDay to join the larger conversation and see how others are celebrating.
Teach Others to Make Guacamole: If you're a seasoned guacamole maker, why not use National Guacamole Day as an opportunity to teach others? You could host a virtual cooking class, share a tutorial on social media, or just show a friend in your kitchen.
Business Ideas for National Guacamole Day
Businesses, particularly those in the food and hospitality sectors, can delve into the spirit of National Guacamole Day with a variety of promotional activities. Here are a few suggestions:
Guacamole Giveaway: Run a promotion where customers receive a complimentary serving of guacamole with their meal. This not only encourages people to visit your establishment but also allows them to taste your unique guacamole recipe.
Guacamole Recipe Contest: Host a competition inviting customers to submit their own guacamole recipes. The winning recipe could be featured on your menu for a limited period.
Guacamole Making Class: Organize a hands-on guacamole-making class, which can be an engaging and interactive way to draw customers.
Limited Edition Guacamole Dish: Create a special dish or menu that prominently features guacamole, available only on National Guacamole Day.
Social Media Campaign: Launch a social media campaign to engage with customers online. You could encourage them to share photos of their homemade guacamoles or their favorite guacamole dishes from your menu with a designated hashtag for the day.
Partnership with Local Vendors: Collaborate with local avocado suppliers or Mexican restaurants for cross-promotion, providing mutual benefits and wider reach.
Discounts and Deals: On National Guacamole Day, offer discounts on dishes that include guacamole or bundle deals such as 'buy one get one free on guacamole dips
In conclusion, National Guacamole Day is not just a day to indulge in this delicious, creamy dip; it's also an opportunity to experiment with new recipes, enjoy time with friends and family, and engage in the broader online community of guacamole enthusiasts.
Social Media Post Ideas for National Guacamole Day
In today's digital age, social media platforms offer an exciting avenue to express your love for guacamole and join the global community in celebrating National Guacamole Day. The following section provides a range of creative social media post ideas to help you make the most of this special day and amplify the festive spirit.
Recipe Reveal: Unveil the secret behind your business's signature guacamole recipe. Share a step-by-step process or a time-lapse video showcasing the preparation of your delicious guacamole.
Customer Testimonials: Share photos, videos, or quotes of customers enjoying your guacamole. It's a great way to show appreciation for your customers while simultaneously promoting your guacamole.
Behind-the-Scenes: Give your followers a sneak peek into the kitchen where the magic happens. Show your team preparing the guacamole or the fresh ingredients you use.
Guacamole Challenge: Initiate a photo challenge where followers share a picture of their homemade guacamole using a unique hashtag, for example, #YourBusinessNameGuacChallenge.
Throwback Post: Share a memory from last year's National Guacamole Day celebrations at your establishment.
Guacamole Trivia: Create a fun, interactive post asking your followers trivia questions about guacamole.
Caption Contest: Post a photo related to guacamole and ask your followers to come up with a creative caption. The best one could win a guacamole-related reward.
Discount Code Reveal: Share a unique discount code applicable only for National Guacamole Day to incentivize dining at your establishment.
Livestream: Host a live video of your chef demonstrating the preparation of guacamole. Followers could cook along or save the video for future reference.
Employee Spotlight: Share a story or video of an employee sharing their favorite thing about guacamole or their special guacamole recipe. This adds a personal touch and showcases the people behind your business.
In summary, National Guacamole Day presents a unique opportunity to engage with your audience on various social media platforms. Crafting creative and interactive posts not only commemorates this special day but also fosters a sense of community among guacamole lovers.
Want to create social media content 10X faster? Start your free 7-day trial of the Social Media Content Club and say goodbye to social media stress!
Hashtags to Use During National Guacamole Day
Hashtags have emerged as powerful tools in the social media landscape, serving as connectors, conversation starters, and promotional tools. Specifically, during events like National Guacamole Day, they play a pivotal role in creating a buzz, fostering engagement, and magnifying the reach of your content.
#NationalGuacamoleDay
#GuacamoleLovers
#GuacIsLife
#AvocadoAddicts
#FreshGuacamole
#GuacamoleRecipe
#GuacFest
#GuacGoals
#HomemadeGuacamole
#GreenGold
#GuacamoleDay
#GuacFanatics
#GuacAndRoll
#DipIntoGuac
#AllAboutAvocado
#GuacLove
#AvocadoLovers
#GuacamoleTime
#GuacamoleHeaven
#GuacItOut
Please remember that using a mix of popular and niche hashtags can help your content reach a diverse audience. Happy posting, and enjoy celebrating #NationalGuacamoleDay!
In conclusion, the strategic use of hashtags on National Guacamole Day can greatly enhance your social media engagement, making your posts more discoverable and connecting you to the broader guacamole-loving community.
For the complete list of holidays to celebrate on social media in September, visit AngieGensler.com/September-Holidays
Gift Ideas for National Guacamole Day
As National Guacamole Day approaches, there's no better way to celebrate the occasion than by giving thoughtful gifts to the guacamole lovers in your life. Gifting not only adds to the festive spirit but also offers an opportunity to share your appreciation for the delectable, creamy, avocado-based delight.
So there you have it – a diverse array of gift ideas to make National Guacamole Day a memorable occasion for the guacamole lovers in your life.
Other Holidays Related to National Guacamole Day
National Guacamole Day isn't the only occasion to celebrate the diverse and delicious world of food. There are various other holidays that pay homage to popular dishes, ingredients, and culinary traditions, offering food enthusiasts worldwide a chance to express their love for all things gastronomic. Here is a whole calendar of delicious festivities!
National Avocado Day: A day celebrating the main ingredient of guacamole, the versatile avocado.
International Hot and Spicy Food Day: A day for those who love to add a kick to their guacamole with some chili peppers.
National Chip and Dip Day: Guacamole, as a favorite dip, is a star on this day of honor for the classic snack combo.
Cinco De Mayo: While this day commemorates the Mexican Army's victory over the French Empire, it's also widely celebrated with Mexican cuisine, including guacamole.
National Taco Day: Tacos and guacamole go hand-in-hand, making this day a perfect occasion to enjoy both.
National Nachos Day: Another day where guacamole shines as a beloved topping for nachos.
National Food Day: A day to celebrate all foods, including the much-loved guacamole.
World Vegetarian Day: As guacamole is a plant-based food, it is highly celebrated on this day.
National Corn Chip Day: Corn chips and guacamole make for a classic pairing, and this day is a great opportunity to enjoy them together.
National Salsa Month: While not a specific day, this month-long celebration of salsa often includes its close cousin, guacamole.
Each of these food-related holidays not only underscores our collective love for good food but also creates a sense of global unity as people from different corners of the world come together to celebrate their shared interests.
For more holidays, download our free calendar with over 1,000 fun and unique holidays to celebrate this year. Head to angiegensler.com/holiday-calendar to grab your free copy!
Future Dates for National Guacamole Day
| Year | Date | Day |
| --- | --- | --- |
| 2023 | September 16 | Saturday |
| 2024 | September 16 | Monday |
| 2025 | September 16 | Tuesday |
| 2026 | September 16 | Wednesday |
| 2027 | September 16 | Thursday |
| 2028 | September 16 | Saturday |
Extra Ideas for National Guacamole Day
Avocado Farming and Harvesting: A section offering a glimpse into the process of avocado farming and harvesting, highlighting the effort that goes into producing the main ingredient for guacamole.
Guacamole Across Cultures: An exploration of how guacamole is prepared and enjoyed in different cultures, highlighting the diversity and versatility of this dish.
Guacamole Nutrition Facts: A brief rundown on the health benefits and nutritional value of guacamole, underscoring the reasons to love this delicious and nutritious dish.
Guacamole Trivia: Include fun facts and trivia about guacamole to entertain and educate readers.
Celebrity Guacamole Recipes: A roundup of guacamole recipes from famous chefs or celebrities, offering inspiration for readers to try new variations of the dish.
DIY Guacamole Party Decorations: A segment on DIY decoration ideas for a National Guacamole Day celebration, adding a fun and festive element to the article.
User-Submitted Guacamole Recipes: Encourage audience interaction by inviting readers to share their own unique guacamole recipes.
Guacamole Tasting Events: Information about national or local guacamole tasting events that readers might attend.
Guacamole in Pop Culture: A look at how guacamole has been represented or referenced in movies, music, literature, and more.
Guacamole Challenge: A call to action for readers to share their own #NationalGuacamoleDay celebrations on social media, fostering community engagement and interaction.
Conclusion
As a business owner, celebrating National Guacamole Day is not just about appreciating this beloved dish but also about seizing the opportunity to engage your customers, enhance brand visibility, and drive sales. Whether it's by featuring special guacamole-based menu items, offering discounts, or hosting guacamole-tasting events, there are numerous ways to leverage this festive occasion.
Celebrate this special day with us, and don't forget to download our free holiday calendar for more fun and unique holidays to celebrate this year!