Mexican Independence Day is celebrated annually on September 16th. Entrepreneurs and marketers eyeing to commemorate Mexican Independence Day can seize this significant holiday as a chance to showcase their products and services. This piece will provide you with exciting ideas to honor the day, such as collaborating with local Mexican cuisine restaurants or introducing exclusive promotions and discounts. It will also guide you in crafting compelling social media posts and using effective hashtags to optimize your marketing efforts on this day.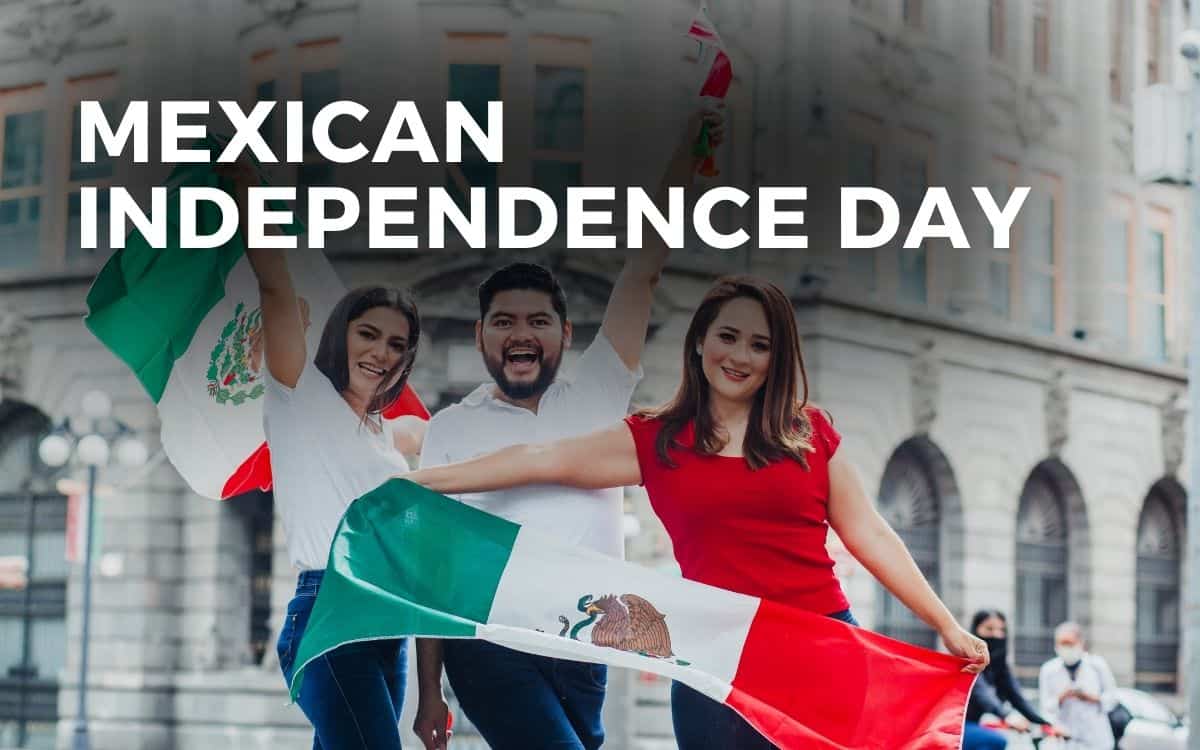 Table of Contents
*Disclosure: This post contains affiliate links. If you make a purchase using one of these links I may receive a small commission. Please know that I only recommend products I have used and that I sincerely think will help your business.
When is Mexican Independence Day?
Mexican Independence Day is celebrated annually on September 16th. This vibrant holiday marks the anniversary of the country's independence from Spain. The date references the start of the Mexican War of Independence, a decade-long struggle for freedom that began on September 16, 1810. This day is a pivotal moment in Mexico's history and is commemorated with a wide array of colorful festivities that reflect the rich cultural heritage of the nation.
History of Mexican Independence Day
The history of Mexican Independence Day is deeply rooted in the struggle for freedom and sovereignty. On the early morning of September 16, 1810, Miguel Hidalgo y Costilla, a Catholic priest, rang the bell of his church in the small town of Dolores and issued a call to arms that sparked the Mexican War of Independence. This seminal event, known as the "Grito de Dolores" (Cry of Dolores), is considered the birth of Mexico as an independent nation.
The war was a long and bloody conflict that lasted more than a decade, involving various factions within Mexico. It was not until September 27, 1821, that Spain officially recognized Mexico's independence, marking the end of 300 years of colonial rule. Today, Mexican Independence Day is celebrated with much fanfare, with the president of Mexico re-enacting the "Grito de Dolores" from the balcony of the National Palace in Mexico City, ringing the same bell that Hidalgo did in 1810. This powerful tradition serves as a poignant reminder of the country's journey to independence.
How to Celebrate Mexican Independence Day
There are numerous ways you can celebrate Mexican Independence Day. This section will offer a variety of suggestions designed to help you commemorate this important day.
Host a Mexican Feast: Prepare traditional Mexican dishes such as tacos, enchiladas, and chiles en nogada to celebrate the holiday. Don't forget the guacamole and margaritas!
Throw a Mexican Independence Day Party: Invite friends and family over for a party filled with Mexican decorations, music, and dance. Decorate your home with the colors of the Mexican flag – green, white, and red.
Watch a Fireworks Show or Parade: Many cities host fireworks shows or parades in honor of Mexican Independence Day. Check local listings for events near you.
Learn about Mexican History: Read books, watch documentaries, or visit a museum to deepen your understanding of Mexican history and the significance of Independence Day.
Support Mexican Businesses: Celebrate the day by shopping at Mexican-owned businesses. This could be anything from restaurants and grocery stores to clothing boutiques and bookstores.
Listen to Mexican Music: Explore the rich diversity of Mexican music, from mariachi to norteño and banda to pop.
Make Traditional Crafts: Engage in DIY projects like making papel picado (a traditional Mexican paper craft) or painting clay pots in vibrant colors.
Donate to Mexican Charities: Honor the day by contributing to organizations that support communities in Mexico.
Learn Spanish Phrases: Learn a few key phrases in Spanish to immerse yourself in the language for the day.
Join a Mexican Cultural Center Event: Many cultural centers host events to celebrate Mexican Independence Day, including traditional music and dance performances, art exhibitions, and food festivals.
Remember to share these celebrations on your social media with the hashtag #MexicanIndependenceDay to spread joy and cultural appreciation.
How Businesses Can Celebrate Mexican Independence Day
Businesses can join in the celebration of Mexican Independence Day by adopting a variety of creative strategies designed to showcase their respect and appreciation for Mexican culture. Here are some ideas:
Limited-Time Promotions: Launch exclusive promotions or discounts tied to Mexican Independence Day. This could range from discounts on Mexican-themed products to special deals for customers who visit in traditional Mexican attire.
Collaborate with Local Mexican Restaurants: Partner with local Mexican restaurants to offer special deals or host joint events. This will not only help boost business for both parties but also foster a sense of community.
Cultural Decorations: Decorate your business premises with Mexican flags or traditional Mexican art to show support for the celebration.
Special Menu Items: If you're in the food and beverage industry, consider introducing special menu items inspired by Mexican cuisine for the day.
Social Media Campaign: Run a social media campaign that highlights the significance of Mexican Independence Day. Use hashtags like #MexicanIndependenceDay to gain visibility.
Educational Events: Organize informational events or workshops about Mexican history and culture. This could be a great way to engage customers while promoting cultural understanding.
Support Mexican Charities: Publicly donate a portion of your sales on Mexican Independence Day to charities supporting Mexican communities. This shows your business's social responsibility and commitment to giving back.
Showcase Mexican Products: If you sell products, consider highlighting goods made in Mexico or inspired by Mexican culture. For product-based businesses, this could also involve collaborating with Mexican artisans or brands.
Staff Participation: Encourage your staff to wear traditional Mexican clothing or colors on the day and share pictures on your business's social media platforms.
Mexican Music: Play Mexican music at your business premises to create a festive atmosphere.
Remember, the most important aspect is to show genuine appreciation and respect for Mexican culture and traditions. Whether you are indulging in delicious traditional cuisines, immersing yourself in the vibrant music, or deepening your understanding of Mexico's fight for independence, every action contributes to honoring this significant day.
Social Media Post Ideas for Mexican Independence Day
In this section, we will delve into creative and engaging social media post ideas you can use to mark this significant day, catering to various platforms like Instagram, Facebook, Twitter, and even LinkedIn.
Photo Contest: Encourage your followers to share their Mexican Independence Day celebration photos using a specific hashtag. The best photo could win a special discount or gift.
Share a Fact: Post a lesser-known fact about Mexican Independence Day and its history. Educate your audience while celebrating the day.
Behind-The-Scenes: Share behind-the-scenes photos or videos of your team preparing for the celebration. This could involve decorating the office or cooking Mexican cuisine for a potluck.
Customer Features: Share photos or stories of customers who are celebrating Mexican Independence Day. This could involve them using your products or services as part of their celebration.
Collaboration with a Local Mexican Business: If you're partnering with a local Mexican business, share photos or videos of the collaboration. Highlight the significance of supporting local.
Promote Mexican Products: Showcase Mexican products or services that you offer, with a special Mexican Independence Day discount or promotion.
Employee Highlights: Showcase your employees wearing traditional Mexican attire or participating in Mexican Independence Day events. This adds a personal touch to your social media presence.
Mexican Recipe: Share a favorite Mexican recipe with your followers. If it involves using one of your products, even better!
Live Streaming: Consider live-streaming a Mexican Independence Day event at your business, like a traditional music performance or a food tasting.
Charity Support: If you're donating a portion of your sales to a Mexican charity, share this on social media to encourage your followers to shop and support.
The key is to approach it with genuine respect and appreciation. By leveraging the reach of social media, you can extend your celebrations beyond your immediate surroundings and create a ripple effect of positivity and cultural appreciation.
Want to create social media content 10X faster? Start your free 7-day trial of the Social Media Content Club and say goodbye to social media stress!
Hashtags to Use During Mexican Independence Day
By using hashtags, you allow your posts to reach beyond your immediate followers, connecting with people who have an interest in the same topics. When it comes to events like Mexican Independence Day, hashtags not only contribute to the collective online conversation surrounding the event but also foster a sense of community and unity.Let's explore some effective hashtags you can use during Mexican Independence Day.
#MexicanIndependenceDay
#VivaMexico
#16deSeptiembre
#ElGrito
#FiestasPatrias
#HechoEnMexico
#IndependenciaDeMexico
#TradicionesMexicanas
#CulturaMexicana
#MexicoUnido
Remember, hashtags are more than just marketing tools; they are a way to connect, engage, and unite with a global community.
For the complete list of holidays to celebrate on social media in September, visit AngieGensler.com/September-Holidays
Gift Ideas for Mexican Independence Day
As Mexican Independence Day approaches, finding the perfect gift to celebrate this significant day can be a delightful yet challenging task. Let's delve into these fascinating gifts that exude the charm, heritage, and color of Mexico.
Mexican Artisanal Crafts: Handmade crafts from local artisans makes for a thoughtful and culturally rich gift. This could include colorful pottery, traditional textiles, or intricate tin art.
Mexican Jewelry: Jewelry inspired by Mexican motifs or made by Mexican artisans can serve as a beautiful gift. Look for designs that incorporate elements like Frida Kahlo portraits, Aztec symbols, or traditional Mexican flowers.
Gourmet Mexican Food Basket: A basket filled with authentic Mexican treats like churros, tamales, or Mexican chocolate can make a delicious and festive gift.
Books on Mexican History and Culture: A well-researched book about Mexican history, art, or cuisine can be both enlightening and entertaining. It's a gift that keeps on giving, as the recipient can continue to learn and appreciate Mexican culture long after Independence Day.
Tequila or Mezcal Tasting Set: If the recipient is a fan of spirits, a tasting set of premium Tequila or Mezcal, Mexico's traditional liquors, can make for an intriguing and enjoyable gift. Remember to encourage responsible drinking.
In conclusion, Mexican Independence Day is a wonderful opportunity to express your admiration and appreciation for Mexican culture. The gifts listed above capture the essence of the celebration, resonating with the rich heritage, vibrant colors, and historic significance of this day. Remember, the best gift is given from the heart, with the spirit of unity, pride, and respect that characterizes Mexican Independence Day. Felices fiestas!
Other Holidays Related to Mexican Independence Day
Mexican Independence Day celebrated on September 16th, is undoubtedly an essential date in the country's calendar. From traditional feasts to vibrant festivals, let's dive into other Mexican holidays that, much like Independence Day, offer a profound reflection of the nation's identity and heritage.
Cinco de Mayo: Celebrated on the 5th of May, this holiday commemorates the Battle of Puebla where Mexican forces triumphed over the French army in 1862. It's a significant day, especially within Mexican-American communities.
Dia de los Muertos (Day of the Dead): Held from October 31st to November 2nd, it's a celebration of life and death. Families remember their departed loved ones, building colorful altars and preparing the favorite foods of the deceased.
Dia de la Constitucion (Constitution Day): Observed on December 6, this holiday marks the approval of the Mexican constitution in 1917.
Dia de la Revolucion (Revolution Day): Celebrated on November 20, it commemorates the start of the Mexican Revolution in 1910.
Grito de Dolores: Recognized on September 16th, this event marks the beginning of the Mexican War of Independence. It's the day before Mexican Independence Day, forming a two-day celebration of patriotic fervor.
Las Posadas: Celebrated between December 16th and 24th, this festival recreates the journey of Mary and Joseph from Nazareth to Bethlehem.
Dia de la Bandera (Flag Day): Celebrated on February 24th, this day honors the Mexican flag and the patriotism it represents.
By understanding these holidays, one can gain a deeper insight into the richness of Mexican culture and traditions, extending beyond the celebration of Mexican Independence Day.
In essence, these holidays, each unique in its significance and manner of celebration, weave the intricate tapestry of Mexican culture.By acknowledging and respecting these diverse celebrations, we honor the multifaceted identity of Mexico and its people.
For more holidays, download our free calendar with over 1,000 fun and unique holidays to celebrate this year. Head to angiegensler.com/holiday-calendar to grab your free copy!
Future Dates for Mexican Independence Day
| Year | Date | Day |
| --- | --- | --- |
| 2023 | September 16 | Saturday |
| 2024 | September 16 | Monday |
| 2025 | September 16 | Tuesday |
| 2026 | September 16 | Wednesday |
| 2027 | September 16 | Thursday |
| 2028 | September 16 | Saturday |
Mexican Independence Day Traditions: A section detailing the popular customs and traditions associated with the celebration of Mexican Independence Day, such as the famous 'Grito de Dolores', the parades, and the fireworks.
Prominent Figures of Mexican Independence: Delve into the lives and contributions of significant figures involved in the Mexican independence movement, like Miguel Hidalgo, Jose Maria Morelos, and Ignacio Allende.
Mexican Independence Day Recipes: A collection of traditional Mexican dishes typically prepared and enjoyed during the Independence celebrations.
Mexican Independence Day Vocabulary: A list of Spanish phrases and words related to the celebration that readers might find interesting or useful.
Music and Dance: Discuss the importance of music and dance during the celebrations, perhaps even including a brief guide to traditional Mexican dances like 'El Jarabe Tapatío'.
Mexican Independence Day Decorations: Tips and ideas for readers who want to decorate their homes or host their own Mexican Independence Day celebration.
Children's Activities: Suggest fun and educational activities related to Mexican Independence Day for children to engage in, fostering their understanding and appreciation of the holiday.
Historical Context: A more in-depth look at the historical events leading up to Mexican Independence, providing readers with a greater understanding of the holiday's significance.
Famous Mexican Independence Day Speeches: Highlight some of the most memorable speeches given by Mexican leaders on this day.
Conclusion
By incorporating traditional decor, dishes, music, or even educational activities into your business environment during this holiday, you can create an engaging, enriching experience that truly honors the richness of Mexican heritage. Remember, every celebration is, at its heart, a story – and by participating in Mexican Independence Day, your business becomes a part of this grand, historical narrative.
Celebrate this special day with us, and don't forget to download our free holiday calendar for more fun and unique holidays to celebrate this year!