Great Outdoors Month takes place every June. As an outdoor enthusiast, I am thrilled to share with you all about the Great Outdoors Month – a month-long celebration of outdoor recreation and activities. In this post, we will discuss some of the best ways to celebrate the Great Outdoors Month, social media post ideas and hashtags to use during Great Outdoors month, and we'll touch upon the benefits of spending time outdoors – from improving physical health to boosting mental well-being.
Discover why a reprieve from tech and delving into the natural world can do wonders for your mental and physical health. So whether you're an avid adventurer or someone who's looking for new ways to connect with nature- this post has got something for everyone! Get ready to have a great time exploring the great outdoors!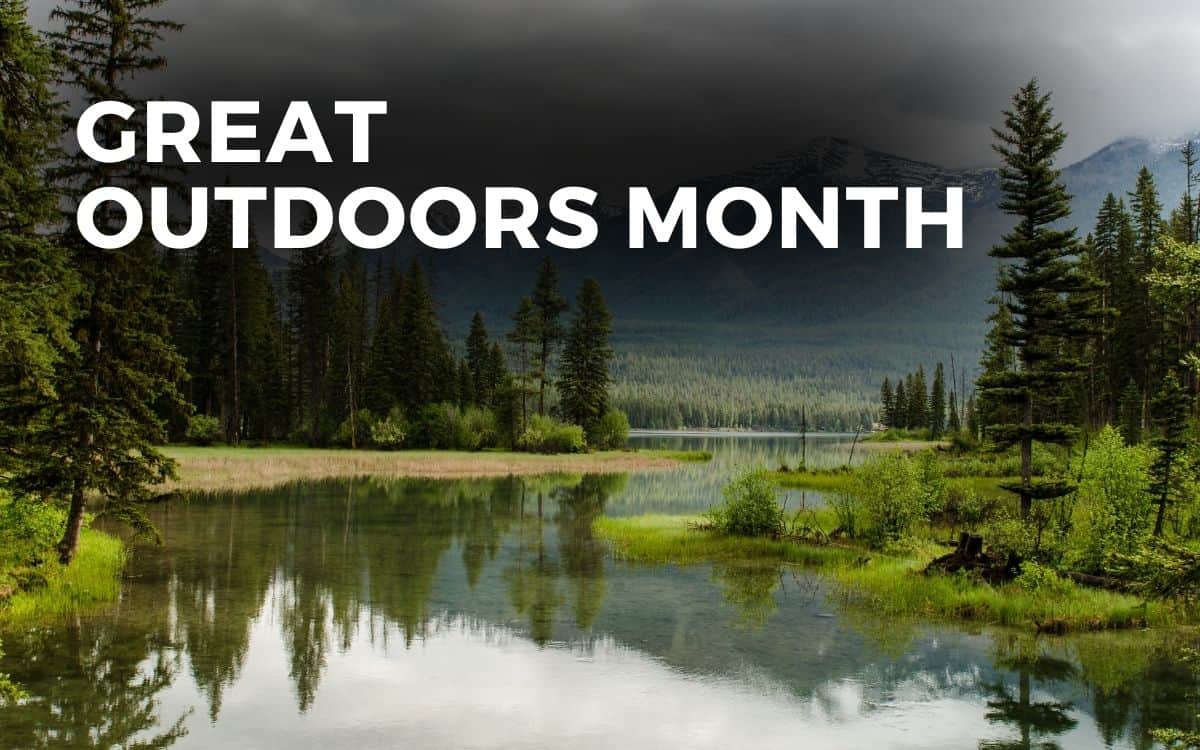 When is Great Outdoors Month?
Great Outdoors Month takes place every June and is an opportunity to recognize and celebrate the beauty, health benefits, and economic opportunities that outdoor activities can bring. Great Outdoors Month is a nationwide initiative that encourages people to explore the great outdoors and experience its beauty. It's an occasion that prompts people to take in the outdoors, experience nature and partake in open-air recreational activities. From camping and fishing to hiking and birdwatching, there are plenty of ways for everyone to get involved in this special event.
History of Great Outdoors Month
In 1998, Great Outdoors Week was initiated under President Clinton and has been developed over the years throughout the Bush, Obama, and Trump administrations into a month-long occasion of honoring the outdoors. On June 5th, 2019, the US Senate officially designated June as 'Great Outdoors Month.' This is a great opportunity for individuals, families, and communities alike to partake in fun-filled outdoor activities.
How to Celebrate Great Outdoors Month
Great Outdoors Month is a wonderful opportunity to celebrate the beauty and wonders of nature. From camping trips to eco-tourism, there are plenty of ways for businesses and individuals alike to get involved in this yearly celebration. Here are some ideas for individuals to make the most of this special occasion:
Go camping – whether in your backyard or at a local campsite, it's always fun to snuggle up in a tent under the stars.
Take a hike – explore local parks, trails, or mountain paths to take in the beauty of nature up close.
Fish – find a serene spot and spend the day catching fish and enjoying the peace of nature.
Have a picnic – pack delicious snacks and drinks to enjoy in your favorite outdoor spot.
Go bird watching – observe the feathered inhabitants of your area and learn more about them.
Stargaze – admire the night sky from a secluded spot and find constellations with friends or family.
Plant a garden – get creative by planting flowers, herbs, or even a vegetable patch to enjoy over time.
Go for a bike ride – explore the outdoors from the seat of your bicycle.
Have a bonfire – gather around and roast marshmallows, tell stories, and enjoy each other's company.
Great Outdoors Month is also a great opportunity for businesses and marketers to get involved. From eco-tourism opportunities to outdoor team-building activities, businesses can participate in Great Outdoors Month in many ways. Here are a few ideas for how companies of all sizes can join the celebration:
Offer employees incentives to spend time outdoors – provide discounts or reimbursements for outdoor gear and transportation costs or offer special rewards or bonuses for employees who participate in outdoor activities.
Sponsor a community event – partner with local organizations to provide educational activities or host a clean-up day.
Invest in eco-friendly initiatives – research ways to reduce your company's carbon footprint and support sustainable practices.
Create outdoor team-building activities – organize events such as kayaking, hiking, or biking trips to promote collaboration
Offer discounts on outdoor activities – encourage customers to explore the outdoors with discounts on camping, fishing, and other recreational activities.
Host outdoor activities – host a corporate picnic or nature walk for employees to enjoy the outdoors together.
Plant trees – help reduce carbon emissions and beautify the local area by planting trees in public spaces.
Create nature sanctuaries – establish special areas on corporate grounds where wildlife is protected and nourished.
Volunteer – help clean up local parks, trails, and beaches or volunteer with local organizations that promote outdoor recreation.
By taking part in activities such as sponsoring outdoor events or participating in volunteer clean-ups, we can all make a positive impact on our environment and ensure that the great outdoors will remain beautiful and accessible for generations to come. With Great Outdoors Month, businesses can support this mission in meaningful ways while also inspiring employees and customers to enjoy all that nature has to offer.
No matter how you choose to celebrate National Great Outdoors Month, be sure to do it safely by following any applicable regulations from local health departments as well as any safety guidelines issued by state agencies.
Social Media Post Ideas for Great Outdoors Month
Great Outdoors Month is the perfect time for businesses to celebrate and promote outdoor activities! Here are some fun social media post ideas to help you spread the word:
Showcase your favorite outdoor spot – share photos of your favorite view, hiking trail, or fishing hole.
Host a Q&A – invite customers to ask questions about outdoor activities and share tips on how to get the most out of them.
Share stories – encourage customers to share their favorite outdoor moments, from camping trips to fishing expeditions.
Offer discounts – offer discounts or special deals on outdoor gear or eco-friendly products to promote sustainability.
Create contests – come up with creative contests or giveaways related to outdoor activities such as hiking, camping, or fishing.
Promote volunteer opportunities – share information about local clean-up days and other outdoor initiatives that need volunteers.
Share eco-friendly tips – provide helpful advice on how to reduce our carbon footprint while enjoying the great outdoors.
Showcase nature – post photos of beautiful wildlife or scenic landscapes to encourage others to explore and appreciate the outdoors.
By using social media to spread awareness about Great Outdoors Month, businesses can help make the outdoors more enjoyable for everyone while also promoting eco-friendly practices. Taking part in this special month is a great way to show your support for nature!
Hashtags to Use During Great Outdoors Month
As we celebrate Great Outdoors Month, make sure to use the right hashtags when posting on social media. Hashtags make it easier for people to find and join conversations related to the event, allowing businesses to reach a much wider audience with their messages. When participating in Great Outdoors Month, popular hashtags can be used to create greater visibility and engagement. Some popular hashtags to use during Great Outdoors Month include:
#GreatOutdoorsMonth
#GoOutside
#GetOutside
#NatureIsCalling
#AdventureAwaits
#ExploreOutdoors
#OutdoorAdventure
By using these hashtags, you can spread the word about Great Outdoors Month and inspire others to take part in activities that help protect our planet. Let's make this a special month for everyone to enjoy the great outdoors!
For the complete list of holidays to celebrate on social media in June, visit angiegensler.com/june-holidays
Other Holidays Related to Great Outdoors Month
Great Outdoors Month is just one of many celebrations related to the environment and outdoor activities. Here are some other holidays related to nature and being outside that businesses can celebrate:
National Trails Day is celebrated on the first Saturday in June to recognize the importance of protecting trails and recreational areas. This day encourages people to explore nature and appreciate its beauty. Consider organizing a special hike or trail clean-up event to mark this important holiday!
National Get Outdoors Day is celebrated on the second Saturday in June, making it the perfect day to get out and enjoy nature. Celebrate this holiday by taking part in outdoor activities such as hiking, fishing, kayaking, or camping! You can also volunteer with a local conservation initiative or help clean up your community park.
National Gardening Day is observed annually on April 14th to celebrate the joys of gardening. Whether you're a master gardener or a novice green thumb, this holiday encourages everyone to get their hands dirty and show some love to plants! Use this day to start a new garden project or spruce up your existing garden.
World Environment Day is celebrated on June 5th each year to recognize the importance of protecting our environment. This day is a great time to join a local clean-up effort or start an eco-friendly project in your community. You can also use this day to share tips for reducing waste and preserving natural resources.
National Park Week takes place each year for one week in April, when United States citizens are encouraged to explore and appreciate the beauty of our national parks. Use this week to visit a new park or simply enjoy spending time in nature! You can also participate in events hosted by your local park service or volunteer your time to help maintain the parks.
By celebrating these holidays, you can help raise awareness about important environmental initiatives while also encouraging others to get outside and enjoy nature.
For more holidays, download our free calendar with over 1,000 fun and unique holidays to celebrate this year. Head to angiegensler.com/holiday-calendar to grab your free copy!
Future Dates for Great Outdoors Month
| Year | Date | Day |
| --- | --- | --- |
| 2023 | June 1 | Thursday |
| 2024 | June 1 | Saturday |
| 2025 | June 1 | Sunday |
| 2026 | June 1 | Monday |
| 2027 | June 1 | Tuesday |
| 2028 | June 1 | Thursday |
| 2029 | June 1 | Friday |
Benefits of Spending Time Outside
Spending time outdoors has been proven to have numerous physical, mental, and emotional health benefits. Being in nature can reduce stress, improve mood, and increase creativity. It's also a great way to support environmental conservation efforts. Here are some of the top reasons to get out and enjoy nature:
Improved Immune System – Being in nature can help boost your immunity and give your body a much-needed break from artificial light and air pollution.
Stress Relief – Spending time outside helps reduce stress and calm the mind. Studies have found that time spent in nature can lower levels of cortisol, a hormone linked to stress.
Increased Exercise – Nature provides a stimulating environment for physical activity with plenty of opportunities to explore, hike, or bike.
Improved Mental Health – Being outside has been linked to improved mental health as it helps reduce symptoms of depression and anxiety.
Boosted Creativity – Spending time in nature can help boost creativity, allowing your mind to wander and come up with new ideas.
Physical Health Benefits:
Research shows that spending time outside is beneficial for physical health in many ways. For instance, exercising outside has been shown to be more effective than indoor workouts because of the fresh air and natural surroundings. Engaging in outdoor activities like strolling or cycling can be beneficial to one's cardiovascular system by augmenting blood circulation and diminishing levels of hypertension. In addition, being in the sun assists with Vitamin D creation which is critical for good bone and muscle well-being.
Evidence suggests that being in nature can reduce cortisol levels and stimulate endorphins, hormones associated with happiness. Furthermore, engaging in mindfulness meditation while outside offers an opportunity to relax, hone concentration skills, enjoy better sleep quality, enhance self-awareness, diminish anxiety levels, and ultimately improve overall emotional well-being.
Importance of Equitable Access
The importance of equitable access to outdoor recreation opportunities cannot be overstated. It is critical that all individuals have a fair prospect to savor the bliss and advantages of being in nature, given the increasing popularity of outdoor activities. The Together Outdoors coalition is dedicated to addressing equity and inclusion issues in outdoor experiences through education and action during Great Outdoors Month celebrations this year.
No matter their race, ethnicity, gender identity/expression/sexual orientation/disability status/age/income level/geographic area of residence or citizenship standing, language spoken or any other aspect, everyone should be able to have the same access. Despite equal access being available to all, financial constraints and inadequate resources in some areas impede certain individuals from taking advantage of it. This means that some individuals may never get a chance to enjoy camping trips or hikes with friends and family – something many people take for granted.
It's up to businesses that are passionate about outdoor recreation to help bridge these gaps by providing equitable access for those who don't have it otherwise. You can do this by offering discounts on equipment rentals or guided hikes, or camping trips, as well as sponsoring local programs that align with your brand values, such as clean-up efforts that benefit both people and nature alike.
By taking action to ensure all have the same opportunity to experience nature, you can not only benefit your local area but also foster diversity in your own business – a goal every small entrepreneur should strive for. This is a crucial action for generating a more equitable and diverse atmosphere both in the outdoors and within businesses.
Conclusion
Small businesses can use Great Outdoors Month to craft unique promotional tactics and interact with patrons in an enjoyable, nature-oriented fashion. By using social media strategies that capitalize on the holiday's focus on nature and adventure, you can build meaningful connections while growing your business. With some planning and effort during this great outdoors month, you will be well-positioned to reap the rewards of increased visibility among potential customers. Celebrate this special day with us, and don't forget to download our free holiday calendar for more fun and unique holidays to celebrate this year!