International Dot Day is celebrated annually on September 15. Entrepreneurs and marketers can utilize this day as a chance to enhance their offerings and visibility. This article will unveil inventive strategies to observe this holiday, such as collaborating with local art studios or initiating special promotions and discounts on dot-related products. It will also explore social media post ideas and hashtags to maximize your promotional endeavors on this day. By following these valuable insights, businesses can fully capitalize on International Dot Day and engage with a broader global audience.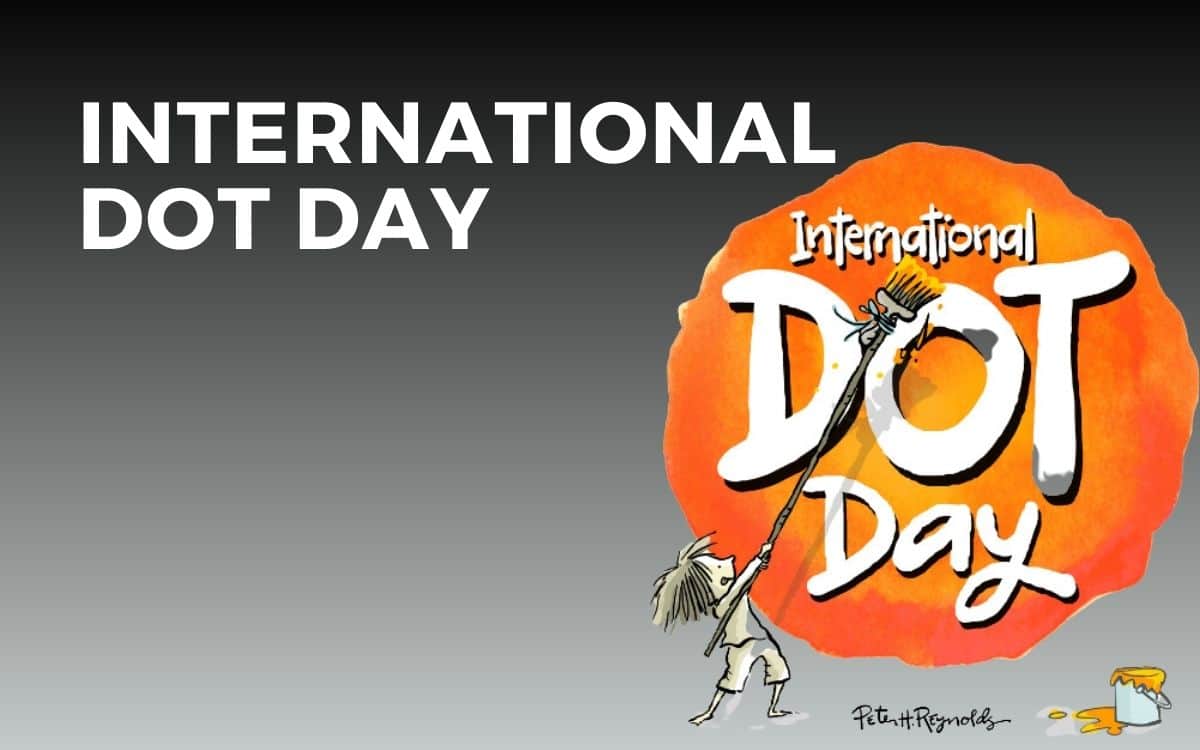 Table of Contents
*Disclosure: This post contains affiliate links. If you make a purchase using one of these links, I may receive a small commission. Please know that I only recommend products I have used and that I sincerely think will help your business.
When is International Dot Day?
International Dot Day is observed annually on September 15th. The day is marked to inspire and encourage people around the world to harness their creativity. Peter H. Reynolds' book, "The Dot," tells the story of a teacher who dares a doubting student to trust in her own abilities, and from a small dot on a piece of paper, the student begins her journey to self-expression, the inspiration behind the celebration of this day.
History of International Dot Day
International Dot Day traces its roots back to 2009 when a teacher and his students in Iowa decided to honor the themes of creativity and confidence expressed in Peter H. Reynolds' book, "The Dot". The unique concept quickly resonated with educators around the world, and the celebration of this day started to grow. Now, International Dot Day is recognized in over 170 countries, with millions of students and educators participating each year. The day serves as a platform to encourage people of all ages to harness their creativity, make their mark, and see where it takes them, reflecting the fundamental message of "The Dot".
How to Celebrate International Dot Day
Below, we provide a diverse range of creative activities and initiatives that individuals can undertake to mark the day, as well as innovative promotional strategies that businesses can deploy to engage with their audience, build brand awareness, and drive sales on this special occasion.
Ideas for Individuals to Celebrate International Dot Day
Create Dot Artwork: Use any medium to create your own dot-inspired artwork. It could be a painting, a drawing, a sculpture, or even a digital design.
Wear Polka Dots: Show your spirit by wearing a polka dot outfit or accessory on International Dot Day.
Dot Journaling: Start a dot journal to encourage daily creativity. Each day, add a new dot design to a page in your journal.
Dot Storytelling: Write a short story or poem that revolves around the theme of dots or circles.
Dot Photography: Take photographs of dot patterns in your surrounding or create a dot-themed photo collage.
Dot Recipe: Prepare and enjoy a dot-themed meal. Think about circular foods like pancakes, cupcakes, or even dot-shaped cookies.
Dot Meditation: Take a moment to meditate by focusing on a single dot or circle. This could be a simple as a drawn dot on a piece of paper or a specific object in your room.
Remember, the goal of International Dot Day is to inspire creativity, so feel free to adapt these ideas or come up with your own unique ways to celebrate.
Ideas for Businesses to Celebrate International Dot Day
Dot Promotion: Run a special promotion or discount on any products or services related to dots or circles. This could be anything from polka-dot clothing to circle-shaped home decor.
Dot Product Launch: If your business creates products, consider launching a special-edition dot-themed product in honor of the day.
Dot Art Exhibition: Collaborate with local artists to host a dot-themed art exhibition at your store or office building.
Social Media Contest: Organize a dot-themed contest on your business's social media channels. Ask your followers to share their creative dot-related content and offer a prize for the best submission.
Dot Logo: Temporarily redesign your company's logo or branding to incorporate dots, and use this across your website and social media platforms.
Dot Workshop: Host a community workshop where attendees can learn how to create their own dot-themed crafts or artwork.
Dot Donation: For each sale made on International Dot Day, pledge a donation to an art-focused charity or local school's art program.
Employee Engagement: Encourage your employees to wear dot-themed clothing to work and share a group photo on your company's social media pages.
Remember, the goal of International Dot Day is to foster creativity, so feel free to adapt these ideas or come up with your own unique ways for your business to celebrate.
In conclusion, International Dot Day is more than just an observance—it's a global movement that inspires creativity, encourages self-expression, and celebrates our collective ability to "make our mark."
Social Media Post Ideas for International Dot Day
With International Dot Day around the corner, it's time to start brainstorming how you can engage with your social media audience in a creative and meaningful way. The following section provides a variety of ideas for social media posts that reflect the spirit of the day.
Dot Art Challenge: Start a social media challenge asking your followers to create and share their own dot-inspired artwork with a unique hashtag like #DotDayChallenge. Highlight the best creations on your business's social media accounts.
Dot Promotion Highlight: Share a post featuring your special dot-themed promotion or product launch. Include eye-catching images and detailed descriptions to entice your followers.
Behind-The-Scenes: Post behind-the-scenes photos or videos showing your team preparing for International Dot Day, such as setting up a dot art exhibition or creating dot-themed products.
Employee Spotlight: Share photos of your employees participating in Dot Day, whether they're wearing polka dots, creating dot art, or engaging in any other dot-related activities.
Dot Logo Reveal: Announce your temporary logo change on social media and invite your followers to share their thoughts on the new design.
Dot-Themed Quote or Fun Fact: Share an interesting fact or inspiring quote related to dots or creativity. This could spark engaging discussions in the comments section.
Dot Workshop or Event Announcement: Share details of any dot-themed events or workshops your business is hosting. Use compelling visuals and information to generate interest and encourage sign-ups.
Dot Donation Pledge: Post about your pledge to donate a portion of your Dot Day sales to an art-focused charity. This can boost your brand's image and may encourage more purchases.
User-Generated Content: Share photos or videos submitted by your customers using your dot-themed products or participating in your dot-themed promotions.
Countdown to Dot Day: Build anticipation by posting a countdown to Dot Day. Each day, share a different dot-related fact or highlight a different dot-themed product.
Remember, social media offers an excellent platform to engage with your audience in a personal and creative way. As you plan your social media activities, remember to let your unique voice shine through and encourage your followers to make their mark.
Want to create social media content 10X faster? Start your free 7-day trial of the Social Media Content Club and say goodbye to social media stress!
Hashtags to Use During International Dot Day
In the digital world, hashtags serve as powerful tools in driving engagement, increasing reach, and building a community online. Particularly for events like International Dot Day, they act as unifying symbols, creating a common thread through which participants worldwide can connect, share and discover content.
#InternationalDotDay
#DotDay2023
#MakeYourMark
#DotArt
#DotDayChallenge
#ConnectTheDots
#DotDayCelebration
#DotInspiration
#DotDayFun
#DotDayCreativity
For the complete list of holidays to celebrate on social media in September, visit AngieGensler.com/September-Holidays
Gift Ideas for International Dot Day
As an occasion that champions creativity, giving a Dot Day-themed gift adds a unique and personal touch to the celebration. Here are some exciting and unique gift ideas that perfectly capture the spirit of International Dot Day.
Dot Day Art Kit: Encourage your loved ones to unleash their creativity with a dot-themed art kit. This could include paints, brushes, round stencils, and a canvas, all perfectly tailored for creating beautiful dot art.
Dot Jewelry: A piece of jewelry with dotted patterns, like a polka dot pendant or a bracelet with round charms, makes a stylish and thematic gift for the fashion-forward.
Dot Day Inspired Clothing: A polka-dotted shirt, dress, or tie can be a fun and fashionable way to celebrate the day. It's a perfect gift for those who love to make a statement with their attire.
Dot Day Book: A copy of "The Dot" by Peter H. Reynolds, the book that inspired the holiday, is an inspiring gift, particularly for children or those who enjoy heartwarming stories.
Personalized Dot Art: Commission a piece of dot art from a local artist as a unique, personal gift. It can serve as a long-lasting reminder of the creativity and inspiration behind Dot Day.
In conclusion, these distinctive gift choices for International Dot Day are designed to inspire creativity, empower self-expression, and celebrate individuality. Remember, it's about making a mark, no matter how small, and seeing where it takes you. Happy gifting for International Dot Day!
Other Holidays Related to International Dot Day
While International Dot Day holds a unique charm, there are several other holidays that resonate with its spirit of creativity, individuality, and self-expression. These holidays, much like Dot Day, serve as a celebration of the joyous journey of artistic expression and personal growth. Here's a look at some related holidays that you may want to mark on your calendars.
National Creativity Day: This day celebrates the power of imagination and innovation, echoing the spirit of International Dot Day.
World Art Day: A day dedicated to the fine arts, it aligns with Dot Day's focus on encouraging creativity and self-expression.
Make Your Mark Week: A week-long celebration promoting creativity, it perfectly complements International Dot Day.
National Coloring Day: This day celebrates the joy of coloring, a creative activity that, much like dot art, is all about self-expression.
World Storytelling Day: While not art-focused, storytelling is a form of self-expression that aligns with the expressive spirit of Dot Day.
Inspire Your Heart with Art Day: This holiday encourages people to appreciate and create art, much like International Dot Day does.
National Live Creative Day: This day prompts everyone to live more creatively, aligning closely with the goals of Dot Day.
These alternative holidays, closely tied to International Dot Day, offer additional opportunities for individuals to express their creativity. So, mark these dates in your calendar, and let the spirit of International Dot Day carry through the year.
For more holidays, download our free calendar with over 1,000 fun and unique holidays to celebrate this year. Head to angiegensler.com/holiday-calendar to grab your free copy!
Future Dates for International Dot Day
| Year | Date | Day |
| --- | --- | --- |
| 2023 | September 15 | Friday |
| 2024 | September 15 | Sunday |
| 2025 | September 15 | Monday |
| 2026 | September 15 | Tuesday |
| 2027 | September 15 | Wednesday |
| 2028 | September 15 | Friday |
| 2029 | September 15 | Saturday |
Extra Ideas for International Dot Day
International Dot Day Activities: A list of creative activities people can engage in to celebrate International Dot Day. This could include art projects, workshops, or even dot-themed parties and gatherings.
Inspirational Dot Stories: Share inspiring stories of people who have made significant contributions through their dot-themed artwork or have been inspired by International Dot Day.
Spotlight on Dot Artists: Highlight the work of well-known dot artists, their inspirations, and their contributions to the art world. This could also include interviews or profiles of these artists.
Dot Art Tutorials: Include simple step-by-step guides for readers to create their own dot art at home, which can be a fun and engaging activity for readers of all ages.
Dot Day Around the World: Showcase how different cultures and countries celebrate International Dot Day, capturing the diverse ways creativity and self-expression are celebrated globally.
Influence of Dot Art: An exploration of the influence and significance of dot art in the broader art and cultural landscape.
Reflections on "The Dot": A more in-depth discussion or analysis of Peter H. Reynolds' book "The Dot" and its impact on readers around the world.
Conclusion
In conclusion, for business owners looking to engage with their customers or employees on a more personal level, International Dot Day offers a unique opportunity. Celebrating this day can not only foster creativity and individuality within your team but also showcase your brand's support for self-expression and innovation. Remember, as we celebrate International Dot Day, it's about making your mark in your business realm, no matter how small, and seeing where it takes you.
Celebrate this special day with us, and don't forget to download our free holiday calendar for more fun and unique holidays to celebrate this year!