National Double Cheeseburger Day is celebrated annually on September 15th. Entrepreneurs and marketers planning on celebrating National Double Cheeseburger Day can utilize this special occasion as a chance to endorse their products and services. In this piece, we will explore creative ways to commemorate the day, like partnering with local burger joints or initiating unique promotions and discounts. We will also delve into social media strategies and hashtags to optimize your marketing initiatives on this day. With these valuable insights, businesses can maximize National Double Cheeseburger Day to expand their customer reach globally.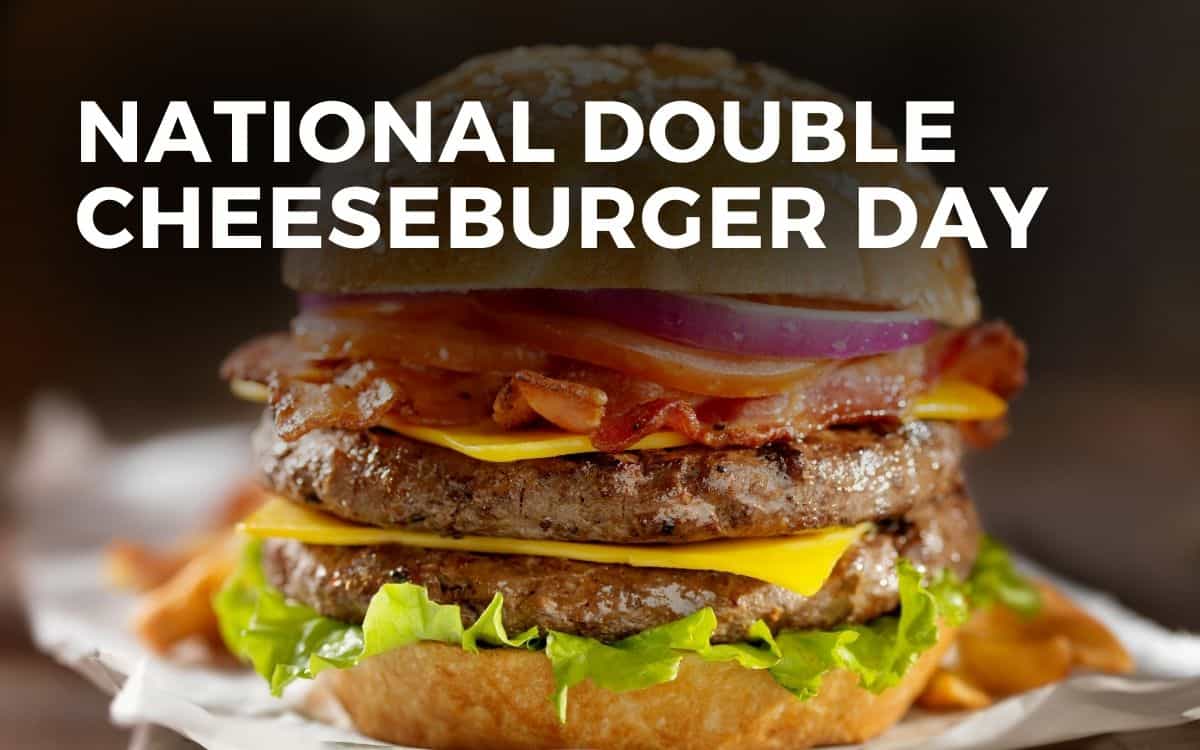 Table of Contents
*Disclosure: This post contains affiliate links. If you make a purchase using one of these links, I may receive a small commission. Please know that I only recommend products I have used and that I sincerely think will help your business.
When is National Double Cheeseburger Day?
National Double Cheeseburger Day is a flavorful occasion celebrated every year on the 15th of September. This day pays tribute to the gastronomic delight that is a double cheeseburger, allowing fans of this hearty sandwich to indulge their taste buds. Whether you're a burger enthusiast yourself or a business looking to leverage this day for marketing initiatives, it's a date to mark on your calendar.
History of National Double Cheeseburger Day
The day is widely celebrated as a tribute to the immense popularity of double cheeseburgers, which have been a staple of American cuisine for decades. The double cheeseburger itself is said to have been born out of the post-World War II era, a time when American diners began demanding bigger, heartier meals. The double cheeseburger, with its two patties and two slices of cheese, perfectly fits that bill. As time passed, this hearty burger found its way into fast-food chains and backyard barbecues, cementing its place in American food culture. Today, National Double Cheeseburger Day, not only celebrates this iconic sandwich but also the spirit of American innovation and indulgence that it embodies.
How to Celebrate National Double Cheeseburger Day
In this section, we'll explore a variety of creative ways for individuals and businesses to celebrate National Double Cheeseburger Day. From organizing mouth-watering contests to launching special promotions, there's an array of activities to engage in.
Cook-off Challenge: Gather your friends and family for a double cheeseburger cook-off challenge. Each participant can bring their unique recipe to the table, making the event fun and exciting.
Restaurant Hopping: Spend the day hopping from one burger joint to another, tasting and rating double cheeseburgers. It's a perfect opportunity to explore your city and its culinary delights.
Double Cheeseburger DIY: Try your hand at cooking. Watch online tutorials or follow recipe books to make your homemade double cheeseburger. You could experiment with different cheeses and toppings for a personalized touch.
Themed Party: Throw a National Double Cheeseburger Day party. Everyone can come dressed as their favorite burger ingredient, and of course, double cheeseburgers will be the main feast.
Charity Event: Organize a charity event where you sell homemade double cheeseburgers and donate the proceeds to a charity of choice. It's a fantastic way to enjoy burgers and do good at the same time.
Burger Photography: Showcase your photography skills and your love for burgers by conducting a burger photoshoot. Later, you can share your best shots on social media using relevant hashtags.
Support Local Businesses: Visit your local burger joints and support them by ordering double cheeseburgers. This is crucial, especially in the current times when small businesses are struggling due to the pandemic.
How Businesses Can Celebrate National Double Cheeseburger Day
Businesses, especially those in the food industry, can leverage National Double Cheeseburger Day to promote their products and engage with customers. Here are some strategies that businesses can adopt:
Special Discounts: Businesses can offer special discounts on double cheeseburgers to attract customers.
Limited-Time Menu: Create a limited-time menu that features unique double cheeseburger variants. This can generate excitement among customers and encourage them to try new offerings.
Collaborations: Partner with local farmers or cheese producers for special collaborations. This not only promotes local businesses but also adds a unique selling point to your double cheeseburgers.
Contests and Giveaways: Host a double cheeseburger eating contest or a "best burger" photo competition on social media. You could also give away vouchers or merchandise to winners.
Charity Tie-Ins: Partner with a local charity and donate a portion of the day's double cheeseburger sales to them. This creates a positive brand image and attracts socially-conscious customers.
Social Media Campaigns: Run a social media campaign with a unique hashtag associated with your brand and National Double Cheeseburger Day. This can increase your brand's visibility.
Cooking Demos: Host a cooking demo where you showcase how your chefs create the perfect double cheeseburger. This can be done in-store or online.
Freebies: Offer free add-ons (like extra cheese, a side of fries, or a drink) with every double cheeseburger purchase.
Loyalty Rewards: Provide bonus loyalty points on purchases of double cheeseburgers to encourage repeat visits.
Employee Engagement: Celebrate the day with employees by organizing a cook-off or a tasting event. Happy employees often lead to happy customers!
Social Media Post Ideas for National Double Cheeseburger Day
Social media is a powerful tool in creating buzz and excitement around special days like National Double Cheeseburger Day. A well-curated, innovative, and fun social media campaign can amplify the celebrations, attract a wider audience, and create engaging interactions.
Behind-The-Scenes Video: Share a video showing how your restaurant prepares its signature double cheeseburger. Use the hashtag #DoubleCheeseburgerDay to increase visibility.
Interactive Polls: Run a poll asking your followers to vote for their favorite cheese or topping for a double cheeseburger.
Customer Testimonials: Share testimonials from customers who love your double cheeseburgers, and encourage others to share their experiences.
Throwback Post: Share pictures or stories from previous National Double Cheeseburger Day celebrations at your business.
Cheeseburger Deals: Promote your special deals or discounts for National Double Cheeseburger Day.
Live Q&A Session: Host a live Q&A session on Instagram or Facebook, where the chef can answer questions on making the perfect double cheeseburger.
User-Generated Content: Encourage customers to share photos of their cheeseburgers from your business using a custom hashtag. Share the best ones on your profile.
Cheeseburger Trivia: Post fun trivia facts about double cheeseburgers to engage your followers and educate them about the iconic sandwich.
Employee Spotlight: Feature the staff members who make the cheeseburger magic happen at your restaurant.
Countdown Posts: Build anticipation with countdown posts leading up to National Double Cheeseburger Day.
Leveraging social media for National Double Cheeseburger Day is not only a means of celebration but also a powerful avenue for driving engagement and strengthening your connection with your audience.
Want to create social media content 10X faster? Start your free 7-day trial of the Social Media Content Club and say goodbye to social media stress!
Hashtags to Use During National Double Cheeseburger Day
In the digital age, hashtags have emerged as a powerful tool for increasing the visibility of social media content and fostering community engagement. On occasions like National Double Cheeseburger Day, using the right hashtags can significantly amplify your reach, allowing you to connect with a broader audience who shares an interest in this delicious event.
#DoubleCheeseburgerDay
#CheeseburgerLove
#CheeseburgerChallenge
#BurgerBlast
#BurgerOfTheDay
#BurgerLovers
#TastyTuesday
#EatLocal
#FoodieFriday
Hashtags are a fantastic way to inject your content into wider conversations around National Double Cheeseburger Day. So, as you gear up to celebrate this scrumptious day, don't forget to include these hashtags in your social media posts to amplify your reach and make the most of this appetizing occasion!
For the complete list of holidays to celebrate on social media in September, visit AngieGensler.com/September-Holidays
Gift Ideas for National Double Cheeseburger Day
As National Double Cheeseburger Day approaches, it's an opportune moment to celebrate with a unique gift that encapsulates the spirit of this epicurean event. Here are some suggestions for amazing Gifts related to National Cheeseburger Day:
In conclusion, these thoughtful and burger-centric gift ideas are perfect for commemorating National Double Cheeseburger Day. They not only celebrate the love for this classic comfort food but also offer a unique way to engage with this fun, food-themed event. I
Other Holidays Related to National Double Cheeseburger Day
Numerous other holidays spotlight the diverse array of food we enjoy, each with its unique traditions and festivities. In this section, we'll take a tour of some other holidays related to National Double Cheeseburger Day, offering an array of delicious opportunities for foodies to celebrate all year round.
National Hamburger Day: A precursor to National Double Cheeseburger Day, this holiday celebrates the simpler, yet just as delicious, hamburger.
National Fast Food Day: An ode to our favorite quick and easy meals – including double cheeseburgers – this day encourages everyone to enjoy a fast-food treat.
National Cheese Lover's Day: As a key component of the double cheeseburger, cheese gets its own day of recognition for its contribution to culinary delights.
National French Fry Day: Often the perfect companion to a double cheeseburger, the humble French fry is celebrated on this delicious day.
National BBQ Day: A day to celebrate all things grilled and smoked, including our beloved burgers.
National Ketchup Day: A quintessential condiment for many a cheeseburger, ketchup gets its rightful place in the sun on this day.
International Bacon Day: For those who like a bit of extra crunch with their double cheeseburger, this day celebrates the irresistibly smoky flavor of bacon.
National Mustard Day: A favored condiment for many burger lovers, mustard is celebrated for its tangy contribution to our sandwiches.
National Pickle Day: Paying tribute to the pickles, which often lend a refreshing crunch to a double cheeseburger.
National Comfort Food Day: While not specifically about burgers, this day celebrates all foods that bring us comfort – and for many, a juicy double cheeseburger fits the bill perfectly.
These holidays, each dedicated to various facets of our love for food, provide more opportunities to celebrate the elements that make up our treasured double cheeseburger.
For more holidays, download our free calendar with over 1,000 fun and unique holidays to celebrate this year. Head to angiegensler.com/holiday-calendar to grab your free copy!
Future Dates for National Double Cheeseburger Day
| Year | Date | Day |
| --- | --- | --- |
| 2023 | September 15 | Friday |
| 2024 | September 15 | Sunday |
| 2025 | September 15 | Monday |
| 2026 | September 15 | Tuesday |
| 2027 | September 15 | Wednesday |
| 2028 | September 15 | Friday |
| 2029 | September 15 | Saturday |
Extra Ideas for National Double Cheeseburger Day
Interviews with Chefs: A series of interviews with well-known chefs or restaurant owners could make for an interesting read. They could share their expert tips on making the perfect double cheeseburger or even reveal their unique twist to the classic recipe.
Roundup of Best Places for Double Cheeseburgers: An article featuring the best restaurants or food trucks across the country known for their delicious double cheeseburgers would be a great addition.
Cooking Tips and Techniques: A section dedicated to sharing cooking tips and techniques for making the perfect double cheeseburger at home. It could include grilling tips, seasoning suggestions, or cheese-melting hacks.
Double Cheeseburger DIY Photo Contest: Engage readers by organizing a photo contest where they make their own double cheeseburgers, snap a picture, and share it. The winning entries could be featured in a follow-up article.
Burger Pairing Suggestions: A section discussing the best sides, drinks, and condiments to pair with a double cheeseburger to enhance the dining experience.
Burger History: An interesting write-up discussing the history of the double cheeseburger, tracing its origins and evolution over time.
Healthier Double Cheeseburger: Considering the health-conscious readers, a piece on how to make a healthier version of a double cheeseburger could be included.
Conclusion
It's not just about selling more burgers but about fostering a sense of community and shared enjoyment around something as universally loved as a good meal. So, join the festivities, and let the charm of these delicious holidays elevate your business to new heights of customer engagement and satisfaction.
Celebrate this special day with us, and don't forget to download our free holiday calendar for more fun and unique holidays to celebrate this year!