National Cheeseburger Day is celebrated annually on September 18. Entrepreneurs and marketers keen on observing National Cheeseburger Day can utilize this unique celebration as a chance to showcase their goods and services. This article will provide inventive ways to honor this day, such as forming alliances with local burger joints or initiating special offers and markdowns. It will also guide you on social media posts and hashtags to maximize your promotional endeavors on this occasion. By implementing these practical suggestions, businesses can fully leverage National Cheeseburger Day to expand their worldwide customer reach.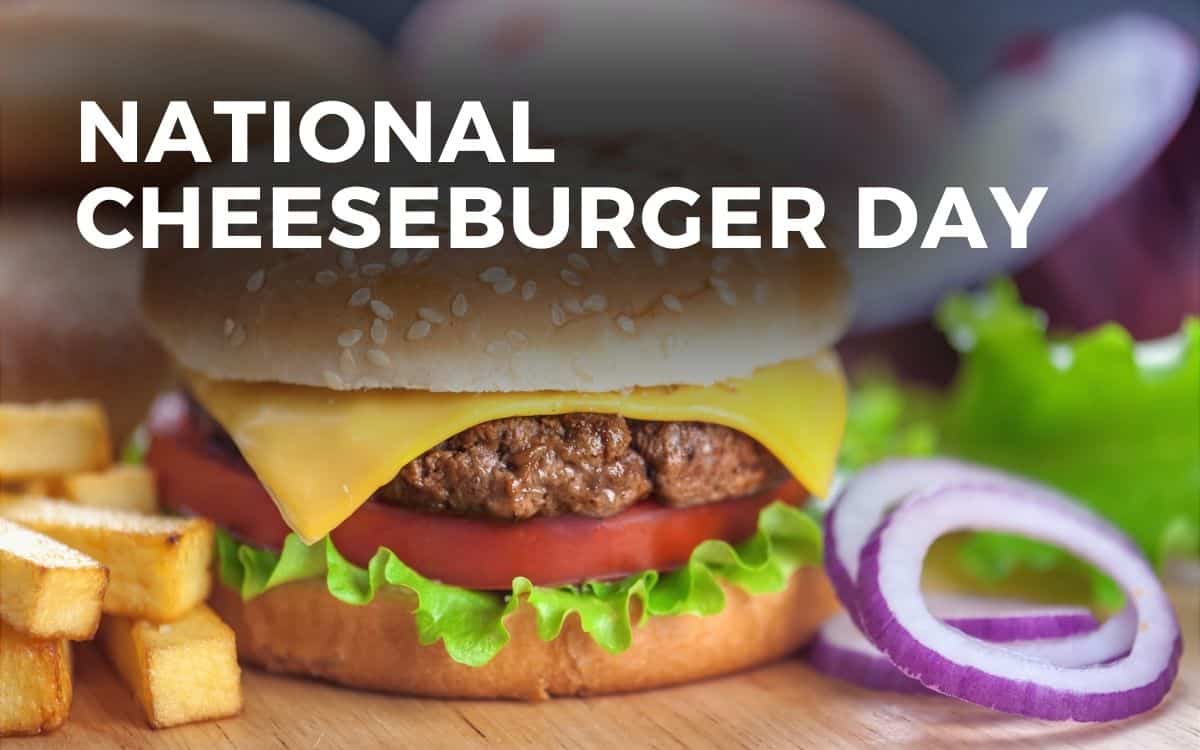 Table of Contents
*Disclosure: This post contains affiliate links. If you make a purchase using one of these links, I may receive a small commission. Please know that I only recommend products I have used and that I sincerely think will help your business.
When is National Cheeseburger Day?
National Cheeseburger Day is a tasteful celebration observed annually on the 18th of September. This day is dedicated to the love of cheeseburgers, a beloved staple of American cuisine. It offers an opportunity for food enthusiasts and burger lovers across the globe to come together and relish this culinary delight.
History of National Cheeseburger Day
However, it is widely acknowledged that this day was created to honor America's favorite quick-service meal – the cheeseburger. The concept of topping a hot, juicy burger with a slice of cheese is believed to have been pioneered by Lionel Sternberger in the late 1920s in his father's sandwich shop in Pasadena, California. The idea quickly gained popularity, and the cheeseburger became a staple of American cuisine, offering an irresistible blend of meaty, cheesy goodness. The national day of recognition, celebrated every September 18th, is not officially recognized by the U.S. government, but its popularity among food enthusiasts has cemented its place in foodie culture.
How to Celebrate National Cheeseburger Day
This section outlines a host of creative and engaging ideas that individuals can indulge in to savor the day, and businesses can capitalize on to amplify their visibility, reach out to potential customers, and bolster their sales.
Try a New Recipe: Challenge your culinary skills by trying out a new cheeseburger recipe. There are numerous online tutorials and cookbooks available that offer unique and innovative takes on the classic cheeseburger.
Host a Cheeseburger Party: Invite your friends and family over for a cheeseburger-themed cookout. You could experiment with various types of cheeses, buns, and toppings to create a diverse range of flavors.
Dine at a Local Burger Joint: Visit your favorite local burger restaurant, or try out a new place in town. Many eateries offer special deals and discounts on this day, so make sure to take advantage.
Participate in a Burger Eating Contest: If you're up for a fun challenge, look for local burger-eating contests. It's a great way to meet other burger enthusiasts while enjoying your favorite food.
Try a Vegetarian or Vegan Cheeseburger: If you're looking for a healthier option or just want to try something new, look for restaurants or recipes that offer vegetarian or vegan cheeseburgers.
Share your Experience on Social Media: Document your cheeseburger adventures on social media using the hashtag #NationalCheeseburgerDay. It's a fun way to engage with others celebrating the day and to share your love for cheeseburgers.
How Businesses Can Celebrate National Cheeseburger Day
Launch a Special Cheeseburger: Create a one-time, exclusive cheeseburger for this special day. It could feature a unique combination of ingredients, a specialty cheese, or incorporate a local flavor.
Offer Discounts and Deals: Introduce special promotions, such as two-for-one deals, discounts on cheeseburgers, or a free side with any cheeseburger purchase.
Partner with Local Producers: Collaborate with local farmers or cheese producers to create a locally-sourced cheeseburger. This not only adds a unique twist to your menu but also supports local businesses.
Host a Cheeseburger Challenge: Organize a cheeseburger eating contest or a build-your-own cheeseburger competition, attracting food enthusiasts and creating a buzz around your business.
Social Media Campaigns: Launch a social media campaign using the hashtag #NationalCheeseburgerDay. Encourage customers to share their cheeseburger experiences at your establishment and offer prizes for the best posts.
Cheeseburger Cooking Classes: If your business is more oriented towards instruction, consider hosting a cooking class that focuses on making the perfect cheeseburger.
Charitable Cheeseburger: Partner with a local charity and donate a portion of the day's cheeseburger sales to them. This not only helps a good cause but also shows your business's commitment to the community.
Cheeseburger Merchandise: Release limited-edition merchandise, like t-shirts or mugs, featuring your signature cheeseburger or a funny cheeseburger-themed design. This can boost your brand's visibility even after the day is over.
The most important thing is to savor the deliciousness of the humble cheeseburger and the joy it brings. This day is a testament to our collective love for this culinary delight. So, on September 18th, go ahead and indulge in a cheese-topped patty nestled between two buns, share your experiences with the world, and contribute to keeping this tasty tradition alive. Happy National Cheeseburger Day!
Social Media Post Ideas for National Cheeseburger Day
In this section, we explore a range of creative social media post ideas that individuals and businesses can adopt to commemorate this delicious day, enhance online interactions, and amplify their reach.
Behind-the-Scenes Peek: Share videos or photos from the kitchen showing the making of a cheeseburger. This gives customers a glimpse into the craftsmanship and care that goes into each burger.
Customer Testimonials: Share photos or videos of customers enjoying your cheeseburger along with their positive reviews.
Showcase Your Special Cheeseburger: Post high-quality, drool-worthy photos of your special National Cheeseburger Day offering. Highlight the unique ingredients or the story behind the creation.
Host a Giveaway: Announce a social media contest where followers get a chance to win free cheeseburgers. This could involve tagging friends, sharing your post, or even creating their own burger-related content.
Share the Fun: If you're hosting a cheeseburger-themed event or competition, be sure to share live updates, pictures, and videos on your social media platforms.
Interactive Polls or Quizzes: Engage your audience with a fun poll or quiz related to cheeseburgers. It could be about their favorite toppings, the best cheese to use, or their preference for cooking methods.
Cheeseburger Facts and Trivia: Share interesting facts, trivia, or history about cheeseburgers to inform and engage your audience.
Use a Hashtag: Encourage customers to share their experiences with your cheeseburgers using a unique branded hashtag. This not only increases your visibility but also allows you to easily find and reshare user-generated content.
Highlight Your Team: Showcase the people who make the cheeseburgers possible. Share photos or interviews of your chefs and staff, expressing gratitude for their hard work.
Support for a Cause: If you're donating a portion of your sales to charity, share this news with your audience. This can boost your brand's image and inspire customers to support the cause by buying your cheeseburgers.
Countdown Posts: Build anticipation by posting daily countdowns leading up to National Cheeseburger Day, revealing tidbits about your special offerings or events planned for the day.
Show Your Local Love: If you're partnering with local producers or using local ingredients, highlight this in your posts. This shows your support for the community and may attract customers who value locally-sourced food.
Memes and Jokes: Lighten the mood and entertain your audience with some cheeseburger-themed humor. This could be a fun image, a joke, or a meme.
These ideas can help to create engaging content, stimulate interaction with your audience, and potentially increase visibility or sales. Remember, the key to effective social media promotion is authenticity and creativity.Happy posting, and enjoy your cheeseburger journey on social media!
Want to create social media content 10X faster? Start your free 7-day trial of the Social Media Content Club and say goodbye to social media stress!
Hashtags to Use During National Cheeseburger Day
In the realm of social media, hashtags have emerged as a crucial tool in disseminating content and engaging with a wider audience. In this section, we'll delve into some of the most effective hashtags to use for this delicious occasion.
#NationalCheeseburgerDay
#CheeseburgerDay
#BurgerLovers
#BurgerTime
#Foodie
#EatLocal
#BurgerPorn
#CheeseburgerHeaven
#Foodstagram
#OnMyPlate
Keep in mind that while using popular hashtags can increase reach, creating unique ones can also highlight your brand's personality and campaign. After all, it's a celebration of one of the most beloved food items worldwide – the cheeseburger. Happy #NationalCheeseburgerDay!
For the complete list of holidays to celebrate on social media in September, visit AngieGensler.com/September-Holidays
Gift Ideas for National Cheeseburger Day
There's nothing like a thoughtful gift to add extra sizzle to the celebration. So, let's dive in and uncover some of the fantastic gift options that will make this National Cheeseburger Day truly unforgettable.
In conclusion, National Cheeseburger Day can be celebrated in numerous creative and exciting ways. Gifting cheeseburger-themed items is not only a fun gesture but also a way to demonstrate your understanding and support for a loved one's passion for cheeseburgers. These gifts range from functional kitchen tools to whimsical novelty items, adding an extra layer of joy to the celebration. Happy National Cheeseburger Day!
Other Holidays Related to National Cheeseburger Day
There are numerous other holidays throughout the year that pay homage to our favorite foods and beverages. In the following section, we explore some of these unique and tasty occasions that share a thematic connection with National Cheeseburger Day.
National Fast Food Day: This day celebrates the convenience and deliciousness of fast food, and burgers are undoubtedly a significant part of this industry.
National Hamburger Day: A day solely dedicated to the cheeseburger's precursor, the humble hamburger, it's a great time to appreciate the simple pleasure of a well-made burger.
International Bacon Day: Bacon and cheeseburgers often go hand in hand, making this a perfect related celebration for cheeseburger enthusiasts.
National BBQ Day: Barbecuing is a popular method for grilling burgers, making this day a fitting complement to National Cheeseburger Day.
National French Fry Day: Cheeseburgers and fries are a classic pairing, so it's only fitting to acknowledge this day when we talk about related holidays.
National Ketchup Day: What's a cheeseburger without a squirt of ketchup? This condiment has a day of its own, so burger lovers can celebrate it too.
National Pickle Day: Many burger enthusiasts love their cheeseburger with a side of pickle, making this holiday an essential part of the cheeseburger universe.
National Grilled Cheese Sandwich Day: Combining cheese and bread, grilled cheese sandwiches share some key ingredients with cheeseburgers. This day can be a cheesy buildup to National Cheeseburger Day.
National Mustard Day: Mustard is another popular topping for cheeseburgers, making this day a perfect accompaniment.
National Beef Month: A whole month dedicated to beef can be seen as a prolonged celebration leading up to National Cheeseburger Day. After all, beef is usually the star ingredient of the cheeseburger.
These alternative holidays offer more opportunities to relish the flavors we love. So, mark your calendar and get ready to celebrate these delicious occasions!
In essence, the culinary world is replete with holidays that echo the spirit of National Cheeseburger Day, giving us more reasons to celebrate and indulge in our favorite treats. After all, there's no such thing as too many cheeseburgers – or their delightful culinary cousins!
For more holidays, download our free calendar with over 1,000 fun and unique holidays to celebrate this year. Head to angiegensler.com/holiday-calendar to grab your free copy!
Future Dates for National Cheeseburger Day
| Year | Date | Day |
| --- | --- | --- |
| 2023 | September 18 | Monday |
| 2024 | September 18 | Wednesday |
| 2025 | September 18 | Thursday |
| 2026 | September 18 | Friday |
| 2027 | September 18 | Saturday |
| 2028 | September 18 | Monday |
| 2029 | September 18 | Tuesday |
Recipes: Share some delicious and innovative cheeseburger recipes that readers can try at home.
Facts and History: Delve into the history of the cheeseburger, exploring its origins and evolution over time.
Interviews: Conduct interviews with chefs, restaurant owners, or food bloggers who are known for their exceptional cheeseburger creations.
Local Features: Highlight local restaurants or fast food chains that offer exceptional cheeseburgers, providing details on their special recipes or unique selling points.
Review Section: Include a section where you review different cheeseburgers from popular food chains or local restaurants.
Fun Contests: Suggest some fun cheeseburger-related contests, such as a cheeseburger eating competition or a best cheeseburger recipe contest.
Health Section: Discuss the nutritional content of a cheeseburger and how to make it healthier for those who are health-conscious.
Personal Stories: Share personal anecdotes or stories related to cheeseburgers. This could be about someone's first cheeseburger experience, a memorable cheeseburger meal, or a funny cheeseburger-related incident.
Infographics: Create infographics of interesting cheeseburger statistics or fun facts.
Coupons and Deals: Provide information about special deals, discounts, or coupons available on National Cheeseburger Day.
Conclusion
As a business owner, seizing the opportunity to celebrate National Cheeseburger Day can provide a significant boost to your brand. You can leverage this day to showcase your unique cheeseburger creations, offer special discounts, or even organize engaging contests. By participating in the festivities, you're not just celebrating a beloved food item; you're also enhancing your customer relationships and contributing to a vibrant, food-loving community. Remember, every cheeseburger served is a celebration of your business's commitment to flavor, quality, and customer satisfaction. Happy National Cheeseburger Day!
Celebrate this special day with us, and don't forget to download our free holiday calendar for more fun and unique holidays to celebrate this year!