International Talk Like A Pirate Day is celebrated annually on September 19th. Entrepreneurs and marketers can use this unique holiday to promote their goods and services. This article will provide you with entertaining ideas to honor this day, such as collaborating with local nautical-themed businesses or introducing pirate-centric specials and discounts. Additionally, it will guide you in creating impactful social media posts and trending hashtags to optimize your promotional strategies on this day.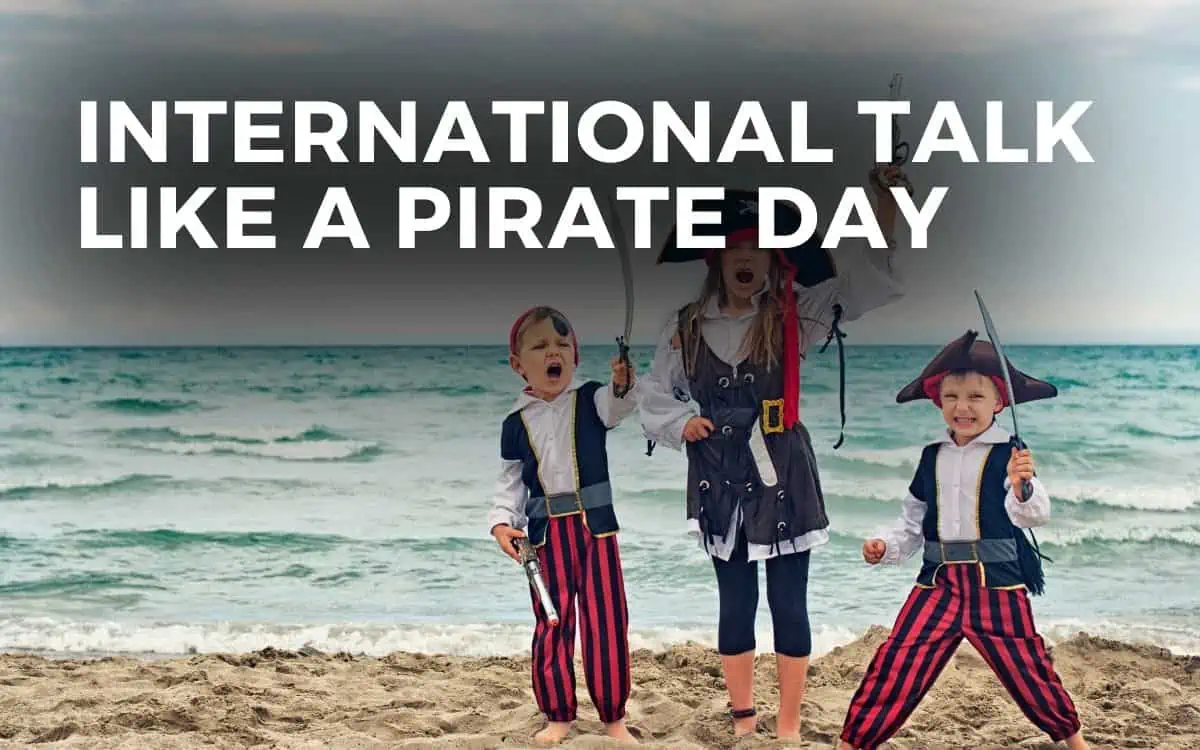 Table of Contents
*Disclosure: This post contains affiliate links. If you make a purchase using one of these links I may receive a small commission. Please know that I only recommend products I have used and that I sincerely think will help your business.
When is International Talk Like A Pirate Day?
International Talk Like A Pirate Day is observed annually on the 19th of September. This eccentric and fun-filled holiday has gained popularity globally, encouraging folks to embrace their inner seafarer and communicate in pirate lingo for the day. From playful conversations among friends to marketing campaigns with a dash of swashbuckling charm, the day adds a touch of whimsy to an ordinary September day.
History of International Talk Like A Pirate Day
International Talk Like A Pirate Day was first conceived in 1995 by two friends, John Baur, and Mark Summers, during a racquetball game. In the heat of the game, they started encouraging each other in pirate slang, and the idea was born. However, it wasn't until 2002, when they shared the idea with renowned columnist Dave Barry, that the concept gained widespread attention. Barry loved the idea and promoted it in his syndicated column, and the response was overwhelming. Since then, every year on September 19th, people worldwide have embraced their inner pirate, donning eye patches, and using phrases like "Ahoy, matey!" and "Shiver me timbers!" in celebration of this fun-filled holiday.
How to Celebrate International Talk Like A Pirate Day
As International Talk Like a Pirate Day approaches, you may be wondering how to fully embrace this fun and quirky occasion. The following section provides a treasure trove of ideas to help you immerse yourself in the pirate spirit on September 19th.
Dress Like a Pirate: Embrace the holiday by donning traditional pirate garb. This could involve wearing an eyepatch, a pirate hat or bandana, a peg leg, or even a full pirate costume.
Learn Pirate Lingo: Make an effort to speak like a pirate for the day. Use phrases like "Ahoy, matey!", "Shiver me timbers!", and "Yo ho ho!" in your everyday conversations.
Watch Pirate Movies: Spend the day watching classic pirate films like "Pirates of the Caribbean", "Treasure Island", or "Peter Pan."
Read Pirate Books: Dive into the world of pirates by reading books based on pirate adventures. Titles could include Robert Louis Stevenson's "Treasure Island" or "Pirate Latitudes" by Michael Crichton.
Themed Party: Host a pirate-themed party. Encourage your guests to come dressed in pirate costumes and serve pirate-inspired food and drinks.
Pirate Games: Engage in pirate-themed games with friends or family. This could include a treasure hunt, pirate board games, or even video games like Sea of Thieves.
Pirate Music: Listen to sea shanties or other pirate-themed music to get in the spirit of the day.
Social Media: Share your pirate day celebrations on social media using the hashtag #TalkLikeAPirateDay.
Remember, the key to enjoying International Talk Like a Pirate Day is to have fun and embrace the pirate spirit. Happy pirating!
Ideas for Businesses to Celebrate International Talk Like A Pirate Day
Businesses can also participate in the excitement of International Talk Like a Pirate Day. It provides an excellent opportunity to engage with customers and boost your brand visibility. Here are some innovative suggestions to help you dive into the fun:
Pirate-themed Promotions: Run a special promotion or discount for customers who come into your store talking like a pirate. This could be a fixed percentage off on purchases or a special gift with every purchase.
Social Media Campaigns: Launch a pirate-themed social media campaign. Encourage customers to share their pirate impressions or use your product in a pirate setting, tagging your business and using a unique hashtag.
In-store Decorations: Decorate your store with a pirate theme. This could include flags, treasure chests, or a pirate ship display. It helps create a festive atmosphere and attract customers.
Pirate-themed Products or Services: Introduce pirate-themed products or services for the day. It could be a pirate-inspired dish at your restaurant, a special pirate drink at your bar, or a pirate-themed design for your products.
Pirate Dress Code: Encourage your staff to dress in pirate costumes for the day. It adds to the fun atmosphere and can be a conversation starter with customers.
Pirate Vocabulary: Train your staff to use pirate lingo with customers. It's not only a fun way to engage with customers but also enhances the festive spirit.
Community Engagement: Organize pirate-themed community events, like a treasure hunt in a local park or a charity event with a pirate twist. It helps build strong community ties and enhance your brand image.
Special Pirate Offers: Send out a unique pirate-themed offer to your email list. It could be a coupon code, a special bundle deal, or a one-day discount.
Remember, the goal is to immerse your business in the fun of the day while engaging with customers, strengthening your brand visibility, and driving sales.
Social Media Post Ideas for International Talk Like A Pirate Day
In this digital age, International Talk Like a Pirate Day is not only a day of fun and dressing up, but also an opportunity to create engaging content for your social media platforms. Here are some amazing Social Media Post Ideas for International Talk Like A Pirate Day:
Pirate Costume Contest: Host a pirate costume contest on your social media platforms. Ask followers to submit their best pirate attire photos using a specific hashtag and offer a prize or discount for the best-dressed pirate.
Pirate Product Showcase: Showcase your special pirate-themed products or services with high-quality photos or videos, and use pirate lingo in the captions.
Pirate Jokes or Puzzles: Share pirate-themed jokes, riddles, or puzzles on your social media platforms. These are fun, engaging, and shareable content that can increase your reach.
Behind The Scenes: Post photos or videos showing your team members in pirate costumes or using pirate lingo. This can add a personal touch and show your audience the fun side of your business.
Pirate Quote of the Day: Share a famous pirate quote each day leading up to International Talk Like a Pirate Day. Encourage your followers to share their favorite pirate quotes as well.
Customer Shout-Outs: Share photos or videos of customers celebrating the day in your store or using your products/services with a pirate twist. Don't forget to thank them for their support and participation.
Instagram or Facebook Live: Host a live event on Instagram or Facebook where you and your team talk like pirates, share pirate stories, or even teach followers how to talk like a pirate.
Pirate Sale Alert: Announce any special discounts or promotions you are offering in honor of the day. Make sure to use plenty of pirate-themed language in your posts.
Interactive Polls or Quizzes: Create interactive content like polls or quizzes with a pirate theme to engage your followers. You could quiz them on their pirate trivia knowledge or ask them to vote on their favorite type of pirate treasure.
Community Involvement: If you are organizing or participating in a local event for International Talk Like a Pirate Day, share photos or videos from the event, and tag other participating local businesses or organizations.
As you hoist your Virtual Jolly Roger, remember that International Talk Like a Pirate Day is all about fun and camaraderie. It's an opportunity to engage with your audience in a light-hearted, creative manner, and to add a splash of adventure to your social media presence.
Want to create social media content 10X faster? Start your free 7-day trial of the Social Media Content Club and say goodbye to social media stress!
Hashtags to Use During International Talk Like A Pirate Day
Hashtags play an instrumental role in connecting your content with the larger global conversation. They act as interactive links, guiding users to a network of posts tied together by the common thread of a keyword or phrase. Ensuring your posts are equipped with the right hashtags during events like International Talk Like a Pirate Day can amplify your reach, increase engagement, and boost your visibility in a sea of similar content.
#TalkLikeAPirateDay
#PirateDay
#AhoyMatey
#ShiverMeTimbers
#PiratesLife
#JollyRoger
#PirateLingo
#PirateTreasure
#PirateCostume
#SeaDogs
#Buccaneer
#WalkThePlank
Remember, the right blend of popular and niche hashtags can significantly improve your post's visibility. A successful social media voyage is all about strategic hashtag use and authentic engagement. Happy sailing on the digital seas!
For the complete list of holidays to celebrate on social media in September, visit AngieGensler.com/September-Holidays
Gift Ideas for International Talk Like A Pirate Day
As International Talk Like A Pirate Day sails closer, it's the perfect time to surprise your friends, family, or followers with pirate-themed gifts that add to the swashbuckling fun. Let's dive into some fantastic gift ideas that will truly make this day a memorable celebration of all things pirate.
These gift ideas aim to encapsulate that spirit, providing a range of pirate-themed options suitable for fans of all ages. Whether it's a swashbuckling costume, a challenging puzzle, or a mug that brings a touch of adventure to the breakfast table, these gifts are sure to make the day a memorable celebration of all things pirate.
Other Holidays Related to International Talk Like A Pirate Day
International Talk Like A Pirate Day is a fan-favorite holiday, but it's not the only occasion that celebrates the thrilling world of swashbuckling pirates. There are several other holidays and events throughout the year that resonate with the same spirit of excitement.
Let's take a look at some of these other holidays that also merit a hearty "Arrrr!"
National Maritime Day: This day celebrates the maritime industry and its history. A perfect opportunity to acknowledge the seafaring life.
World Oceans Day: A global celebration of the oceans and their importance. This can be the perfect backdrop for pirate-themed activities.
Nautical Day: A day dedicated to nautical culture and history, it serves as a great occasion to celebrate maritime traditions.
National Lighthouse Day: Celebrating lighthouses and their role in maritime history. This day can be celebrated with pirate-themed stories of lighthouse adventures.
Sea Serpent Day: An exciting day for pirate enthusiasts, this day is all about mythical sea creatures, a recurring theme in pirate lore.
Coast Guard Day: Although celebrating the modern Coast Guard, this day could be a fun twist for pirate fans as it relates to maritime law enforcement.
Columbus Day: An opportunity to celebrate the age of exploration, which ultimately led to the era of pirates.
National Maritime Day: Commemorating the maritime industry, it's another chance to acknowledge the seafaring life, a key element in pirate culture.
Each holiday offers a unique opportunity to dive deeper into pirate lore and indulge in various pirate-themed festivities. Be it the mythical sea serpents, the historical lighthouses, or the vast, mysterious oceans; there are countless ways to channel your inner pirate and make the most of these celebrations.
For more holidays, download our free calendar with over 1,000 fun and unique holidays to celebrate this year. Head to angiegensler.com/holiday-calendar to grab your free copy!
Future Dates for International Talk Like A Pirate Day
| Year | Date | Day |
| --- | --- | --- |
| 2023 | September 19 | Tuesday |
| 2024 | September 19 | Thursday |
| 2025 | September 19 | Friday |
| 2026 | September 19 | Saturday |
| 2027 | September 19 | Sunday |
| 2028 | September 19 | Tuesday |
| 2029 | September 19 | Wednesday |
Extra Ideas for International Talk Like A Pirate Day
Pirate Lingo Guide: A fun and comprehensive dictionary of pirate terms and phrases to help readers get into character.
Pirate Recipes: A compilation of pirate-inspired food and drink recipes for a themed celebration.
DIY Pirate Decor: Step-by-step instructions on how to create pirate-themed decorations at home.
Historical Pirates: Short profiles of famous pirates from history to provide some educational background.
Pirate Movies and Books: Recommendations for the best pirate-themed movies and books for further immersion into the pirate world.
Pirate Games: List of pirate-themed board games, video games, or outdoor games like a treasure hunt.
Pirate Jokes and Riddles: A collection of pirate-themed humor to lighten the mood and incite laughter.
Famous Pirate Ships: Brief introductions to some of the most renowned pirate ships from history and their stories.
Interview with a Pirate Expert: An interview with a historian or expert in pirate history to provide insightful and interesting facts about pirates.
Virtual Pirate Party Tips: With the current pandemic situation, tips on how to host a virtual pirate-themed party could be invaluable.
Conclusion
Celebrating International Talk Like A Pirate Day can offer a refreshing break from the usual routine and infuse your business environment with a spirit of camaraderie and light-hearted fun. Businesses can leverage this unique holiday to engage with customers, promote themed deals, or host special events, thereby enhancing brand visibility and customer satisfaction.
Celebrate this special day with us, and don't forget to download our free holiday calendar for more fun and unique holidays to celebrate this year!