National Coloring Day is celebrated every year on September 14th. Business owners and marketers who want to recognize National Coloring Day can use this unique holiday as a chance to showcase their products and services. In this article, we will uncover engaging ideas to observe the holiday, such as collaborating with local art supply stores or initiating special deals and discounts. We will also cover social media posts and hashtags to optimize your marketing endeavors on this day. With these beneficial strategies, businesses can fully capitalize on National Coloring Day and connect with a broader international client base.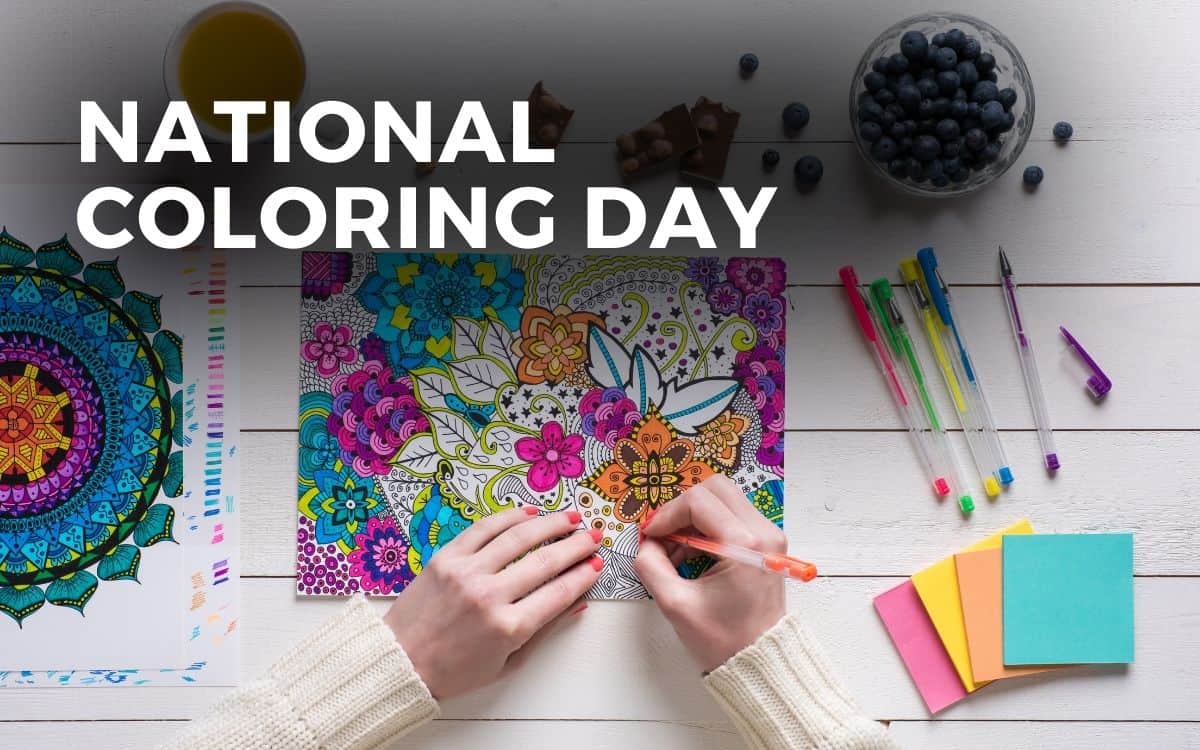 Table of Contents
*Disclosure: This post contains affiliate links. If you make a purchase using one of these links I may receive a small commission. Please know that I only recommend products I have used and that I sincerely think will help your business.
When is National Coloring Day?
National Coloring Day is commemorated annually on the 14th of September. This vibrant celebration of colors and creativity has its roots in the joy of coloring, an activity that transcends age groups and has therapeutic benefits. Be it children expressing their imagination or adults seeking relaxation through intricate coloring books, this day caters to everyone. It's an ideal occasion for businesses related to art, stationery, and education to engage with their audience and promote their products or services.
History of National Coloring Day
While the origins of National Coloring Day are somewhat shrouded in mystery, it's clear that the tradition has evolved in tandem with the resurgence of coloring for relaxation and creativity in adult life. The holiday emerged as coloring books became more popular among adults in the early 2010s, offering a nostalgic return to the simple pleasures of childhood. Publishers and artists started creating intricate coloring books specially designed for adults, often featuring complex patterns and scenery. This was promptly followed by the inception of National Coloring Day to celebrate this timeless, cross-generational activity. Today, the day is celebrated globally, with individuals and businesses alike participating in various coloring activities, promoting the benefits of coloring, and highlighting the joy it brings to people of all ages.
How to Celebrate National Coloring Day
In the following section, we will explore an array of innovative and engaging ideas for individuals and businesses alike to celebrate this colorful holiday. From organizing coloring competitions to offering special discounts on coloring supplies, there's an idea for everyone to make the most of this special day.
Host a coloring party: Invite family and friends over for a day dedicated to coloring. This can be a fun and relaxing way to celebrate the day while also catching up with loved ones.
Participate in a coloring competition: Many art stores and libraries host coloring competitions on National Coloring Day, offering an excellent opportunity to showcase your skills.
Coloring marathon: Challenge yourself to a coloring marathon and try to complete an entire coloring book in one day.
Visit an art exhibit: Take the day to appreciate the power of color in art. Visit a local gallery or museum and perhaps find some inspiration for your next coloring project.
Support local artists: Purchase coloring books or individual coloring pages created by local artists. This can be a great way to support your local art community while also celebrating the day.
Attend a coloring workshop: Many art studios and libraries host workshops on National Coloring Day, where you can learn new coloring techniques and tips from professionals.
Donate coloring books and crayons: Celebrate the day by spreading the joy of coloring. Donate coloring books and crayons to local hospitals, shelters, or schools.
Digital coloring: In the digital age, coloring isn't limited to paper and crayons. Explore digital coloring apps and websites for a new and exciting coloring experience.
Coloring outdoors: Take your coloring books and crayons outdoors. Spend the day in a park or your backyard under the shade of a tree, coloring and enjoying nature.
Share your art: Post your coloring pages on social media using the hashtag #NationalColoringDay. This can be a great way to share your creations with the world and see how others are celebrating the day.
Ideas for Businesses to Celebrate National Coloring Day
Start a Coloring Contest: Encourage customers to participate in a coloring contest. You could offer prizes such as discounts and freebies, or even feature the winning artwork on your social media channels.
Launch Special Deals: Provide discounts on coloring books, art supplies, or services that tie into the celebration. This could be a buy-one-get-one-free deal on art supplies, discounted coloring books, or even a free coloring page with every purchase.
Collaborate with Local Artists: Partner with local artists to create exclusive, limited-edition coloring pages or books. This not only promotes local talent but also offers something unique to your customers.
Supply Donation Drive: Run a donation drive where customers can donate art supplies. These could be distributed to local schools, hospitals, or community centers to spread the joy of coloring.
Start a Coloring Corner: If space allows, set up a small coloring corner in your business premises where children and adults can spend time coloring. You could provide coloring sheets and art supplies free of charge.
Portray Customer Artwork: Encourage your customers to share their colored pages on social media. Feature these posts on your own social channels, providing recognition and building a sense of community.
Art Classes or Workshops: Organize coloring workshops or art classes related to coloring. This not only engages your existing customers but also attracts potential new ones.
Launch a New Product or Service: If appropriate for your business, National Coloring Day could be the perfect occasion to launch a new colorful product or service.
Themed Display: Decorate your store or office with a coloring theme or display products in a way that emphasizes their color or creative use.
Benefits of Coloring: Use your platform to educate customers about the benefits of coloring. Sharing this information can encourage more people to engage with your business and the holiday.
National Coloring Day is a perfect occasion to unplug from technology, relax, and express your creativity through the simple act of coloring. No matter how you choose to celebrate, whether by hosting a coloring party, visiting an art exhibit, supporting local artists, or sharing your masterpieces online, the most important thing is to enjoy the process.
Social Media Post Ideas for National Coloring Day
As we navigate into the digital era where social media is a crucial part of both personal and business life, National Coloring Day offers a diverse range of opportunities to engage with your online audience. This section will provide you with captivating social media post ideas that will not only help you celebrate this vibrant day but also create a colorful and engaging experience for your followers.
Coloring Tips & Tricks: Share posts with coloring tips and tricks. This can include how to choose colors, blending techniques, or how to color intricate designs.
Live Coloring Session: Host a live coloring session on your platform. Engage followers by answering questions, offering advice, or even coloring a page together.
Employee Artwork: Feature coloring pages completed by employees to showcase your team's creativity and connection to the event.
Behind-the-scenes: Share behind-the-scenes photos or videos of how your business is celebrating National Coloring Day.
Promote Special Offers: Post about any National Coloring Day special offers or discounts. Make sure to highlight how these offerings can enhance the followers' coloring experience.
Coloring Therapy: Share posts about the therapeutic benefits of coloring. This can resonate with followers who color for relaxation and stress relief.
National Coloring Day provides a unique opportunity to celebrate and promote the joy of creativity, color, and self-expression on your social media platforms. By incorporating these engaging ideas, you can foster a vibrant and interactive experience for your followers while highlighting the beauty and therapeutic benefits of coloring.
Want to create social media content 10X faster? Start your free 7-day trial of the Social Media Content Club and say goodbye to social media stress!
Hashtags to Use During National Coloring Day
In the realm of social media, hashtags have emerged as a powerful tool to extend the reach of content, foster conversations, and gain visibility among targeted audiences. For National Coloring Day, using the right hashtags can significantly amplify your messages, enabling you to engage with communities who share an interest in coloring, art, and creativity. Beyond just categorizing your posts, hashtags can be a fun and effective way to express enthusiasm, drive participation, and create a buzz around your Coloring Day activities.
#NationalColoringDay
#ColoringForAll
#ColorTherapy
#ColorMyWorld
#ColoringChallenge
#ColoringCommunity
#ColoringBook
#ArtisticExpression
#LiveColorfully
#ColorfulCreativity
Remember, the goal of using these hashtags is to foster interaction, celebrate diversity in creativity, and to extend the joy of coloring. So go ahead, #ColorYourWorld, and ignite the spectrum of #ColorfulCreativity this National Coloring Day!
For the complete list of holidays to celebrate on social media in September, visit AngieGensler.com/September-Holidays
Gift Ideas for National Coloring Day
National Coloring Day is a celebration of creativity, expression, and the simple joy that comes from making art. One of the best ways to commemorate this occasion is by gifting that special someone a unique, coloring-related present. Let's explore some fantastic gift options that can add more color to National Coloring Day and make it a memorable event.
Deluxe Coloring Book Set: For the avid colorist, a deluxe coloring book set that includes multiple themed books filled with intricate designs can be an excellent gift. These sets often include a variety of themes such as wildlife, mandalas, or mystical creatures.
High-Quality Colored Pencils: A set of high-quality colored pencils can make a world of difference for those who take their coloring seriously. Brands like Faber-Castell or Prismacolor offer sets with a wide palette of colors and are renowned for their smooth application and blending capabilities.
Coloring Book Subscription: For those who love to constantly engage with new designs, a coloring book subscription service can be a fantastic gift. These services deliver new coloring books or pages to the recipient's door on a regular basis.
Personalized Coloring Book: A personalized coloring book can be a unique and thoughtful gift. You can either commission an artist to create a book based on the recipient's interests or use various online services that can create a book from personal photos.
Ergonomic Coloring Tools: A set of ergonomic coloring tools, like pens or pencils equipped with soft grips, can be a thoughtful gift. These tools can provide more comfort during long coloring sessions and can be especially appreciated by colorists who suffer from issues like arthritis or carpal tunnel syndrome.
These gifts, ranging from deluxe coloring sets to personalized books and ergonomic tools, offer something for everyone, whether they're just beginning their coloring journey or have already mastered the art.
Other Holidays Related to National Coloring Day
While National Coloring Day is a unique celebration that brings color and creativity to the forefront, it's not the only day dedicated to artistic expression and the joy of colors. Various other holidays and observances resonate with the same theme, offering opportunities to celebrate art, creativity, and color in distinct ways.
International Artist Day: This day honors artists and their contributions to culture and society. Like National Coloring Day, it's a celebration of creativity and artistic expression.
World Art Day: Celebrated on Leonardo da Vinci's birthday, World Art Day is a global tribute to the fine arts and promotes awareness of creative activity worldwide.
Inspire Your Heart With Art Day: This day encourages people to explore and appreciate various forms of art – much like the appreciation inspired by coloring.
National Doodle Day: A fun-filled day where doodling in the margins is encouraged to help raise funds for epilepsy research. A great day for those who love to express themselves through art.
National Drawing Day: This day is dedicated to the artist in everyone, encouraging people to get out their pencils and express themselves through drawing.
Color The World Orange Day: Although this day is primarily to support Complex Regional Pain Syndrome (CRPS) Awareness, its focus on coloring the world offers an artistic spin that might appeal to coloring enthusiasts.
Remember, each of these holidays offers an opportunity to celebrate the joy of colors, creativity, and artistic expression, aligning seamlessly with the spirit of National Coloring Day.
Embracing these holidays can offer a wonderful chance to explore different forms of art and creativity, encouraging you to express yourself in new and exciting ways. Just as National Coloring Day emphasizes the joy of coloring, these celebrations remind us about the universal appeal that art holds and the sense of fulfillment that comes from creating something uniquely ours.
For more holidays, download our free calendar with over 1,000 fun and unique holidays to celebrate this year. Head to angiegensler.com/holiday-calendar to grab your free copy!
Future Dates for National Coloring Day
| Year | Date | Day |
| --- | --- | --- |
| 2023 | September 14 | Thursday |
| 2024 | September 14 | Saturday |
| 2025 | September 14 | Sunday |
| 2026 | September 14 | Monday |
| 2027 | September 14 | Tuesday |
| 2028 | September 14 | Thursday |
| 2029 | September 14 | Friday |
Interviews with Professional Artists: Incorporating expert insights and experiences can add depth to the article. It could include their thoughts on coloring, its therapeutic effects, and their personal coloring techniques.
Coloring Tips and Techniques: This section can provide readers with advice on how to improve their coloring skills or introduce them to new techniques.
Must-Have Coloring Supplies: A list of recommended coloring supplies can be useful for beginners and pro colorists alike looking to upgrade their toolkits.
Health Benefits of Coloring: Addressing the therapeutic and mindfulness aspects of coloring could provide a new perspective for the readers.
Step-by-Step Coloring Project: A detailed tutorial on a specific coloring project, guiding the readers from the blank page to a finished masterpiece.
Reader's Coloring Gallery: This can be a showcase of artwork submitted by readers, providing a platform for them to share their creativity.
Color Theory Crash Course: A brief section on color theory can help readers understand how different colors interact, the impact of color on mood, and how to choose color palettes for their projects.
Featured Coloring Apps: A rundown of some of the best coloring apps available for those who prefer digital coloring.
Conclusion
As a business owner, recognizing and celebrating National Coloring Day presents an opportunity not just to embrace creativity and color within your organization but also to connect with your customers on a more personal level. Whether you choose to host a coloring contest, offer special discounts on coloring materials, or simply share your team's coloring creations on social media, participating in this vibrant celebration can enhance your brand's image and foster stronger relationships with your customers.
Celebrate this special day with us, and don't forget to download our free holiday calendar for more fun and unique holidays to celebrate this year!