Uncle Sam Day is celebrated annually on the 13th of September. Business owners and marketers can harness the patriotic spirit of Uncle Sam Dayas a unique opportunity to promote their goods and services. This article provides creative ideas for celebrating this special day, such as collaborating with local American-themed eateries or initiating special discounts and promotions. You will also discover effective social media posts and hashtags to enhance your marketing strategies on this day. By leveraging these valuable tips, businesses can fully participate in Uncle Sam Day and extend their reach to a broader customer base.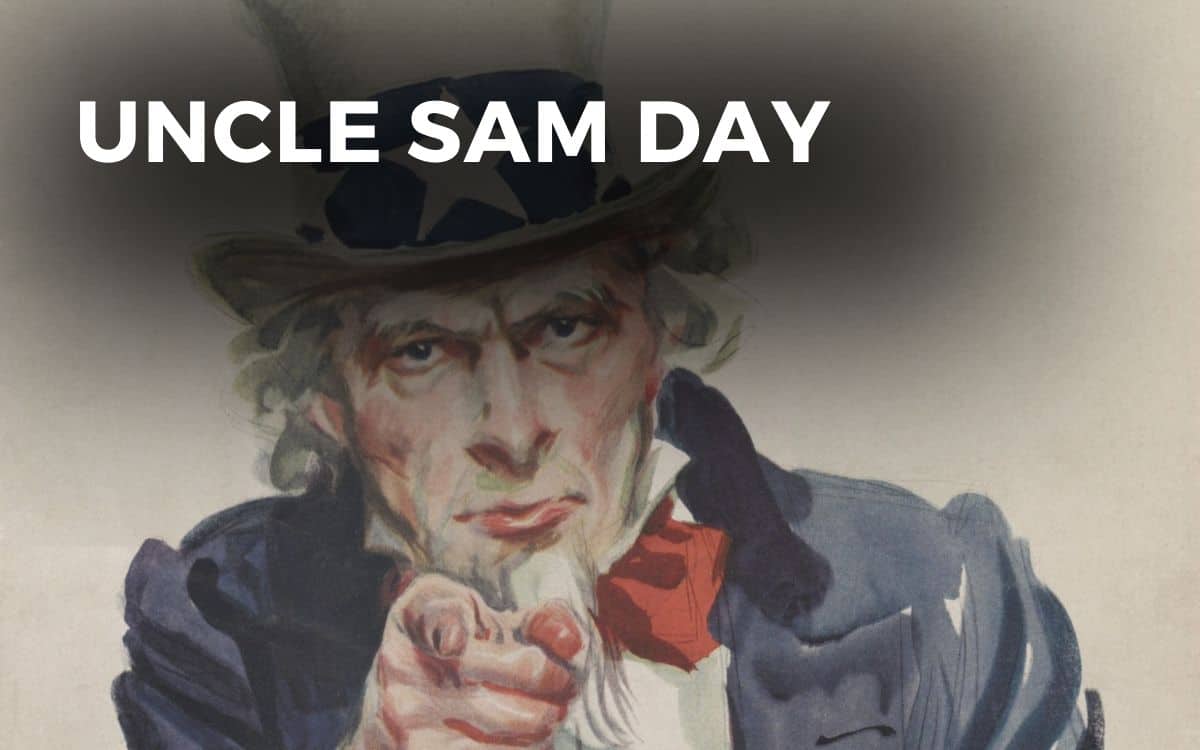 Table of Contents
*Disclosure: This post contains affiliate links. If you make a purchase using one of these links I may receive a small commission. Please know that I only recommend products I have used and that I sincerely think will help your business.
When is Uncle Sam Day?
Uncle Sam Day is celebrated every year on September 13th in the United States. The day is dedicated to the iconic figure of Uncle Sam, a symbol of American patriotism and government. The date was chosen in honor of Samuel Wilson, widely considered the original Uncle Sam, whose birthday falls on September 13th.
History of Uncle Sam Day
The history of Uncle Sam Day can be traced back to the War of 1812. Samuel Wilson, a meat packer from Troy, New York, supplied barrels of beef to the United States Army. These barrels were marked with U.S., standing for United States, but soldiers began to refer to the grub as "Uncle Sam's." Local newspapers picked up on the story and Uncle Sam eventually gained widespread acceptance as the nickname for the U.S. federal government. In the late 1960s, Congress issued a resolution recognizing "Uncle Sam Wilson" of Troy, New York, as the progenitor of America's national symbol, Uncle Sam. Eventually, September 13, Samuel Wilson's birthday, was officially designated as Uncle Sam Day.
How to Celebrate Uncle Sam Day
There are countless ways to celebrate Uncle Sam Day. From unique marketing strategies to personal ways of commemorating the day, these ideas will help you honor Uncle Sam Day in a way that aligns with your specific needs and preferences.
Dress Patriotically: Wear red, white, and blue or even put on a top hat like Uncle Sam's. This is a fun and simple way to participate in the day.
Decorate Your Home: Get into the spirit by decorating your home with American flags or images of Uncle Sam.
Cook a Traditional American Meal: Prepare a classic American dish for dinner. This could be anything from a juicy burger to apple pie.
Visit a Historical Site: Plan a visit to a nearby historical site or museum to learn more about American history.
Watch a Documentary: Choose an educational documentary about U.S. history or government and gain a deeper understanding of Uncle Sam's origins.
Volunteer or Donate: Honor the philanthropic spirit of Uncle Sam by volunteering your time to a local charity or making a donation.
Share on Social Media: Post a patriotic picture or message on your social media profiles to share your Uncle Sam Day celebration with friends and family. Don't forget to use the hashtag #UncleSamDay.
Ideas for Businesses to Celebrate Uncle Sam Day
Patriotic Sales: Offer special discounts on products that are red, white, and blue, or on American-made goods.
Uncle Sam Mascot: Hire a local actor or employee to dress up as Uncle Sam and attract customers to your store.
Social Media Contests: Run a contest on your social platforms where followers can share their best Uncle Sam impersonations or their own unique ways of celebrating.
Patriotic Displays: Decorate your store with American flags and Uncle Sam posters.
Special Edition Products: Release limited-edition products or services themed around Uncle Sam Day.
Charitable Donations: Pledge a portion of the day's profits to a charity that supports veterans or another patriotic cause.
Themed Menu: If you're in the restaurant business, consider creating a special Uncle Sam Day menu with classic American fare.
Community Events: Sponsor or participate in community events that celebrate Uncle Sam Day, such as parades or festivals.
Customer Appreciation: Send out an email blast or social media post thanking customers for their support and offering a one-day discount in honor of Uncle Sam Day.
Educational Outreach: Share facts about the history of Uncle Sam and the importance of this day with your audience, positioning your business as one that values education and history.
No matter how you choose to celebrate Uncle Sam Day, the most important thing is to embrace the spirit of American patriotism and unity that the day symbolizes.
Social Media Post Ideas for Uncle Sam Day
In today's digital age, social media is a powerful tool to celebrate and spread awareness about significant occasions such as Uncle Sam Day. Here are some creative social media post ideas you can use to honor Uncle Sam Day.
Photo Contest: Encourage followers to post pictures of their Uncle Sam Day decorations or outfits using a specific hashtag, promising a prize for the best submission.
Historical Facts: Post interesting facts about the history of Uncle Sam and Uncle Sam Day to educate your followers and raise awareness about the significance of the day.
Product/Service Promotion: Showcase your red, white, and blue products, or Uncle Sam-themed items, with a special discount code for Uncle Sam Day.
Patriotic Quotes: Share inspiring quotes about patriotism and American history, paired with eye-catching images of Uncle Sam or the American flag.
Employee Features: Share pictures of your team dressed up in patriotic colors or participating in Uncle Sam Day activities to humanize your business and engage your audience.
Behind the Scenes: Give your followers a glimpse of your Uncle Sam Day office decorations or preparations for the day.
Charitable Giving: Announce a special one-day campaign where a portion of all sales are donated to a patriotic cause, and encourage followers to participate.
Customer Stories: Invite customers to share their own stories or traditions related to Uncle Sam Day, and repost the best ones.
Throwback Posts: Share pictures or stories from your business's previous Uncle Sam Day celebrations.
Countdown Posts: In the days leading up to Uncle Sam Day, post countdown images or messages to build anticipation for any sales or events you're planning.
Whether you're educating your audience with historical facts, showcasing your team's spirit, or encouraging participation through contests and promotions, each post contributes to the collective celebration of this iconic American day.
Want to create social media content 10X faster? Start your Free 7-day trial of the Social Media Content Club and say goodbye to social media stress!
Hashtags to Use During Uncle Sam Day
Utilizing hashtags in your social media posts is an effective strategy to increase visibility, engagement, and reach, especially during a significant event like Uncle Sam Day. Hashtags serve as a digital tool, connecting your content to a larger conversation happening online. By incorporating the right hashtags, you can amplify your posts, make them easily discoverable, and participate in wider discussions related to Uncle Sam Day.
Here are some effective hashtags to use on social media for Uncle Sam Day:
#UncleSamDay
#Patriotism
#AmericanHistory
#RedWhiteAndBlue
#StarsAndStripes
#USAcelebrates
#UncleSam
#SamuelWilson
#AmericanPride
#UnityAndPatriotism
#LandOfTheFree
#HomeOfTheBrave
#LoveForCountry.
As you gear up to celebrate Uncle Sam Day, incorporating these hashtags into your social media posts can significantly increase your content's reach and engagement.
For the complete list of holidays to celebrate on social media in September, visit AngieGensler.com/September-Holidays
Gift Ideas for Uncle Sam Day
Celebrating Uncle Sam Day can be made even more special by giving a thoughtful, patriotic gift to friends, family, or loved ones.Here are some fantastic gift ideas for Uncle Sam Day:
Patriotic Apparel: T-shirts, caps, or scarves adorned with the Stars and Stripes, or images of Uncle Sam can be a fantastic way for the recipient to wear their patriotism on their sleeve.
Historical Books: A well-researched book about American history, the symbolism of Uncle Sam, or the story of Samuel Wilson can offer an engaging and educational reading experience.
Uncle Sam Figurines: A tastefully crafted figurine of Uncle Sam can be a great addition to a collector's shelf or a patriotic home decor accent.
American Flag Merchandise: Items like American flag lapel pins, posters, or even a high-quality American flag itself can serve as a reminder of national pride and unity.
Patriotic Artwork: A framed picture or poster featuring patriotic symbols or scenes can be a thoughtful gift, adding a touch of American spirit to any room.
These gift ideas for Uncle Sam Day aim to bring unity, evoke national pride, and pay homage to our historical icons.
Other Holidays Related to Uncle Sam Day
Uncle Sam Day is a unique celebration of American history and patriotism. However, it's not the only occasion where we express our national pride and pay tribute to the rich tapestry of our country's heritage. Let's explore some of these related holidays that further embody this spirit of national pride and unity.
Independence Day: This federal holiday commemorates the Declaration of Independence of the United States on July 4, 1776. It's a day for Americans to celebrate their freedom and patriotism with fireworks, parades, and barbecues.
Flag Day: Commemorating the adoption of the flag of the United States on June 14, 1777, Flag Day is a time to honor the Stars and Stripes, often through flag-raising ceremonies and educational events.
Constitution Day: Celebrated on the anniversary of the signing of the U.S. Constitution in 1787, Constitution Day is an opportunity for citizens to reflect on the country's foundational document and its impact on our lives.
Veterans Day: A federal holiday paying tribute to all American veterans, living or deceased, Veterans Day is a time to thank those who have served in the U.S. military.
Memorial Day: A solemn occasion to remember those who have died in military service to the United States, Memorial Day also marks the unofficial start of summer.
Presidents Day: Celebrating all U.S. presidents, particularly George Washington and Abraham Lincoln, Presidents Day is often marked by public ceremonies and educational programs.
Patriot Day: A day of remembrance for the tragic events of September 11, 2001, Patriot Day sees many Americans observing a moment of silence at 8:46 AM (Eastern Daylight Time), when the first plane struck the North Tower of the World Trade Center.
Armed Forces Day: A day to pay tribute to men and women who currently serve in the U.S. armed forces, Armed Forces Day is typically marked by parades and air shows.
Like Uncle Sam Day, these holidays serve as important touchstones in our collective national spirit, reminding us of our shared legacy and the enduring strength of our national identity.

For more holidays, download our free calendar with over 1,000 fun and unique holidays to celebrate this year. Head to angiegensler.com/holiday-calendar to grab your free copy!
Future Dates for Uncle Sam Day
| Date | Year | Day |
| --- | --- | --- |
| September 13 | 2023 | Wednesday |
| September 13 | 2024 | Friday |
| September 13 | 2025 | Saturday |
| September 13 | 2026 | Sunday |
| September 13 | 2027 | Monday |
| September 13 | 2028 | Wednesday |
| September 13 | 2029 | Thursday |
Historical Context of Uncle Sam: Detail the history of Uncle Sam, including the significance of Samuel Wilson and how his image became synonymous with America.
How to Celebrate Uncle Sam Day: Offer a list of engaging activities that people can participate in to celebrate Uncle Sam Day, such as community parades, educational events, or patriotic crafts.
Famous Uncle Sam Portrayals: Highlight some of the most iconic portrayals of Uncle Sam in pop culture, including advertisements, movies, and television.
Uncle Sam Day Around the World: Discuss how Uncle Sam is recognized in other countries and how perceptions of this American symbol differ globally.
Quotes About Patriotism: Share inspiring quotes regarding patriotism and national pride to inspire readers on Uncle Sam Day.
DIY Uncle Sam Crafts: Provide instructions for DIY projects related to Uncle Sam, such as making your own Uncle Sam hat or designing a patriotic poster.
Recipes for Uncle Sam Day: Suggest some red, white, and blue-themed dishes or classic American recipes that readers can prepare to celebrate the day.
Famous Uncle Sam Posters and their History: Explore the origin and impact of famous Uncle Sam recruitment posters, particularly the "I Want You" poster from World War I.
Conclusion
As a business owner, integrating significant holidays like Uncle Sam Day into your calendar can offer valuable opportunities for engagement, unity, and brand promotion. By organizing themed events, offering promotional sales, or simply sharing patriotic messages, you can foster a sense of community among your employees and customers. Use these occasions as a chance to show your company's commitment to the values that make our nation great – unity, freedom, and mutual respect.
Celebrate this special day with us, and don't forget to Download our free holiday calendar for more fun and unique holidays to celebrate this year!