Labor Day is typically observed on the first Monday of September. Business owners and marketers looking to celebrate Labor Day can leverage this significant holiday as an opportunity to promote their products and services.
In this article, you'll discover creative ideas to commemorate the day, such as collaborating with local businesses for events or offering exclusive promotions and discounts.
You'll also learn about effective social media strategies and hashtags to maximize your marketing endeavors on this occasion. With these valuable insights, businesses can effectively engage with their audience and tap into the wide-reaching impact of Labor Day.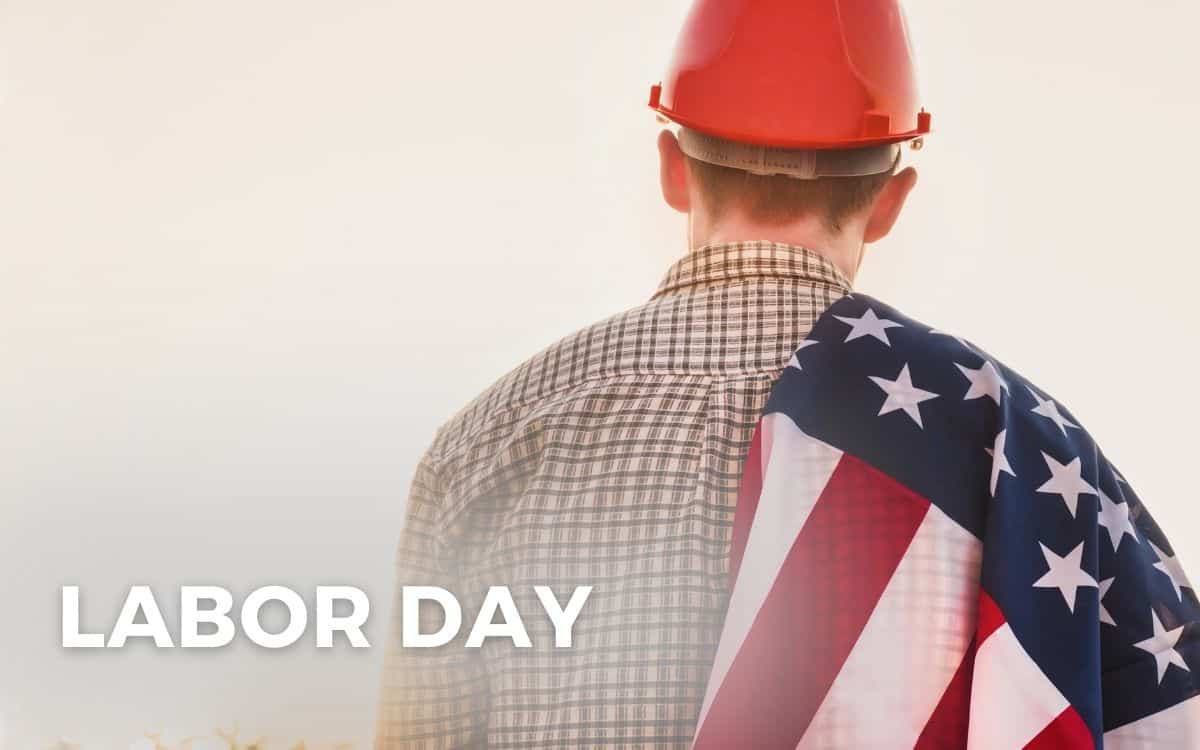 <strong>Table of Contents</strong>
*Disclosure: This post contains affiliate links. If you make a purchase using one of these links I may receive a small commission. Please know that I only recommend products I have used and that I sincerely think will help your business.
When is Labor Day?
Labor Day is typically observed on the first Monday of September. It is a national holiday in many countries, including the United States and Canada, dedicated to honoring the contributions and achievements of workers and the labor movement.
The origins of Labor Day can be traced back to the late 19th century when labor unions advocated for better working conditions and fair wages. Today, Labor Day is often celebrated with parades, picnics, and various recreational activities, giving people a well-deserved break to enjoy the end of summer before the start of the fall season.
History of Labor Day
Labor Day has its roots in the labor union movement of the late 19th century. The idea of a day to celebrate and honor workers gained momentum during the labor movement's push for better working conditions and fair wages. On September 5, 1882, the first Labor Day was celebrated in New York City, organized by the Central Labor Union.
It became an annual event in various states, and in 1894, President Grover Cleveland signed a bill making Labor Day a national holiday. Over the years, the holiday evolved to include parades, picnics, and festivities, while its core purpose remained to recognize the significant contributions of the labor force.
How to Celebrate Labor Day
As Labor Day approaches, both individuals and businesses have a wonderful opportunity to celebrate and honor the contributions of workers across the nation. This special holiday, observed on the first Monday of September, presents a chance to unwind, reflect, and engage in various enjoyable activities.
Whether you're an individual looking to make the most of your day off or a business seeking creative ways to show appreciation to your workforce and customers, this section provides a diverse range of ideas to help you make Labor Day truly memorable.
Ideas for how individuals can celebrate Labor Day:
Host a backyard barbecue or picnic with family and friends to savor the last days of summer.
Explore the outdoors by going on a hiking or camping trip to enjoy nature's beauty.
Attend a local Labor Day parade to show support for the labor movement and connect with the community.
Organize a sports tournament or friendly games in the park for some active fun.
Take advantage of Labor Day sales and discounts to do some shopping.
Volunteer for a charitable organization or participate in a community service project to give back to society.
Watch a classic Labor Day-themed movie or documentary to learn more about the history and significance of the holiday.
Relax and recharge at home with a day of self-care, reading, or pursuing hobbies.
Ideas for how businesses can celebrate Labor Day:
Host an appreciation event for employees, such as a company picnic, team-building activity, or awards ceremony.
Offer special Labor Day discounts or promotions to attract customers and boost sales.
Collaborate with local businesses to organize joint events or co-sponsored initiatives that benefit the community.
Create engaging social media campaigns using Labor Day-themed content and hashtags to connect with customers.
Decorate your storefront or office space with Labor Day-themed decorations and displays to create a festive atmosphere.
Support a labor-related charity or cause by initiating a fundraising campaign or donation drive.
Provide a bonus or extra time off as a token of gratitude for your hardworking staff.
Launch a Labor Day-themed product or service that aligns with the holiday's spirit of appreciation for workers.
Labor Day is more than just a day off; it is a meaningful occasion to acknowledge the labor movement's legacy and recognize the invaluable contributions of workers in shaping our society and economy.
Whether you choose to celebrate with family and friends, engage in community activities, or appreciate your employees and customers, there are numerous ways to make this Labor Day memorable.
By fostering a sense of gratitude and camaraderie, both individuals and businesses can contribute to the collective spirit of honoring workers and their impact on our lives. Embrace the spirit of Labor Day, and make this year's celebration a memorable and meaningful one.
Social Media Post Ideas for Labor Day
In today's digital era, celebrating Labor Day goes beyond traditional activities. Social media has become a powerful platform for individuals and businesses to commemorate this significant holiday.
For businesses, especially, it's an excellent opportunity to engage with your audience, showcase your brand values, and even boost your sales. Whether it's a promotional post, an employee spotlight, or a message of gratitude, creative and thoughtful social media content can help you connect with your audience on a deeper level.
Here are some compelling social media post ideas to help businesses commemorate Labor Day.
List of social media post ideas for businesses to use for Labor Day:
Share a post acknowledging the contributions of your employees and the wider workforce.
Run a Labor Day promotion or discount and advertise it on your social media channels.
Showcase behind-the-scenes glimpses of your Labor Day office celebrations or employee appreciation events.
Share historical facts about Labor Day to educate your followers about the holiday's significance.
Launch a Labor Day-themed contest or giveaway to engage your audience.
Create and share Labor Day-themed graphics or visuals related to your industry or business.
Post a quote related to hard work, dedication, or teamwork in honor of Labor Day.
Share a short video message from the CEO or leadership team expressing gratitude to employees and customers.
Highlight your business's commitment to fair labor practices and employee wellbeing.
Use relevant hashtags like #LaborDay, #Hardwork, #EmployeeAppreciation, etc., to increase the reach of your posts.
Making the most of Labor Day on social media requires creativity, authenticity, and an understanding of your audience's interests.
The ideas listed above can serve as inspiration for businesses to create meaningful content that resonates with their audience.
By acknowledging the contributions of the workforce, showcasing your brand's values, and engaging with your online community, you can build stronger connections and deepen customer loyalty.
Remember, the goal of your Labor Day social media posts should not just be about promotion, but also about celebrating the spirit of hard work, dedication, and teamwork that the holiday represents.
Want to create social media content 10X faster? Start your free 7-day trial of the Social Media Content Club and say goodbye to social media stress!
Hashtags to Use During Labor Day
When it comes to commemorating important occasions like Labor Day, using relevant and strategic hashtags can significantly enhance your social media presence and engage your target audience.
In this section, we present a curated list of hashtags for businesses and individuals to employ during Labor Day to ensure their posts make a meaningful impact.
List of hashtags to use on social media for Labor Day:
#LaborDay
#LaborDay2023
#WorkersDay
#EmployeeAppreciation
#HardWorkPays
#ThankYouWorkers
#CelebrateLaborDay
#LaborDayWeekend
#WorkforceAppreciation
#LaborDayParade
#LaborDaySales
#LaborDayDeals
#LaborDayOffers
#LaborDayCelebration
#LaborDayGratitude
#LaborDayFun
#LaborDayPicnic
#LaborDayBBQ
#LaborDayFestivities
#LaborDayMemories
As you gear up to celebrate Labor Day on social media, incorporating the right hashtags into your posts can significantly enhance your online presence and engagement.
The carefully curated list above offers a mix of popular and niche hashtags, ensuring that your content reaches a wider audience and aligns with the spirit of the holiday.
Remember to keep your messages authentic, share meaningful content, and engage with your followers to foster a sense of community and appreciation during this significant occasion.
By leveraging these hashtags thoughtfully, businesses and individuals can join the online conversation, pay tribute to the workforce, and make a lasting impact on their audiences.
For the complete list of holidays to celebrate on social media in September, visit AngieGensler.com/September-Holidays
Gift Ideas for Labor Day
Labor Day is a wonderful opportunity to show appreciation and gratitude to the hardworking individuals in our lives. Whether it's your dedicated employees, colleagues, friends, or family members, finding the perfect gift can be a meaningful way to honor their efforts and contributions.
In this section, we present a curated selection of amazing gift ideas for Labor Day that are sure to bring a smile to the faces of those you wish to celebrate. From thoughtful tokens of appreciation to practical gifts for relaxation and leisure, these ideas will help you express your recognition and admiration on this special holiday.
List of 5 gift ideas for Labor Day:
Personalized Appreciation Gifts: Engrave their name or a heartfelt message on items like custom-made pens, mugs, or notebooks to show your gratitude uniquely.
Spa or Wellness Packages: Treat your hardworking recipients to a day of relaxation and pampering with spa gift certificates or wellness retreat packages.
Outdoor Adventure Gear: For nature lovers, consider gifting camping equipment, hiking gear, or a picnic basket to encourage exploration and leisure.
Gourmet Gift Baskets: Put together a delectable assortment of gourmet treats, chocolates, or a selection of their favorite snacks to indulge in during the long weekend.
Books or Inspirational Journals: Choose books on personal growth, success stories, or inspirational journals to inspire and motivate them on their journey.
As Labor Day approaches, these amazing gift ideas offer a perfect opportunity to express appreciation and admiration for the dedicated individuals who contribute to our communities and workplaces.
Whether you opt for personalized tokens, wellness experiences, outdoor adventures, gourmet delights, or inspirational reading, the thought and effort put into selecting these gifts will undoubtedly leave a lasting impact.
Other Holidays Related to Labor Day
Labor Day, with its focus on celebrating the contributions of workers and the labor movement, is just one of several holidays around the world that pay homage to labor and workers' rights. These holidays serve as reminders of the significant social and economic impact of labor movements throughout history.
In this section, we explore other holidays related to Labor Day from various countries and cultures, each with its unique traditions and historical significance.
List of other holidays related to Labor Day:
International Workers' Day (May Day): Celebrated on May 1st in many countries, this holiday honors the labor movement and workers' rights with parades, demonstrations, and various cultural events.
Labour Day (United Kingdom): Observed on the first Monday of May, Labour Day in the UK celebrates the contributions of workers and also marks the beginning of spring festivities.
International Workers' Day of Solidarity and Struggle (Argentina): Recognized on May 1st, this day emphasizes workers' unity and their ongoing struggle for fair labor practices.
International Workers' Day (Germany): Similar to May Day, Germany celebrates labor rights and the achievements of the labor movement with demonstrations and festivities.
Labour Day (Australia and New Zealand): Celebrated on the first Monday of October, this holiday honors the contributions of workers and also marks the arrival of spring in the Southern Hemisphere.
While Labor Day holds particular significance in the United States and Canada, it is just one of many holidays celebrated worldwide that honor labor and workers' rights.
These holidays, such as International Workers' Day, Labour Day in various countries, and Days of Solidarity and Struggle, symbolize the international nature of labor movements and their shared pursuit of fair working conditions and workers' welfare.
By recognizing these diverse holidays, we pay tribute to the workers who have shaped societies and economies across the globe, highlighting the ongoing importance of labor rights and the pursuit of social justice for all workers.
For more holidays, download our free calendar with over 1,000 fun and unique holidays to celebrate this year. Head to angiegensler.com/holiday-calendar to grab your free copy!
Future Dates for Labor Day
| Year | Date | Day |
| --- | --- | --- |
| 2023 | September 4 | Monday |
| 2024 | September 2 | Monday |
| 2025 | September 1 | Monday |
| 2026 | September 7 | Monday |
| 2027 | September 6 | Monday |
| 2028 | September 5 | Tuesday |
| 2029 | September 4 | Tuesday |
List of ideas to celebrate Labor Day:
Backyard BBQ: Host a traditional Labor Day BBQ with family and friends. Grill burgers, hot dogs, and enjoy refreshing drinks in the company of loved ones.
Picnic in the Park: Plan a picnic in a local park or scenic outdoor area. Pack a basket with delicious snacks and enjoy games and activities under the open sky.
Beach Day: If you live near a beach, spend the day relaxing in the sun, playing beach games, and taking a dip in the water.
Hiking Adventure: Explore nature by going on a hiking or nature walk. Find a nearby trail and enjoy the great outdoors.
Movie Marathon: Have a movie marathon with Labor Day-themed films or movies that celebrate hardworking individuals and their achievements.
Volunteer Work: Give back to the community by participating in a volunteer project or helping a local charity. Labor Day is an excellent opportunity to celebrate labor by assisting others.
Conclusion
As Labor Day approaches, it is essential for business owners to take a moment to not only acknowledge the hard work and dedication of their employees but also to celebrate their achievements.
This holiday is a perfect opportunity for business leaders to express gratitude and appreciation to their workforce, who are the backbone of their companies. Whether it's organizing a company-wide BBQ, hosting a team-building event, or offering a well-deserved day off, celebrating Labor Day allows business owners to foster a positive work culture and strengthen the bond between employers and employees.
By recognizing the efforts of their team, business owners can boost morale, enhance loyalty, and create a more productive and harmonious work environment.
As we commemorate this holiday, let us remember that the success of any enterprise is built on the hard work of its labor force, and celebrating Labor Day is not only a gesture of thanks but also a reminder of the value and importance of each individual's contributions to the success of the business.
Celebrate this special day with us, and don't forget to download our free holiday calendar for more fun and unique holidays to celebrate this year!