Are you ready to celebrate National Jelly Bean Day? It's the one day a year when all of us can come together and appreciate the classic treat. But what is it about jelly beans that make them so special, and how do we properly observe this holiday?
From fun facts about these little treats to creative ways to celebrate National Jelly Bean Day, let's explore why jelly beans are such an important part of our culture. Whether you're looking for gift ideas or just want some interesting conversation starters, there are plenty of things to learn when it comes time for National Jelly Bean Day.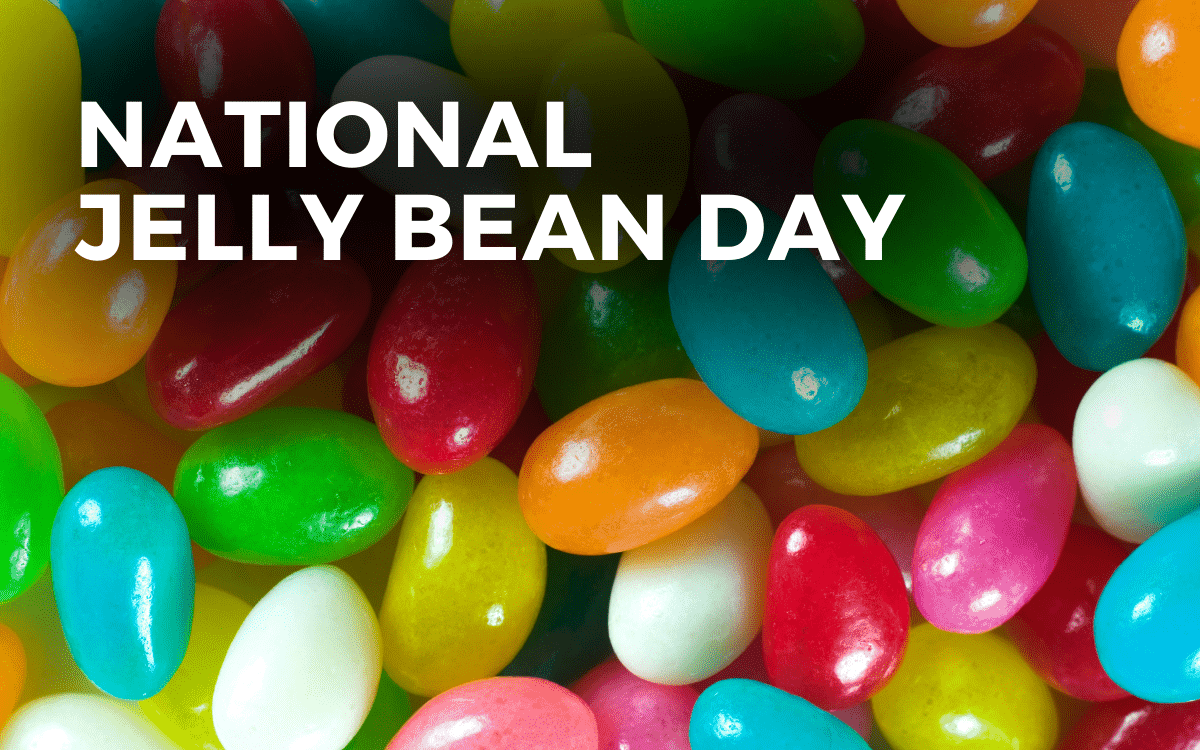 National Jelly Bean Day
When is National Jelly Bean Day
National Jelly Bean Day is celebrated annually on April 22nd.
History of National Jelly Bean Day
The holiday was created in 1961 by candy maker and jelly bean enthusiast William Schrafft. He wanted to honor the unique flavor and texture of his favorite treat with a special day dedicated to it.
Hashtags for National Jelly Bean Day
When creating social media posts about National Jelly Bean day, start by creating content that celebrates the day, such as an image of jelly beans with a caption about how much you love them or why they are special. You can also create polls asking people which flavor is their favorite or post fun facts about jelly beans.
Encourage followers to share their own stories and experiences related to jelly beans in the comments section. Finally, don't forget to use relevant hashtags so more people can find your posts. Use hashtags such as:
#nationaljellybeanday
#jellybeans
#candy
#jellybelly
By using these hashtags in your posts, you'll increase the exposure and reach of your content.
For the complete list of holidays to celebrate on social media in April, visit angiegensler.com/april-holidays
Other Holidays Related to National Jelly Bean Day
National Jelly Bean Day isn't the only holiday related to jelly beans! There are numerous occasions throughout the year to celebrate your favorite Candy. Mark your calendar for these other delicious holidays!
National Candy Month: National Candy Month is a month-long celebration of all things sugary and sweet! It's the perfect time to indulge in your favorite treats, experiment with new recipes, or even start a candy-themed business. National Candy Month is celebrated every year during the month of June and gives us an excuse to satisfy our cravings for something sweet. From classic favorites like chocolate bars and gummy bears to more unique creations like bacon-flavored jelly beans, National Candy Month has something for everyone. So grab a handful of your favorite candies and get ready to celebrate National Candy Month!
National Chocolate Covered Anything Day: National Chocolate Covered Anything Day is an annual event celebrated on December 16th that pays homage to our love of all things covered in chocolate. This day encourages people to try their hand at creating unique and delicious treats, such as chocolate-covered strawberries, pretzels, or even bacon! National Chocolate Covered Anything Day is the perfect excuse to indulge in some of your favorite chocolate-covered goodies and get creative with new recipes. So pick up some chocolate and start experimenting!
National Gummi Worms Day: National Gummi Worms Day is celebrated annually on July 15th and is an occasion to honor everyone's favorite gummy treat. National Gummi Worms Day started in the 1980s when a Chicago-based candy company recognized the popularity of the chewy, colorful worms and decided to start a special day to commemorate them. National Gummi Worms Day encourages us all to show our love for the iconic confection by eating as many gummi worms as we can. So go ahead and indulge in this classic candy, National Gummi Worms Day only comes once a year!
National Candy Corn Day: National Candy Corn Day is celebrated annually on October 30th and is the perfect day to indulge in this classic Halloween treat. The iconic candy dates back to the 1880s when it was first created by George Renninger of the Wunderlee Candy Company. National Candy Corn Day is the perfect time to enjoy a handful of this sweet treat or get creative in the kitchen with all kinds of candy corn-inspired recipes. So stock up on your favorite confections and get ready to celebrate National Candy Corn Day!
For more holidays, download our free calendar with over 1,000 fun and unique holidays to celebrate this year. Head to angiegensler.com/holiday-calendar to grab your free copy!
Creative Ways to Celebrate National Jelly Bean Day
Decorating Ideas with Jelly Beans:
Whether you're throwing a party or just want to get creative, decorating with jelly beans is the perfect way to celebrate National Jelly Bean Day. You can use them to make colorful centerpieces, hang garlands of jelly beans from the ceiling, or even create art pieces on canvas. For an extra special touch, try making your own edible decorations by pressing jelly beans into shapes and patterns in melted chocolate.
Crafts with Jelly Beans
There are so many fun crafts and activities that involve jelly beans. Get creative by using them as building blocks for sculptures or mosaics; you can also have a contest to see who can build the tallest tower out of jelly beans. If you're feeling crafty, why not make jewelry out of jelly beans? You could string together necklaces and bracelets using different colors of candy beads.
Games with Jelly Beans
What better way to celebrate National Jelly Bean Day than playing games involving everyone's favorite candy? Try having a blindfolded taste test challenge where participants have to guess which flavor they're eating without looking at it first – the person who guesses correctly wins. Or, if you prefer something more active, organize a relay race where teams must pass bags filled with different colored jellybeans down a line until they reach the finish line first.
By getting creative with jelly beans, you can make National Jelly Bean Day a fun and memorable celebration for everyone. Now let's explore some gift ideas to make the day even more special.
Gift Ideas for National Jelly Bean Day
DIY Gifts with Jelly Beans
Making your own gifts for National Jelly Bean Day is a great way to show someone you care. With a few simple ingredients, you can make creative and unique jelly bean-themed gifts that are sure to be appreciated. Try making homemade candy bouquets by arranging colorful jelly beans in vases or mason jars. You can also use jelly beans as decorations on cakes or cupcakes or even create custom cookies with them. If you're feeling extra crafty, try using jelly beans to decorate picture frames or other small items like jewelry boxes.
Pre-made Gifts with Jelly Beans
If DIY isn't your thing, there are plenty of pre-made gifts featuring jelly beans available online and in stores. Look for special edition packages of popular brands like Jelly Belly and Brach's that feature fun flavors such as cotton candy and root beer float. For the chocolate lover in your life, check out chocolate bars filled with delicious gourmet jelly beans from companies like Chocoley Candy Co., which offers an array of flavors, including blueberry cheesecake and strawberry shortcake. And don't forget about gift baskets – many companies offer pre-made ones filled with all sorts of goodies such as gummy bears, licorice twists, lollipops, chocolates…and yes – lots of yummy jelly beans.
National Jelly Bean Day is a great opportunity to celebrate the delicious treat and learn more about its origins. With that in mind, let's take a look at what jelly beans are all about.
What is a Jelly Bean?
Jelly beans are a popular candy that has been around for centuries. The origin of the jelly bean is not known for certain, but it is believed to have originated in the United States sometime during the 19th century. Jelly beans were initially made with real fruit juice and sugar, but today they are usually made with corn syrup and artificial flavors or colors.
There are many different types of jelly beans available on the market today. Some popular varieties include sour jelly beans, chocolate-covered jelly beans, gourmet flavored jelly beans, and even sugar-free versions. Popular brands of jellybeans include Jelly Belly®, Albanese®, Ferrara®, Starburst® Gummies, Haribo® Gold Bears, and Brach's® Classic Jelly Beans.
Jellybeans come in a variety of shapes and sizes, including traditional round shapes as well as heart-shaped ones for Valentine's Day or Easter eggs for Easter celebrations. They also come in an array of colors, which makes them perfect for decorating cakes, cupcakes, cookies, and other desserts. There are even glow-in-the-dark versions available.
Fun Facts About Jelly Beans
They come in all sorts of colors, flavors, and sizes. Here are some fun facts about jelly beans that you may not know.
Interesting Statistics About Jelly Beans:
Did you know that Americans consume 16 billion jelly beans every year? That's enough to circle the earth three times. On average, each person eats 1 ½ pounds of jelly beans per year. The most popular flavor is cherry, followed by strawberry and grape.
Unique Uses for Jelly Beans:
Believe it or not, there are many unique uses for jelly beans besides eating them as a snack or using them in recipes. For example, they can be used as decorations on cakes and cupcakes; they make great party favors; they can also be used to create jewelry pieces such as necklaces and earrings; and even used in arts & crafts projects like mosaics or sculptures.
Get creative with your celebrations by exploring unique decorating ideas, crafts, activities, games, and contests – all featuring jelly beans.
Why are jelly beans associated with Easter?
Jelly beans have been associated with Easter for years. The origin of this association is unclear, but it may be linked to the ancient Christian tradition of eating eggs during Lent as a symbol of new life and rebirth. It's possible that jelly beans were seen as a modern version of the egg, offering a sweet treat to celebrate the end of Lent. Another theory suggests that candy makers in the late 19th century began using jelly bean molds shaped like eggs to capitalize on the holiday's popularity. Whatever their origins, jelly beans have become an iconic part of Easter celebrations around the world.
Conclusion
Jelly beans are a popular and versatile candy that can be used in a variety of ways. From their origin to creative recipes, there is much to learn about this beloved treat.
Whether you're giving out jelly beans as gifts, creating your own jelly bean recipes, or simply enjoying the sweet treat on its own, this holiday is sure to bring smiles and joy to all who partake in it. Celebrate National Jelly Bean Day with the ideas listed above, and when sharing posts on social media, use the hashtag #nationaljellybeanday.