It's time to break out the picnic basket and get ready for National Picnic Day. This special holiday is all about gathering friends, family, or even just yourself to enjoy some outdoor fun. From picking a spot with perfect scenery, deciding on games that are sure to entertain everyone involved, and playing your favorite tunes – there's something for everyone in this ultimate guide to celebrating National Picnic Day. So grab your blanket and read on so you can plan the best picnic ever.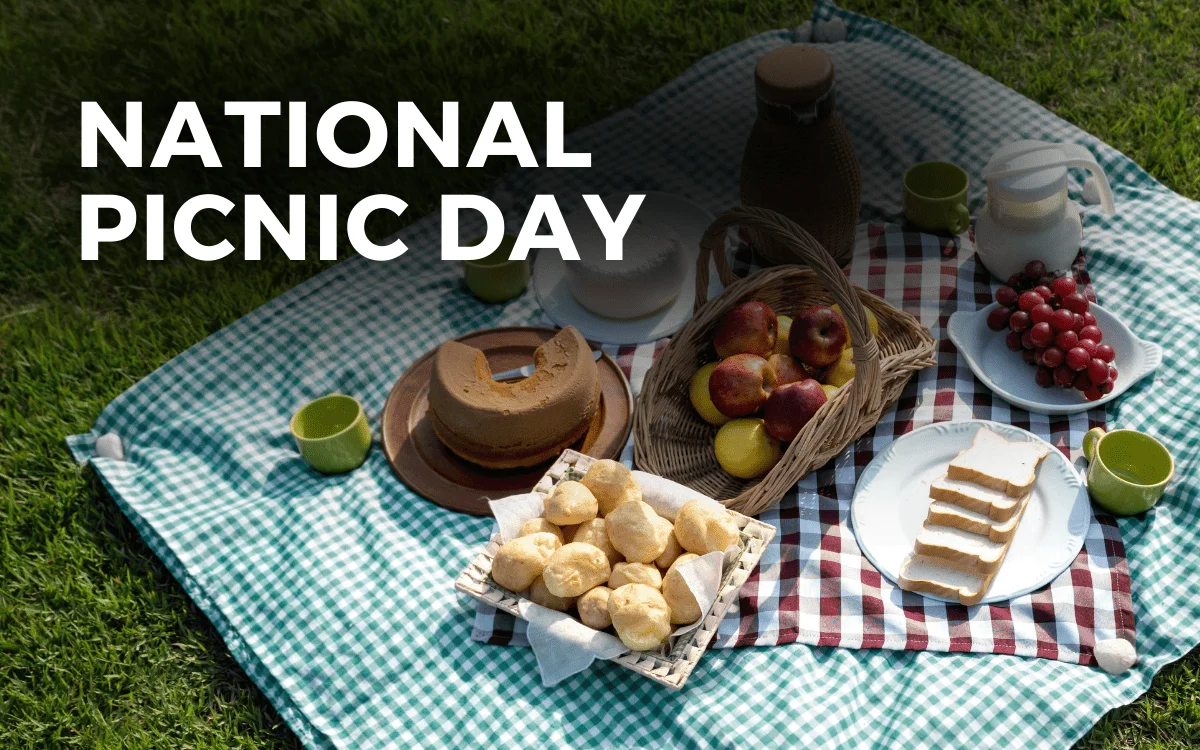 What is National Picnic Day?
National Picnic Day is an annual holiday celebrated on April 23rd in the United States. It's a day to enjoy the outdoors, gather with friends and family, and eat delicious food. The history of National Picnic Day dates back to 18th century England when it was known as "picnicking" or "picnicky-ing". This term referred to outdoor meals that were usually eaten in parks or other public spaces.
Today, National Picnic Day is celebrated around the world by gathering with loved ones for a meal outside. Whether you choose to have a picnic at your local park or in your own backyard, there are plenty of ways to make this special day even more enjoyable.
History of National Picnic Day
As mentioned before, picnicking has been around since the 18th century in England, where people would gather together for outdoor meals, often held in parks or other public spaces. Over time this tradition spread throughout Europe and eventually made its way across the pond into America, where it became known as "National Picnic Day," which is now celebrated annually on April 23rd each year.
How to Celebrate National Picnic Day
National Picnic Day is a great way to bring people together and celebrate the joy of the outdoors. To celebrate National Picnic Day, plan a picnic at your local park with friends and family, cooking up some delicious treats such as sandwiches, salads, chips, and dip. Games like cornhole or frisbee can be played for entertainment while colorful tablecloths and flowers decorate the area. Lawn chairs provide comfort for those enjoying their meal together. Capture all of these moments by taking pictures throughout the day and sharing them on social media.
Hashtags to Use on National Picnic Day
If you want others to join in on celebrating this special holiday, then be sure to use relevant hashtags such as:
#nationalpicnicday
#picnictime
#outdoorfun
#springtimevibes
By using popular and relevant hashtags, more people will find your content, and awareness of National Picnic Day will spread. Now, let's take a look at some ideas for creating the perfect picnic.
For the complete list of holidays to celebrate on social media in April, visit angiegensler.com/april-holidays
Other Holidays Similar to National Picnic Day
International Picnic Day is celebrated annually on June 18th and is a day to enjoy the outdoors with friends, family, or even by yourself. It's an opportunity to get out of your comfort zone and explore nature while enjoying a meal in the great outdoors. International Picnic Day encourages people to take time away from their busy lives and appreciates nature's beauty. This holiday can be celebrated anywhere – at a park, beach, lake, mountain top, or even your own backyard.
National BBQ Day is held every year on May 16th and celebrates all things barbeque related. Whether you're grilling up burgers or smoking ribs over charcoal, National BBQ Day gives everyone an excuse to fire up the grill for some delicious eats. This holiday also serves as an opportunity for families and friends to come together for some outdoor fun.
National Picnic Month takes place during the month of July each year and provides plenty of opportunities for picnics throughout the month. During this month-long celebration, people are encouraged to plan picnics and cookouts with family members or friends that involve outdoor cooking, such as grilling hamburgers, hot dogs, or steaks, but also include other activities like playing games like cornhole or horseshoes too.
Celebrating other holidays like International Picnic Day, National BBQ Day, and National Picnic Month can help you to create a fun atmosphere for your next picnic.
For more holidays, download our free calendar with over 1,000 fun and unique holidays to celebrate this year. Head to angiegensler.com/holiday-calendar to grab your free copy!
Ideas for a Perfect Picnic
Picnic Food Ideas
When it comes to planning the perfect picnic, food is an essential part of the equation. To make sure your guests are satisfied, consider packing a variety of snacks and dishes. Some classic picnic foods include sandwiches, salads, fruit platters, cheese boards, chips and dip, and cold drinks like lemonade or iced tea. For dessert options, think about cookies or brownies for something sweet. If you're feeling adventurous, you could even try making some fun recipes like mini pizzas or s'mores bars.
Picnic Activity Ideas
Once you have your food ready to go, it is time to plan out activities for everyone to enjoy during the picnic. Depending on where you decide to host your event, there may be plenty of outdoor activities available such as playing catch with a Frisbee or football in open fields; having a water balloon fight; flying kites; going on nature walks; playing board games; creating art projects with natural materials found around the area like pinecones and setting up an obstacle course using items from home like hula hoops. These activities will keep everyone entertained while they snack away.
Picnic Decoration Ideas
To add some extra flair to your gathering, why not set up decorations? You can create banners with words like "picnic" written across them or hang streamers from trees if there are any nearby. You could also bring along colorful blankets and pillows for people to sit on while eating their lunch outside in nature's beauty. Don't forget about lighting either – string lights hung between trees will help brighten up the space after dark when night falls, so no one has trouble finding their way back home afterward.
Once you've got your picnic planned out, it's time to make sure your event goes off without a hitch. To do that, use these tips for planning a successful picnic and get ready to enjoy some quality outdoor time with friends and family.
Tips for Planning a Successful Picnic
When planning a picnic, the location is key. You want to pick somewhere that's easy to get to and has plenty of space for everyone. If you're going with a large group, make sure there are enough tables and chairs available. It also helps if the area has some shade or shelter from the sun or rain. Look for parks with pavilions, covered gazebos, or other areas where your guests can take refuge in case of bad weather.
Next up is packing all the necessary supplies. Make sure you have everything on hand before leaving home, so you don't have to worry about running out during your picnic. This includes plates, cups, utensils, napkins, and trash bags for cleanup afterward.
Don't forget food items like burgers and hot dogs as well as condiments such as ketchup and mustard; side dishes like potato salad; drinks like lemonade; desserts such as cookies; plus any special dietary needs that may be present among your guests (gluten-free options etc.).
Finally, it is important to make sure everyone is comfortable throughout the event. This means having adequate seating arrangements, providing sunscreen if needed or bug spray depending on the environment, and bringing along first aid supplies in case someone gets injured while playing outdoor games at your picnic.
By following these tips, you can make sure your picnic is a success. Now that you have the basics covered let's look at some fun outdoor games to play at your picnic.
Outdoor Games to Play at Your Picnic
Outdoor Sports Games
Playing outdoor sports games is a great way to get your picnic guests up and moving. Popular choices include volleyball, badminton, horseshoes, bocce ball, croquet, and Frisbee. If you're looking for something more low-key or kid-friendly, try lawn bowling or bean bag toss. Be sure to bring along the necessary equipment for each game so that everyone can join in on the fun.
Outdoor Card Games
A deck of cards is an easy way to entertain your picnic guests without taking up too much space in your basket. Classic card games like Go Fish and Crazy Eights are always popular with kids, but there are plenty of other options available as well. For adults who want something a bit more challenging, try Spades or Hearts.
Bringing along board games is another great way to keep everyone entertained at your picnic. Classics like Monopoly and Scrabble are always crowd-pleasers, but if you're looking for something new, why not give one of the newer strategy games a try? Settlers of Catan and Ticket to Ride are both highly-rated board games.
Having a variety of outdoor games to play at your picnic can make the event more fun and entertaining. With that in mind, it's also important to consider what kind of music you want playing in the background as you celebrate National Picnic Day.
Music to Play at Your Picnic
Creating a Playlist of Songs
Creating the perfect playlist for your picnic is an important part of making sure everyone has a great time. Start by thinking about what type of music you want to play – upbeat pop songs, classic rock tunes, or something more mellow. Once you have an idea in mind, start building your playlist by searching through streaming services like Spotify or Apple Music and adding songs that fit the vibe you're going for. Don't forget to include some sing-alongs too.
Using Music Streaming Services
Streaming services are a great way to access all kinds of music without having to purchase each song individually. Many streaming services offer free trials so you can try them out before committing to a subscription plan. If you don't already have one, create an account and start exploring their vast libraries of songs from different genres and eras. You can also create custom playlists with specific themes or moods in mind – perfect for setting the tone at your picnic.
Live Music
For those who prefer live music over recorded tracks, why not bring along some musical instruments? Guitars and ukuleles are popular choices as they are easy to transport and don't require any extra equipment such as amplifiers or cables (just make sure everyone remembers their picks). Not only will it add another layer of fun, but it could even inspire impromptu jam sessions between friends.
Adding music to your picnic is a great way to set the mood and create lasting memories. From streaming services to musical instruments, there are plenty of options for creating the perfect soundtrack. Let's now explore other holidays similar to National Picnic Day.
Benefits of Celebrating National Picnic Day
Celebrating National Picnic Day is a great way to get out and enjoy the outdoors with friends and family. It's an opportunity to relax, have fun, and create lasting memories. There are many benefits of celebrating this holiday, including getting some fresh air, enjoying delicious food, and spending quality time together.
One of the best things about picnics is that they allow you to spend time outside in nature. Whether it's a park or your own backyard, being surrounded by trees and plants can be incredibly calming for both body and mind. Plus, there's something special about eating outdoors – it makes everything taste better. Eating al fresco also gives you the chance to try new recipes or even cook up some old favorites.
Another benefit of picnicking is that it encourages socialization among family members or friends who don't often get together due to busy schedules. Sitting around a picnic table allows everyone to catch up on what has been going on in their lives while enjoying each other's company over good food.
Conclusion
Celebrate National Picnic Day this year by planning ahead and making it special for everyone involved. Whether you're having a picnic in your backyard or at the park – make sure it's one that everyone will remember. Whether you're having an outdoor picnic at a park or a BBQ in your backyard, make sure to share it on social media using the hashtag #nationalpicnicday so everyone can join in the fun. Join us today, and let's make National Picnic Day one that we'll never forget!