National Police Woman Day is celebrated annually on September 12th. Business owners and marketers can utilize this significant occasion to endorse their promotions and services. In this section, you'll find innovative strategies to observe the holiday, such as collaborating with local law enforcement agencies or rolling out distinctive promotions and discounts. We'll also provide guidance on social media posts and hashtags to optimize your marketing efforts on this day.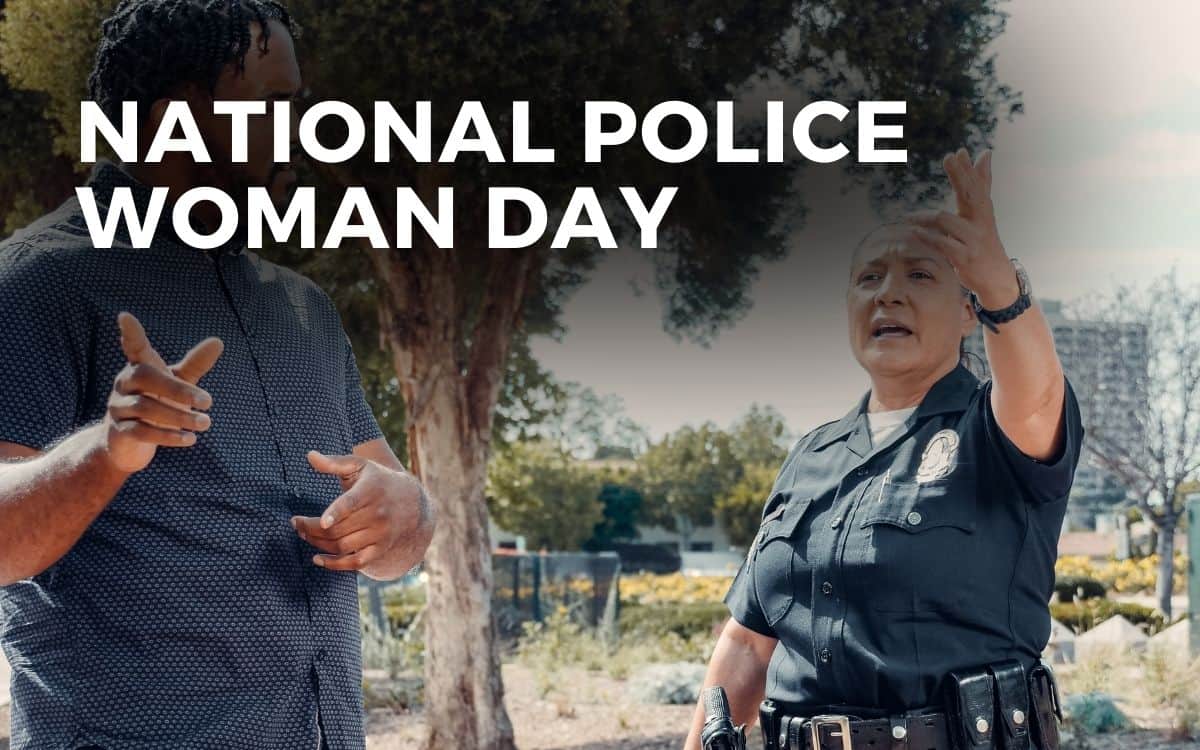 Table of Contents
*Disclosure: This post contains affiliate links. If you make a purchase using one of these links, I may receive a small commission. Please know that I only recommend products I have used and that I sincerely think will help your business.
When is National Police Woman Day?
National Police Woman Day is celebrated each year on the 12th of September. The day is designated to honor the significant contributions and accomplishments of female police officers across the nation. It is an opportunity for communities, businesses, and individuals alike to express their gratitude and appreciation for the dedicated service and valor of these exceptional women in law enforcement. Whether through celebrations, commemorative events, or personal gestures of recognition, the 12th of September serves as a special day to acknowledge and support our female police officers.
History of National Police Women Day
National Police Woman Day traces its roots back to the early 20th century when women first began to break into the predominantly male field of law enforcement. In 1910, Alice Stebbins Wells was appointed as the first female police officer with arrest powers in the Los Angeles Police Department, a pioneering move that set the stage for other women to follow. Over the decades, women have steadily gained ground in police departments across the United States, taking on diverse roles from patrol officers to detectives and climbing their way up the ranks to leadership positions. Despite facing numerous challenges and biases, the perseverance and tenacity of these trailblazing women have left an indelible mark on the landscape of law enforcement. National Police Woman Day, celebrated on September 12th, formally recognizes and honors the invaluable contributions of these female officers to their communities and to the nation as a whole.
How to Celebrate National Police Women Day
In the spirit of celebrating National Police Woman Day, we invite individuals and businesses alike to explore a myriad of ways to honor and acknowledge the dedicated service of female law enforcement officers. Let's delve into these ideas and discover how we can pay tribute to our hardworking policewomen on this significant day.
Send Thank You Cards: A simple handwritten thank you card can make a big difference. Take the time to write a heartfelt note to a policewoman you know or simply drop one off at your local police station.
Share Stories on Social Media: Use your social media platforms to share positive stories about female police officers. Use the hashtag #NationalPoliceWomanDay to help spread the word.
Volunteer or Donate: Many police departments have programs that support their officers or community outreach initiatives. Volunteering your time or making a small donation can be a great way to show your support.
Organize a Community Event: Plan an event in your local community to honor female police officers. This could be a picnic, a charity run, or a public recognition ceremony.
Educate Yourself and Others: Learn about the history of women in law enforcement and share this knowledge with others. Education is a powerful tool for change.
Support Police Woman-owned Businesses: If there are businesses in your community owned by current or former police women, show your support by shopping at these establishments.
Wear Blue: On National Police Woman Day, wear blue to visibly show your support and appreciation for the hardworking women in law enforcement.
Business Ideas for Celebrating National Police Woman Day
Special Promotions or Discounts: Businesses can offer special promotions, deals, or discounts to female law enforcement officers on this day as a token of appreciation.
Collaborate with Local Police Departments: Establish partnerships with local police departments to host events or fundraisers, demonstrating your company's commitment to supporting these community guardians.
Sponsor a Community Event: Consider sponsoring a local event, such as a charity run or public recognition ceremony, which honors female police officers.
Support Police Woman-owned Businesses: Collaborate with businesses owned by current or former police women for cross-promotions or joint events.
Employee Appreciation: If your business employs former or off-duty policewomen, take the opportunity to acknowledge their contributions to both your company and the community.
Educational Initiatives: Host informative sessions or workshops about the history and role of women in law enforcement, promoting awareness and respect.
Social Media Campaigns: Launch a social media campaign that highlights the work of local policewomen, using the hashtag #NationalPoliceWomanDay to increase visibility.
Donate to a Relevant Cause: Make a donation to a charity or organization that supports female officers or law enforcement in general, showing your business's commitment to this cause.
National Police Woman Day isn't just a date on the calendar, but a call to action, an opportunity for each of us to express our gratitude and show our support for these remarkable women who serve and protect our communities every day.
Social Media Post Ideas for National Police Women Day
Celebrating National Police Woman Day goes beyond just personal or business initiatives—it's about creating a wave of awareness and appreciation that reaches far and wide. Social media platforms offer the perfect stage for achieving this. They allow us to share stories, spread positivity, and voice our support for female law enforcement officers on a global scale.
Tribute Posts: Share a tribute post dedicated to female officers, acknowledging their service and dedication. Include photos or stories of local policewomen, if available.
Hashtag Campaign: Start a unique hashtag campaign related to National Police Woman Day and encourage your followers to share their stories or messages of appreciation using the hashtag.
Employee Spotlight: If there are policewomen in your organization, shine the spotlight on them. Share their photos, stories, or interviews, acknowledging their dual roles at work and in the community.
Share a Discount or Offer: Announce a special discount or offer for policewomen. This gesture not only shows your support but also invites them to your business.
Live Q&A Session: Host a live Q&A session on your social media platforms with a local policewoman or a leading figure in law enforcement. This can be an interactive way to learn about their experiences and challenges.
Policewomen History Post: Share a post about the history and evolution of policewomen. Use infographics or short videos for more engagement.
Collaborate with Policewoman-owned Businesses: Feature or collaborate with a business owned by a policewoman. Share their story and promote their products or services.
Share Your Participation: If your business is organizing or partaking in an event for National Police Woman Day, share posts or live updates about the event. Include photos or videos of the event and tag other participating businesses or individuals.
Infographic on Women in Law Enforcement: Share an infographic that presents interesting statistics about women in law enforcement. This can be a great educational post that also shows your support.
Quotes from Famous Policewomen: Share inspiring quotes from famous policewomen, accompanied by a message of appreciation from your business.
In conclusion, social media gives us a powerful tool to appreciate and acknowledge the pivotal role that female officers play in law enforcement. By using these post ideas, we can spark dialogues, spread awareness, and express our gratitude for their service.
Want to create social media content 10X faster? Start your Free 7-day trial of the Social Media Content Club and say goodbye to social media stress!
Hashtags to Use During National Police Women Day
Leveraging the power of hashtags on social media platforms can significantly enhance the reach and impact of your National Police Woman Day posts. For a cause as special as National Police Woman Day, using the right hashtags can help amplify your message, foster a sense of community, and generate a broader conversation around the invaluable contributions of women in law enforcement.
#NationalPoliceWomanDay
#WomenInBlue
#PolicewomenPride
#LawEnforcementHeroines
#WomenInUniform
#ServingAndProtecting
#BraveInBlue
#PoliceWomenAppreciation
#FemaleForce
#HonorInService
In conclusion, the use of these hashtags on National Police Woman Day not only increases the visibility of our posts but also creates a collective voice of appreciation for our policewomen.
For the complete list of holidays to celebrate on social media in September, visit AngieGensler.com/September-Holidays
Gift Ideas for National Police Women Day
Celebrating National Police Woman Day isn't complete without thoughtful gifts that convey our deep respect and gratitude for these heroic women. In this section, we'll explore some unique and meaningful gift ideas that are perfect for National Police Woman Day.
In closing, these gift ideas for National Police Woman Day offer unique and meaningful ways to convey our appreciation for the brave women in law enforcement. Each gift is a token of gratitude, a symbol of respect, and a demonstration of recognition for their incredible service, courage, and dedication.
Other Holidays Related to National Police Women Day
It's not the only occasion to do so. Several other holidays also give us the opportunity to extend our gratitude and respect to women in law enforcement and the broader realm of civil service. In this section, we will explore these related holidays.
National Law Enforcement Appreciation Day: This day is dedicated to showing appreciation to the men and women who risk their lives to keep our communities safe.
National Peace Officers Memorial Day: Established by Congress in 1962, this day pays tribute to local, state, and federal officers who have lost their lives or suffered disabilities in the line of duty.
National Police Week: This week-long event honors those who have made the ultimate sacrifice in law enforcement. It includes the Police Unity Tour and the Candlelight Vigil.
National First Responders Day: This day recognizes the heroic men and women who make it their job to take immediate action when disaster strikes.
International Women's Day: Though not solely dedicated to policewomen, International Women's Day is a global day celebrating the social, economic, cultural, and political achievements of women – making it a fitting occasion to honor female officers.
Women's Equality Day: This commemorates the passage of the 19th Amendment, granting women the right to vote, and can be used as a platform to celebrate the roles women play in our society, including in law enforcement.
In conclusion, these dedicated holidays offer a unique opportunity to express our gratitude to women in law enforcement, highlighting their indispensable role in ensuring our community's safety.

For more holidays, download our free calendar with over 1,000 fun and unique holidays to celebrate this year. Head to angiegensler.com/holiday-calendar to grab your free copy!
Future Dates for National Police Women Day
| Year | Date | Day |
| --- | --- | --- |
| 2023 | September 12 | Tuesday |
| 2024 | September 12 | Thursday |
| 2025 | September 12 | Friday |
| 2026 | September 12 | Saturday |
| 2027 | September 12 | Sunday |
| 2028 | September 12 | Tuesday |
| 2029 | September 12 | Wednesday |
Extra Ideas for National Police Women Day
Profiles of Notable Police Women: Highlight the stories and achievements of inspiring police women throughout history and in the present day.
Interviews with Local Police Women: Conduct and share interviews with policewomen in your local area or community, providing insights into their experiences and perspectives.
Community Outreach Initiatives: Detail ways that people can get involved in supporting policewomen in their local communities, such as volunteering, fundraising, or advocacy work.
Educational Resources: Curate a list of books, documentaries, and other resources for those interested in learning more about women in law enforcement.
Inspirational Quotes: Compile a list of empowering quotes from prominent police women about their experiences in the field.
Advice for Aspiring Policewomen: Share advice and guidance for young women who aspire to join the police force, possibly including tips from current policewomen.
National Police Woman Day Events: Provide information about events organized on this day to honor police women, including local celebrations or nationwide initiatives.
Conclusion
As a business owner, recognizing and honoring National Police Woman Day can deepen your connection with the community and foster a culture of respect and appreciation. This day is an opportunity to show your support for these brave women, acknowledging their role in ensuring our safety and embodying the principles of courage, dedication, and service.
Celebrate this special day with us, and don't forget to Download our free Holiday Calendar for more fun and unique holidays to celebrate this year!