National Chocolate Milkshake Day is celebrated annually on September 12. Business owners and marketers can utilize National Chocolate Milkshake Day as a unique opportunity to boost their visibility and sales. This article will provide engaging methods to honor this day, such as collaboration with local dessert parlors or initiating exclusive promotions and discounts. Additionally, you'll gain insight into effective social media posts and hashtags to optimize your marketing endeavors on this special day. By implementing these strategies, businesses can maximize their impact on National Chocolate Milkshake Day and broaden their customer reach globally.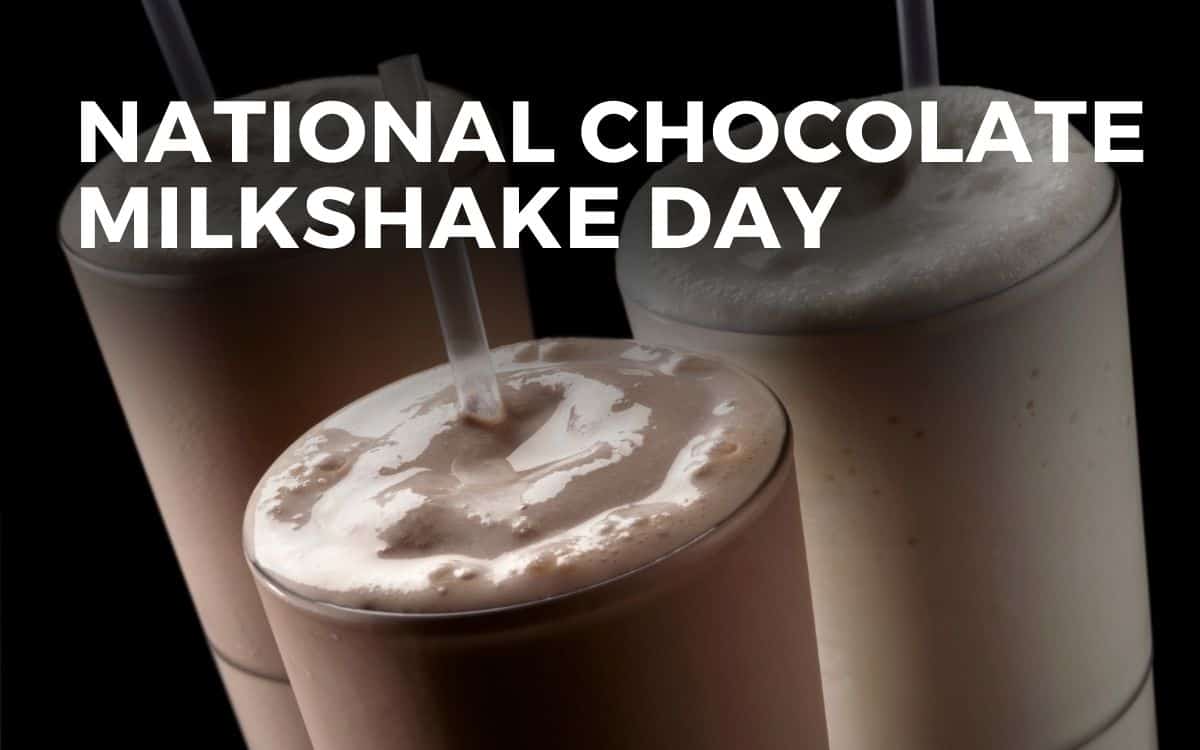 Table of Contents
*Disclosure: This post contains affiliate links. If you make a purchase using one of these links I may receive a small commission. Please know that I only recommend products I have used and that I sincerely think will help your business.
When is National Chocolate Milkshake Day?
National Chocolate Milkshake Day is celebrated each year on the 12th of September. This deliciously sweet holiday is an opportunity for chocolate milkshake lovers around the globe to indulge in their favorite treat. Whether enjoyed at a local ice cream parlor, a favorite restaurant, or made at home with a homemade recipe, this day is the perfect time to savor the rich, creamy goodness of a chocolate milkshake. Mark your calendars and get your taste buds ready to celebrate this annual event.
History of National Chocolate Milkshake Day
The history of the chocolate milkshake can be traced back to the late 19th century. The term "milkshake" first appeared in print in 1885, referring to an alcoholic beverage that was a blend of eggs, whiskey, and milk. However, by the early 1900s, the term had evolved to mean a wholesome drink made with chocolate, strawberry, or vanilla syrup, and milk. It was in the 1920s, with the widespread availability of electric blenders, that the modern milkshake came into being. These blenders could whip and aerate the milk to produce a frothy, appealing drink, which soon became a staple in soda fountains across the United States. Chocolate, being a popular flavor, was often the go-to choice for many, thus solidifying the place of the chocolate milkshake in American culinary history.
As for National Chocolate Milkshake Day, it is believed to have been established by an individual or group seeking to celebrate this beloved treat, and the day continues to be widely celebrated, particularly in the U.S., on the 12th of September each year.
How to Celebrate National Chocolate Milkshake Day
As National Chocolate Milkshake Day approaches, you might be wondering how to best celebrate this delectable treat. Both individuals and businesses can partake in the festivities with a variety of creative ideas. This section will explore a plethora of ways to commemorate this sweet holiday.
Host a Milkshake Making Party: Gather your friends and family for a fun-filled milkshake-making party at home. Everyone can bring their favorite toppings and experiment with different recipes.
Visit a Local Ice Cream Parlor: Treat yourself to a delicious chocolate milkshake at your favorite local ice cream parlor. Some places may even offer special promotions or exclusive flavors to celebrate the day.
Try a New Recipe: Use this day as an opportunity to try out a new chocolate milkshake recipe. Whether it's adding a scoop of peanut butter or a pinch of cinnamon, the possibilities are endless!
Share Your Love on Social Media: Share your love for chocolate milkshakes on social media. Post a photo of your favorite milkshake, or share a fun milkshake-themed poll or quiz.
Donate a Milkshake: Consider buying an extra milkshake and giving it to someone who could use a sweet treat. Whether it's a friend, family member, or a local food bank, your small act of kindness can make someone's day.
Milkshake Movie Night: Enjoy your chocolate milkshake during a movie night at home. Pick a feel-good movie, kick back, and enjoy your delicious beverage.
Chocolate Milkshake Dessert Party: Alongside your milkshake, why not prepare other chocolate dessert favorites? Brownies, chocolate chip cookies, or a chocolate cake could complement your milkshake nicely.
Try a Vegan or Dairy-free Alternative: If you're vegan or lactose intolerant, celebrate the day by trying a dairy-free chocolate milkshake. There are many delicious recipes available online using alternatives like almond milk, coconut milk, or soy milk.
Business Ideas for Celebrating National Chocolate Milkshake Day
Businesses can leverage the excitement around National Chocolate Milkshake Day to engage with their customers and drive sales in creative ways. Here are some ideas:
Special Promotions: Offer a special discount on chocolate milkshakes for the day to encourage customers to indulge.
Limited-Edition Flavors: Create a limited-edition chocolate milkshake flavor exclusive for the day to attract both new and returning customers.
Social Media Contests: Launch a social media contest where customers can share their photos enjoying your chocolate milkshake, with the best photo winning a prize.
Collaboration with Local Businesses: Collaborate with local businesses to create unique offers, such as a discount at a nearby store with the purchase of a chocolate milkshake.
Donation Program: For every chocolate milkshake sold, donate a portion of the proceeds to a local charity, showing your commitment to the community.
Milkshake Recipe Sharing: Share a unique chocolate milkshake recipe on your company blog and encourage customers to make it at home and share their experiences.
Customer Reward Program: Launch a loyalty program where customers get a free chocolate milkshake after a certain number of purchases.
Free Tastings: Offer free tastings of your special chocolate milkshake to entice customers into your shop.
Themed Decor: Decorate your store with a chocolate milkshake theme to create an immersive experience for customers.
Milkshake Making Workshop: Host a milkshake-making workshop where customers can learn how to make the perfect chocolate milkshake.
No matter how you decide to celebrate National Chocolate Milkshake Day, the most important thing is to enjoy the process. Whether it's trying out a new recipe, sharing the joy on social media, or simply savoring the rich, chocolaty goodness of a classic chocolate milkshake, remember that this day is all about indulgence and delight.
Social Media Post Ideas for National Chocolate Milkshake Day
When it comes to commemorating National Chocolate Milkshake Day, social media is the perfect platform to spread joy and indulge in some virtual celebration. The following are some engaging and creative social media post ideas to help you stir up some excitement and celebrate this day in all its chocolaty glory.
Showcase your Milkshake: Post a high-resolution image of your chocolate milkshake with a tempting description to attract customers.
Behind the Scenes: Share a behind-the-scenes video of your team making the chocolate milkshake, highlighting your fresh ingredients and the love that goes into each cup.
Customer Testimonials: Share photos and reviews from customers enjoying your chocolate milkshake. This authentic appreciation can help to increase trust and attract new customers.
Milkshake Recipe: Share a special chocolate milkshake recipe, encouraging followers to make their own at home and tag you in their posts.
Contests and Giveaways: Host a giveaway or contest, encouraging followers to post their own chocolate milkshake pictures with a special hashtag for a chance to win a prize.
Flash sale: Announce a flash sale on your chocolate milkshakes for a specific time frame and encourage your followers to visit your shop.
Milkshake and Meal Pairing: Suggest a meal from your menu that pairs well with a chocolate milkshake, and post a tempting photo of the duo.
Discount Codes: Share exclusive discount codes for chocolate milkshakes on your social media accounts.
Throwback Posts: Share photos from last year's National Chocolate Milkshake Day to remind customers of the fun they had and what they can look forward to this year.
Milkshake Facts: Share fun facts about chocolate milkshakes to engage with your followers.
As you celebrate National Chocolate Milkshake Day on social media, remember that the ultimate goal is to bring smiles to faces and to make this day a little sweeter for everyone. These ideas should help you create engaging posts that not only celebrate the deliciousness of chocolate milkshakes but also foster a sense of community among your followers.
Want to create social media content 10X faster? Start your free 7-day trial of the Social Media Content Club and say goodbye to social media stress!
Hashtags to Use During National Chocolate Milkshake Day
Hashtags are powerful tools in the world of social media marketing, acting as a magnet to draw a wider audience toward your content. They categorize your posts, making them discoverable to users who are interested in that specific topic. Let's look at some of the most effective hashtags to utilize during this delightful celebration.
#ChocolateMilkshakeDay
#IndulgeInChocolate
#MilkshakeLovers
#SweetCelebrations
#ShakeItUp
#ChocoDelight
#MilkshakeMagic
#NationalChocolateMilkshakeDay
#MilkshakeMania
#ChocolatyGoodness
#SipTheJoy
#DessertDay
#ShakeSale
#ChocoShakeFest
#MilkshakeMoments
Remember, these are just a starting point; feel free to get creative and craft your own hashtags that align with your brand and this sweet celebration. Just keep in mind to use them strategically and not to overdo it.
For the complete list of holidays to celebrate on social media in September, visit AngieGensler.com/September-Holidays
Gift Ideas for National Chocolate Milkshake Day
As National Chocolate Milkshake Day approaches, what better way to celebrate the occasion than by gifting your loved ones something that encapsulates the spirit of this delicious day? Here are some unique and interesting gift ideas that are sure to bring joy to any chocolate milkshake enthusiast.
Each of these gifts represents a unique way to celebrate National Chocolate Milkshake Day, be it a delightful chocolate hamper for a rich indulgence or a high-quality blender to whip up a creamy concoction. Happy gifting!
Other Holidays Related to National Chocolate Milkshake Day
In addition to National Chocolate Milkshake Day, there are several other holidays and observances that share a similar theme, celebrating the wonders of sweet treats and desserts. Let's explore some of these delightful holidays that are related to National Chocolate Milkshake Day.
National Ice Cream Day: Celebrated in the heat of summer, it's all about enjoying your favorite scoop (or two) of ice cream.
International Chocolate Day: This day is dedicated to the celebration of one of the world's favorite flavors – chocolate.
National Dessert Day: A day to indulge in your favorite sweet treats, from chocolate cake to candy bars and everything in between.
National Milk Day: Commemorates the day when milk started being delivered in sterilized glass bottles. A perfect day to enjoy a glass of milk or a creamy milkshake.
National Vanilla Milkshake Day: A day dedicated to the simple yet delicious vanilla milkshake.
National Strawberry Sundae Day: This day celebrates the popular and refreshing strawberry sundae. Though not a milkshake, it's a close and equally delightful cousin.
World Nutella Day: This day celebrates the creamy, chocolate-hazelnut spread loved by many, which can be a delicious addition to milkshakes.
National Peanut Butter Lover's Day: A day to celebrate the creamy (or crunchy) spread that pairs perfectly with chocolate and makes a great milkshake flavor.
National Whipped Cream Day: Whipped cream is a common topping for milkshakes, and this day celebrates this versatile dairy product.
National Sundae Day: Another day to celebrate ice cream, this time served with toppings and syrup, a key component of many milkshake recipes.
Just like National Chocolate Milkshake Day, they each encapsulate the joy of indulging in our favorite desserts. So mark these dates, and let's celebrate the sweetness and delight these days bring to our lives.
For more holidays, download our free calendar with over 1,000 fun and unique holidays to celebrate this year. Head to angiegensler.com/holiday-calendar to grab your free copy!
Future Dates for National Chocolate Milkshake Day
| Year | Date | Day |
| --- | --- | --- |
| 2023 | September 12 | Tuesday |
| 2024 | September 12 | Thursday |
| 2025 | September 12 | Friday |
| 2026 | September 12 | Saturday |
| 2027 | September 12 | Sunday |
| 2028 | September 12 | Tuesday |
| 2029 | September 12 | Wednesday |
Recipes Section: Include a section that provides recipes for different types of chocolate milkshakes. They can range from classic recipes to unique and innovative ones.
History of the Chocolate Milkshake: A brief overview of the origin and history of the chocolate milkshake. This can include how it became popular and how it has evolved over the years.
Chocolate Milkshake Fun Facts: A list of interesting facts about chocolate milkshakes that readers might not know.
Different Ways to Celebrate: Offer a variety of ways for readers to celebrate National Chocolate Milkshake Day. This could include hosting a milkshake-making party, going on a milkshake crawl in their city, or even organizing a charitable event where funds raised go to a worthy cause.
Top Milkshake Spots: A list of recommended places across the country where readers can get the best chocolate milkshakes.
Interviews & Stories: Share interviews or stories from famous chefs or local heroes who have a special connection to chocolate milkshakes. Their stories could inspire and entertain readers.
Health Benefits of Chocolate: Since chocolate is a main ingredient, a section could be dedicated to the health benefits of consuming chocolate (in moderation, of course).
DIY Chocolate Milkshake Kits: Provide instructions for creating do-it-yourself chocolate milkshake kits that readers can gift to friends and family.
Chocolate Milkshake Challenges: Highlight some popular or fun chocolate milkshake challenges from social media platforms, and encourage readers to participate.
Photo Gallery: Include a gallery showcasing photos of delicious and decadent chocolate milkshakes from around the world.
Conclusion
National Chocolate Milkshake Day presents an excellent opportunity for business owners, particularly those in the food and beverage industry, to connect with their customers on a more personal level. By partaking in this holiday, businesses can create engaging promotions, offer special discounts, or introduce new milkshake recipes to attract customers. It's a sweet occasion to showcase creativity, promote brand identity, and generate buzz around their offerings.
Celebrate this special day with us, and don't forget to download our free holiday calendar for more fun and unique holidays to celebrate this year!