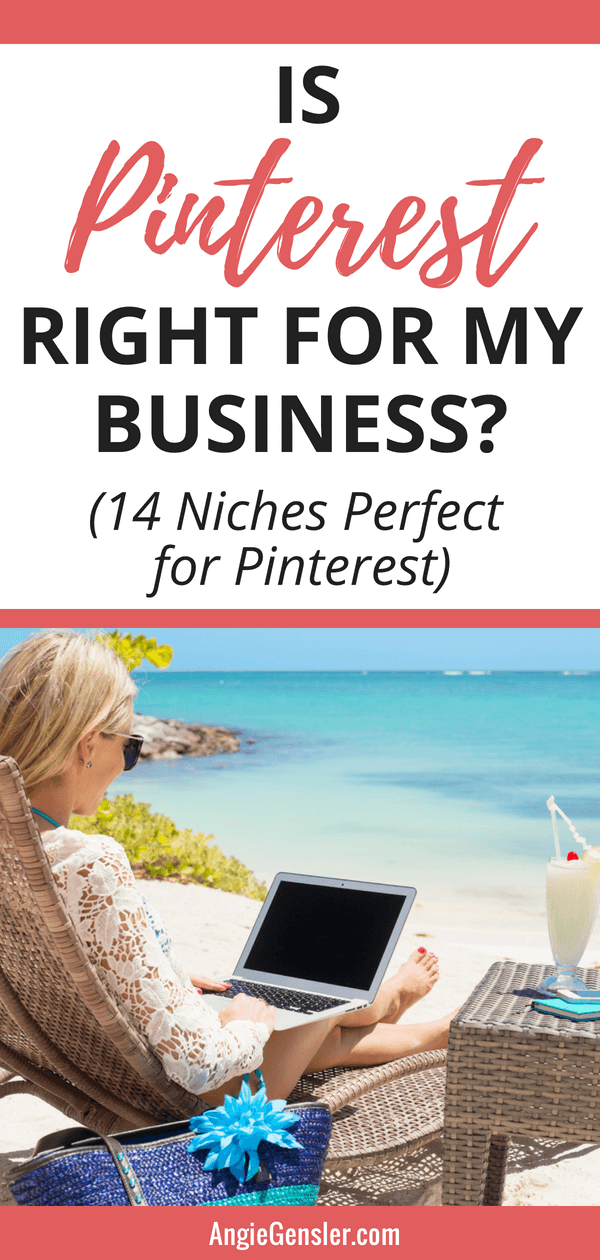 In this post, I want to answer a question that comes up a lot: "Is Pinterest right for my business?"
When I tell other marketers and business owners that 60% of my blog traffic comes from Pinterest and it generates thousands of visitors month-after-month, I'm often met with complete shock and disbelief.
Once their initial shock wears off, their next thought is usually, "I wonder if Pinterest could work for my business?"
I teach Pinterest marketing on my blog and in my online course, Pinterest Traffic Trifecta, but I am the first one to admit that Pinterest is not right for every business.
I know from first-hand experience.
I'm embarrassed to admit that I tried Pinterest when I was a corporate marketer.
Sounds innocent, but the embarrassing part is the company I worked for sold commercial HVAC equipment.
HVAC engineers, technicians, and building owners are NOT on Pinterest searching for a new chiller or boiler for their commercial buildings.
So who IS on Pinterest and is it the right platform to market your business?
That's what I'm going to help you figure out in this post.
Before we get started, I want to welcome you to the first post in the 5-part Pinterest Boot Camp series!
In this series, you'll learn how to turn Pinterest into a traffic generating machine for your online business.
Throughout the series, you will learn:
Why Pinterest is ideal for bloggers and solo entrepreneurs (addressed in this post)
So let's get started and figure out if Pinterest is right for your business!
Is Pinterest Right for My Business?
Pinterest users devour content and are actively searching for creative new ideas, products, and tutorials. (source)
Because of this, Pinterest is the ideal place for bloggers to market and grow their blogs.
If you're a blogger, more than likely Pinterest is perfect for your business!
But, I don't want you jumping in with both feet first before doing a little strategic analysis.
There are two things you need to know in order to properly answer the question "Is Pinterest Right for My Business?"
Your ideal customer (customer avatar or buyer persona)
What you're offering them (your products and services)
Remember how I tried marketing commercial HVAC equipment on Pinterest?
My ideal customer was a male engineer or architect in his 30s – 50s and I was selling commercial HVAC equipment.
The transaction was business to business (B2B) and a very high price-point – we're talking anywhere from 5 to 7 figures!
I made a rookie mistake in the world of marketing and didn't consider if my ideal customer hung out on the platform.
If you're selling your products or services to other businesses (B2B) and not directly to the consumer (B2C), Pinterest is probably not a good fit for you.
Pro Tip: For B2B sales, I recommend LinkedIn.
If you're selling directly to consumers, then keep reading because Pinterest might be the perfect place to market and grow your business.
Pinterest Audience Demographics
Once you know who your ideal customer is you have a profile built out for them (often called a customer avatar or buyer persona) compare that to the demographic profile of Pinterest's' users.
Here are a few helpful stats from Pinterest:
200 million active users each month
50% come from outside the United States
70% are women
60% of Pinterest households have children 5 or under
50% increase in men using Pinterest
40% have a household income of $100K+
If you want to dig deeper into Pinterest's audience demographics you can find all the data here.
So what do these stats mean?
If your ideal customer is a Mom living in the United States with money to spend, then you NEED to be on Pinterest!
But, that doesn't mean there isn't an opportunity on Pinterest if your ideal customer is a single man living in Europe.
You also need to consider what you have to offer.
Is their a demand for your product or service on Pinterest?
Conduct research on the platform to see if you can find content related to your niche.
If you can find plenty of Pins and/or Pinners within your niche or industry, then you need to jump on the Pinterest train!
If you can't find any content related to your niche, Pinterest may not be the right fit.
To save you time, there are some niches that perform extraordinarily well on Pinterest.
14 Niches Perfect for Pinterest
If your blog content, product, or service falls within one of these 14 niche categories, you need to be marketing your business on Pinterest.
Personal Finance / Debt

Fashion

Beauty

Food

Fitness

Health and Wellness

Travel

Crafts

Home Decor / Remodeling

Business / Marketing

Parenting

Photography

Weddings / Special events

Gardening / Landscaping
If you fall within one of these niches, there's no need to conduct further research.
Don't waste another second and start marketing your business on Pinterest!
To get started, fill out the form below to download the free Pinterest Marketing Checklist and then go read: 37 Brilliant Pinterest Marketing Tips to Increase Your Website Traffic.
Still Skeptical About Pinterest?
As a blogger and solo entrepreneur, time is limited and moments of complete overwhelm are frequent.
On top of that, you're competing for traffic against business owners who have large teams and large budgets, and the playing field doesn't always feel level.
The good news is, Pinterest allows you to drive tons of traffic with minimal effort.
Even better, the content you Pin on Pinterest lives on forever! Your efforts continue to multiply over time.
Pinterest levels the playing field.
Pinterest is my secret weapon…my workhorse.
I spend 30 – 60 minutes a week on Pinterest and it consistently drives tons of engaged traffic to my website.
If you've tried Pinterest before and it hasn't worked, I urge you to give it another shot and implement the step-by-step strategies I'm sharing in this 5-part series.
Or maybe you've never tried Pinterest because you didn't think your blog topic fit the platform.
Don't think that because your blog isn't about food or fitness that you can't kill it on Pinterest.
Who would have thought that marketing content would succeed on Pinterest?
Definitely not the big dogs. None of the mainstream SEO, marketing, or business blogs are on Pinterest.
Yet hundreds of marketing and business bloggers credit Pinterest as their number one traffic source.
In my experience, virtually any kind of blog can succeed on Pinterest. It's never an issue with the niche, but an issue with the strategy.
Any blog can succeed on Pinterest. It's not a niche issue, but a strategy issue.
Please don't miss out on a goldmine of traffic because you're skeptical or just plain confused about Pinterest. I'm here to walk you through it.
To get started, complete the action items below and then read the next post in the series: 4 Mistakes You're Making on Pinterest: How to Avoid Them and Set Your Account up for Success.
ACTION ITEMS:
I'm a woman of action, so each post in this 5-part series will list specific action items you need to complete before the next post in the series.
Follow me on Pinterest

>>>Angie Gensler<<<
Conduct research on Pinterest to determine if your business is a good fit
Join my Facebook group

and reach out to other bloggers for advice or feedback on your niche
It's time to get to work! You can do this.
Leave a comment below and let me know if you have any questions or you're unsure if your blog or business can work on Pinterest.
Keep reading >> Check out the next post in this series: 4 Mistakes You're Making on Pinterest: How to Avoid Them and Set Your Account up for Success.