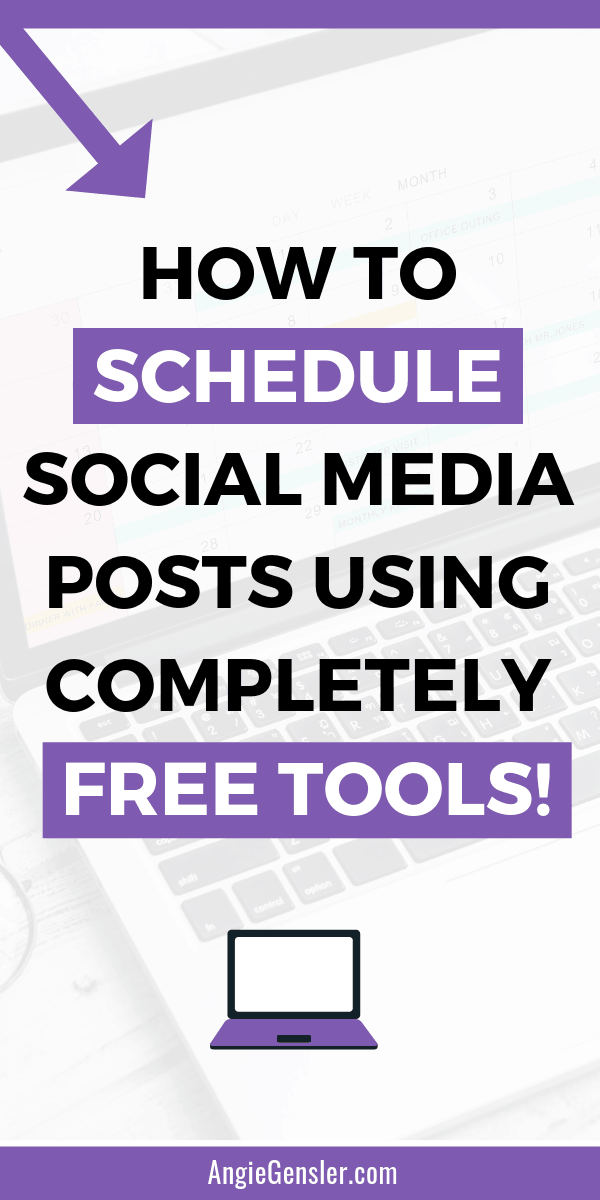 Whether you're a brand new blogger or seasoned entrepreneur, managing all the social media channels for your business and learning how to schedule social media posts can be overwhelming and feel like a full-time job.
Each social media channel has unique quirks to learn and rules of engagement to follow.
Learning the unique traits of each channel and posting authentic, engaging content day after day is not realistic for small business owners and bloggers.
You have a million other tasks demanding your time.
On top of that, you're likely not a bottomless pit of cash, which means you don't have a budget for fancy social media scheduling tools.
That's why I'm going to show you exactly how to consistently schedule content to all your social media channels without spending a dime!
Please note this post may contain affiliate links and I may earn a commission if you click them and make a purchase. This is, of course, at no cost to you, and I only share products that I use and love myself. Please read my disclaimer for more information.
Narrow Your Social Media Focus
Before we get started, I'm going to jump on my soapbox and urge you to narrow down the number of social media profiles you manage.
Figure out which social media channel your ideal customers hang out and fully engage on that one channel.
All the rest, I want you to schedule and automate.
Personally, I fully engage inside of my private Facebook group, Team of One Biz Owners.
If you want to connect with me, that's the place to do it.
For all my other channels – Instagram, Twitter, Linkedin, and my Facebook Business Page – I schedule posts using free automation tools.
I talk in-depth about the importance of selecting just one channel in my blog post: Why you're not mastering social media (and what you can do about it).
I realize that focusing your time on just one social media channel may seem insane or impossible.
The reality is that it's insane to think you'll have time to build your business and serve your customers if all your time is spent on social media.
Pinterest and YouTube
I want to address Pinterest and YouTube and how they fit into the social media mix.
Pinterest and YouTube operate more as search engines, not as social media networks.
Search engine marketing is where you should spend the majority of your time and energy.
Social media marketing is great for connecting with existing customers and nurturing your warm audiences.
Search engine marketing is ideal for attracting new customers and cold audiences with a strong intent to buy your product or service.
Plus, search engine marketing produces on-going, long-term results.
If you're not using YouTube or Pinterest to market your business yet, be sure to sign up for my free training: How to Grow Your Email List From 0 – 500 in 30 Days or Less Using Pinterest.
In the training, you'll learn how I used Pinterest to get my first 500 email subscribers and over 5,000 pageviews my very first 30 days in business without spending a dime on ads.
I had zero following, zero influence, and zero budget at the time.
Even the best social media marketing strategy and content couldn't have produced those type of results for a brand spanking new business.
Now that you understand the importance of search engine marketing, let's dive in!
I'm going to show you exactly how you can schedule content to Facebook, Twitter, LinkedIn, and Instagram using completely free tools!
Social Media Marketing Tools
Below is a list of tools and software you'll need:
Now let's walk through these tools and how to use them. Be sure to watch the four video tutorials that walk you step-by-step through the process.
Canva
Canva is nothing short of amazing.
I've been a loyal Adobe user for years, but after one month of using Canva, I was hooked.
I love Canva for many reasons, but my favorite feature is the layouts tab.
This tab is loaded with professionally designed templates in the exact dimensions required.
For example, if you need to design a YouTube thumbnail image but don't know the exact dimensions, you're in luck.
Canva knows the exact dimensions, and they have a ton of templates you can use.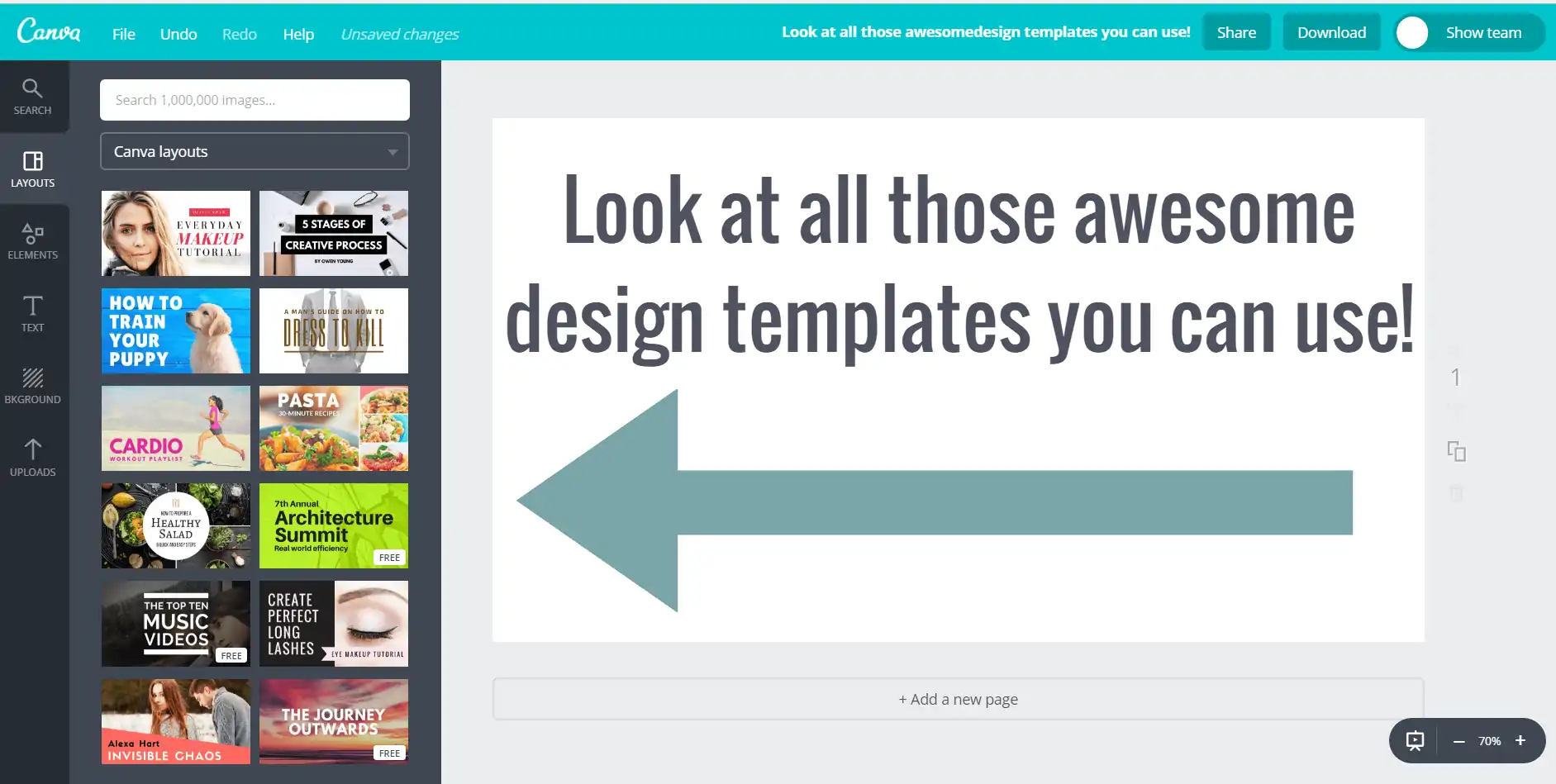 You can use the free version of Canva to design all the images and graphics for your blog and social media posts.
You can quickly create a free account at Canva.com.
If the thought of designing images makes your throat seize up or you just plain suck at graphic design, another option is to purchase affordable "done for you" templates.
Pre-designed templates are a great option for small business owners and bloggers who can't afford to hire a professional designer and…
They either don't have time to design images for social media or…
They just plain suck at design.
If I just described your situation, be sure to check out my 150 Social Media Image Templates.
The image templates will save you a ton of time and money as well as help you get more engagement on your social media posts!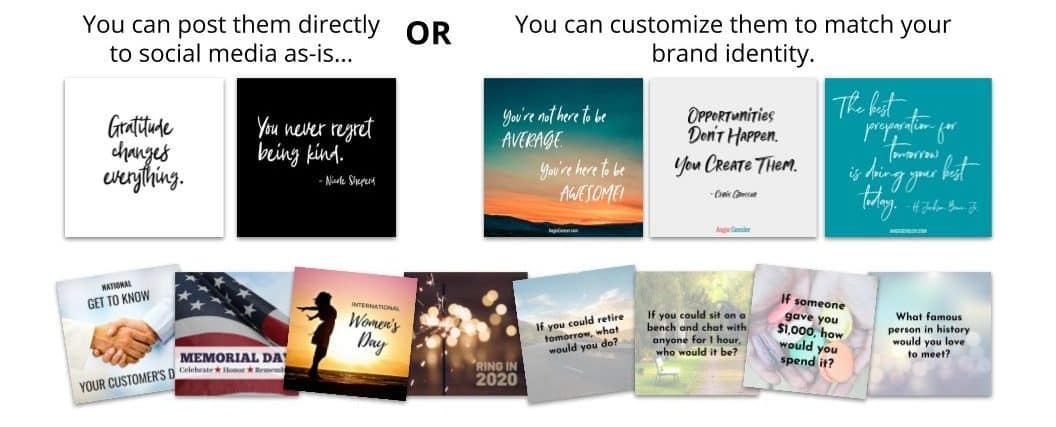 HootSuite, Feedly, & Google Chrome Browser
HootSuite is a social media management tool that allows you to monitor all your social media channels and schedule your content.
You'll want to sign up for the free version of HootSuite, which allows you to connect up to three social media profiles.
You will use HootSuite to schedule other people's content, which you can curate using Feedly.
Like HootSuite, Feedly offers a free plan and you can upgrade to a paid plan to access additional features.
Watch the video tutorial below to learn my exact process on how to find content on Feedly and schedule it through HootSuite.
I've used HootSuite for years and I adore this tool.
That said, I do have one complaint.
It doesn't allow you to easily recycle content, which is why I use it for curated content that I only plan on sharing once.
My own content, on the other hand, is content I plan to share often.
For that, I use Buffer.
Buffer & Google Sheets
Buffer is a social media management scheduling tool that does allow you to recycle posts.
For that reason, you'll use Buffer to schedule posts promoting your own content.
To keep track of all the social media posts you've written to promote your own content, use Google Sheets.
Watch the video below to see exactly how to use Google Sheets and Buffer to quickly and easily schedule posts promoting your own content to your social media channels.
You can also use Buffer to schedule your Instagram posts.
Buffer sends you a reminder at the time you specify.
Then, you open the Instagram app on your phone and complete the posting process there.
Once you're in the Instagram app, you can opt to share the post to your Facebook page, but don't share it to your Twitter account.
When you post to Twitter straight from Instagram it shows up as a link, not an image.
See the example below.

See what I mean?
The image doesn't show up.
It just displays a link to Instagram, which no one is going to click, by the way.
The good news is, there is a better way to share your Instagram images on Twitter using IFTTT.
IFTTT
IFTTT stands for If This, Then That and it's a free tool that allows you to connect two tools together and automate basic actions.
I use IFTTT to share my Instagram photos as native images on Twitter.
See the example below.

See how much better that looks?
These images get much more engagement on Twitter compared to the text-only posts.
For years, I was overwhelmed by IFTTT, assumed it was too complicated, and never touched it.
Wow, do I regret that. IFTTT is so simple!
To prove it to you I've created a short tutorial video on how to set up a simple IFTTT automation. https://www.youtube.com/embed/cS4LXztsTDI?rel=0
Social Media Content Calendar
The last tool you need to schedule your social media posts is a social media content calendar.
I created my first content calendar five years ago when I was completely overwhelmed by managing the social media channels for the company I worked for.
Once I created that calendar, I sailed through my posts each week and was no longer stressed or wasted time figuring out what to post.
It was glorious!
A content calendar will save you hours of your valuable time planning and scheduling social media content.
Watch the video below to learn how to use a content calendar and discover how it will save you time, grow your followers, and increase engagement.
If you're not using a content calendar to manage your social media marketing have I got a deal for you.
This 12-Month Social Media Content Club app includes over 365 days of social media post ideas.
It's the minutes-a-day way to make genuine connections, boost engagement, and grow your business, all from a copy-and-paste on your phone.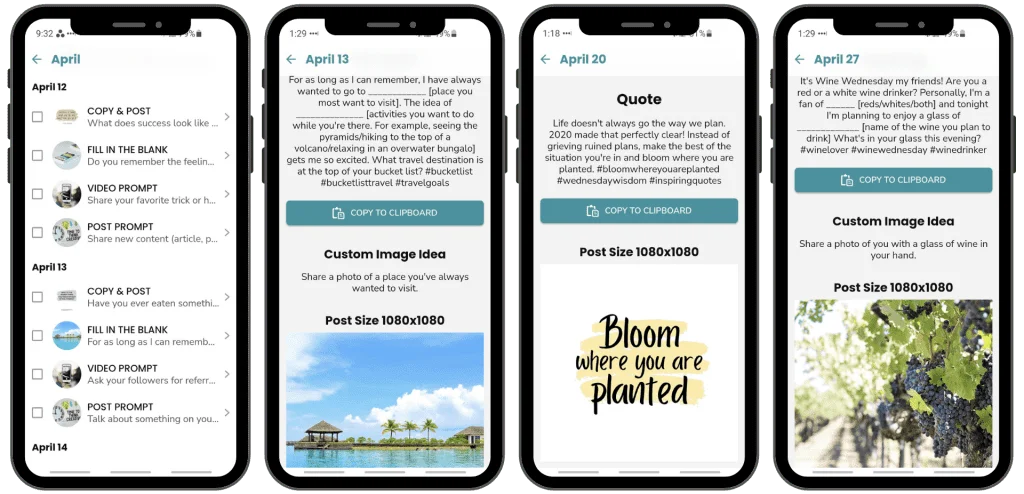 Content Club members have reported the following results:
Increased engagement "Only a few days and already noticed more engagement!" -Rosalind
More followers "I've seen a huge response in just the first week alone." -Keith
Growth in sales "5 posts this week and my sales have started to grow!" -Ceci
Spike in traffic "The traffic to our podcast and blog is up as well." -Chris
Countless hours saved "Saved me at least 40 hours of work." -Stephanie
Reduced stress "Gave me back my headspace and that is priceless." -Tiffany
Give the Social Media Content Club a try and watch your engagement and business skyrocket.
ACTION STEPS
In case you're overwhelmed by all the training I just dropped on you (or you skipped straight to the bottom) I want to give you some simple-to-follow action steps.
Create a social media content calendar or…Save tons of time and hassle and click here to grab mine!
Create free accounts for Feedly, HootSuite, Buffer, and Canva.
Watch each video again and select one video per day to implement and master the process.
If you follow those three action steps, by the end of the week you'll have a killer system in place to schedule your social media posts!
I always love to discover new tools! Comment below and share your favorite social media automation tool.
Keep Reading: What to Post on Social Media: The Ultimate Cheat Sheet of 100 Post Ideas.