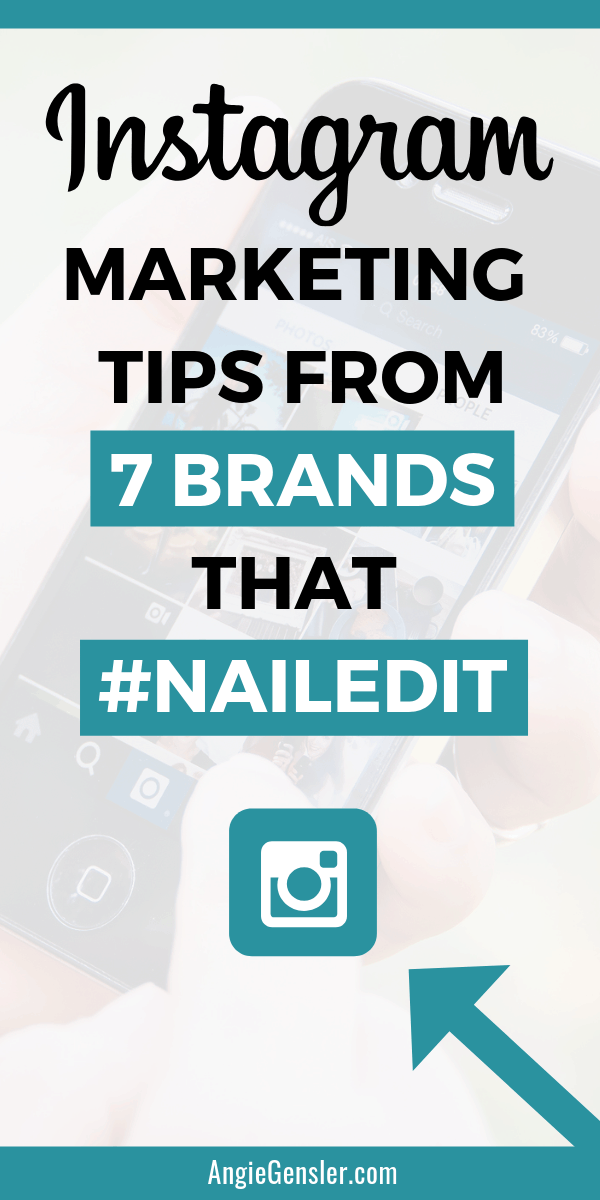 Instagram is one of the biggest social media platforms in the world with over 500 million daily active users.
If you're a small business owner or blogger, it's a pretty good chance your ideal customer is on Instagram.
The social media app has over 1 billion users in total and generates billions of dollars in ad spend revenue every year.
But while companies are spending big bucks on Instagram ads, not all marketing campaigns need you to spend thousands of dollars before you see results.
A little bit of creativity can make your content see huge engagement on social.
Some of the world's biggest brands are already tapping into Instagram's large network too.
Want over 365 days of social media content ideas planned out for you? Grab the 12-Month Social Media Content Calendar and save hours of time and stress, rapidly grow your followers, and skyrocket engagement on your social media posts. Click here to learn more and grab your copy!
Instagram Marketing Tips
This article explores seven brands that are doing an excellent job leveraging Instagram to increase their brand awareness and, ultimately, generate sales.
While these brands may have large budgets and big teams, as a small business owner or blogger, you can still learn from their success.
With each brand listed below you will learn a key takeaway and Instagram marketing tip that you can apply to your own Instagram marketing campaigns on a smaller scale.
National Geographic
With over 92 million followers, National Geographic is one of the most popular brands on the photo-sharing platform.
The reason for their popularity is simple – they share breathtakingly beautiful photographs.
The key takeaway from this brand is to focus on your strengths and embrace your niche.
Then, highlight it to the world using high-quality pictures that will get your audience fawning.
And you don't need to invest in a high-quality camera to take high-quality pictures.
Use a free stock photo site like Pexels or Kaboompics and use a free photo-editing suite to put your own personal stamp on them.
Dollar Shave Club
Dollar Shave Club is one the most iconic brands when it comes to viral marketing.
Their launch campaign, "Our Blades are F**King Great", is one of the most popular viral video ever made.
They recently launched in the UK and used several promotional tactics to capture their target audience.
These include pop-up free shave shops and partnerships with local social media influencers.
In addition, they leveraged another tactic they are well known for – humor.
In addition to posting funny content, they also post helpful tips for growing (and trimming) the ideal beard.
The takeaway is to use comedy in your marketing messages.
This helps you be more relatable to your audience and build up your know, like and trust (KLT) factor.
Airbnb
View this post on Instagram
Airbnb is known for using user-generated content in their marketing campaigns.
However, they took the world by storm when they launched their #WeAccept campaign.
The campaign focused on acceptance and highlighted the need to accept other people, regardless of race, social class, gender or ethnicity.
The campaign was a massive success with each post generating hundreds of thousands of likes and hundreds of comments.
The key takeaway from this campaign is how Airbnb matched the social cause to their brand philosophy, which is that Airbnb homes welcome guests from every background, gender & culture.
Think of how you can tie your brand into a social cause you care about and build a campaign around it.
Old Navy
Old Navy is another brand crushing it on Instagram.
The company is known for having a funky personality and relatable personality and they reflect this with their posts.
They understand their target audiences (people going to school, on family outings or just casual vacations) and create laid-back content that will attract them.
A quick scroll through their Instagram feed and you get the sense of a friendly brand that you can have fun with.
Their captions are witty, funny and have a casual tone that helps it stand out.
The key takeaway from Old Navy's Instagram is to deliver content that embodies your brand throughout.
Its feed is replete with bright, vibrant snaps of smiling families and light-hearted scenes, a visual embodiment of Old Navy's family-friendly brand.
This is a crucial takeaway for any business: look at any successful businesses online and you'll find that their Instagram (and indeed, all their social channels) regularly deliver content that adheres to a cohesive brand voice.
It creates a visual tethering between a brand's online presences that customers genuinely respond to — and one that your business can benefit from too.
Visa
For the past 18 years, Visa has been accepting athletes into their "Team Visa" program.
They do this in order to provide support and help these athletes achieve their sporting goals.
This year, Visa took it a step further and launched a special campaign ahead of the Winter Olympics in Asia.
The campaign is created to support their members and cheer them throughout the competition.
For this campaign, Visa-branded themselves as the "official payment technology partner of the Olympic Games," and continuously posted pictures of its athletes and used trending hashtags like #PyeongChange2018.
The key takeaway from this campaign is to capitalize on current events or trending topics.
Incorporate them into your strategy and you will see a boost in engagement, which improves your brand awareness.
Glossier
Glossier is a makeup line that offers a range of beauty products.
Their Instagram marketing campaign is a classic case of influencer marketing.
They collaborated with beauty influencers by sending them free samples of their products in exchange for a testimonial with the #glossier hashtag.
The key takeaway from this campaign is to leverage influencer marketing.
Testimonials and social proof play an important role in helping people make a buying decision.
Connecting and working with influencers to market your product or service, will result in increased brand awareness and sales.
Stella Artois
Stella Artois combined two marketing tactics that we have already discussed in this list to fuel their latest campaign: influencer marketing and a social cause initiative.
For its latest campaign, the beer company collaborated with non-for-profit Water.org, owned by the actor Matt Damon.
The campaign was simple: buy a Stella Artois chalice, and the foundation will receive a donation to provide clean water to a developing country.
The key takeaway from this campaign is this: people like to support causes that are bigger than they are.
When you combine such a powerful force with influencer marketing, the results would be through the roof!
Applying the Instagram Tips to Your Small Business
Marketing your products or services on Instagram is essential if you want to increase your brand awareness and revenue.
And judging from the case studies above, it is not that hard to do.
It is true that these are big brands with access to a lot of creative minds…
But with a little creativity of your own, you can make your own splash among your target audience.
The key is to use proven tactics like influencer marketing, social-cause movements, user-generated content, and current events, to create your campaigns.
Remember, Instagram is a visual platform, so you need to communicate your brand visually.
However, posting quality photos is not enough.
You need a compelling story to motivate people to engage with your brand.
Use these tactics and you are well on your way to finding success with Instagram marketing.
KEEP READING:
Did you find this article helpful?
Have more lingering questions about Instagram marketing?
Let me and Kayleigh know in the comments below!