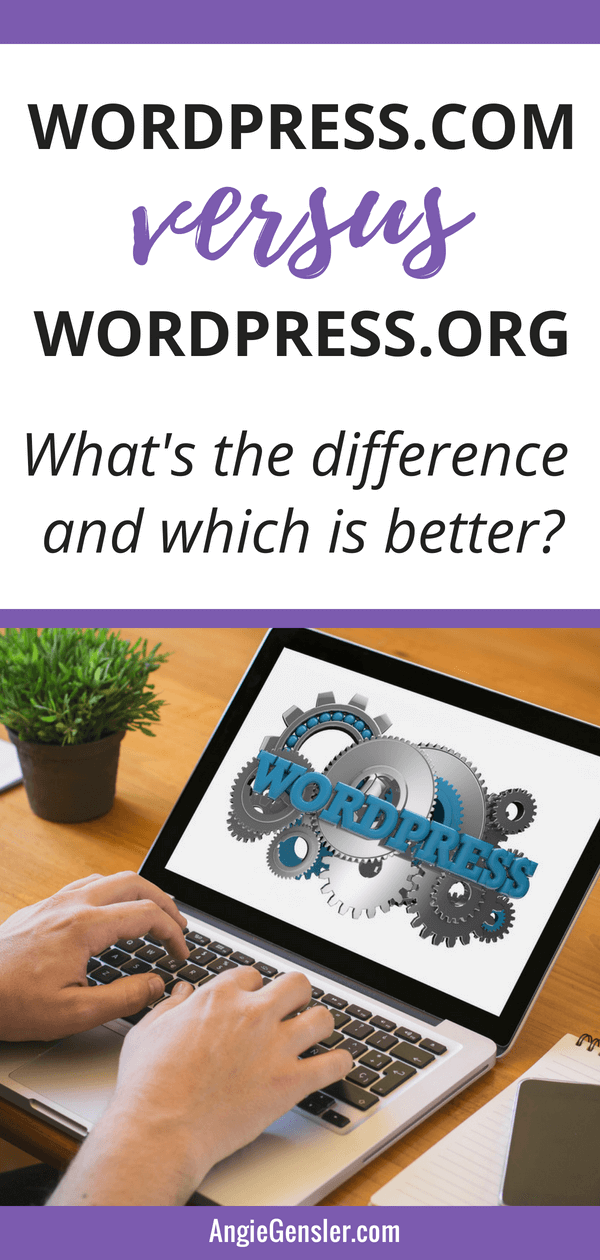 WordPress.com vs. WordPress.org is confusing for anyone to understand.
If you're just starting out and thinking about starting a blog, the .com vs. .org issue alone could cause you to come to a complete halt.
In this post, I'm going to clear up the confusion and explain the difference between WordPress.com and WordPress.org.
After reading this post, you'll know which WordPress is better for your needs and you can finally take action and start that blog you've been thinking about!
Please note this post may contain affiliate links and I may earn a commission if you click them and make a purchase. This is, of course, at no cost to you. Please read my disclaimer for more information.
First off, what is WordPress? WordPress is a website creation platform used to create blogs and websites.
Apart from its many useful features as a platform, WordPress has a robust community of users.
The community doubles as technical support whenever there is a question of functionality, which helps WordPress users feel comfortable during use. Currently, over 74 million websites use WordPress, and that number is growing. But which WordPress is better for bloggers?
WordPress.com vs. WordPress.org
If you're thinking about starting a blog, you're likely stuck wondering what the difference is between WordPress.com and WordPress.org and which one is better.
Of course, there's the obvious difference in the Top-Level Domains (TLD), i.e., .com and .org.
But what other differences exist between these WordPress platforms and how do you know which one to choose?
To help you decide between WordPress.com and WordPress.org and which platform is better for you, I'm going to outline eight factors that differentiate the two platforms.

1. Website Hosting
Hosting is the first main difference between WordPress.com and WordPress.org.
WordPress.com is a free service offered to users who want to create a website.
But, as with most things free, you get what you pay for. It has limitations which I'll address in a minute.
WordPress.org does not offer free hosting and requires you to self-host your site.
This means you need to buy hosting from a service such as SiteGround.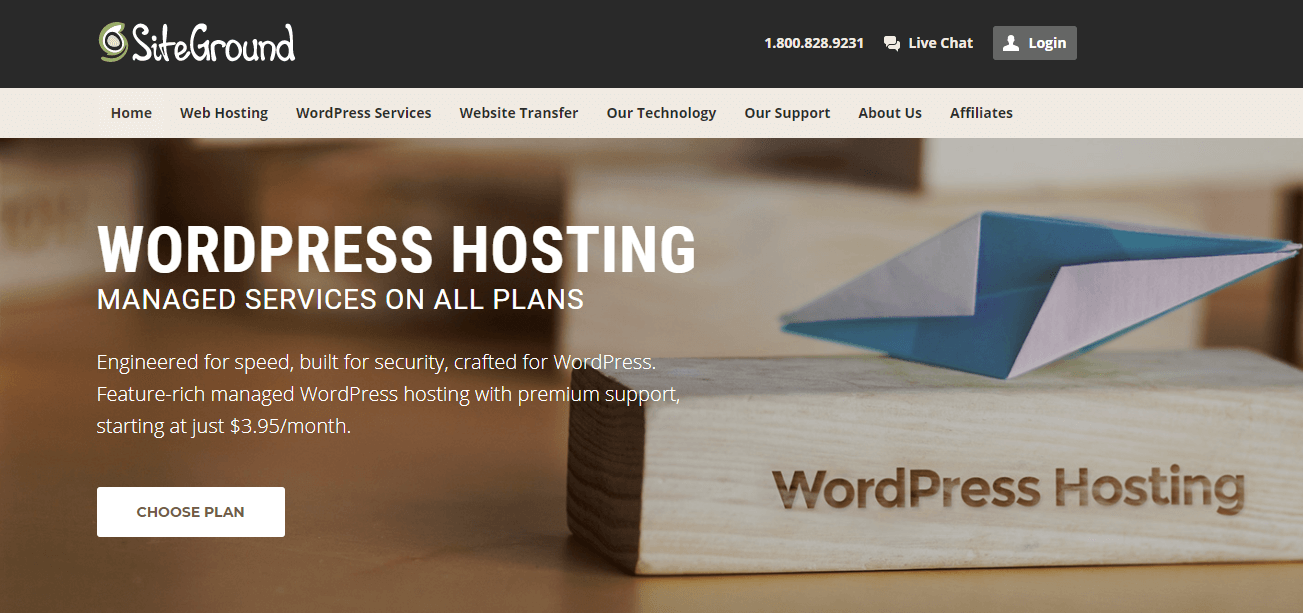 Hosting means uploading your site's resources to a server so that anyone can access it via the internet.
WordPress.org is a favorite among bloggers because it offers the freedom to choose a hosting service depending on your needs.
Some of the reasons you would want to use a private hosting service are:
Privacy:

You want to be able to decide what type of content you post on your website without interference.

WordPress.com may place advertisements on your blog (and you don't get the ad revenue).

Ownership:

You maintain full ownership of your blog content. This is not the case with WordPress.com. The

Terms of Service

for WordPress.com clearly states they have full access to your content. Check out this quote straight from WordPress.com's TOS:

"By submitting Content to Automattic for inclusion on your website, you grant Automattic a world-wide, royalty-free, and non-exclusive license to reproduce, modify, adapt and publish the Content solely for the purpose of displaying, distributing, and promoting your blog."
Regulations:

You don't want WordPress to attempt to regulate your activities.

Scalability:

As your site grows and you get more traffic, you need scalable servers for downtime and traffic concerns.
Yes, you do have to pay for hosting, but the price is minimal.
When you sign up for hosting with SiteGround you can get started for less than $50 for an entire year of hosting.
Just select the StartUp plan, which is ideal for brand new bloggers.
$50 is an extremely small price to pay to maintain full ownership of your content and have reliable, scalable servers.
When it comes to hosting, WordPress.org is the clear winner.
2. Theme Support & Design
Themes are what make WordPress sites so awesome.
A theme is the design and user interface of your WordPress website. Your theme also influences user experience and site performance.
WordPress has detailed guidelines for theme developers, and this ensures homogeneity amongst all the themes developed for the platform.
You can find a lot of free WordPress themes, but to be completely honest, they aren't worth using.
The features and beauty of premium (paid) WordPress themes far surpass free themes.
Our favorite theme is Divi.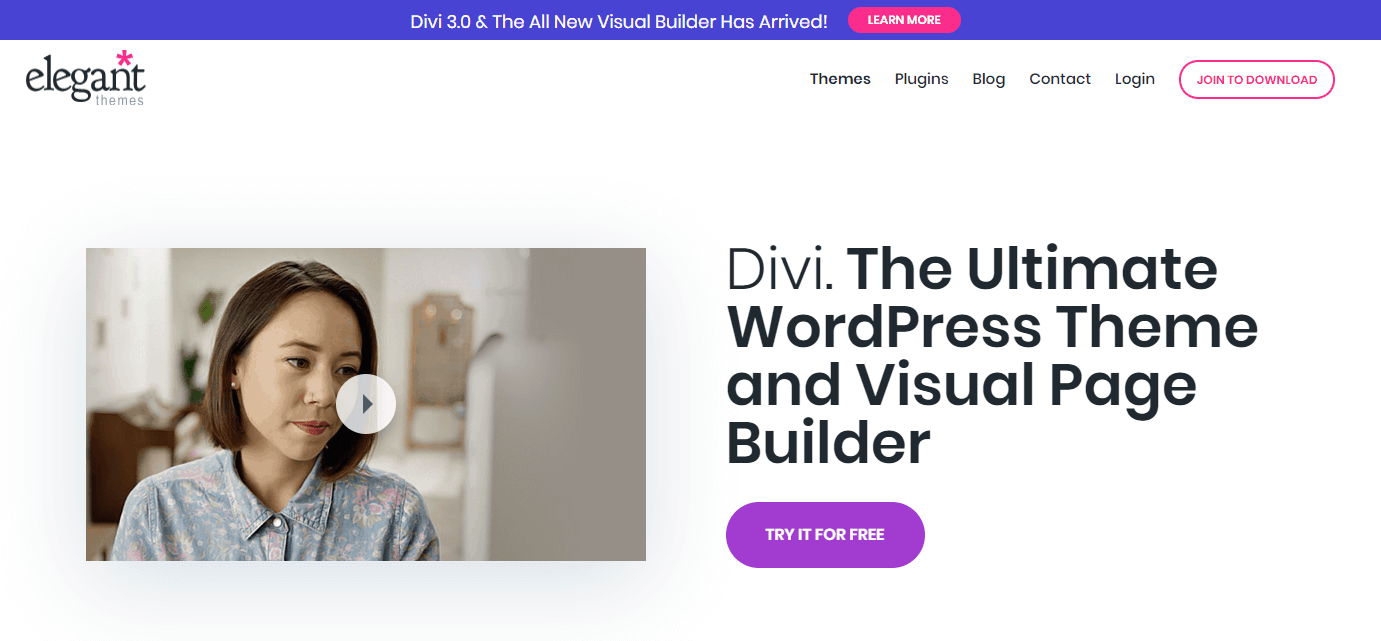 Divi is the theme Trevor and I use for this blog and for Easy Blog in a Box since it's the best theme for beginners.
The visual builder is a total game-changer and makes building a website a breeze!
Unfortunately, when you subscribe to the WordPress.com service, you are not allowed into the theme party.
You have only a few themes to use when designing your website.
WordPress.org opens your world to virtually any theme you can find and allows for further customization.
If you want complete creative control to differentiate your site from the countless other sites online, you need to choose WordPress.org.
Because I'm a total control freak, WordPress.org is the clear winner in my book when it comes to themes and designing your website.
3. Plugins
Plugins are a unique feature of the WordPress website builder. In my opinion, plugins are the secret sauce of WordPress and they supercharge your website.
To understand the need for plugins on your website, think about your cell phone.
Your phone works perfectly fine when the way it comes straight from the factory.
The phone manufacturer even includes some handy little apps and features.
Are you happy with the factory settings, or do you download additional apps to enhance its functionality and customize it how you like?
That's the way plugins work. They provide a vast range of extensibility for your website.
With a plugin, you can access any API and leverage its service on your site.
This means you can add anything to your site, from email service providers to payment solutions!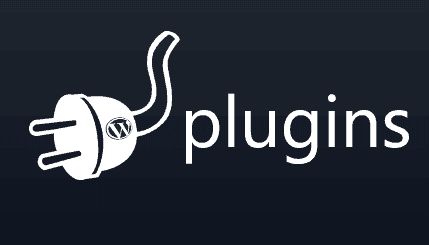 The possibilities are almost endless.
Just like "there's an app for that" with your phone, there's a plugin for that with your website.
Here's the deal though… …only users of WordPress.org enjoy the power of plugins.
The free WordPress.com service doesn't allow for installation of plugins.
In this faceoff between WordPress.com vs. WordPress.org, WordPress.org comes out once again as the clear winner.
4. The Freedom to Make Money
Let's face it. No one sets up a website without some hope to monetize it in the future.
A WordPress website is as robust as any other website coded from scratch.
It can integrate almost any payment service without breaking a sweat.
So, its functionality is not under question. But here's the issue.
Using the free WordPress.com service means you're ineligible to earn money through advertisements on your website.
One of the easiest ways to make money blogging is through paid advertisements on your site.
You display an image of a product or service on your website and if anyone clicks the banner and follows the link, voila, you earn money!
Placing paid ads on your site is the easiest way to earn money because it leverages your traffic and is very low maintenance and passive.
Unfortunately, WordPress.com doesn't allow you to place advertising banners on your website.
Only WordPress.org users enjoy this advantage.
So not only are you denied juicy plugins and themes, but you're also not allowed to advertise on your website.
Are you starting to see a trend here? WordPress.org wins again in the WordPress.com vs. WordPress.org square off.
5. Website Maintenance & Security
All websites require regular maintenance and backups.
Additionally, you need an extra layer of security to protect your site from hackers.
When you sign up for a free WordPress.com account, your site's support, backup, and security is handled by WordPress.
This is great because WordPress has an impressive security team that works around the clock to secure your content from third-party invasion.
However, if you want to use advanced security features, you will have to upgrade to the WordPress.org.
The extra security tools available with WordPress.org protect your content from malware, penetration attempts, and hacking.
They offer better monitoring of your websites against external attackers. In essence, they provide an extra layer of security.
For brand new bloggers, this extra layer of security may not be necessary in the beginning.
For that, I give the win for maintenance and security to WordPress.com.
6. Membership Site & Community
Not every aspiring blogger is looking to build a typical blog.
Some are more interested in creating forum sites or paid membership sites.
For example, say you sell a product and want to create a support community on your website for your customers.
The support community will serve as a means to get all your users in one place while letting you provide solutions to problems that they may be facing.
The community will also be very beneficial for SEO as the content is natural and consistent.
It is also useful for projecting your brand image and converting more customers.
You'd love to add all these juicy community features to your business website right?
Well, not so fast. The forum and community feature is only available for WordPress.org users.
If you currently use the WordPress.com service, you can't add this feature to your site. Surprise, surprise.
Another win for WordPress.org.
7. E-commerce
E-commerce refers to the buying and selling of products online.
If you're thinking about starting an e-commerce site, WordPress has you covered.
There are numerous WordPress plugins and third-party services available to build an ecommerce site.
These plugins and services can extend your website from a simple content display page to a massive online shop.
This added functionality means you can place products for sale on your website.
Visitors to your website can then purchase products seamlessly and safely straight from your website.
I'm sure you can guess by now that e-commerce features are currently NOT available to WordPress.com users.
With WordPress.com, you can list products on your pages, but you cannot accept payments on your website.
Because e-commerce features are plugin dependent, you need to have a WordPress.org website in order to build an e-commerce site.
If you want to sell products directly from your website, WordPress.org is the winner.
8. SEO and Analytics
In order to build a successful blog, you need to be able to study your site's performance and use that information to continually improve your site.
How do you study your website's performance?
Analytics! Your website's analytics are a record of all the vital information from your website over a given period of time.
This includes site visitors, conversion, and ranking.
Google analytics is the most popular analytics tool among bloggers. It's extremely robust and completely free.
Take a look at the screenshot below.
This shows a tiny fraction of the data you're able to gather from Google analytics.

Analytics can tell you where and how your site is underperforming.
You can use that data to boost your site's weak areas and enhance the user experience.
SEO is search engine optimization and refers to techniques you can leverage to improve your website's search engine ranking.
Good SEO depends on analytics.
Analytics help you direct your SEO efforts to weak areas on your site that could use some improvement.
It's obvious how these two features – SEO and analytics – are relevant to your website.
The only problem is, these are premium features that are available for WordPress.org users only.
Free WordPress.com users must depend on external analytics to follow their site's performance.
And sadly, these external analytics services are not cheap. Bottom line, Google Analytics is easy to install and free with WordPress.org, making it the winner in the SEO and analytics category.
The Overall Winner: WordPress.org
As the winner of 7 out of 8 categories, WordPress.org comes out on top as the clear winner.
With that being said, if you're comfortable blogging as a hobbyist, and don't want to monetize, then WordPress.com will fit your needs just fine.
For those of you looking to turn your blog into some side cash or even a full-time job, you need WordPress.org.
If you're ready to get started with your own blog, be sure to read How to Start a Blog or download your free copy of my ebook: The Non-Techies Guide to How to Start a Blog by filling out the form below.