The magnitude of advice, tools, and resources available to help you with social media marketing is beyond confusing.
The confusion leaves my readers and customers filled with questions.
And the #1 question I get asked about social media is…
"What social media scheduling tool do you recommend?"
There are tons of tools available to help you plan and automate your social media posts.
The only problem is, how do you find the right tool for your needs at a price that won't cripple your business?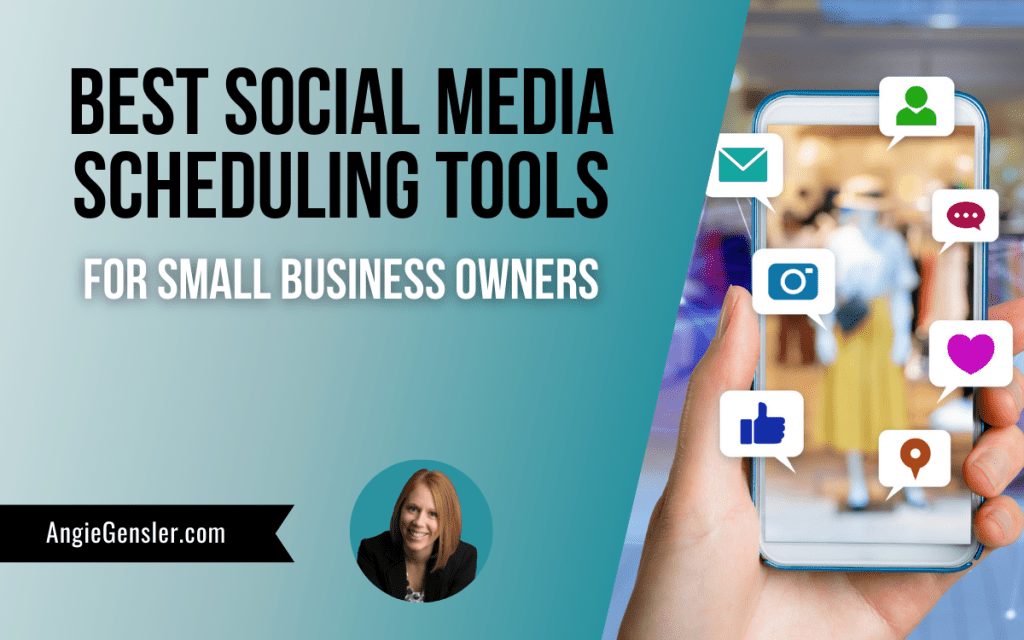 This post contains affiliate links. If you make a purchase using one of these links, I may receive a small commission. Please know that I only recommend products I have used and that I sincerely think will help your business.
I've used many different social media schedulers throughout my marketing career.
Based on my experience, there are three tools I recommend for small business owners.
And don't worry; you only need one of the tools I list below, and this post will help you determine the right one for your business.
Let's get started!
1. CANVA PRO CONTENT PLANNER
Canva.com is free to use but the free plan does not include the full spectrum of features Canva provides.
There are some major benefits to paying for a Pro account which only costs $10-13 a month.
One of the benefits is the Content Planner which allows you to schedule social media posts directly from Canva.
Instead of downloading the images you create in Canva, you simply schedule them to social media directly from your Canva account.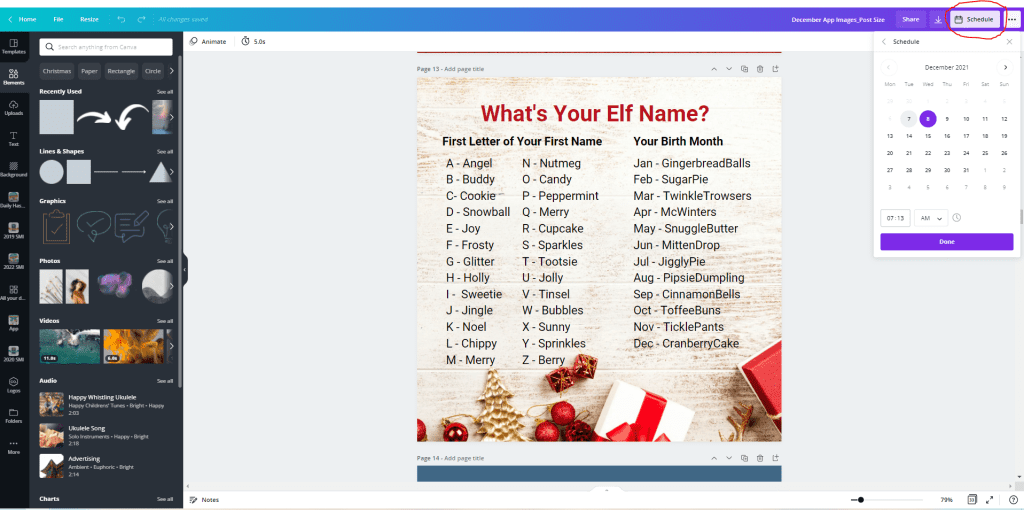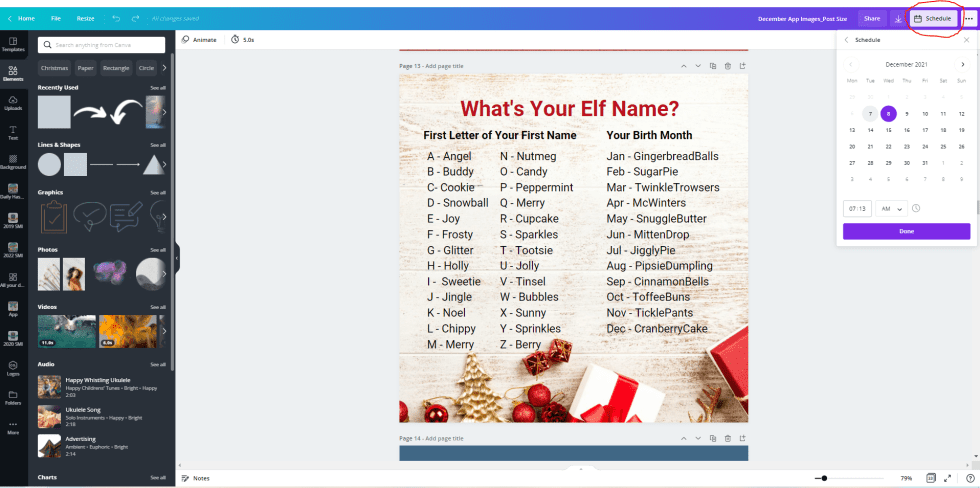 The Canva Content Planner currently allows you to schedule posts to Instagram Business pages, Facebook Pages, Facebook Groups, Twitter, LinkedIn, and Pinterest.
If you use Canva to create social media images or you want to customize the images included in the Social Media Content Club, Canva Pro might be a great fit for you.
Watch the video below to learn how to schedule content from the Social Content App using Canva Pro.
The biggest downside with Canva Pro is that the Content Planner is very basic.
You won't find advanced features like hashtag lists, content recycling, bulk editing, or post previews.
If you like the idea of scheduling your Canva images but you need a more robust tool with higher-end features, then you're going to love the next tool.
2. SOCIALBEE
SocialBee is quickly becoming our favorite social scheduler because it integrates with Canva.
When you create a new post inside SocialBee you simply click the "Design with Canva" button to open your Canva account.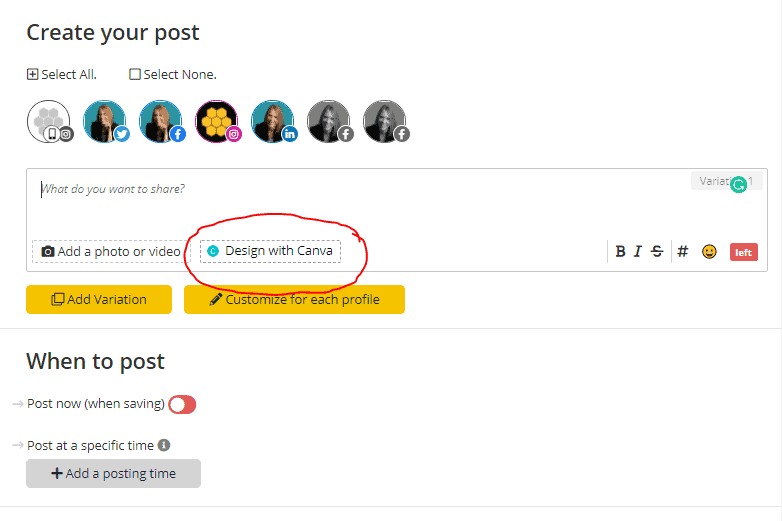 Once your Canva account is open, you can either design a new image or select an existing image to load into the post.
For users of Canva or the Social Media Content Club, the Canva integration feature makes scheduling content a breeze!
And guess what? The Canva integration is just the tip of the iceberg with SocialBee.
The tool is incredibly robust with features like content categories, custom schedules, URL tracking, hashtag lists, bulk editing, post previews, and so much more.
Watch the video below to see a few of my favorite SocialBee features in action.
In addition to all the incredible features, SocialBee also has a smooth, user-friendly interface and it's incredibly affordable.
Plans start at just $20 a month, and if you use our affiliate link to sign up, you'll get 30% off any monthly or annual plan.
The only downside with SocialBee is that it can be overwhelming for those who consider themselves technologically challenged.
If the thought of setting up content categories and custom posting schedules makes your brain hurt, then I recommend you use the Content Planner inside of Canva Pro or consider the third tool I recommend for small business owners.
3. PROMOREPUBLIC
PromoRepublic was our preferred scheduler for years because it provides all the pieces you need to create and schedule content in one place.
Robust Content Scheduler
Built-in Graphics Editor (Think Canva)
Library of Done-for-You Content
Detailed Stats and Reporting
PromoRepublic does not integrate with Canva, but it does have its own Canva-like graphics editor, which I demonstrate in the video below.
If the built-in graphics editor doesn't appeal to you, don't worry, you can easily download your images from your preferred tool and load them into PromoRepublic.
PromoRepublic offers many of the high-end features that SocialBee offers, but the one thing that sets PromoRepublic apart is Autopilot, which I also demonstrate in the video above.
Autopilot is a smart AI system that creates an optimal posting schedule for each social media platform. How cool is that?!
Autopilot is a great way to maximize your social media marketing efforts.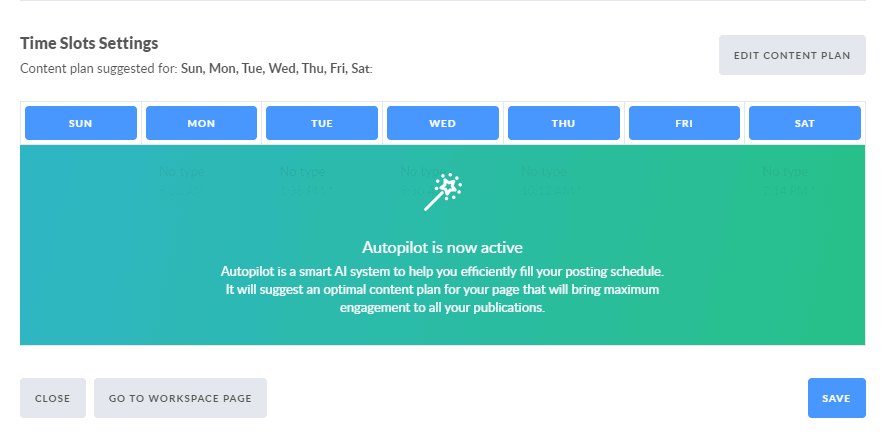 The main downside with PromoRepublic is that it's the most expensive option of the three tools I recommend.
That's why I've formed a partnership with PromoRepublic to cover half the cost for the next 12 months.
Yep, you read that right!
You can save 50% off an entire year of PromoRepublic if you sign up here.
CONCLUSION
Now that you know the social scheduling tools I recommend for small business owners, I want you to select the best scheduling tool for your needs and put a plan in place to regularly create, schedule, and post content.
This is important so please don't put it off another day.
Having a plan that you can easily and consistently execute is what will finally deliver results for your business.
To help you make the best decision for your business, here's a summary of the pros and cons of each tool.
CANVA PRO CONTENT PLANNER

Pros: Cheapest tool. Easily schedule Canva and Social Content App images.
Cons: No advanced scheduling features. Super basic.
SOCIALBEE

Pros: Very affordable. Incredibly robust – best features of any tool. Integrates with Canva to easily schedule your Canva or Social Content App images.
Cons: If you're tech challenged, it can be overwhelming to use.
PROMOREPUBLIC

Pros: Autopilot AI scheduling, robust features, a library of done-for-you content, built-in graphics editor.
Cons: Does not integrate with Canva or the Social Content App. Most expensive option of the three tools (although our 50% discount helps).
Once you've selected the right tool for your business, be sure to check out the Social Media Content Club.
You'll get access to 4 types of daily content, a library of professionally designed images, done-for-you captions, and an AI post generator.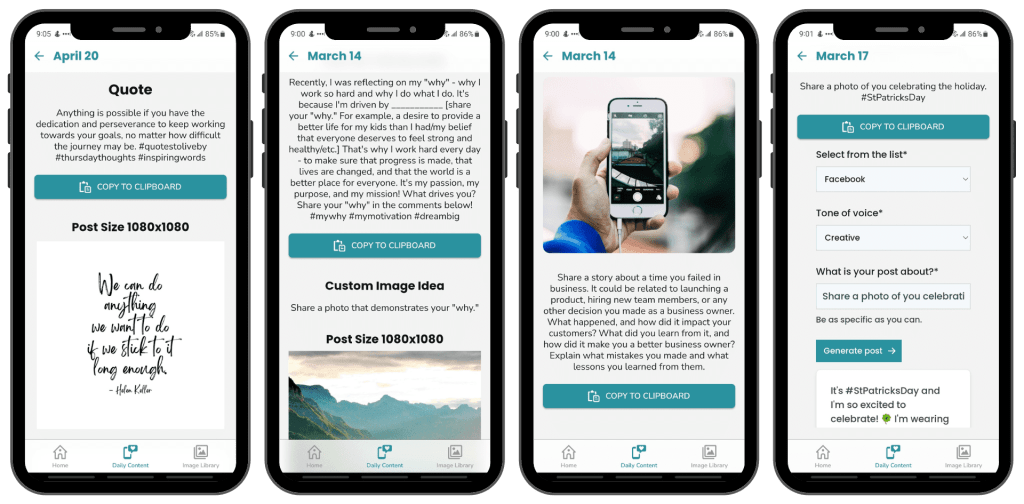 If you found this post helpful, please share it with others! It would mean the world to me.
KEEP READING: