When I launched my blog my list grew faster than I ever imagined possible! In this post, I outline the five email list building methods I used to grow my list from 0 – 500 email subscribers my first 30 days as a blogger.
(Update: Since writing this post, I have implemented a new strategy that has exploded my website traffic. You can learn more about that strategy in my post, How to Use Tailwind Tribes to Explode Your Website Traffic.)
Please note this post may contain affiliate links and I may earn a commission if you click them and make a purchase. This is, of course, at no cost to you, and I only share products that I use and love myself. Please read my disclaimer for more information.
When I set out to start this blog, Trevor (my husband) and I put a few goals on our whiteboard.
Launch blog in January (2017)
Get 100 email subscribers by July (2017)
Launch first core product by September (2017)
Make $10,000 in 2017
Goal #1: Achieved!
I worked my butt off and launched the website on Sunday, December 18, 2016.
Side note, by "launched the website" I mean I published three blogs posts and made them visible to the public and search engines.
I also want to mention that I still had kinks to work out when I went live.
Instead of focusing on perfection, I just launched what I had with the understanding that my audience can help me refine and get better over time.
Growing a business is about perseverance, not perfection! I talk about this more in 10 Reasons Perseverance, not Perfection, is the Key to Social Media Success.
Goal #2: Blown out of the water!
In the 10 years I've worked as a marketing professional, I've heard countless stories about how long it takes to build an audience and grow an email list.
When I set my first four goals, I anticipated a slow crawl. I thought six months was a realistic goal to achieve 100 email subscribers.
Thank goodness I was wrong! Take a look at what I experienced those first 10 days after my site went live.
12/18/16 – Angiegensler.com went live!
12/19/16 – 3 subscribers. Cue the happy dance.
12/20/16 – 3 subscribers. Love it!
12/21/16 – 3 subscribers. Ok, looking good. I might hit that goal sooner than I thought.
12/22/16 – 6 subscribers. Sweet!
12/23/16 – 18 subscribers. WHAT?!!
12/24/16 – 15 subscribers. Wow, I can't believe it! 15 subscribers on Christmas Eve?
12/25/16 – 8 subscribers. Slower, but hopefully due to it being Christmas.
12/26/16 – 17 subscribers. Awesome, picked right back up!
12/27/16 – 28 subscribers. BOOM! Hit my 100 subscriber goal on day 10!
The big question is, how did I do it?
I analyzed my website traffic and conversion analytics and identified five methods that factored into the immediate growth.
1. I created a super awesome lead magnet!
A lead magnet is something of value you give for free in exchange for an email address or other information.
You offer something so irresistible your visitors happily give you their contact information.
All the experts say the money is in the list and you must focus on building your list.
In order to build an email list, you have to create a great lead magnet, also known in the blogging world as a freebie.
When you're just starting out this is really frustrating advice. How do you know what constitutes a great freebie?
Since no one gave me specifics, I downloaded every freebie I could find!
This proved to be outstanding research and gave me a ton of insight.
Here's what I discovered. A great freebie is NOT a glorified journal.
Those freebies frustrated me. I don't need a beautifully branded piece of paper to help me determine my vision or my goals.
I need actionable tips and helpful resources!
I discovered the idea for my lead magnet one day while scheduling social media posts for my 8-5 day job. In 2015, I created a social media content calendar to help me stay consistent with social posts.
That calendar has saved my butt countless times when I've been swamped with other projects or have felt particularly uninspired.
I figured, if it has helped solve my problems, it can help others as well!
A great freebie is something that solves a problem or teaches something new.
Some specific examples include:
Social media content calendar with daily social post ideas
Step-by-step checklist on how to prepare your house for re-sell
20% off your first order (product specific)
Free 30-minute consultation with a nutrition coach
Mini email course on how to get started with essentials oils
2. I installed opt-ins and calls to action all over my website.
I worked hard on my lead magnet and I was determined every visitor knew about it!
I placed opt-in forms and images with strong calls to action all over my site.
I also made sure the verbiage and visuals were consistent and every opt-in promoted the calendar.
I don't have a single opt-in promoting a generic newsletter subscription.
According to The Radicati Group, the average user sends and receives 122 business emails per day!
That's a lot of emails and indicates that no one needs another generic newsletter email in their inbox.
So where did I put all those opt-ins?
Home Page – this page acts as a landing page. My call to action consumes the entire screen and all fits above the fold.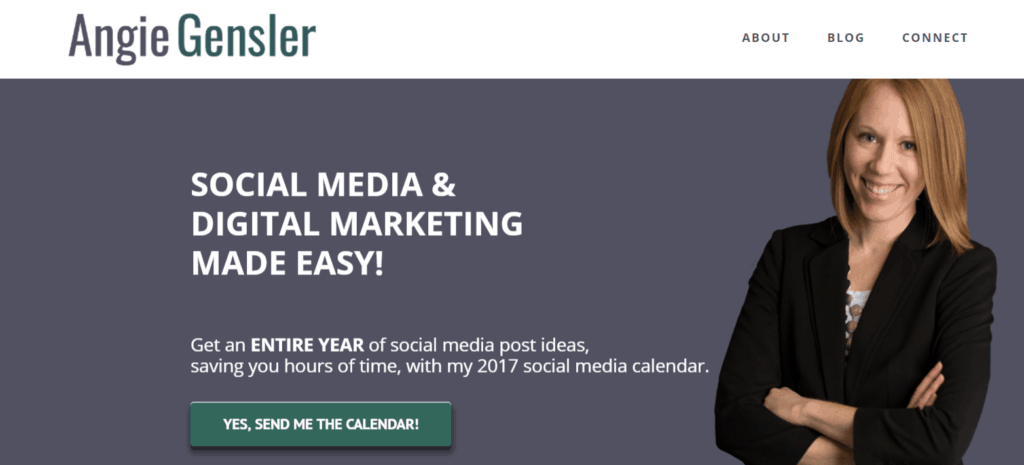 Pop-ups – I have an opt-in form designed to pop up as a visitor is about to leave or after 30 seconds. This is installed on every single page and is set to show only once per day.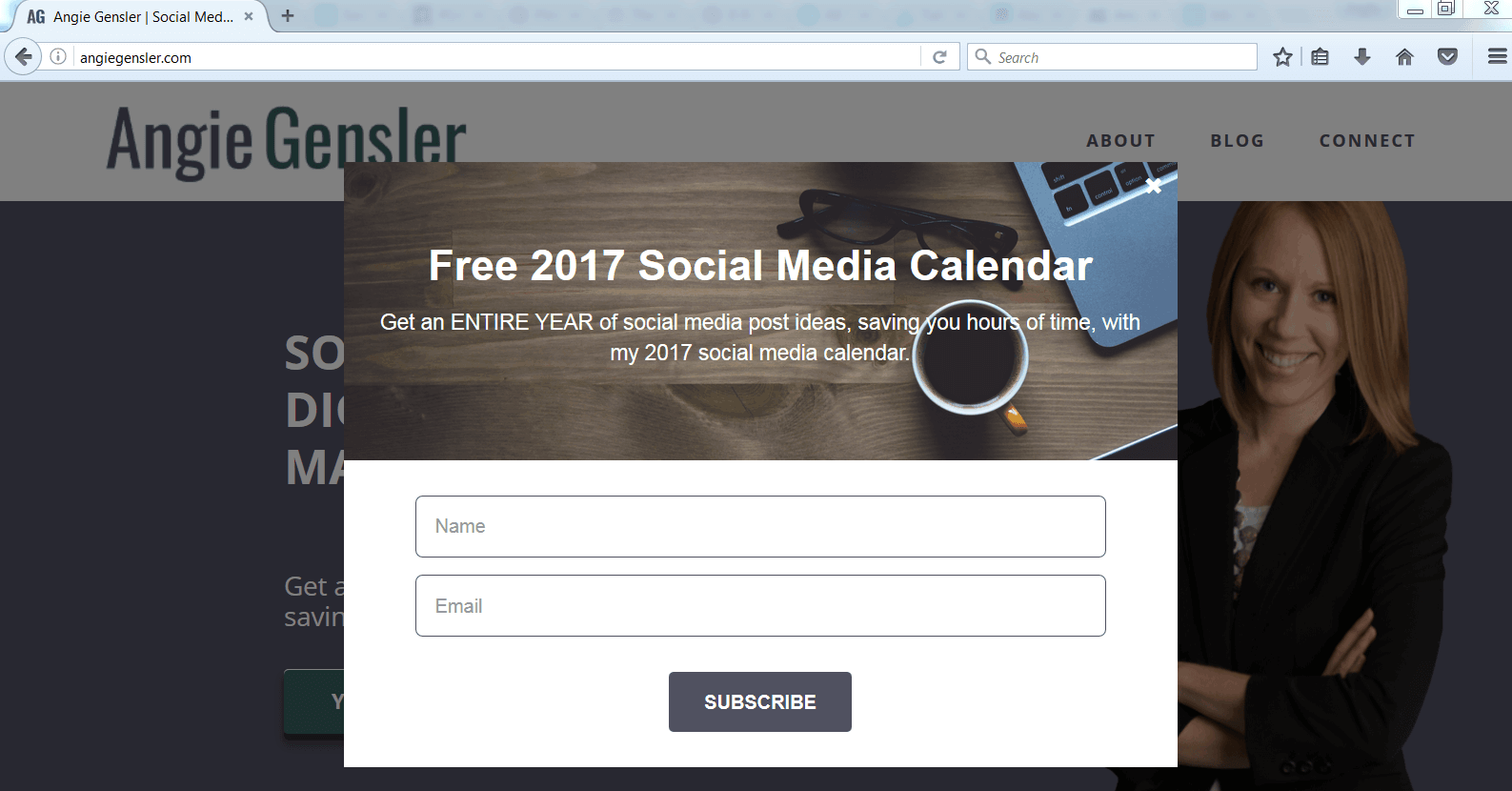 Footer – I have an opt-in form on the footer of every page. Scroll down to see the footer opt-in.
Sidebar – I also have an opt-in form on the sidebar of every blog post. Look over to your right (or scroll down on mobile) and you'll see.
Within every blog post – I included opt-ins within my blog posts. The average reader has a very short attention span and breaking up articles with images has shown to keep them engaged longer. Instead of hunting for hours for relevant stock images, I designed an image promoting my freebie! Check it out:
At the end of every blog post – The last place I added an opt-in form was the end of every blog post. Scroll down and you'll see!
I use two tools to create all those lovely opt-ins. I use MailMunch for the form at the end of my blog posts. MailMunch is a free WordPress plugin with upgrade options.
The rest of forms were created with MailerLite.
I am in love with MailerLite! It is the most affordable, robust, and user-friendly email management tool I have ever used. It's completely free until I hit 1,001 subscribers and after that, prices are still ridiculously cheap.
Not only can I manage subscribers and easily create gorgeous automated email campaigns, but it also allows me to create landing pages, popups, and embeddable opt-in forms.
Seriously, MailerLite is amazing.
3. Clean and simple mobile-responsive website design.
When I started this blog, I took into account all the things I love and don't love about blogs and websites.
My favorite thing about blogs? They're real and raw.
No fake brand messages or big, fancy words.
The writing is conversational and you feel like you're best friends with the writer.
My least favorite thing about blogs?
All those damn ads! To be fair, it's mostly the food bloggers who still do this, but all those ads ruin the experience.
I don't know where to look, what to read, or what to click on next.
The experience is particularly painful when you're on a mobile device.
According to Tony Haile, CEO of Chartbeat, you've got about 15 seconds to grab the attention of the average reader.
Those 15 seconds are the most precious seconds you'll get with your reader and I want to make sure those seconds are not wasted on ads or clutter.
I designed my site with minimalism in mind.
One thing I have learned through my ten years of marketing experience is this: simple is better.
More whitespace tends to perform better.
For this reason, I kept my website design clean and simple.
The images are very basic and the options are limited.
The entire site is designed with three actions in mind – download my lead magnet, read my blog posts, and connect with me on social media. That's it.
I also made sure the entire experience was mobile friendly and tested it like crazy on my laptop, phone, and tablet.
I did this for two reasons.
First, Google says more than 50% of all searches are now conducted on a mobile device.
Because of this, Google is starting to rank mobile-friendly websites higher in search results.
If you have any hope of being found through search you better have a mobile responsive site design.
If you have any hope of being found through search you better have a mobile responsive site design.
The second reason was based on my own experience.
The Google analytics on all the websites Trevor and I manage show more visitors coming through mobile than desktop.
I don't want a single user to bounce (leave after visiting one page) because my site is a hot mess.
I also tested all my opt-in forms and pop-ups on mobile.
I can't tell you how many times I've been on my phone and found a website through Pinterest, but I can't do a thing on the site because I can't close out of the pop-up.
4. I engaged in Facebook groups.
If you're not a member of a few Facebook groups in your niche, that's the first thing I want you to do after reading this blog post.
Facebook groups are amazing and they blew my mind when I first got started.
For you newbies, a Facebook Group is a community of like-minded people all focused on a specific topic or niche.
There is a Facebook group for any topic and any audience and they are so easy to find!
If you're a blogger or business owner you can join my Facebook Group, Team of One Business Owners!
I'm growing a community of driven solo entrepreneurs who want to collaborate, offer encouragement, and promote one another. Click here to join my group.
When you join a group, be sure to read the rules. Most groups do not allow spammy sales pitches.
You must be helpful. Respond to questions and offer advice and the conversation will naturally drive them to your website.
Trust me, it works, and I have the analytics to prove it.
Below is a screenshot of my website traffic generated from social media from December 18 to December 27.

39% of my traffic is from Facebook and that's all from Groups. Remember, these stats are from my first 10 days as a blogger.
I didn't have a following on my Facebook page, and I did not pay for ads.
That's the power of Facebook Groups!
5. I joined a few Pinterest group boards.
When I started this blog, I knew I wanted to focus on Pinterest to drive traffic.
I knew the potential of Pinterest and I had a gut feeling Pinterest was going to deliver the best results.
I talk more about why I chose to focus on Pinterest in my post, Why you're not mastering social media and what you can do about it.
Pinterest did not disapoint! It drove over 50% of my website traffic and those visitors were highly engaged and converted into subscribers.
To learn my proven Pinterest strategies, sign up to take the Pinterest Traffic Trifecta Masterclass.
My free Masterclass will give you all the details, but let me give you a quick synopsis of how I used Pinterest to grow my list.
I started building my Pinterest page in September, about three months before my website went live. I used this time to test everything. I changed my name, description, board titles, links, and anything else you can change, about 10 times before I discovered what performs best.
Once I had my profile optimized and my boards full of Pins, I requested to join 10 group boards. I was accepted to three group boards and that was more than enough!
I uploaded my first Pin of my own content onto my boards on December 20, two days after my site went live. On December 21, I pinned my own content pins onto my three group boards.
I used Tailwind to schedule out my pins so I had a steady trickle of pins over a couple days' time. If you look back at my daily email subscribers you'll notice on December 22 my subscribers doubled from 3 to 6 and on December 23 my subscribers skyrocketed to 18.
This is no coincidence, Pinterest is driving 50% of my website traffic and the group boards are contributing to the majority of this traffic. Take a look at this report from Tailwind. My top two performing Pins during that 10 day period were both posted on a group board.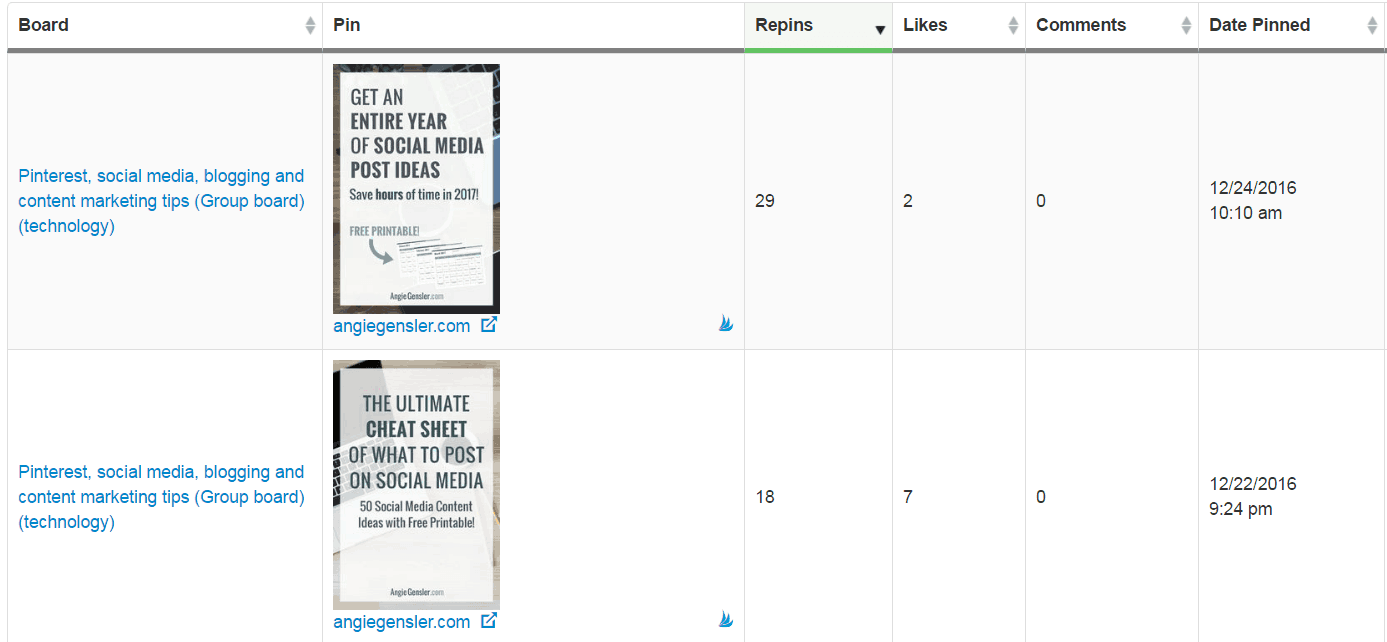 Quick Summary
So there you have it! I went from 0 – 100 email subscribers in my first 10 days as a blogger with just five simple methods:
A killer lead magnet
Lots of opt-ins
Simple and mobile-responsive website design
Facebook groups
Pinterest Group Boards
Want me to walk you through my list building methods in more detail?
I realize these tactics are not simple for everyone, so I'm creating a course to teach you step-by-step, exactly how to do this for your own blog or business.