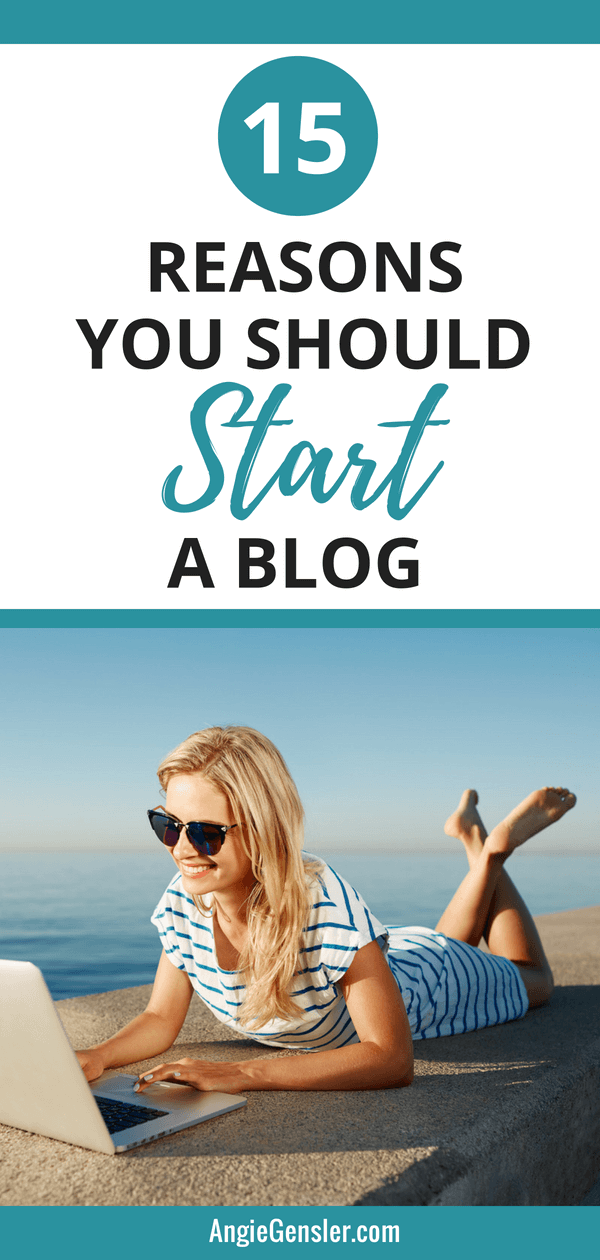 Blogging can be a fun hobby, a killer marketing strategy, or even a lucrative career.
In fact, many small business owners have built successful businesses with a blog and numerous lifestyle bloggers have quit their full-time jobs and replaced their income with their blog.
There are many bloggers earning six and even seven-figure incomes from their blogs.
Sounds amazing, right?
The truth is, starting a blog is a big commitment and many people play around with the idea of starting a blog for months or years before they finally pull the trigger.
Whether you're interested in blogging as a hobby or as a business, the most important thing is to take action and get started!
Should I Start a Blog?
To help you take action and answer the question 'should I start a blog?' here are 15 reasons you should start a blog.
1. Blogging Gives You Purpose
Blog content is meant to inspire, educate, or entertain.
No matter which of those three categories your content falls within, you'll feel an unbelievable sense of purpose from the content you create for your blog.
If you're currently in a rut in your job or your business (or you recently retired) and you don't feel like what you do matters, a blog is an outstanding way to bring purpose back into your life.
2. Make a Difference With Your Blog
Blogging provides you the opportunity to reach people all over the world.
No matter what topic you're blogging about, there's someone out there who will benefit from what you have to say.
Whether you blog about fitness, food, faith, crafting, or bird-watching, there is someone in the world who will benefit from the content you create.
Your blog allows you the opportunity to make a difference in people's lives.
3. You Can Make Money Blogging
Blogging can actually be an extremely lucrative career.
There are numerous bloggers making five and six-figure incomes from their blogs.
There are even bloggers make seven-figures a year!
Most people think you have to slap ads all over your blog to make money.
In reality, most six and seven-figure bloggers don't even have ads on their website!
There are a variety of ways to make money with your blog.
Read: 10 Proven Ways to Make Money Blogging to learn how.
4. Blogging Makes a Great Hobby
Some people knit, some golf, others play an instrument, and some people blog.
In fact, blogging makes a great hobby!
A lot of bloggers start their blog as a creative hobby to give them something to do in retirement or while their kid's nap.
You don't need to have a business idea or a monetization plan to start a blog.
Your blog can begin as a fun hobby or side-project.
5. Form Relationships With Like-Minded People
Like most hobbies and professional industries, blogging has unique communities you can join and conferences you can attend.
When you become a blogger, you'll quickly discover that other bloggers like to hangout and connect with one another in Facebook groups.
You'll have the opportunity to form relationships with fellow bloggers and like-minded people all across the world.
To find groups to join, read 9 Facebook Groups for Bloggers.
6. Blogging is a Great Creative Outlet
If you're feeling creatively stifled, blogging is a great outlet!
Blogging allows you to express yourself through words and design.
And because you own your blog, you have full creative control over what you write and how you design your blog.
It's extremely liberating to have that type of creative control!
7. Blogging Helps You Find Your Voice
Obviously, blogging requires you to write…a lot.
If you're posting weekly (or even monthly) blogging requires a lot of writing.
The first few blog posts may be painful to write.
You might struggle to find the correct words or have difficulty structuring your content.
But, after those first few posts, magic begins to happen.
You get over the hump – that initial learning curve – and you find your voice.
You begin to feel more comfortable expressing your personality and sharing your perspective.
The great thing about finding your voice is…
…it benefits every area of your life. From your business to your personal relationships.
8. Blogging Improves Your Writing Skills
In addition to finding your voice, consistently writing content also greatly improves your writing skills.
The great thing about blogs is the writing style is very informal and conversational.
You don't need to know (or adhere to) the MLA or AP writing styles.
Blog readers actually prefer a conversational writing style.
They love to feel as if the author is their friend and speaking directly to them.
The funny thing about this is…
…when you get better at writing for people instead of college professors (yes, they are people too, but you know what I mean) your writing gets better.
9. Blogging Positions You As the Expert
The more you write about a certain topic, the more people start to see you as the expert on that topic.
With each blog post you write and publish, you're strengthening your credibility in your niche and building the trust of your readers.
If you own a business that provides a professional service (investment advisor, realtor, nutritionist, consultant, etc.) blogging is a great way to position yourself as an expert in your niche.
10. Blogging Opens Doors of Opportunity
Because your blog will position you as the expert, you'll be amazed at how quickly it opens up new doors of opportunity.
People want to hire and work with someone they respect and trust, and blogging will help you earn respect and trust from your readers.
Within just a few months of starting this blog, I began to receive requests for consulting work and speaking engagements.
11. Blogs Are a Great Marketing Tool
Old-school forms of marketing, such as yellow page ads, radio commercials, and direct mail postcards, are no longer as effective as they once were.
Small business owners today must integrate digital marketing into their traditional marketing mix.
Content marketing (blogging) is a great form of digital marketing for small business owners because it's very affordable.
Creating educational, inspiring, or entertaining blog content is an excellent way to attract your ideal customer and grow your business.
Read how content marketing saved River Pools during the 2008 recession.
12. Search Engines Love Blog Content
Blogs are such great marketing tools because search engines (Google, Bing, Yahoo) love content!
The more content a website produces, and the more consistent they are in producing valuable content, the higher the website will rank in search results.
Once Google and other search engines deem your site as a credible resource, you'll start to see free traffic coming to your blog!
13. Blogging Provides Exciting New Experiences
Blogging is anything but monotonous. Each day brings a new challenge and a new experience.
You'll love the new skills you develop from blogging, and as your blog grows, you'll be presented with exciting experiences.
Depending on your blog niche, you may have the opportunity to work with large brands and companies in exchange for a sponsored blog post or honest review.
Many popular bloggers even receive free products, services, trips, and more.
14. Blogs No Longer Require Technical Expertise
Ten years ago, starting a blog required a lot of technical knowledge and website coding expertise.
Today, you just need to know how to copy and paste, and drag and drop, to start a blog.
There are so many great blogging platforms and themes that make starting and building a blog extremely easy.
If you're concerned about the technical setup of your blog, I encourage you to check out Easy Blog in a Box.
Easy Blog in a Box handles all the technical setup and provides you with 9 pre-designed pages using the world's most popular WordPress theme.
15. Blogging Will Increase Your Confidence
All of the benefits listed above will contribute to an increase in your overall confidence.
When Trevor and I started our blogging journey we were constantly filled with self-doubt.
Over time, with each new blog post we published, each new comment we received, and each new customer we acquired, our confidence increased.
Thanks to our blogging experience, we now feel more confident to tackle any challenge and face any fear.
Take Action and Start Your Blog
I hope those 15 reasons convinced you to finally take action and start your blog today!
If so, I want to help you out every step of the way. Complete the form below to download my free 49-page ebook: The Non-Techies Guide to How to Start a Blog.
If you found this article helpful or you have more questions please let me know in the comments below!