Would you like to grow your following and increase engagement on social media?
Including hashtags in your social media posts is the quickest and easiest way to improve your social media marketing results.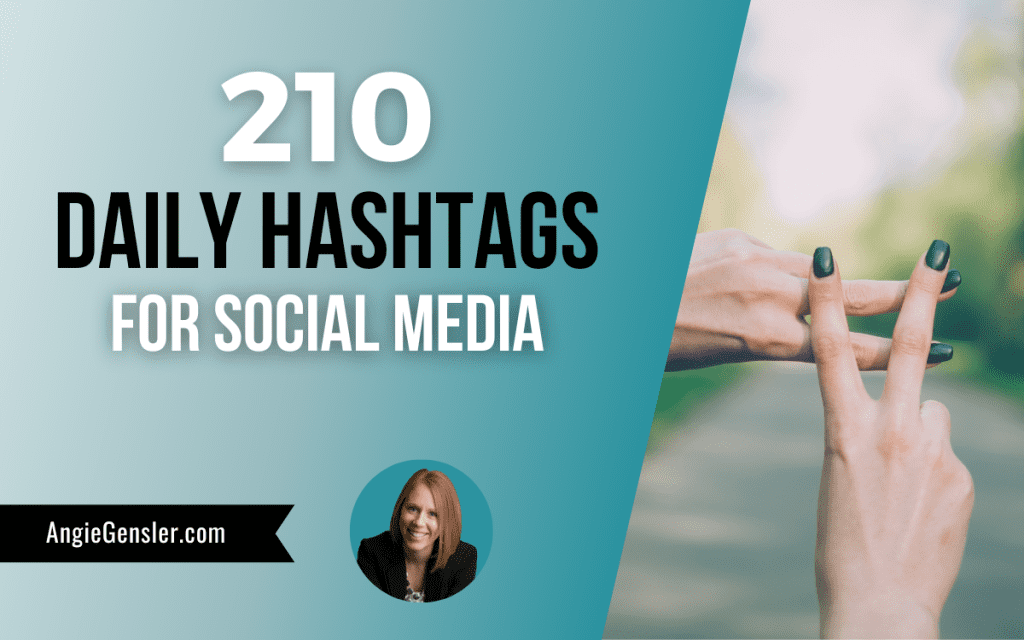 If you're a social media marketing pro looking to up your hashtag game, click here to skip straight to the list of 210 daily hashtags for social media.
If you're new to social media marketing and hashtags, then keep reading because I'm going to explain:
How hashtags work
Where hashtags work
How many hashtags to use in your posts
How to find the right hashtags
I promise to keep this quick and easy to understand. I've even included a helpful infographic at the end of the post. Let's get started!
HOW DO HASHTAGS WORK?
First, a hashtag is a pound (#) symbol.
When placed before a word or a string of words inside a social media post, a hashtag allows that post to be indexed and searched.
For example, let's say I made a post on Instagram that said, "#SocialMediaMarketing is fun!"
If anyone types "#SocialMediaMarketing" into their Instagram search bar my post would show up in the list of results.
As long as you're using the right hashtags more people will find your content, engage with it, and follow you!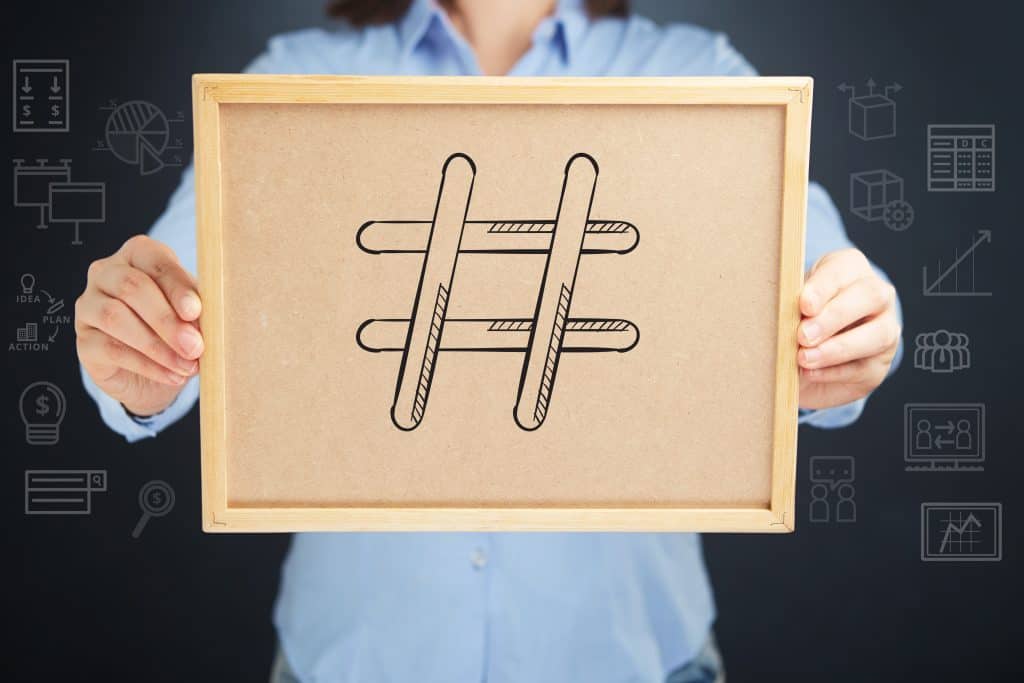 You can also use hashtags to:
Build brand awareness – Example: #AngieGensler
Drive conversations – Example: #SuperBowlChamps2020
Run contests – Example: #GoProMillionDollarChallenge
Support social issues – Example: #MeToo
Pretty cool, huh?
WHERE DO HASHTAGS WORK?
Hashtags originated on Twitter over 10 years ago, but they have since migrated to nearly every social media platform.
But just because you CAN use hashtags on nearly every platform, doesn't mean you that you SHOULD.
So where should you use hashtags?
A hashtag strategy is absolutely essential on Instagram.
Honestly, hashtags are the only way I've found to grow an authentic audience on Instagram that doesn't violate the Instagram terms of service.
While hashtags don't work as well on other platforms as they do on Instagram, you can also get results by using hashtags on Twitter, Linkedin, and Facebook.
Keep in mind that the number of hashtags you use on each platform is very different.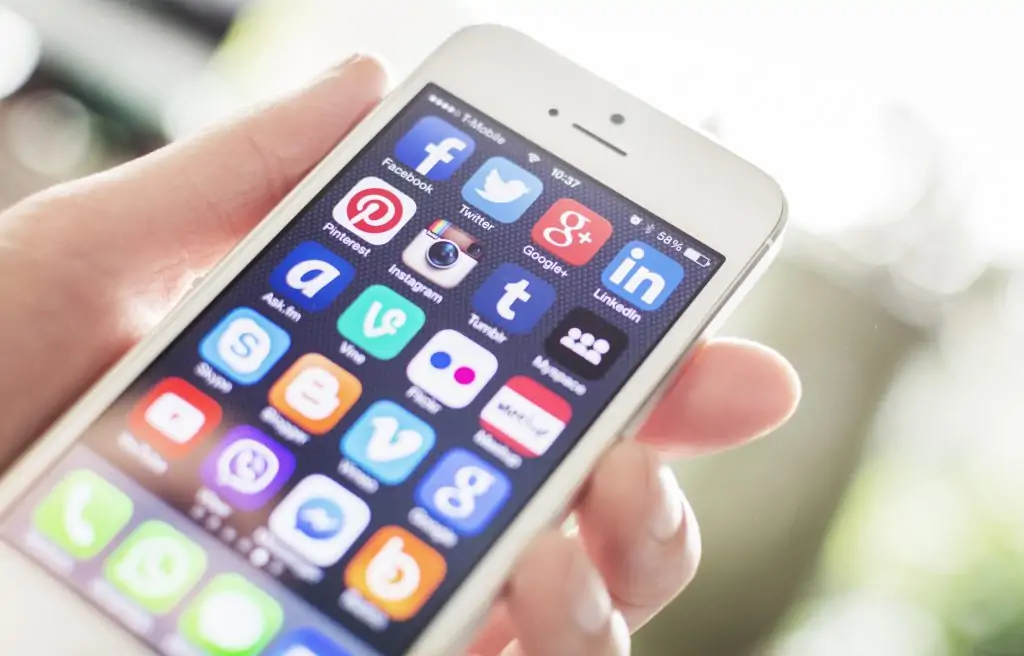 HOW MANY HASHTAGS SHOULD YOU USE?
You can use up to 30 hashtags in your Instagram posts, but research from Track Maven suggests 9 hashtags is the magic number for Instagram.
On Facebook and Twitter, I recommend you use 1 – 2 hashtags and on LinkedIn use 3 – 5 hashtags.
One of your hashtags should always be a branded hashtag. For example: #AngieGensler
When compiling your list of hashtags for Instagram, be careful not to use only the most popular hashtags.
Hashtags with millions of posts are highly competitive and the chances of your content being seen are much smaller.
To increase your exposure, I recommend including hashtags with a range of popularity in your posts.
Choose a few highly popular hashtags with millions of posts, a few hashtags with hundreds of thousands of posts, and a few less popular hashtags with thousands of posts.
This leads us to the question of how to find the right hashtags.
HOW DO YOU FIND THE RIGHT HASHTAGS?
Hashtag research can take time, but it doesn't have to consume your life.
Here are a few tips to make the process quick and easy.
First, use hashtags from the list below of 210 daily hashtags.
Many of the daily hashtags can be added to any type of post you create (#Monday) while others provide you with ideas for content (#TacoTuesday).
Second, leverage the power of holidays and holiday hashtags.
I've done all the work for you by compiling lists of holidays (and corresponding hashtags) to celebrate on social media for every month of the year.
Third, you can use the quick hack I demonstrate in the video below to quickly find a list of relevant hashtags.
Now that you understand how to use hashtags, let's move on to the list!
210 DAILY HASHTAGS
Daily hashtags are very popular and they're meant to be used on specific days of the week.
Not only are daily hashtags a great way to increase the exposure of your posts, but they also provide inspiration for content ideas.
The list of daily hashtags below includes 30 of the most popular hashtags for each day of the week.
SUNDAY HASHTAGS
MONDAY HASHTAGS
TUESDAY HASHTAGS
FRIDAY HASHTAGS
SATURDAY HASHTAGS
INFOGRAPHIC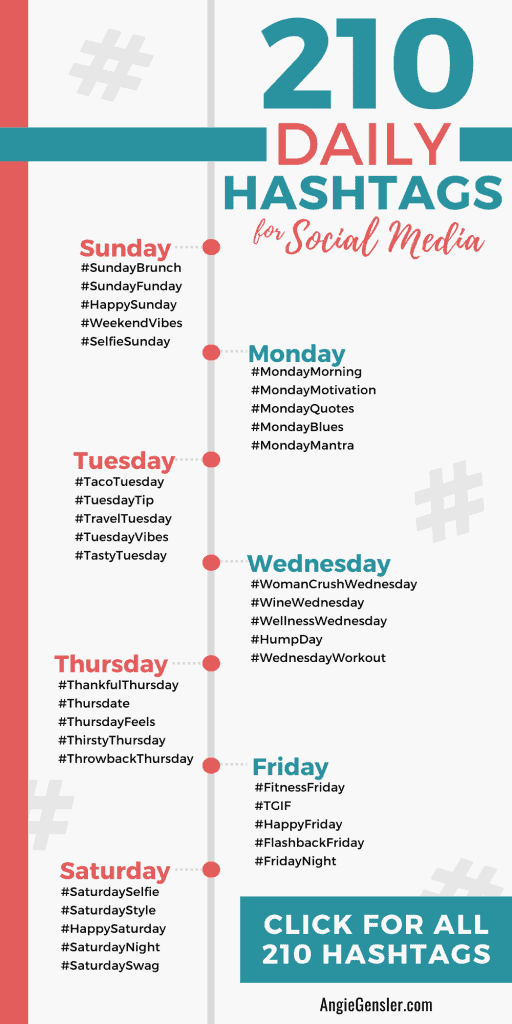 CONCLUSION
Daily hashtags are an effective tool to help your business engage your target audience and maximize your reach on social media platforms. When used strategically, hashtags can accelerate conversations and create a buzz around your business.
With the right combination of hashtag use and other social media tactics, you can expand your reach and drive more engagement from potential customers. Use the list above to get started and take your content strategy to the next level!
KEEP READING: