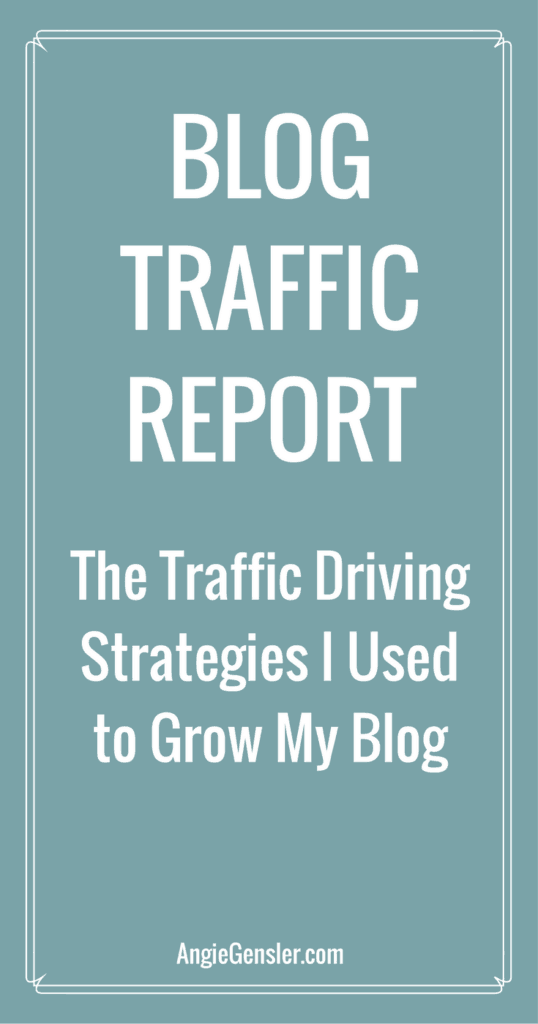 April was a month full of testing, refining, and building on my traffic growth strategies. In this post, I'll walk you through the elements I tested and share what worked and what didn't. I also created two short video tutorials to walk you through my best strategies to Pin tons of content to Pinterest at lightning speed.
Please note this post may contain affiliate links and I may earn a commission if you click them and make a purchase. This is, of course, at no cost to you, and I only share products that I use and love myself. Please read my disclaimer for more information.
Let's start with a quick run-down of my blog traffic and email subscribers from April.
April 2017
Traffic & Subscribers

Page views: 6,969
Users: 3,049
Email Subscribers: 281
Conversion Rate: 9%
Traffic Sources

Social: 57%
Direct: 29%
Email: 5%
Referral: 6%
Organic Search: 2%
The Google analytics report below shows the traffic overview from April compared with the previous 30 days.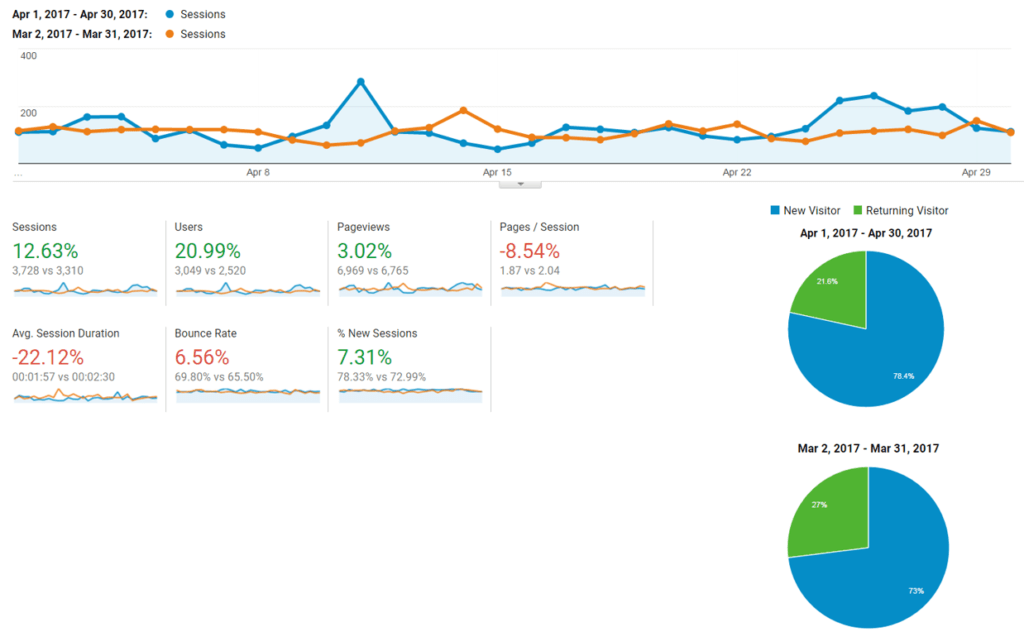 The good news is my users increased significantly compared to the previous 30 days – a whopping 21%. I'm pumped about that, but now it's time for the bad news. Even though my users increased 21%, my conversion rate dropped from 12% to 9%.
The drop in conversions sucks, but I'm finishing up my free Pinterest course which I anticipate will solve that problem. If not, I'll analyze my calls-to-action and user experience in greater depth next month.
TRAFFIC DRIVING STRATEGIES
Overall, I'm satisfied with the traffic growth for this month so let's analyze what worked and what didn't.
StumbleUpon
First, I want to look at that big traffic spike on April 11th to figure out the cause.

Below is the acquisition report from my Google Analytics for April 11th. Looks like the cause of the spike was from StumbleUpon – generating 165 sessions for the day! My initial thought was to double-down on my strategy and submit more articles to StumbleUpon. But wait, the sessions number doesn't tell the entire story.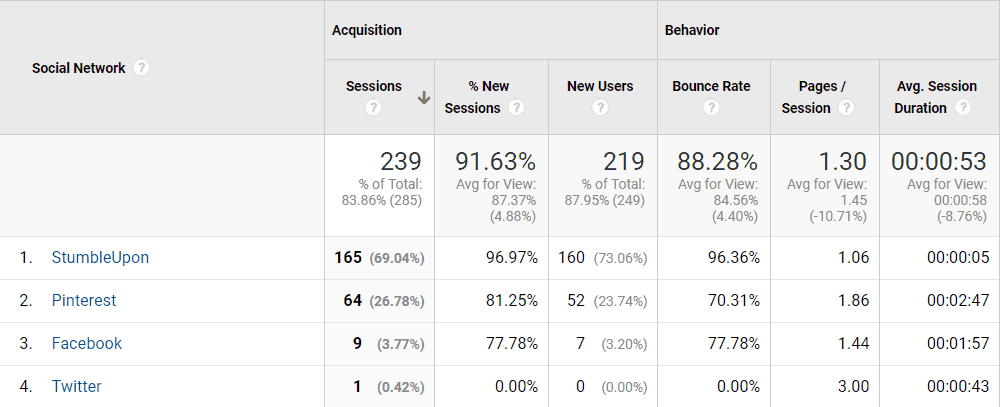 Take a look at the bounce rate and average session duration for my StumbleUpon acquisitions. A 96% bounce rate and 5-second session duration tells me that traffic left almost immediately. It was essentially worthless. Particularly when you compare it to my Pinterest traffic. Pinterest acquisitions stay on my site longer and view more pages. Pinterest continues to prove itself as the superior platform for traffic generation.
Pinterest continues to prove itself as the superior platform for traffic generation.
Facebook
In addition to the April 11th traffic spike, I experienced two abnormal traffic spikes on Tuesday, April 25th and Wednesday, April 26th. To determine the cause of those spikes, I compared my acquisitions from those two days with the previous Tuesday and Wednesday. See the report below.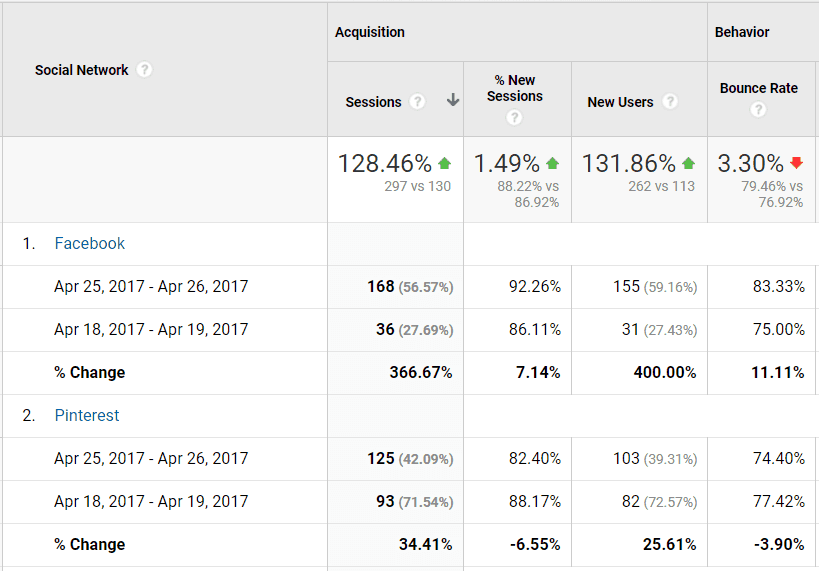 Check out that huge increase in traffic from Facebook. Sessions increased nearly 367 percent while my Pinterest sessions only increased 34 percent. I went back through my Facebook activity to determine what might have caused such a significant increase in traffic.
I discovered that I posted my latest blog post in five Facebook groups on Tuesday and one on Wednesday. But, that's my usual routine. So what gives? When I looked at the actual post I made I noticed one major difference.
Instead of throwing my blog post link into the promo threads, I spent a little time crafting an intro to the post. I asked two questions that addressed common pain points and referenced a free cheat sheet. Here was my post:
"Are you struggling to get the insane web traffic from Pinterest you hear everyone boast about? Are you confused about why you aren't getting accepted to join group boards? In my latest post, I address why Pinterest isn't working for you and I have a free cheat sheet you can download outlining the 10 elements of a strong Pinterest foundation. Why Pinterest isn't working for you and how to fix it"
The few minutes I took to craft a reason for group members to click my link made all the difference. Imagine if I could experience a 367% increase from Facebook traffic every single day! That would make a significant difference over the course of a month.
Then, on Thursday, excited by the increase in Facebook traffic over the past two days, I popped into my Facebook groups and searched for people asking questions about Pinterest. I did this in about four different groups and answered every Pinterest related question I could find. For some of the questions, I had a blog post that answered the question so I included a link to my website.
It took about 30 minutes total to answer questions and generated 41 new users to my site and a 478 percent increase in traffic from Facebook over the previous Thursday! I'd say that's a pretty darn good return for the effort!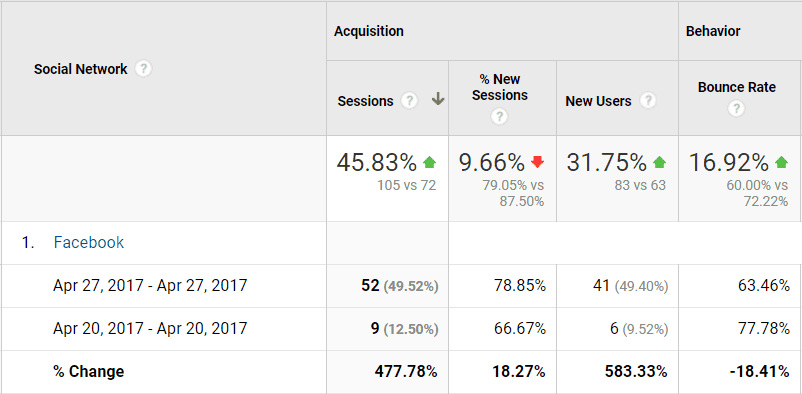 Facebook continues to be my number two social media traffic source, behind Pinterest of course. My Facebook business Page is not very active and I haven't had time to incorporate live video into my strategy yet. That means nearly all the traffic I get each month from Facebook is from Facebook groups.
I can't recommend Facebook groups enough! If you want to know more about groups and find a few business groups to join, check out my post: 5 Facebook Groups You Need to Join Now to Grow Your Business.
Pinterest
Time to move on to my workhorse, my number one traffic driver, Pinterest. This month I played around a lot with my Pinterest strategy.
The first thing I did was increase my number of pins from 50 to 75 per day. I used Tailwind to do this and it was super simple. It took me a matter of seconds and Tailwind optimized the Pin times based on when I typically experience the most activity.
Check out this short video tutorial on how to quickly change your Pinning schedule in Tailwind and have all your Pins automatically optimized for the best times.
By increasing my daily number of Pins, I expected to see an increase in Saves and Followers. Unfortunately, over a two-week time frame, I didn't notice any significant difference. If anything, the increase in Pins actually hurt my traffic. The week after I decreased my daily Pins back to 50 I experienced a significant increase in Saves and Followers.
Although that test didn't produce the results I anticipated, I did discover a new method to schedule tons of Pins, lightning fast.
Check out this video tutorial on how to use Tailwind to schedule hundreds of Pins in 5 minutes or less. It is seriously the easiest thing to do and can be done using the Tailwind Publisher Chrome extension.
Group Boards

The final Pinterest strategy I tested in April was my group board strategy. Prior to this month, I only posted my own content to my group boards. I saw so many people asking questions in my Facebook groups about what they should Pin to their group boards that I decided to run a test.
Instead of Pinning only my own content to the group boards, I started Pinning other people's content as well. I was able to do this really easily using the Lists feature in Tailwind.
I created two different Group Board lists within Tailwind. One list consisted of group boards for blogging-related content and the other list was group boards for social media related content. When I found a high-quality Pin I simply selected the appropriate group board list and Tailwind scheduled it to all those group boards – in one click!
This strategy is definitely one I plan to continue. Not only did it save me about an hour each week in scheduling, but it also allowed me to be more visible within the group boards which increased my followers quicker than had I not pinned all this additional content to the group boards.
CONTENT STRATEGY
Last month I decided to write a five-part blog post series focused on Pinterest. I published the last three posts in the Pinterest Boot Camp series this month and the posts have performed extraordinarily well.
Here are the five posts and a breakdown of the traffic they generated in April.

Now that I have all five posts published I may run a few Promoted Pin campaigns this month for the best performing posts. Promoted Pins are a great way to get new eyeballs on your website for a very low cost. If I do, I'll be sure to share the results with you in my May traffic report.
KEY TAKEAWAY
The biggest takeaway I want you to get from this post is there not a "magic bullet" solution when it comes to Pinterest. There is no right or wrong way to Pin content or participate in group boards.
There are a few proven strategies such as Pin frequently throughout the day, and Pin content in group boards, but beyond that, it's a matter of test, assess, and refine! Test keywords used in your Bio and Pin descriptions, test how frequently you Pin throughout the day and test how often and what type of content you pin to your group boards.
With each element you test, be sure you document what you're testing and when and then review the analytics so you can assess what worked and what didn't. Then, you can refine your strategy with each test you perform.
MINDSET
Before I wrap this sucker up, I want to quickly address the importance of mindset. In last month's blog traffic report, 3 Actions That Transformed My Business This Month, I shared my journey into the world of mindset and my intent to do the Miracle Morning 30-day Life Transformation Challenge in April. The Miracle Morning truly was life-changing for me, and I didn't even do the full challenge.
During the 30 day challenge, I never once completed the full one-hour routine and a few mornings got skipped because I was traveling for work. My time is so limited right now there is no way I could tack another hour onto my day. Instead, I added about 10 minutes to my morning routine and squeezed the rest in during my commute and at work.
Here's a breakdown of my condensed Miracle Morning (MM) routine.
Meditation: Each morning, while my coffee is brewing, I sit down and meditate for five minutes. I really struggle to be still for even five minutes so oftentimes I do gentle stretches while I breathe and try to stop the constant task list running in my head.
Affirmations: Then, I open up my phone and read the affirmations I've written for myself.
Visualization: After that, I close my eyes for a couple minutes and visualize my day and my goals coming to reality.
Reading: Next, I grab my coffee and my bag and hop in the car to start my commute. I either pull up an audiobook or a podcast and "read."
Journaling: About 20 minutes into my commute, I turn off my book and open up the voice recorder on my phone and "journal." I record any big ideas I had in the past 24 hours, document my intentions for the day and my feelings in general. It's very cathartic.
Exercise: This is the one piece I'm still struggling with which, as a former personal trainer, is very embarrassing to admit! I have a standing desk at work so on days I'm wearing sensible shoes I do standing workouts complete with squats, leg lifts, standing ab exercises and arm circles. Ok, when I see that written out I think that might be more embarrassing than admitting I don't work out!
Results of my Miracle Morning
The clarity and energy I gained as a result of the MM is nothing short of a miracle! I noticed on the days I completed my condensed routine I always had big ah-ha moments or amazing ideas pop into my head. It created more energy and I was much more productive throughout the day. I also noticed the voice of doubt, worry, and fear was very quiet on my MM days.
The mornings I skipped my MM routine inevitably led to an exhausting, unfulfilled day full of negative self-talk. The Miracle Morning 30-day Life Transformation Challenge was the best thing I've done for myself in years. It was also the easiest to implement and, unlike diet or exercise, I experienced instant results. I can't recommend the Miracle Morning enough!
That's a wrap! I'd love to hear what traffic driving strategies you're testing this month.
Comment below and let me know.