If you're looking for some of the most popular October hashtags for social media – or need help creating content for your social media channels– we've got you covered.
From trending and popular hashtags to easy-to-rank hashtags, we've got everything you need to get your content found and grow your following on social media and help raise awareness.
With the month of Halloween and Breast Cancer Awareness Day right around the corner, it's time to start thinking about which hashtags to use on your social media calendar.
To help you out, we've compiled a list of over 190 hashtags for the October holidays and events that you can use on Instagram, X, Facebook, and more.
From festive and popular Instagram hashtags like #pumpkinspice and #happyhalloween to more weather-related ones like #fallisintheair, there are viral and trending topics and hashtags for every occasion in October.
So whether you're posting content related to your favorite things about fall or sharing a back-to-school promotion, be sure to use one (or more) of these hashtags to get your status updates seen by more people.
Or, if you're running a promotion or contest, you can use hashtags like #contest or #giveaway to increase engagement.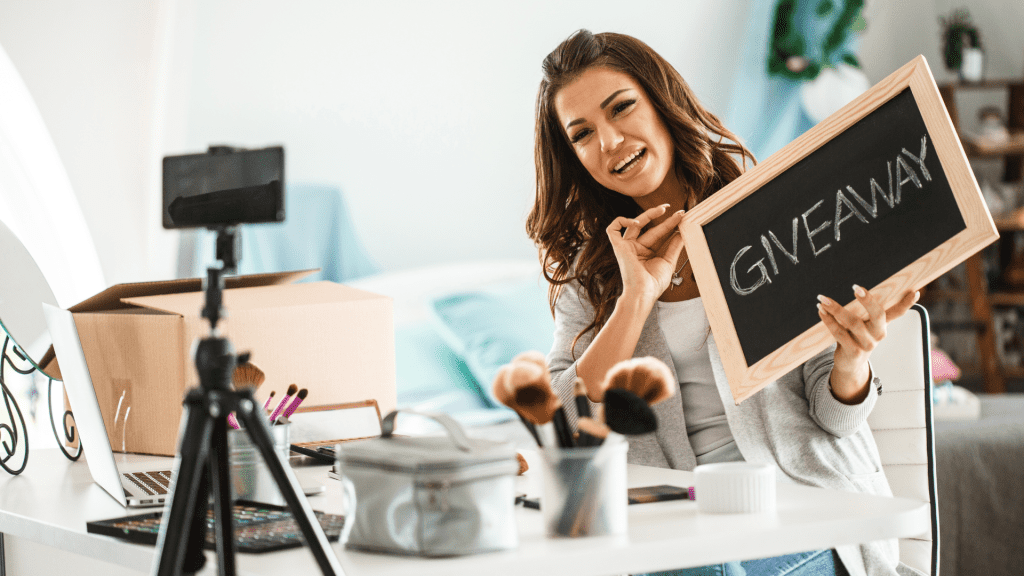 Table of Contents
Important Social Media Marketing Tips:
Hashtags are an outstanding way to increase the visibility and reach of your social media posts.
You can use up to 30 hashtags in your Instagram posts, but research from Track Maven suggests 9 hashtags is the magic number for Instagram.
On Facebook and X, I recommend you use 1 – 2 hashtags, and on LinkedIn, use 3 – 5 hashtags.
When compiling your list of hashtags for Instagram, be careful not to use only the most popular hashtags.
Hashtags with millions of posts are highly competitive, and the chances of your content being seen are much smaller.
That's why I've curated a list of popular hashtags that range from 15,000 to 1 million posts or more.
Use a variety of these hashtags in your posts for maximum results.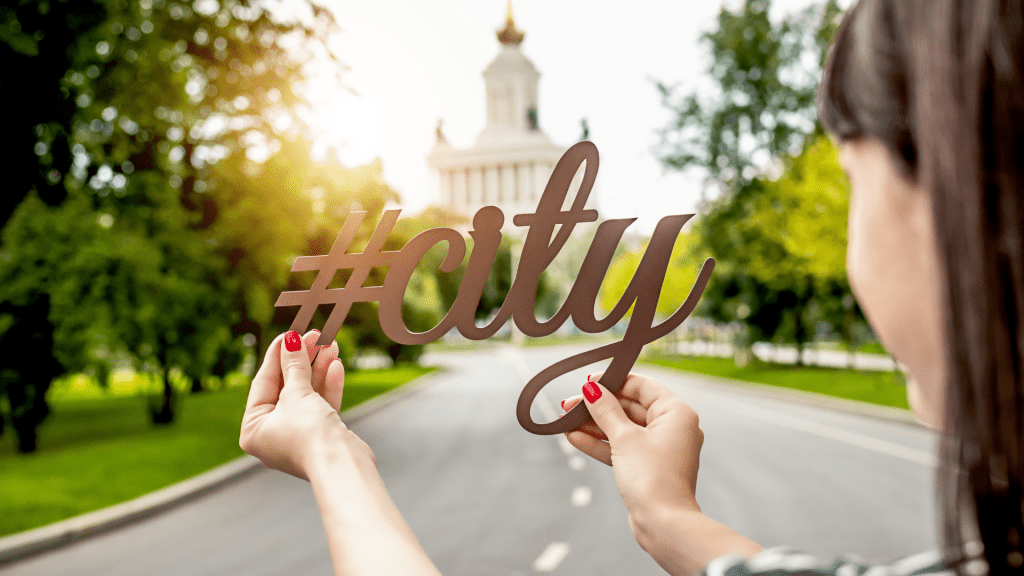 Hashtags for October
#aceweek
#adhdawarenessmonth
#americanfootball
#appleday
#autumn2023
#autumnaesthetic
#autumncolor
#autumncolors
#autumnday
#autumndays
#autumnfeeling
#autumnfeels
#autumniscoming
#autumnishere
#autumnisintheair
#autumnleaves
#autumnmood
#autumnvibes
#autumnweather
#bossday
#brca
#breastcancer
#breastcancerawareness
#breastcancerawarenessmonth
#breasthealth
#cancerprevention
#checkyourboobies
#childhealthday
#customerserviceweek
#domesticviolenceawarenessmonth
#dosomethingniceday
#downsyndromeawarenessmonth
#dyslexiaawarenessmonth
#earlydetectionsaveslives
#earlydiagnosissaveslives
#fairtrademonth
#fall
#fall2023
#fallactivities
#fallaesthetic
#fallcolors
#falldays
#fallishere
#fallisintheair
#fallleaves
#fallmood
#fallseason
#falltime
#fallvibes
#fallweather
#firepreventionweek
#foodday
#football
#gettoknowyourcustomersday
#globalhandwashingday
#gosoberforoctober
#halloween2023
#halloweenismyfavorite
#halloweenmood
#halloweenseason
#halloweentime
#halloweenvibes
#happyfall
#happyhalloween
#happyhalloween2023
#happyoctober
#helloautumn
#hellofall
#hellooctober
#ilovehalloween
#iloveoctober
#innerbeauty
#internationalcoffeeday
#jackolantern
#lgbthistorymonth
#livercancerawarenessmonth
#loveautumn
#loveautumncolors
#lovefall
#makeadifferenceday
#mentalillnessawarenessweek
#nationalblackcatday
#nationalbookmonth
#nationalboyfriendday
#nationalbullyingpreventionmonth
#nationalcandycornday
#nationalcatday
#nationalchocolateday
#nationalcoachesday
#nationalcomingoutday
#nationaldentalhygienemonth
#nationalfarmersday
#nationalnoodleday
#nationalpastaday
#nationalpizzamonth
#nationaltacoday
#nationalvodkaday
#nativeamericanday
#navyday
#nfl
#nflfootball
#nobraday
#october
#october2023
#octoberchallenge
#octoberdays
#octobergoals
#octoberishere
#octoberlove
#octobervibes
#pinkribbon
#plussizeappreciationday
#pregnancyandinfantlossawarenessmonth
#preventativehealth
#profootball
#psl
#pumpkin
#pumpkinday
#pumpkineverything
#pumpkins
#pumpkinseason
#pumpkinspice
#pumpkinspiceandeverythingnice
#pumpkinspiced
#pumpkinspiceeverything
#pumpkinspiceislife
#pumpkinspicelatte
#pumpkinspicelife
#pumpkinspiceseason
#redribbonweek
#reformationday
#slothday
#spinabifidaawarenessmonth
#spookyseason
#sports
#stompoutbullying
#trickortreat
#walktoschoolday
#wearpink
#wearpinkforbreastcancer
#welcomeoctober
#womenshealth
#worldanimalday
#worldarchitectureday
#worldarthritisday
#worldeggday
#worldfoodday
#worldhabitatday
#worldhomelessday
#worldmenopauseday
#worldmentalhealthday
#worldobesityday
#worldpastaday
#worldpostday
#worldsightday
#worldsmileday
#worldspaceweek
#worldstrokeday
#worldteachersday
#worldvegetarianday
Daily Social Media Hashtags
When compiling your list of hashtags to use for a status update, also remember to incorporate daily hashtags.
Daily hashtags are very popular, and they're meant to be used on specific days of the week.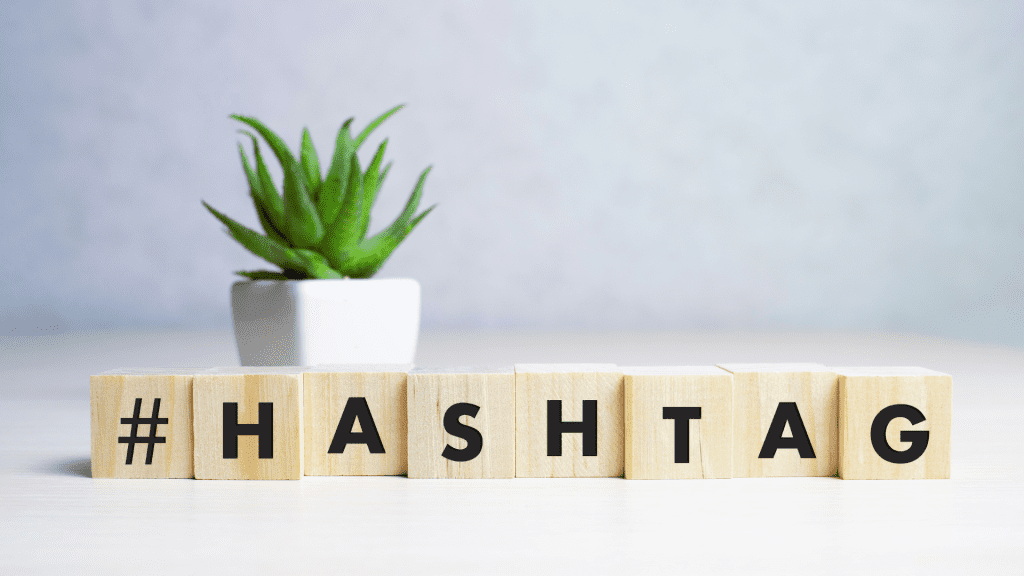 I recommend using 1 – 2 daily hashtags in addition to your monthly, event, or promotion-specific hashtags.
Below are some of the most popular daily hashtags for social media.
For a complete list of daily hashtags, read 210 Daily Hashtags for Social Media.
SUNDAY
#SundayFunday
#HappySunday
#WeekendVibes
MONDAY
#MondayMotivation
#MondayQuotes
#MondayMantra
TUESDAY
#TuesdayMotivation
#TuesdayThoughts
#TacoTuesday
WEDNESDAY
#WednesdayMotivation
#WednesdayMorning
#HappyHumpDay
THURSDAY
#ThursdayQuotes
#ThursdayMotivation
#ThrowbackThursday
FRIDAY
#TGIF
#HappyFriday
#FlashbackFriday
SATURDAY
#HappySaturday
#SaturdayNight
#SmallBusinessSaturday
October Social Media Holidays Hashtags
The holidays range from major holidays like:
– Halloween

Special observances like:
– World Smile Day
– World Mental Health Day
– World Teachers' Day
Random holidays like:
– Change a Light Day
– Get Funky Day
– Cranky Co-Workers Day
– National Freethought Day
– National No Bra Day
To help you sort through the massive list, I've compiled a smaller list of the more popular holidays for social media.
The hashtags for these fun holidays all have at least 4,000 posts, and many have over one million posts.
For the complete list of all 465+ holidays to celebrate in October (along with hashtags), read: October Holidays for Social Media.
Hashtags for October Social Media Holidays
Holiday Hashtags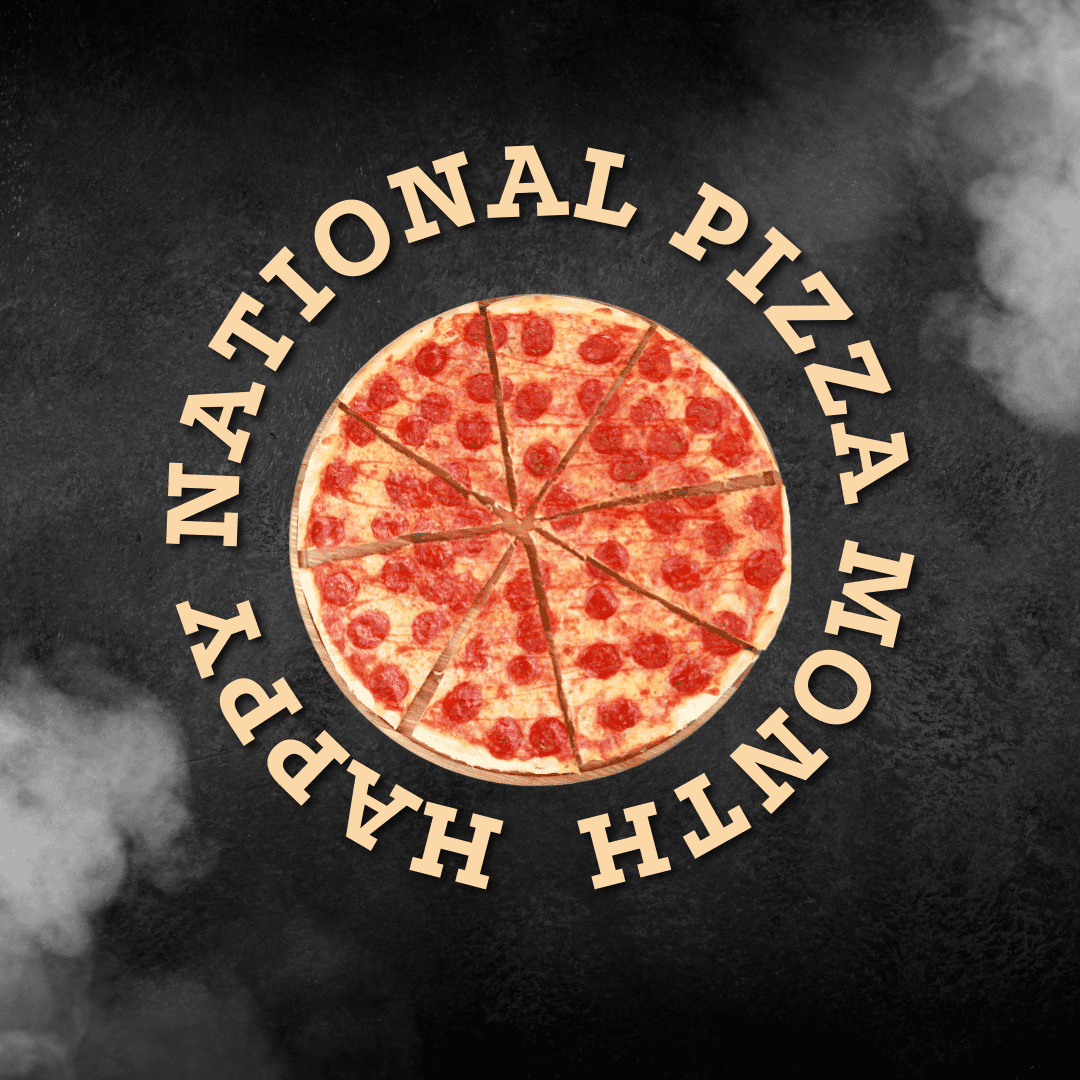 All Month: Pregnancy and Infant Loss Awareness Month – #pregnancyandinfantlossawarenessmonth
All Month: Spina Bifida Awareness Month – #spinabifidaawarenessmonth
October 1: International Coffee Day – #internationalcoffeeday
October 1: World Vegetarian Day – #worldvegetarianday
October 1 – 7: Mental Illness Awareness Week – #mentalillnessawarenessweek
October 2: Blue Shirt Day/World Day of Bullying Prevention – #stompoutbullying
October 2: Child Health Day – #childhealthday
October 2: World Architecture Day – #worldarchitectureday
October 2: World Habitat Day – #worldhabitatday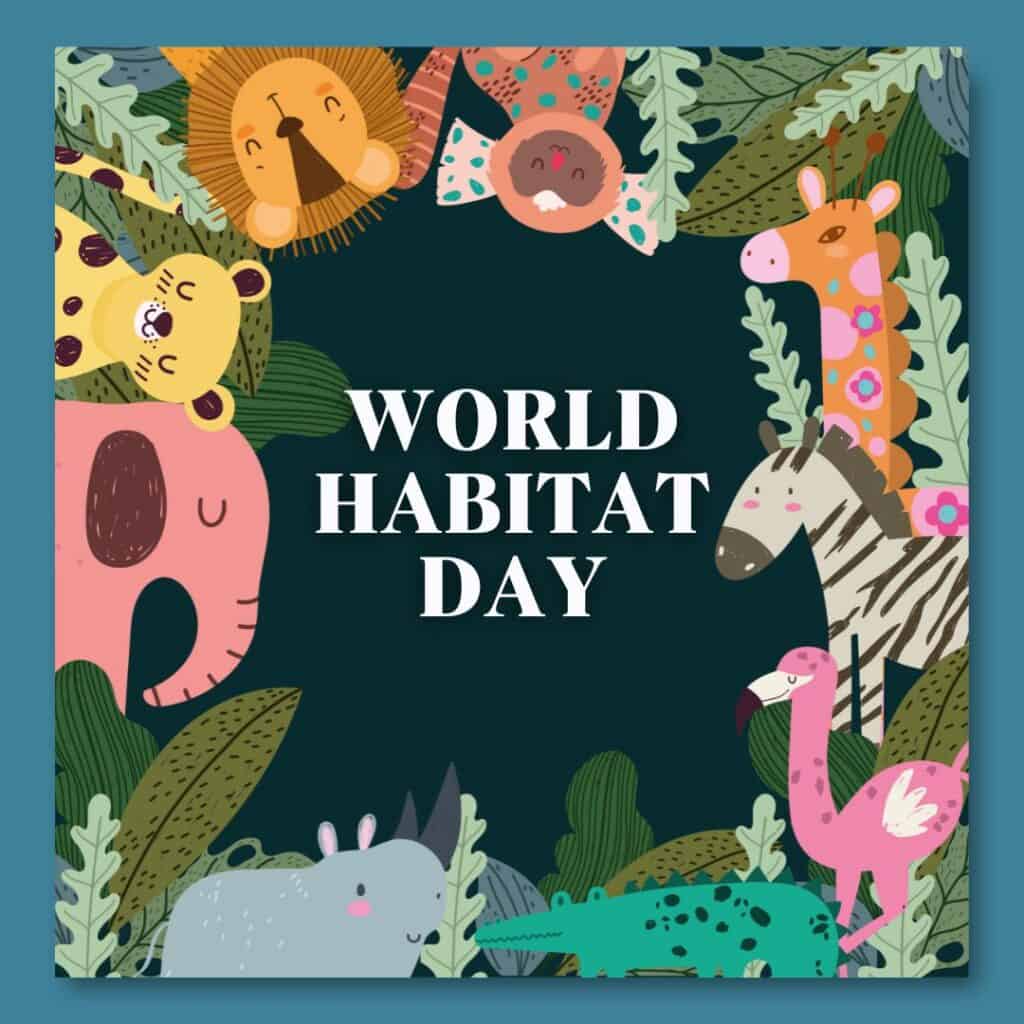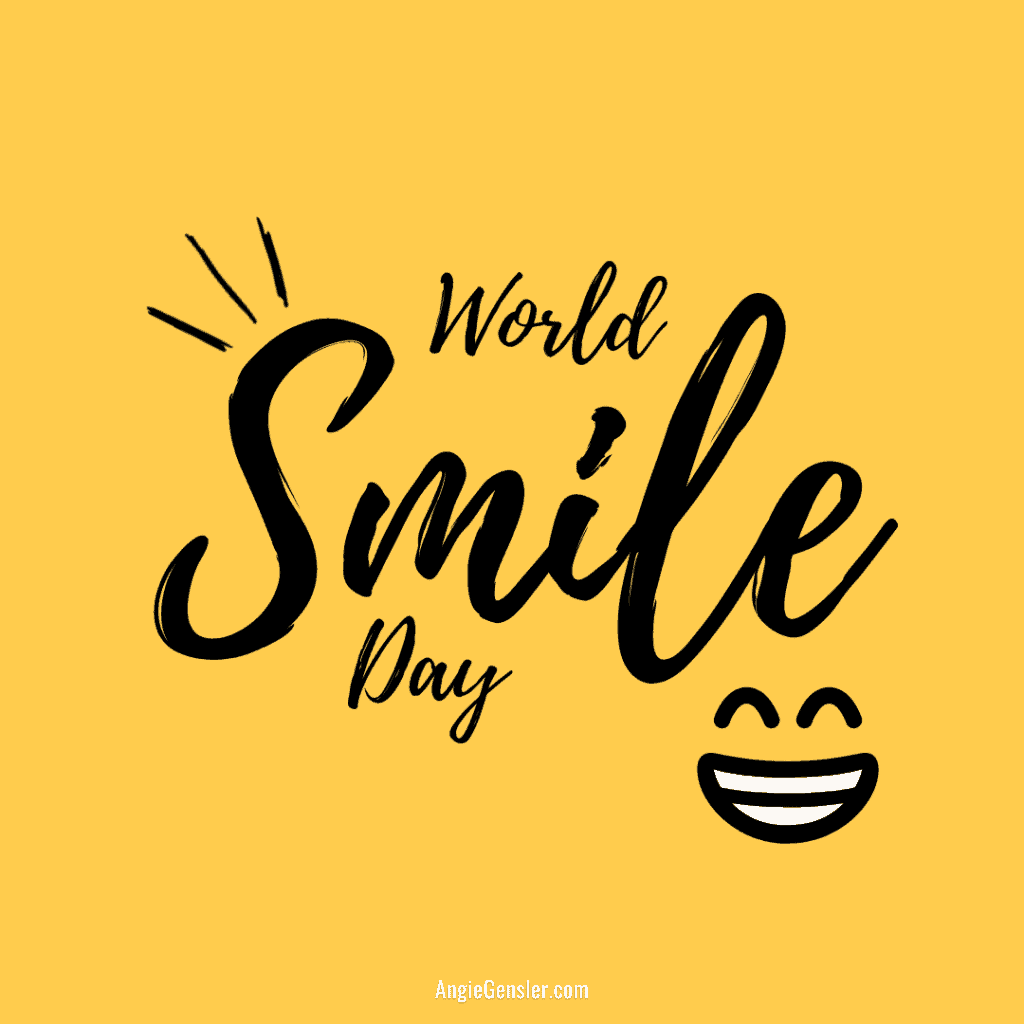 October 9: World Post Day – #worldpostday
October 8 – 14: Fire Prevention Week – #firepreventionweek
October 9: Native American Day – #nativeamericanday
October 10: World Homeless Day – #worldhomelessday
October 10: World Mental Health Day – #worldmentalhealthday
October 11: National Coming Out Day – #nationalcomingoutday
October 11: World Obesity Day – #worldobesityday
October 12: National Farmer's Day – #nationalfarmersday
October 12: World Arthritis Day – #worldarthritisday
October 13: National No Bra Day – #nobraday
October 12: World Sight Day – #worldsightday
October 13: World Egg Day – #worldeggday
October 15: Global Handwashing Day – #globalhandwashingday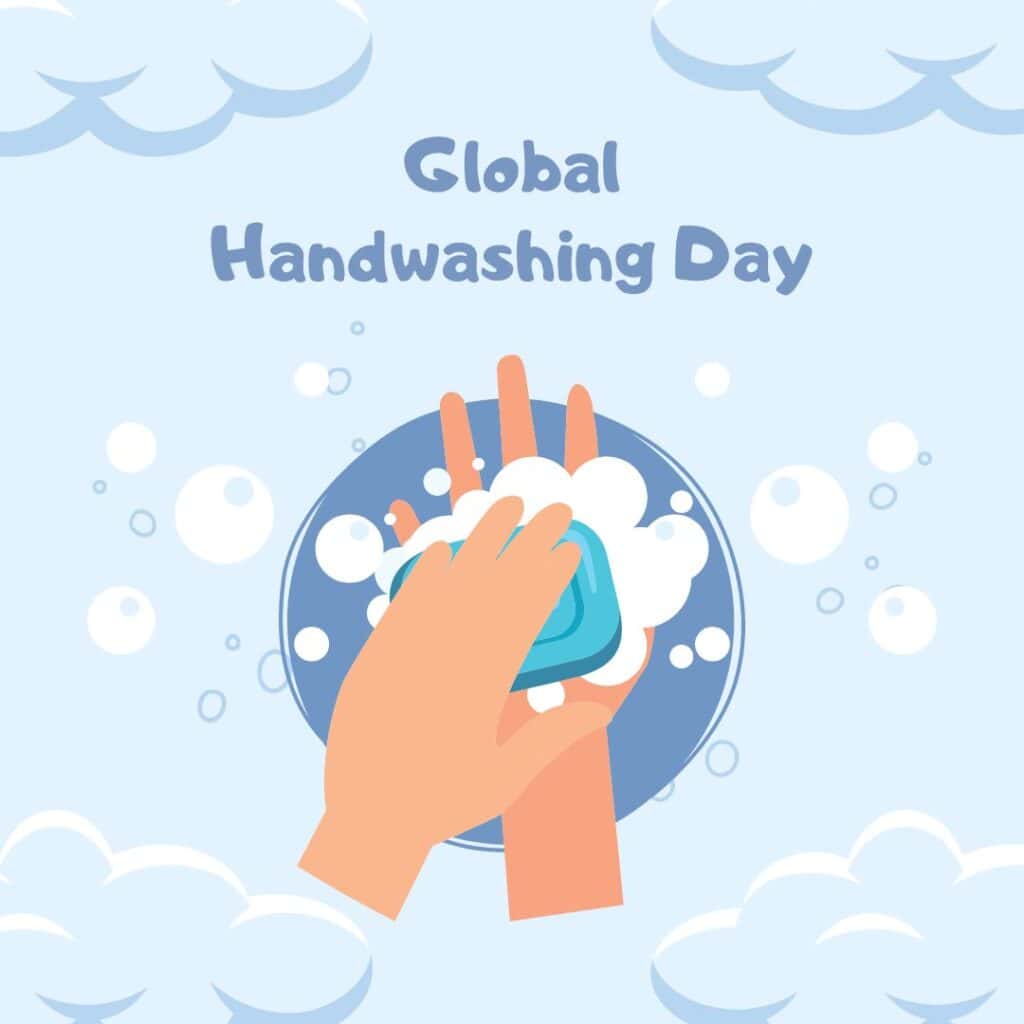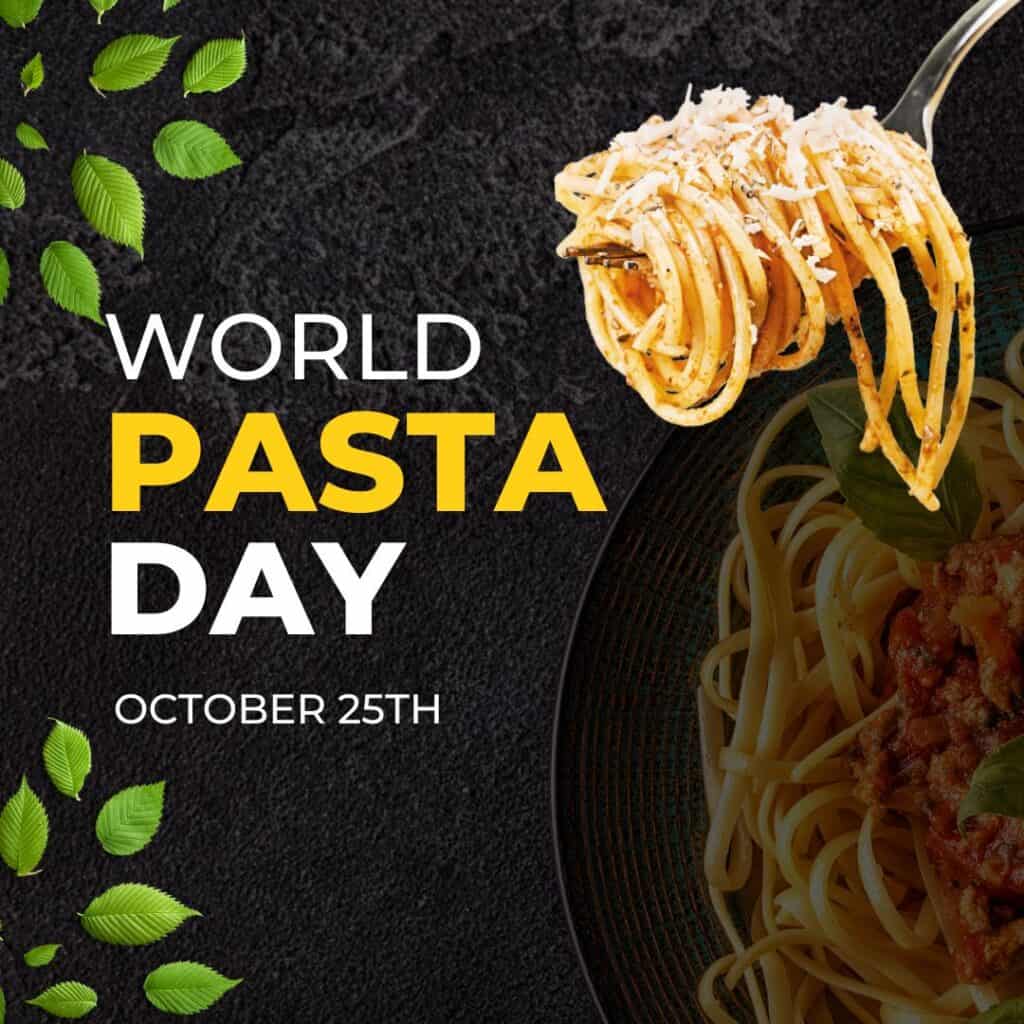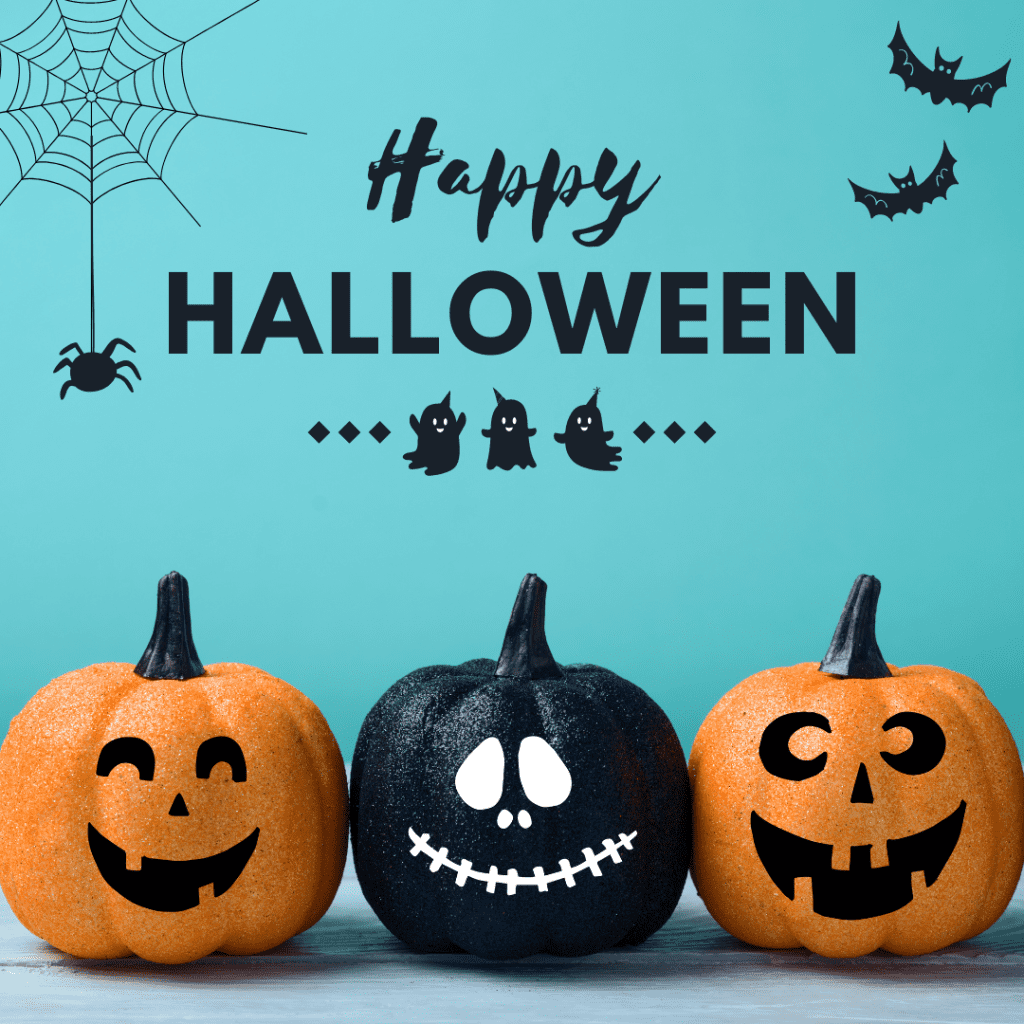 For the complete list of all 455 holidays to celebrate in October (along with hashtags), read October Holidays for Social Media.
October Social Media Post Ideas
Business owners and marketers face two big issues with social media marketing – lack of time and lack of content.
Lucky for you, I solve both of those issues in my blog post: October Social Media Post Ideas.
You'll discover what to post to social media during the month of October.
Plus, you'll learn about an incredible resource that will make social media marketing so effortless it will become your favorite productivity hack.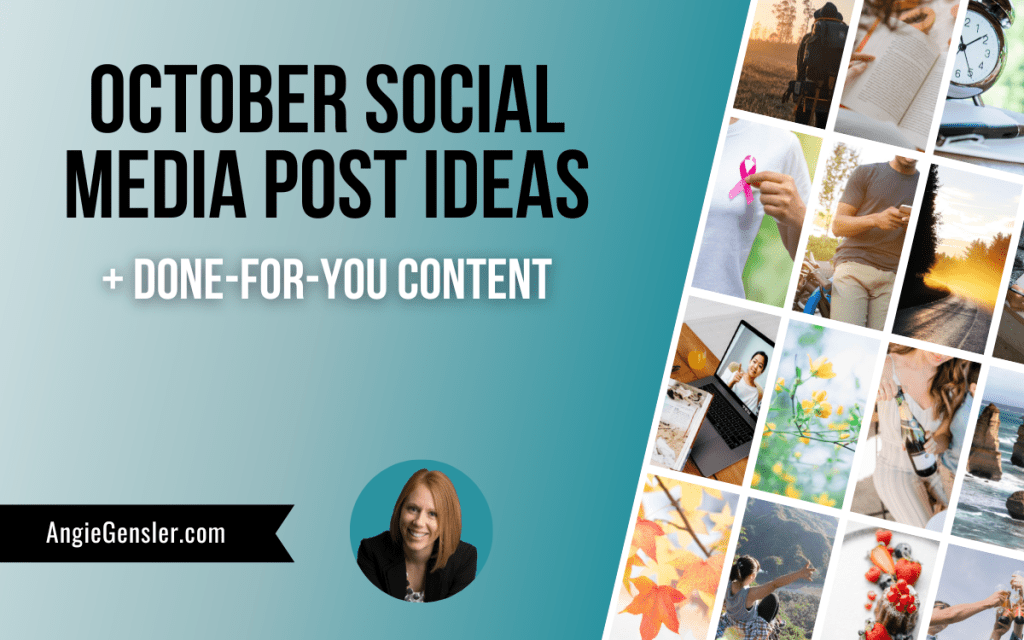 Curated Social Media Hashtag Lists
Unfortunately, curating a list of relevant and popular hashtags for each post takes a lot of time and creative energy – something most business owners and marketers have in short supply.
Inside the Social Media Content Club, you'll find curated hashtag lists for every month of the year.
Watch the 2-minute video below to learn how the Social Media Content Club makes your hashtag research effortless!
Created specifically to turn your phone or desktop into your own social media manager, the Social Media Content Club delivers scroll-stopping, link-clicking, copy-and-post content Every. Single. Day.
It's the minutes-a-day way to make genuine connections, boost engagement, and grow your business, all from a copy-and-paste on your phone.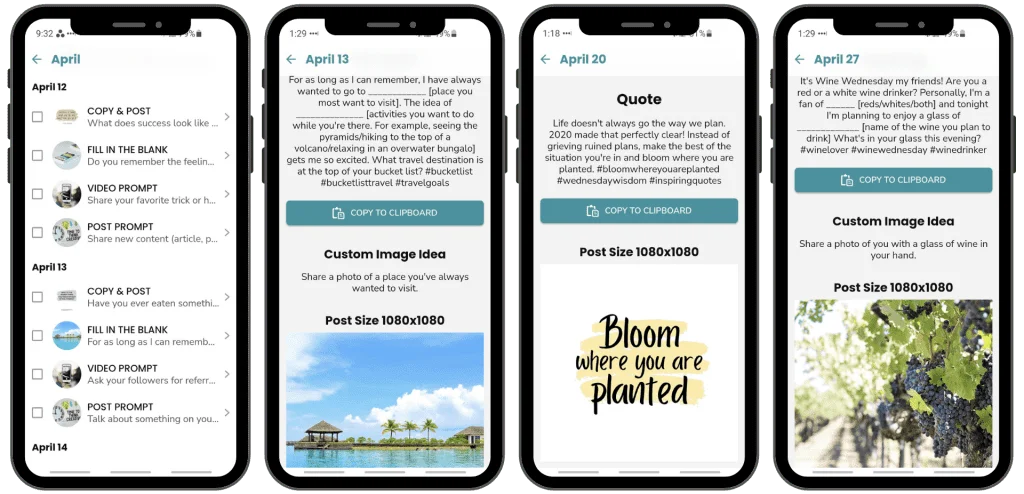 Small business owners and marketers are talking:
"The Social Media Content Club was the best decision we ever made."
"Two months of posts done in about an hour with NO STRESS!"
"Our sales have increased by over 50% since we began using this platform."
"No more agonizing blank vapid stares at my phone wondering what to do for social media today."
Give the Social Media Content Club a try and watch your engagement and business skyrocket.
Conclusion
Including hashtags in your posts can help you reach a much wider audience. But remember to use hashtags that are both relevant and popular but not too competitive with millions of posts.
The list of October-themed hashtags above serves as the perfect resource for getting the most out of your social media posts.
Use these hashtags to reach out to new audiences and create meaningful connections with people all over the world this October. Happy posting!
Infographic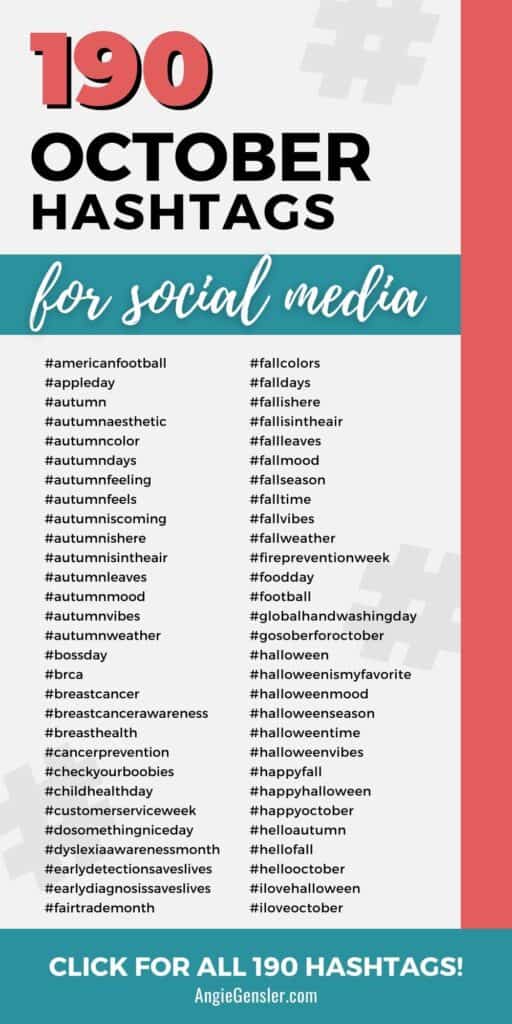 If you found this post helpful, please share it with others! It would mean the world to me.
KEEP READING: